If you tuned in yesterday, you already know that we kicked off our Sensory Bottle Extravaganza! That's right…I'm sharing a new sensory bottle every day for two weeks! And today's featured sensory bottle is…an ABC's Sensory Bottle!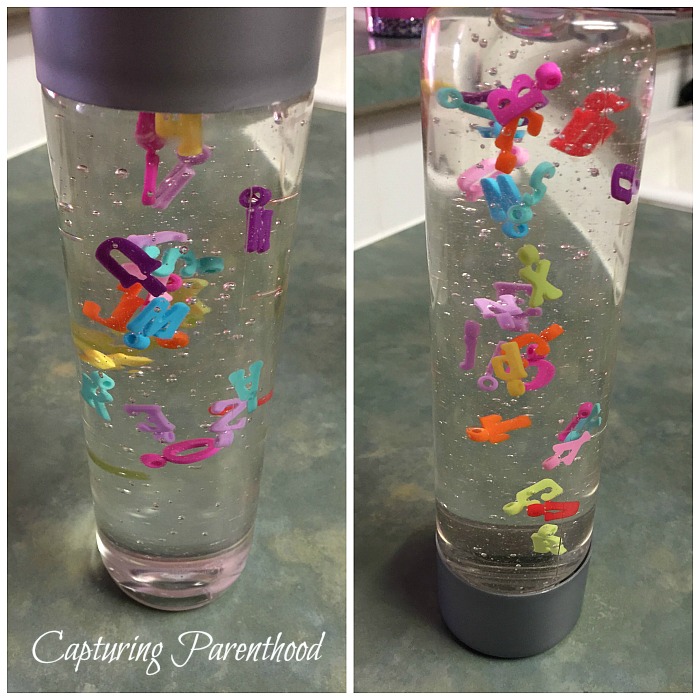 This ABC's Sensory Bottle is a wonderfully unique way to engage your little ones, who are learning their alphabet and letter recognition. My little nugget loves shaking this bottle, and proudly shouting out each letter as it floats slowly up the bottle. Yep…I said up! Another reason that we love this sensory bottle so much, is because it's vastly different than all of our other sensory bottles…the letters defy gravity and always float to the top of the bottle! In fact, when my husband first noticed this sensory bottle, he was less than impressed, because it looked exactly like a plain ole' bottle of water (since all of the letters were hiding within the confines of the cap). 🙂
As I mentioned yesterday, I absolutely fell in love with Katie's sensory bottle posts over on Preschool Inspirations. Thus, when I came across the instructions for her Alphabet Discovery Bottle (https://preschoolinspirations.com/alphabet-discovery-bottle/), I quickly gathered up the necessary supplies and created one for our home!
---
ABC's Sensory Bottle
Supplies: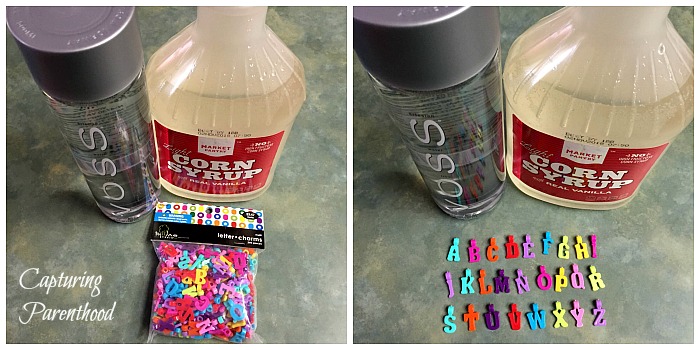 Plastic Bottle with Wide-Mouth (I love using Voss water bottles)
Clear Corn Syrup
Hot Water (the hottest water from your tap)
Alphabet Letters (I ended up using some plastic letter charms that I found at Hobby Lobby)
Instructions: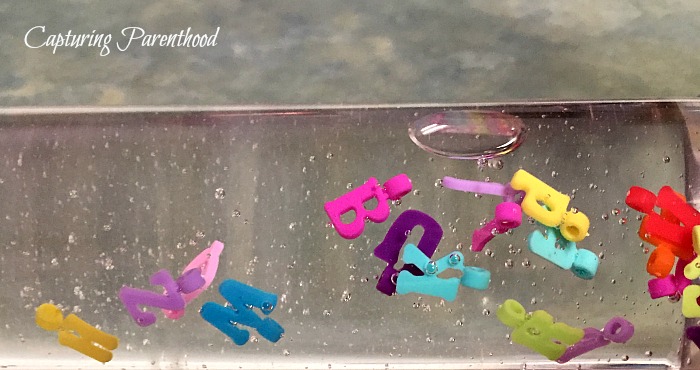 Empty the plastic bottle (if it contained a non-water beverage, rinse out the bottle). Remove all labels from the bottle. If you have a hard time getting the sticky residue off, Goo Gone works wonders. I find that if I take my time and peel slowly, I can get the Voss labels off without any fuss.
Fill approximately 80% of the bottle with the clear corn syrup. Drop in your letters.
Next, add a small amount of hot water. You do not want to add too much, at this point in time. Give yourself a decent amount of space to assess whether you want to add more corn syrup (to make the letters move slower), or more water (to make the letters flow faster).
Cap the bottle and shake vigorously, until all of the ingredients are thoroughly mixed. Take a minute to watch how the bottle behaves, before deciding how to fill the remainder of the bottle.
Fill the last bit of the bottle with your ingredient of choice (I typically like to fill my bottles to the brim). *Note: When my bottle was complete, it was comprised of approximately 95% corn syrup, and 5% hot water.
Cap the bottle and give it another vigorous shake.
If you're happy with the results, let the bottle sit (uncapped) until the contents reach room temperature. Then, add a dab of hot glue around the inside of the cap, and quickly seal the bottle (you don't want your child unscrewing a bottle full of sticky corn syrup inside your house). 🙂
---
You're kiddos are sure to love this ABC's Sensory Bottle – it is slow moving, colorful, and educational! Don't be surprised if the Alphabet Song starts to accompany this bottle wherever it goes. 🙂
Stay tuned…tomorrow brings a brand new day, and a brand new sensory bottle!
START SPREADING THE NEWS!