Recycling in an important issue in our household, so when I find a way to not only recycle an item, but to re-purpose and re-use it in a brand new way, I get excited! If you're a parent or caregiver to a young child, you more than likely have a baby wipes container on hand. As children grow older, and become potty-trained, the need for baby wipes diminishes…but don't throw out those containers just yet, because they can be turned into great toddler toys!
The Alphabet Monster
**Note: This post contains Amazon Affiliate links for convenience. See Disclosure Policy for more details.**
I stumbled across this adorable Alphabet Monster idea from Jenae at I Can Teach My Child (http://www.icanteachmychild.com/feed-the-alphabet-monster/). Re-purposing a wipes container into an educational and fun Alphabet Monster takes minutes. All you need is an empty baby wipes container, 26 bottle caps (milk jug caps work great), 1″ round stickers (I chose these colorful ones from Amazon), a marker, two googly eyes, and some construction paper (optional).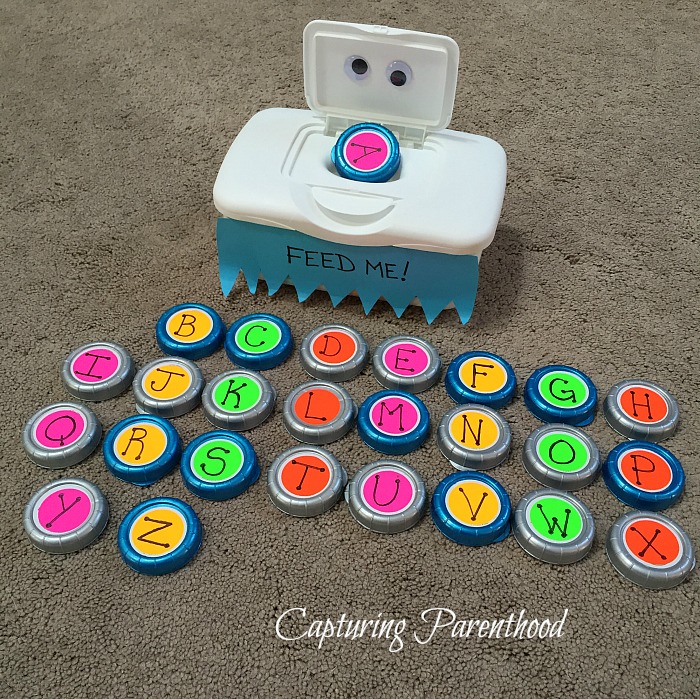 Using a marker, write one letter of the alphabet on each round sticker and then adhere the stickers onto the tops of the bottle caps. Take your two googly eyes (or more if you want to make a wacky/scary monster) and place them on the underside of the little top flap of the wipes container (the part that you used to open to pull the wipes through). If you so desire, you can cut a decorative piece of construction paper and tape it to the front of your wipes container.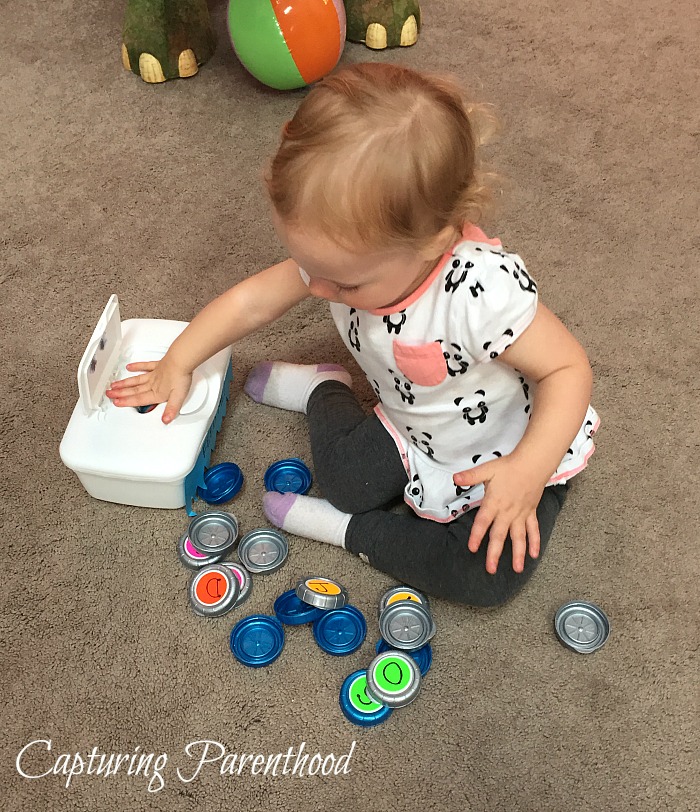 This is such a fun way to help your toddler learn their alphabet…you can sing the ABC's with them as they feed each letter to the monster. The main compartment of wipes containers are easy for toddlers to open, and so once all the letters are inside, they can simply open it up, pour them all out, and start over again. Storage is a cinch, since the letters can live inside the monsters belly until the next feeding!
Fun Fabric Pull
Another great way to re-purpose a baby wipes container is to re-fill it with small scraps of fabric and then let your toddler go to town pulling all of the fabric up through the container. Something so simple can provide loads of fun and entertainment for a toddler. I stumbled across this idea on A Spotted Pony (http://aspottedpony.com/fun-for-kids/turn-a-wipe-container-into-the-best-infant-and-toddler-toy/876/).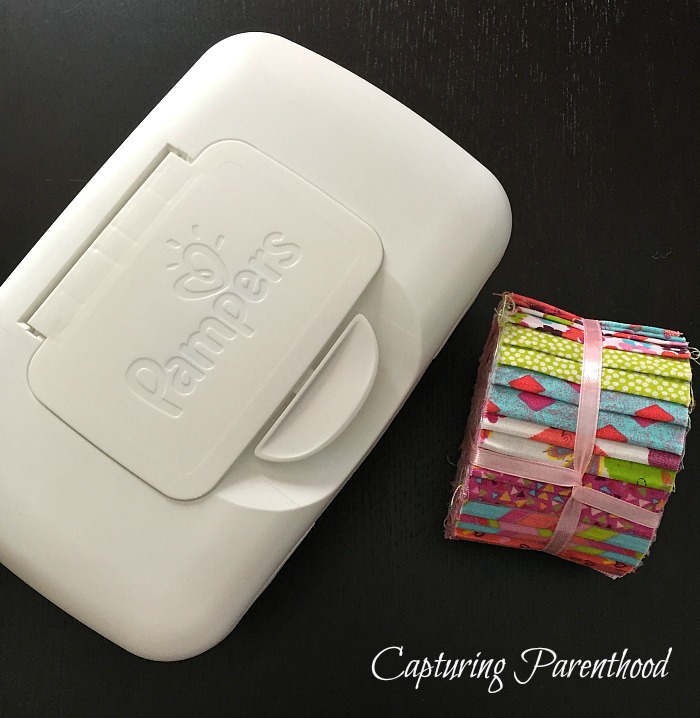 Have you ever let your toddler run into the bathroom to grab a tissue to blow their nose (my little nugget insists on doing this herself) only to walk in a minute later to find an empty Kleenex box and an enormous pile of tissues laying on the bathroom floor? They just can't stop themselves…once they pull one tissue out, they have to pull them all out! So why not save those tissues, and just hand them one of these fabric boxes to empty instead? Problem solved.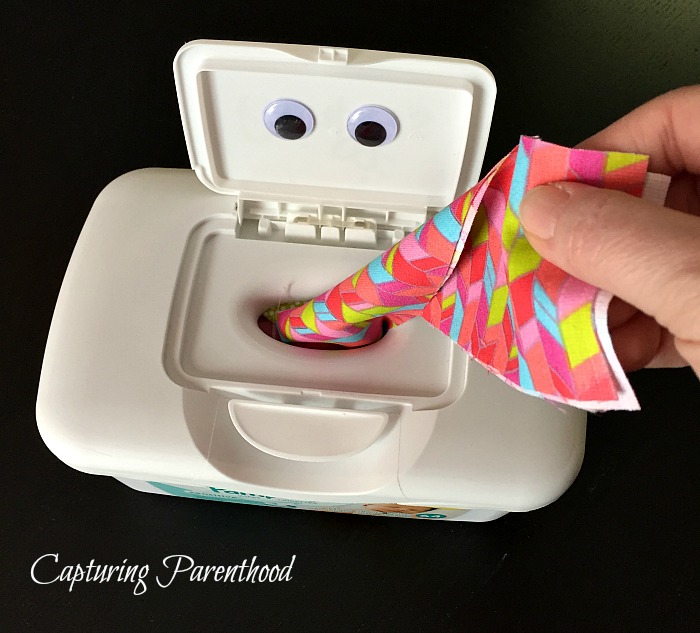 All you need for this activity is an empty baby wipes container – you can even re-use the same one you turned into an Alphabet Monster (like I did) and then you can just switch back and forth between the two when your toddler gets bored with one of the activities. The other necessary item for this activity is scraps of fabric. If you have some lying around your house, great! If not, lots of crafts and fabric stores sell bundles of scrap fabrics for just a few dollars!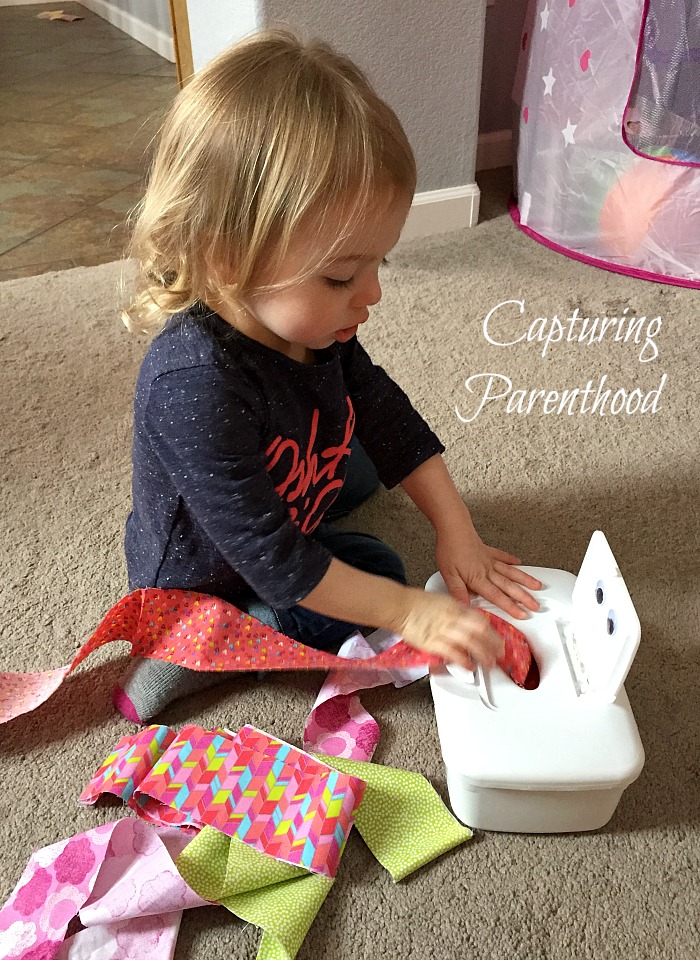 My little nugget loves filling up her container with the fabric pieces and then closing the lid and pulling them through. She likes to tell me about the different colors and designs that are on the fabric as she pulls each strip out!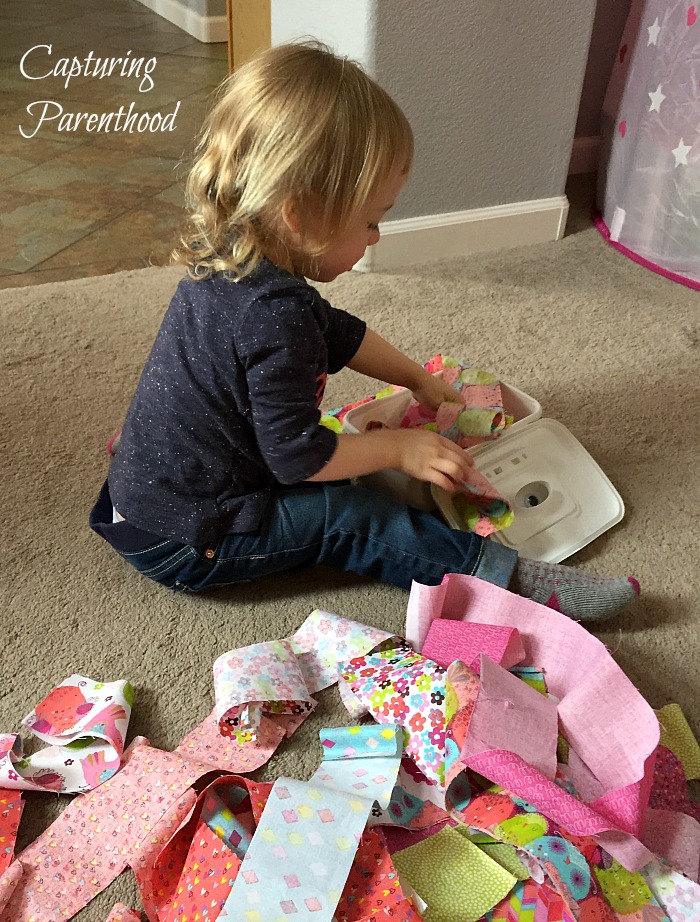 Do you have any fun activities or toddler toys that you've created using a baby wipes container? I would love to hear about them!
START SPREADING THE NEWS!