HAPPY NATIONAL DONUT DAY!!! This special "holiday," celebrated the first Friday in June, is always one of my favorites! And to celebrate…I'm sharing these simple, delicious, and oh so chocolaty, Baked Double-Chocolate Donuts! I mean, how could I not?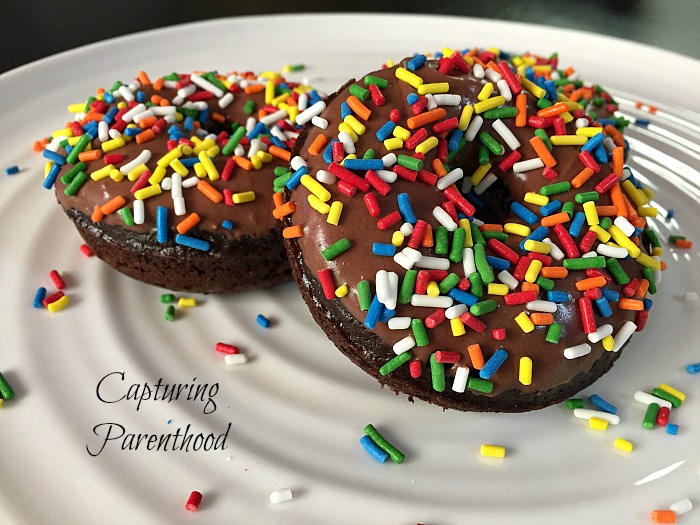 These donuts are a chocolate-lovers dream, and the colorful sprinkles on top will be an absolute hit with your little ones…and everyone else, who is young-at-heart. 🙂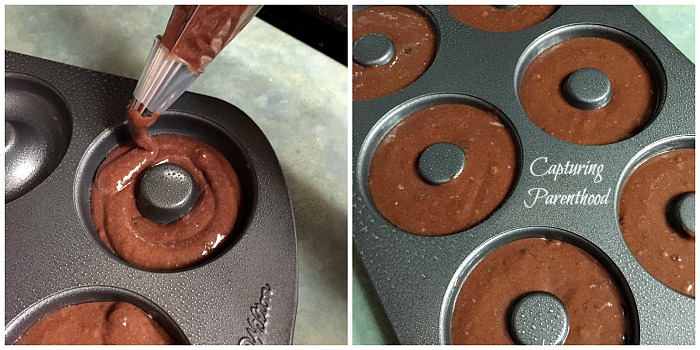 I stumbled across this recipe over on Just So Tasty (https://www.justsotasty.com/double-chocolate-doughnuts/). Feel free to follow the link to the original recipe!
---
Baked Double-Chocolate Donuts
Ingredients: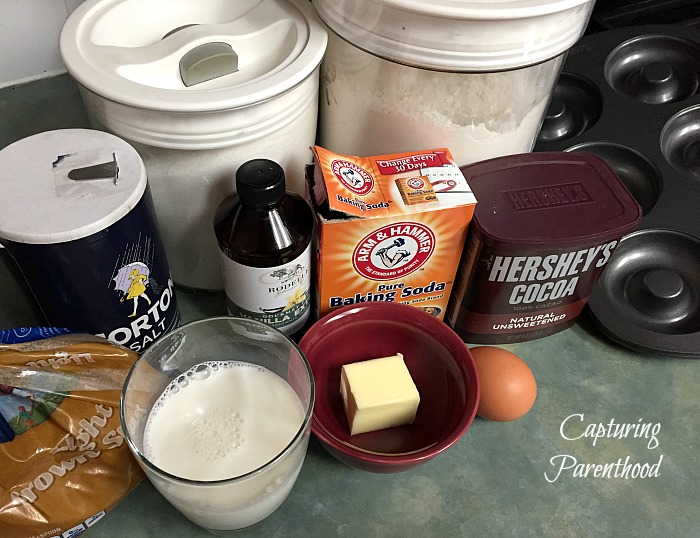 Chocolate Donuts

3/4 Cup All-Purpose Flour
1/3 Cup Unsweetened Cocoa Powder
1/2 tsp. Baking Soda
1/4 tsp. Salt
2-1/2 Tbsp. Butter, melted and cooled back to room temperature
1 Egg
1/4 Cup Brown Sugar
3 Tbsp. Sugar
1-1/2 tsp. Vanilla Extract
2/3 Cup Buttermilk (you can make your own by combining 1 tsp. vinegar, with 2/3 cup milk)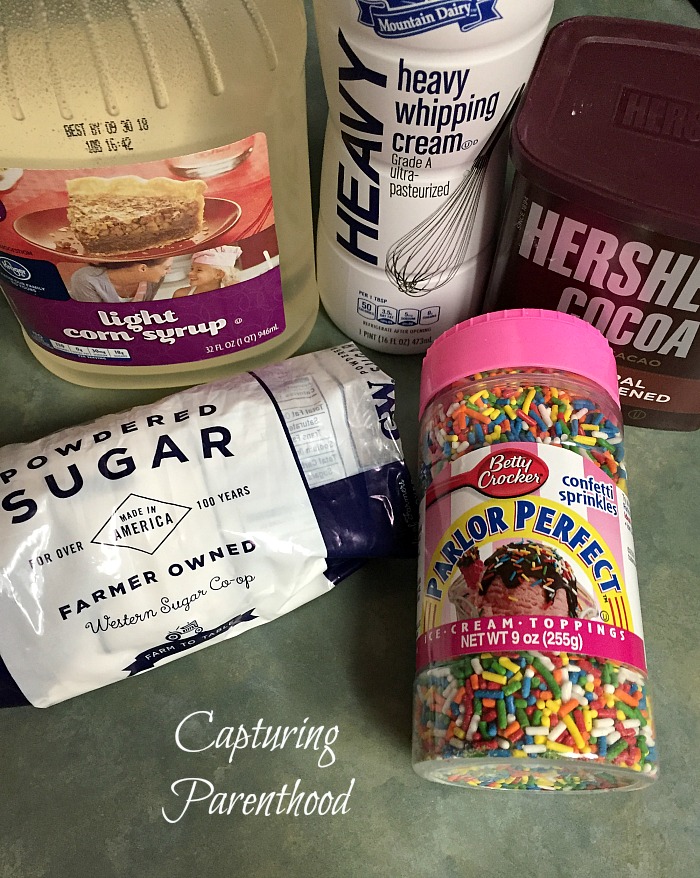 Chocolate Glaze

3/4 Cup Powdered Sugar
3 Tbsp. Unsweetened Cocoa Powder
4 Tbsp. Heavy Cream
2 tsp. Corn Syrup
Sprinkles
Instructions:
Preheat the oven to 350° F. Spray donut pans with non-stick cooking spray, and set aside.
In a medium-sized bowl, combine the flour, unsweetened cocoa powder, baking soda, and salt. Whisk together, until thoroughly combined.
In a large bowl, add the room-temperature butter, egg, brown sugar, sugar, vanilla extract, and buttermilk. Using a whisk, or fork, mix the ingredients until they are all thoroughly incorporated.
Pour the dry ingredients into the large bowl of wet ingredients, and stir until combined.
Spoon the donut batter into a cake-decorating bag (or Ziploc bag) and squeeze the batter into the donut pans.
Place in the preheated oven, and bake for 8-10 minutes, or until a toothpick comes out clean.
Remove from the oven and let the donuts cool in the pan for 10 minutes. Using a fork, gently remove the donuts from the pans, and transfer to a cooling rack, to cool completely.
Once the donuts have cooled, combine all of the chocolate glaze ingredients in a small bowl, and mix until smooth.
Dip the top-half of each donut into the chocolate glaze, set on wax paper, and generously add sprinkles! Repeat until all of the donuts are covered in chocolate glaze and sprinkles.
Enjoy!
These donuts will keep for a few days, if stored in an airtight container…if they last that long. 🙂
---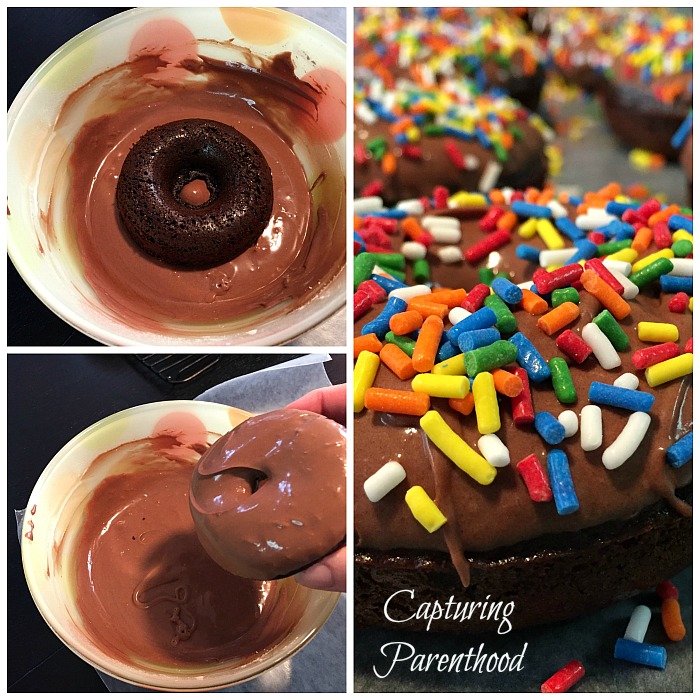 What's your favorite kind of donut? If I'm being honest, there are not too many that I don't enjoy…but if push comes to shove, I will always select one with a delicious chocolate glaze!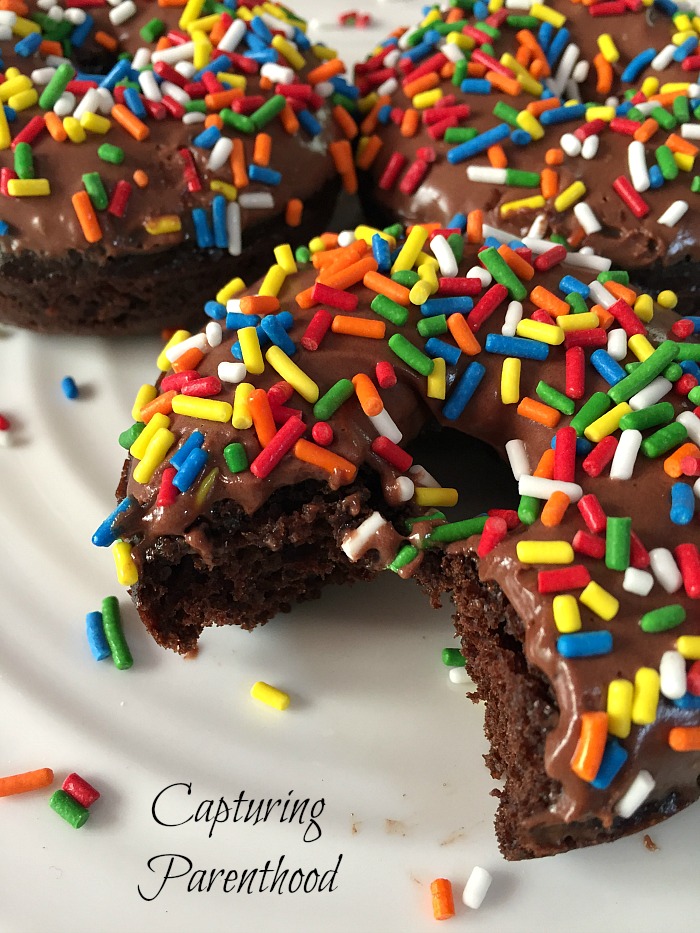 START SPREADING THE NEWS!