Happy Valentine's Day!!! To celebrate the special day, I made my first (ever) batch of baked donuts! That's right. Baked Valentine's Day Donuts…made with lots of love…for my family to feast upon for breakfast on Valentine's Day!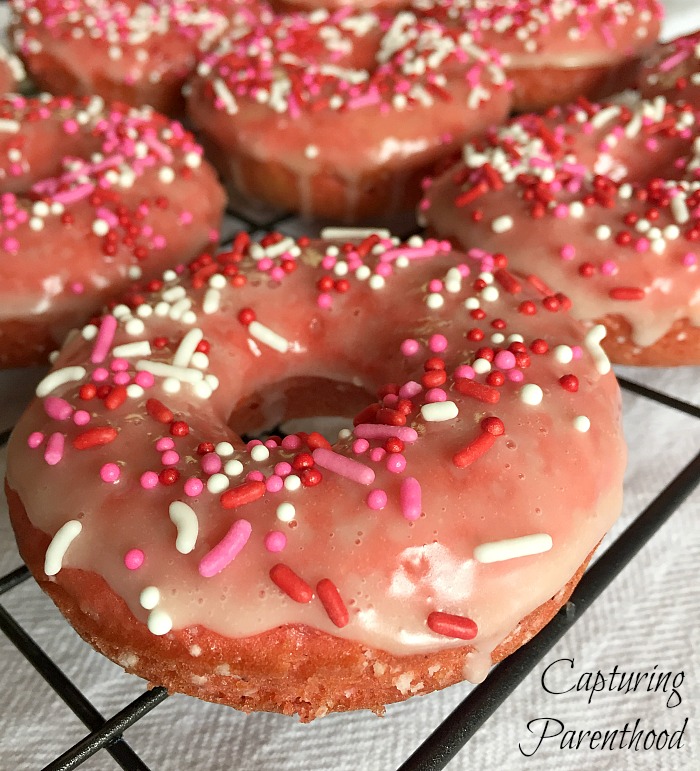 I became inspired to try my hand at homemade baked donuts, after stumbling across Haley's blog post for Baked Birthday Donuts, on If You Give A Blonde A Kitchen (http://www.ifyougiveablondeakitchen.com/2017/01/03/birthday-donuts/). Her donuts looked so incredibly delicious and colorful…the pictures made my mouth water. Haley mentioned that it was also her first time baking donuts, and she was surprised to find just how easy they were to make. So, I figured, why not give it a try?
I purchased a couple of donut pans (6 donut molds, per pan) and I opened up my calendar. I wanted to make my first batch of baked donuts for a special occasion, so I decided I would save the recipe for Valentine's Day. And then, there was a slight hiccup.
I went to the doctor in January with a cold and respiratory infection – an illness I have been super prone to contracting the past few years, after having my daughter. Yay for day care germs! At my appointment, my doctor stated that there is emerging evidence that may indicate a link between asthma-related respiratory illnesses, and a milk protein intolerance. She suggested that I try a month completely free from dairy to see if it made any difference with my respiratory health.
It took me a little while to wrap my head around the fact that I would not be able to eat any cheese for a month.  I mean, are you kidding me? But, I was tired of being sick all of the time, and especially tired of my persistent cough. So I boldly decided that February would be my dairy-free month. And then I remembered my plan for Valentine's Day breakfast, and I almost cried. I was so looking forward to enjoying some delicious donuts.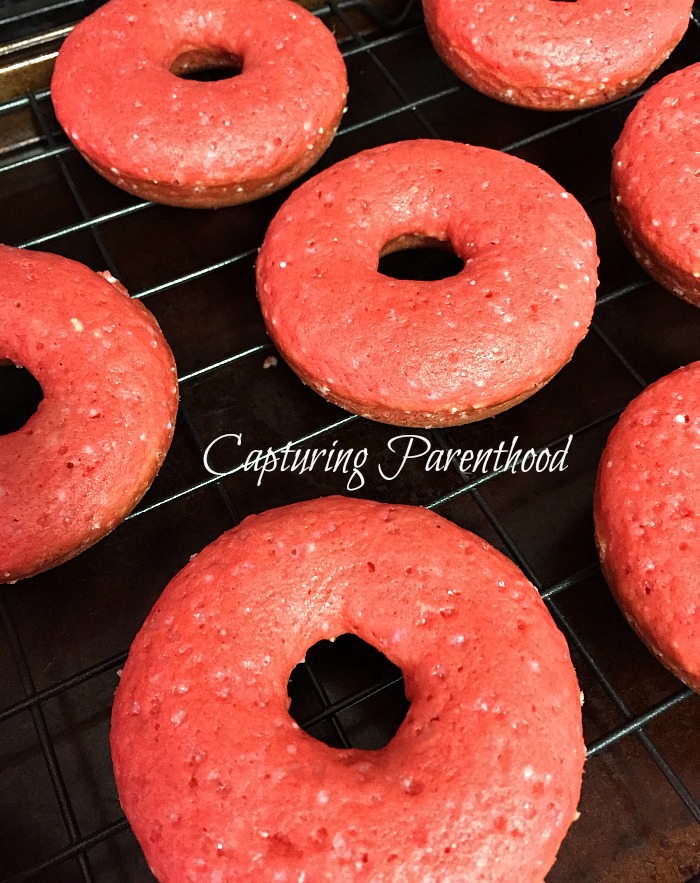 After a week of being dairy-free, I finally realized that I could still make a lot of recipes using dairy-free alternatives, and the decision was made. I was going to make some Baked Valentine's Day Donuts…and I was going to make them dairy-free!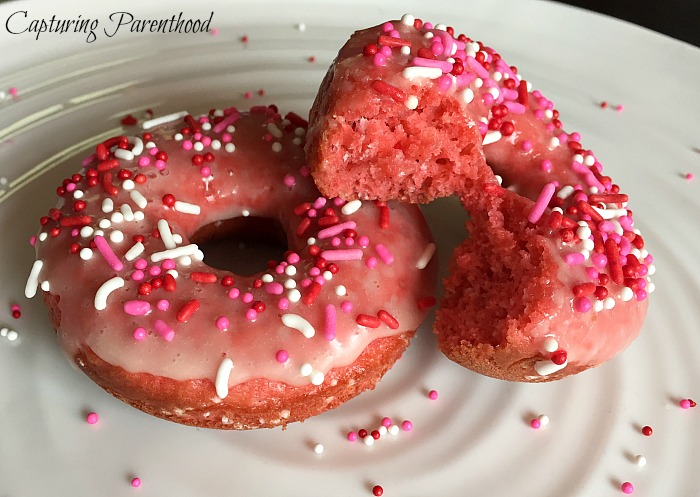 Baked Valentine's Day Donuts (Dairy-Free)
Ingredients: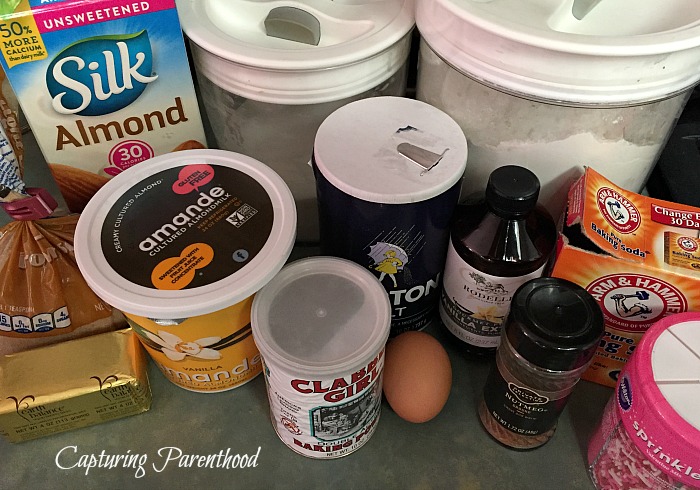 Donuts

1 Cup All-Purpose Flour
1 tsp. Baking Powder
1/4 tsp. Baking Soda
1/4 tsp. Salt
1/4 tsp. Ground Nutmeg
1/4 Cup Granulated Sugar
1 Tbsp. Light Brown Sugar
1/4 Cup Unsweetened Almond Milk
1/4 Cup Vanilla Almond Yogurt (or other dairy-free alternative)
1 Egg
2 Tbsp. Earth Balance Buttery Spread (or other dairy-free alternative), melted
1-1/2 tsp. Vanilla Extract
1/2 Cup Valentine's Day Sprinkles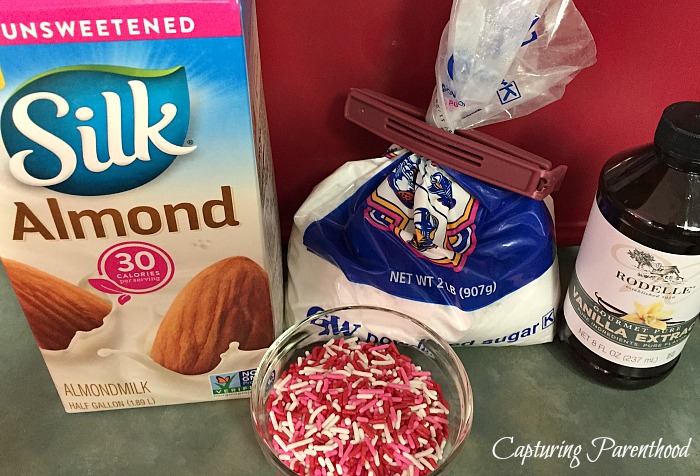 Glaze

1/4 Cup Unsweetened Almond Milk
2 Cups Powdered Sugar
1 tsp. Vanilla Extract
Extra Sprinkles (optional)
Instructions:
Preheat the oven to 350° F. Spray two (6-mold) donut pans with non-stick cooking spray.
In a medium-sized bowl, combine the flour, baking powder, baking soda, salt, nutmeg, granulated sugar, and brown sugar. Stir to combine.
In a large bowl, whisk the almond milk, almond yogurt, and egg together for approximately one minute, or until thoroughly combined. Add in the melted Earth Balance and vanilla extract and whisk to combine.
Pour the dry ingredients into the wet ingredients and stir until just combined – do not over-mix.
Fold the sprinkles in gently so that the colors don't bleed. *See note below*
Transfer the donut batter into a piping bag, and using a regular, round frosting tip, pipe the batter into each donut mold, filling 3/4 full.
Bake for 8-10 minutes, until the edges are golden. Remove from the oven and let the donuts rest in the pans for a few minutes, before moving them to a wire rack to cool completely.
Once the donuts have completely cooled, prepare the glaze. Combine the almond milk, powdered sugar, and vanilla extract in a small saucepan. Heat on low heat and whisk until the glaze is nice and smooth.
Remove the pan from the stove top. Take a donut and dip the top into the glaze. Swirl the donut around gently in the glaze (to ensure full coverage) and then return it to the wire rack. Immediately top with sprinkles. Repeat this step for the remaining donuts.
*Note: I used some cheap Valentine's Day sprinkles from the grocery store, and no matter how gently I tried to fold them into the batter, the red sprinkles still bled into the batter, turning the entire batter red. Since I was making Valentine's Day donuts, I did not mind. However, in the future, I will use some higher-quality sprinkles!
This recipe was inspired by, and adapted from, If You Give A Blonde A Kitchen. The recipe yields 10 donuts.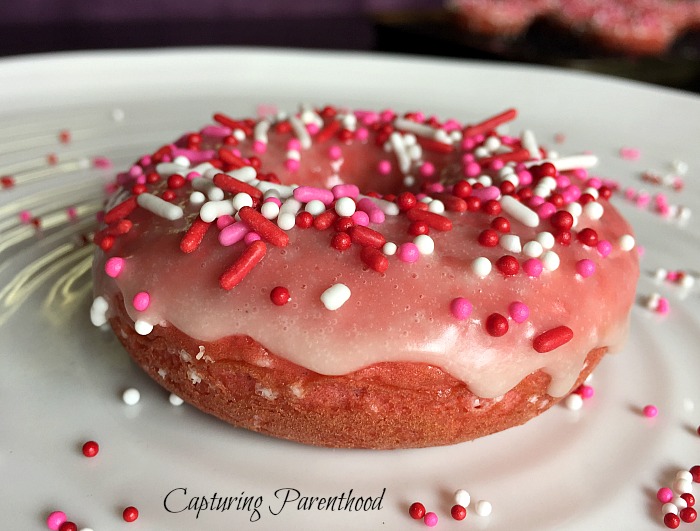 These dairy-free Baked Valentine's Day Donuts turned out perfectly! They were a huge hit with the entire family, and they got our Valentine's Day started on the right foot!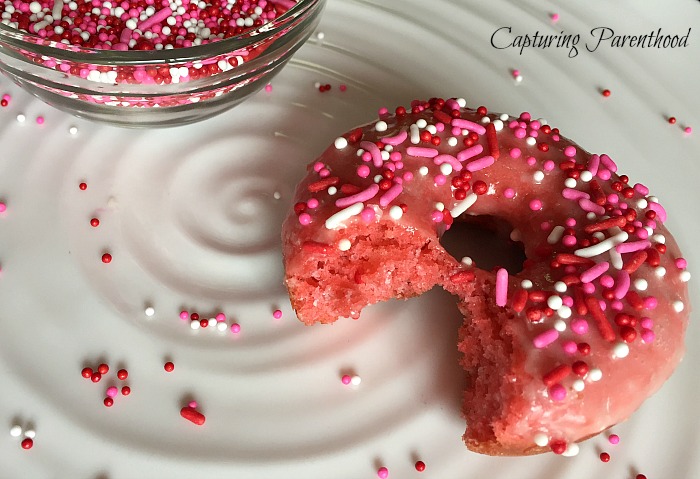 I can't wait to try different variations of this recipe in the future. I mean, I have the donut pans now, so I've got to utilize them, right?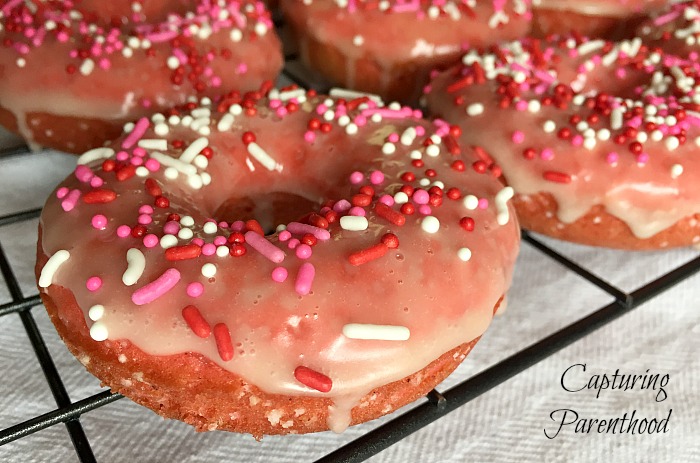 Wishing you and your loved ones a very sweet and Happy Valentine's Day!
START SPREADING THE NEWS!