This warmer weather has me reminiscing about my little nugget's beach-themed second birthday party, that we held in our backyard last summer! A fun beach/ocean theme was the perfect celebration idea, since we had recently ventured on two separate beach vacations. I will never forget the look on her face when she placed her toes in the sand for the very first time, or her first experience getting knocked over by an ocean wave. The latter experience aside, she absolutely loved the beach! But…we live nowhere near the beach, so I had to figure out how to bring the beach to our backyard.
**Note: This post contains Amazon Affiliate links for convenience. See Disclosure Policy for more details.**
Beach Birthday Party Decorations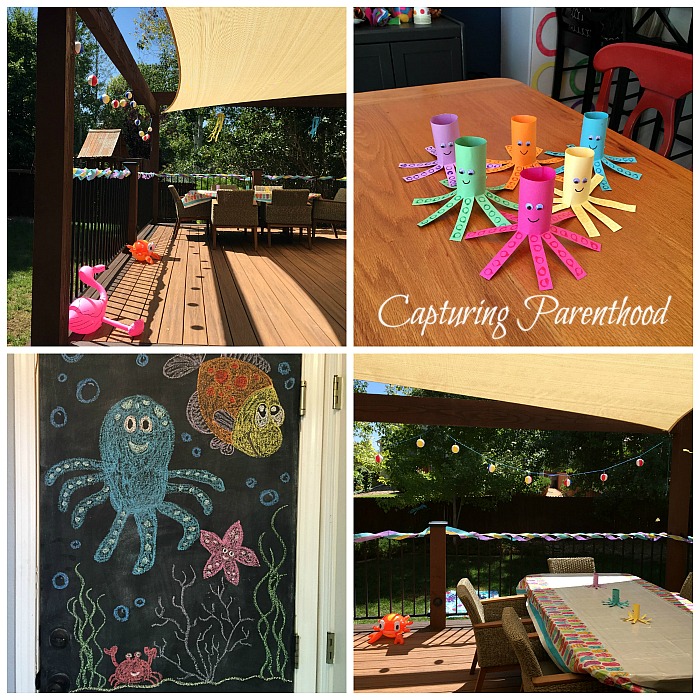 I started with the decorations. I found so many amazing beach/ocean party decorating ideas on Pinterest. I created a handful of paper bowl jellyfish, based on photos I came across on MPM Ideas (http://www.mpmschoolsupplies.com/ideas/2326/adorable-paper-bowl-jellyfish/). I painted some medium-sized paper bowls in varying colors, and then glued on some streamers for tentacles. I hung them from our exterior pergola posts and a few tree branches throughout the yard.
Next I grabbed a bag of foam balls, some red, yellow and blue paint, and some string, and made this adorable beach ball garland that I found on Studio DIY (http://studiodiy.com/2012/07/31/diy-beach-ball-garland/).
My little nugget had a blast helping me make several colorful construction paper octopuses, that we placed on various tables, that were being utilized for the party. I found the inspiration for this easy little craft on Minieco (http://www.minieco.co.uk/ss-octopus/).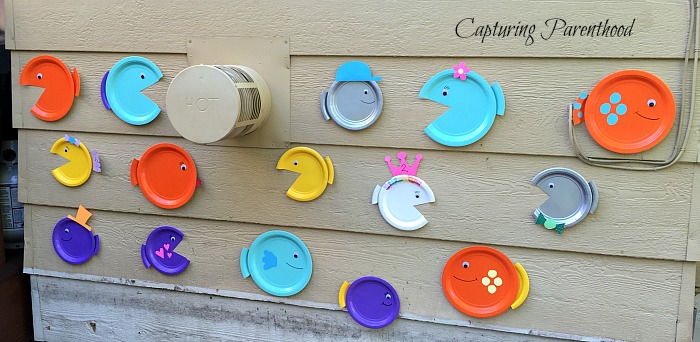 My favorite party decoration turned out to be these adorable, and fun, paper plate fish. We customized each one and taped them up on the exterior of our house. They were a huge attention-grabber and all of the kids loved them! I found this awesome idea on Made Everyday (http://www.madeeveryday.com/2011/08/tutorial-paper-plate-fish.html/). My little nugget's favorite paper plate fish was most definitely the one I created to look like the little white fish, from the book Little White Fish Has A Party by Guido Van Genechten (complete with a pink crown with the number two)!
I also snagged a few items from my local Party City – a small inflatable crab and flamingo, some flip-flop tablecloths, and balloons, of course! I went with a few colorful latex balloons covered in the number two, a large, pink #2 foil balloon, and a dolphin foil balloon!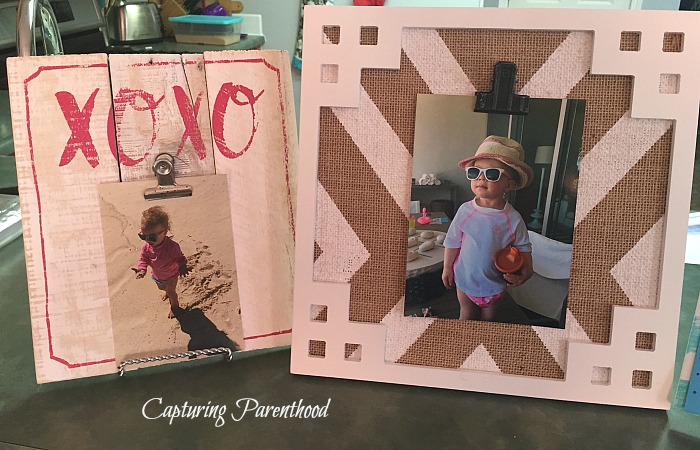 Lastly, I found a couple of cute picture display options at Hobby Lobby, where I placed some of our favorite beach photos of our little girl. Next to the photos I displayed the completed set of Birthday Interview Questions that I had asked our little nugget. I fell in love with this adorable idea, when I came across it on Blue Door & Burlap (http://bluedoorandburlap.blogspot.com/2013/07/birthday-interview.html?m=1). You simply ask your child the same set of questions every year on their birthday. On their 18th birthday, you can break them all out again, and take a few moments to reminisce about how things changed over the years. My daughter will also be getting an envelope full of letters, that guests from her 1st birthday party wrote to her (specifically for her to open on her 18th birthday)!
Oh…and for an added festive flourish, I utilized our chalkboard garage door, to showcase a cute little underwater scene!
Beach Birthday Party Food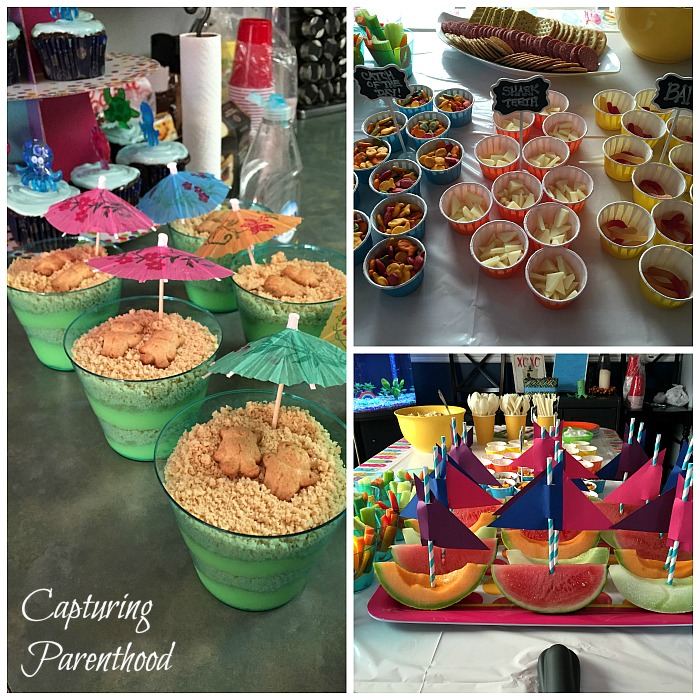 We served a wide array of snacks and treats, which included the following:
We also prepared a cheese, meat and cracker tray, some delicious pasta salad, and of course…cake!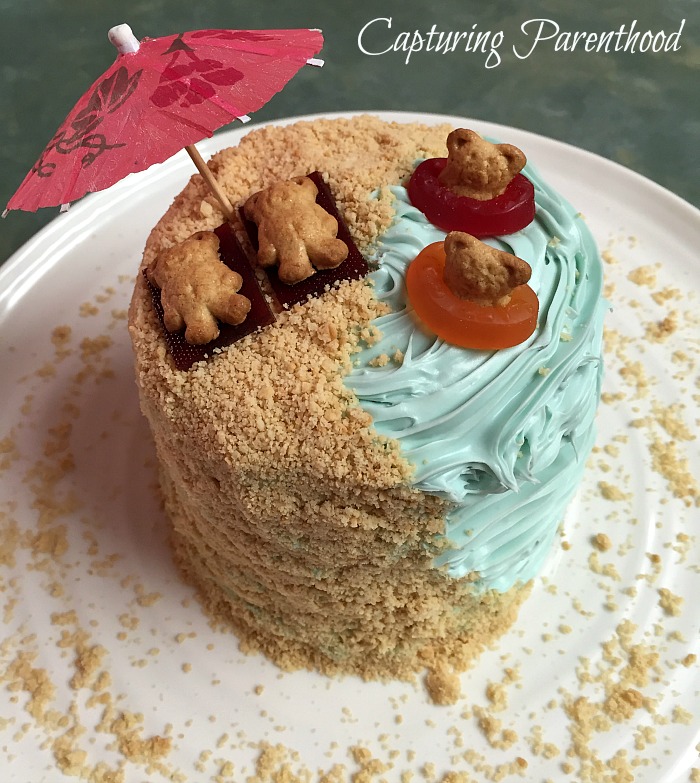 I developed the concept for this adorable beach-themed birthday cake, when I came across a photo of some cute Teddy-at-the-Beach Cupcakes on Pinterest. (https://www.bettycrocker.com/recipes/teddy-at-the-beach-cupcakes/d02e62b9-5416-45fe-bb1f-c471c1a6486c?nicam4=socialmedia&nichn4=pinterest&niseg4=bettycrocker&nicreatid4=post&crlt.pid=camp.tvebg5kzdel9).
I used three mini Springform pans, to bake my chocolate cake base. I then layered the three cake rounds (with frosting in between each layer). Once my cake rounds were stacked, I used a decorating bag with a star-shaped tip and spun the cake around in a circle, frosting from the bottom up. I found that the star-shaped tip made (what looked like) beach waves when used in this manner. Once the entire cake was frosted, I took some crushed Vanilla Oreo Cookies (sand) and gently pressed the cookie crumbs onto half of the cake. On the sandy beach, I displayed two sunbathing Teddy Grahams (laying on fruit leather beach towels, under a colorful umbrella). In the water, we had two Teddy Grahams floating in inner-tubes (chewy Lifesavers). Sprinkle a bit more sand (cookie crumbs) around the outside of the cake plate and Ta-Da!
Beach Birthday Party Fun & Activities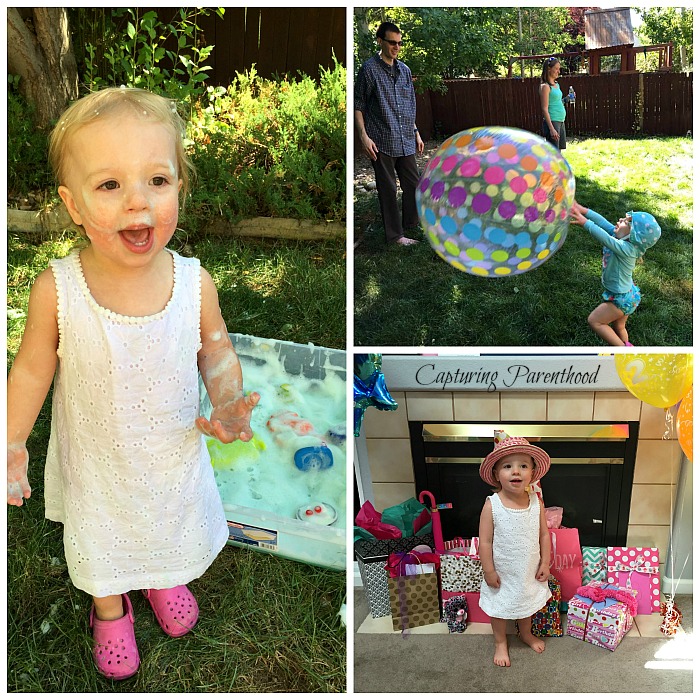 It wouldn't be a beach-themed party if there wasn't water to play in, so we setup our small splash pad for the kiddos to enjoy. They also loved kicking, bouncing, and throwing the jumbo beach balls that I found. I had been looking at these Intex Jumbo Inflatable Beach Balls on Amazon, and was getting ready to buy them, when I happened down the wrong aisle during a grocery shopping trip, and stumbled upon the same exact balls for half the price! Thank you King Soopers!
Aside from the splash pad, giant beach balls, and bubble machine, another highlight for the little ones was most definitely the bubble foam tub! I came across this brilliant sensory play idea on Busy Toddler (http://busytoddler.com/2015/11/bubble-foam/). Just follow the link to find out how to make your very own bubble foam – you won't be sorry.
And now, as I'm wrapping up this post, I've realized that I must have forgotten (in all of the excitement) to take photos of our awesome beach party favors. While I don't have a visual to show you, I can describe them. I purchased some small beach bucket and shovel sets from Party City, and we filled them with mini inflatable beach balls, bubbles, sunglasses, single-serving bags of Goldfish, and an ocean-themed bath toy that squirts (boats and ocean creatures, that I found on Amazon)!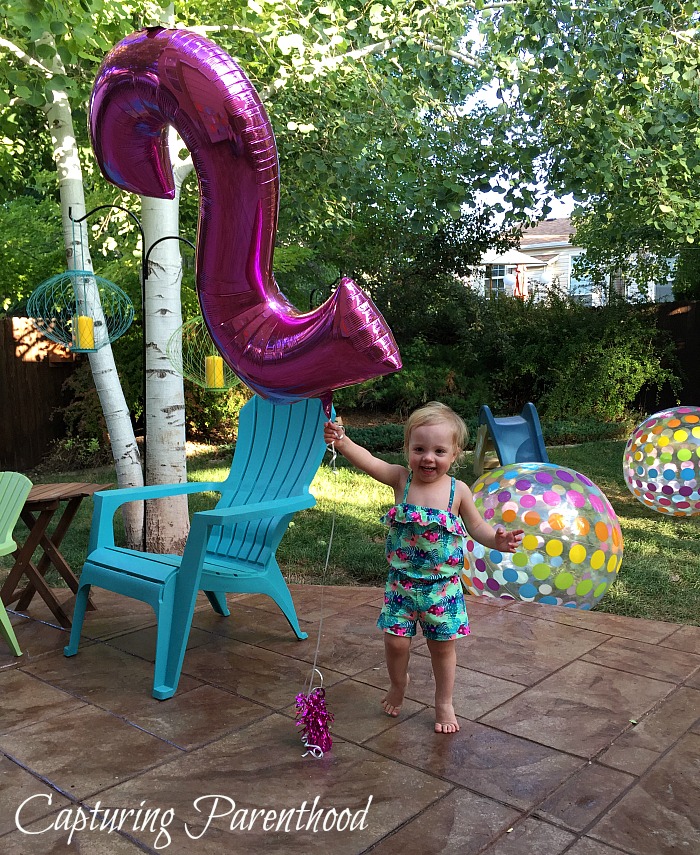 When all of the party favors were gone, and all of the presents had been opened, we were all exhausted…but happy! We had a wonderful time celebrating our little nugget's second birthday, and she had an amazingly fun day that she still likes to talk about. I'd call that a win!
Now…on to finding the perfect theme for birthday #3!
START SPREADING THE NEWS!