Summertime is the perfect time to get outdoors for some arts and crafts activities! And our favorite outdoor painting technique? Bubbles! I mean, how could you go wrong when you combine the fun of bubbles, with a painting activity? It's a win-win! And that's why we are sharing this post…Bubble Painting – Two Ways!
What I love about bubble painting is that it's a fun and engaging activity for the entire family, and since you paint outside, it makes clean-up a breeze!
---
Bubble Painting with Miracle Bubbles & Food Coloring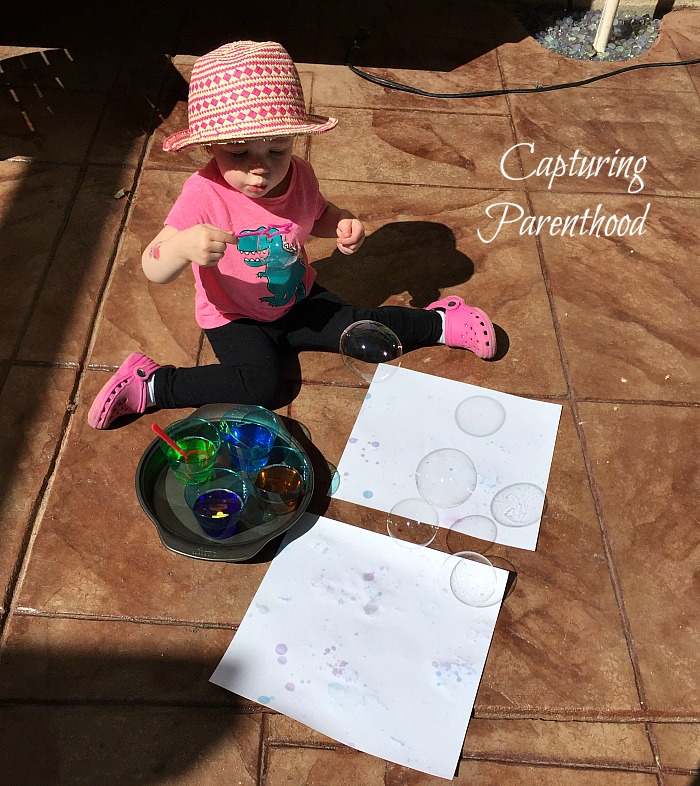 For our very first bubble painting extravaganza, we chose to actually blow colored bubbles onto sheets of white paper. I stumbled across this idea for Popped Bubble Art, on Broogly (https://www.broogly.com/project/popped-bubble-art).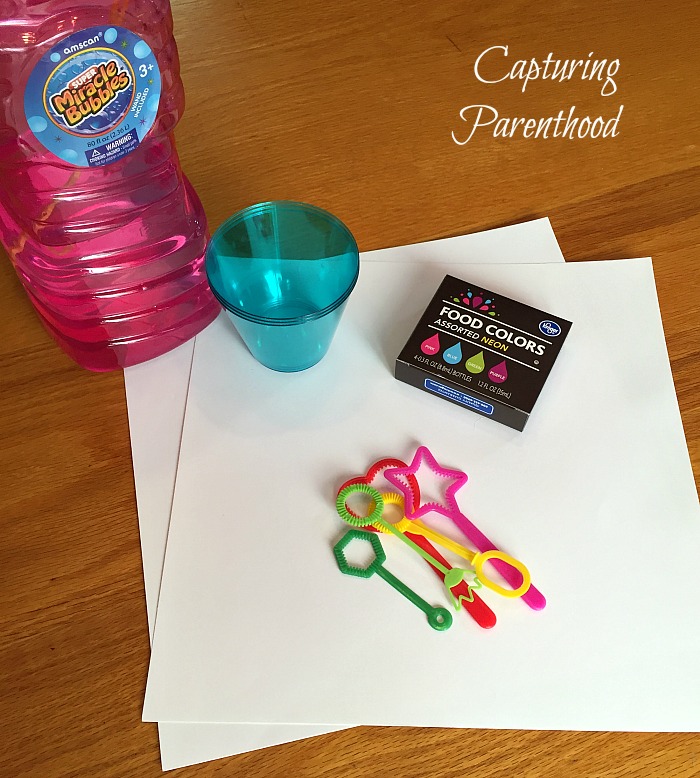 All you need is some bubble solution (we used Miracle Bubbles), some bubble wands, some plastic cups, and some food coloring (we used our Neon food colors).
Fill the plastic cups at least 1/4 to 1/2-full with bubble solution (you want to have enough to be able to submerge your bubble wands). Add a few drops of food coloring to each of your cups, to create the colors that you want to paint with. Grab a couple of sheets of white paper (I recommend paper suited for watercolor painting), and head outside!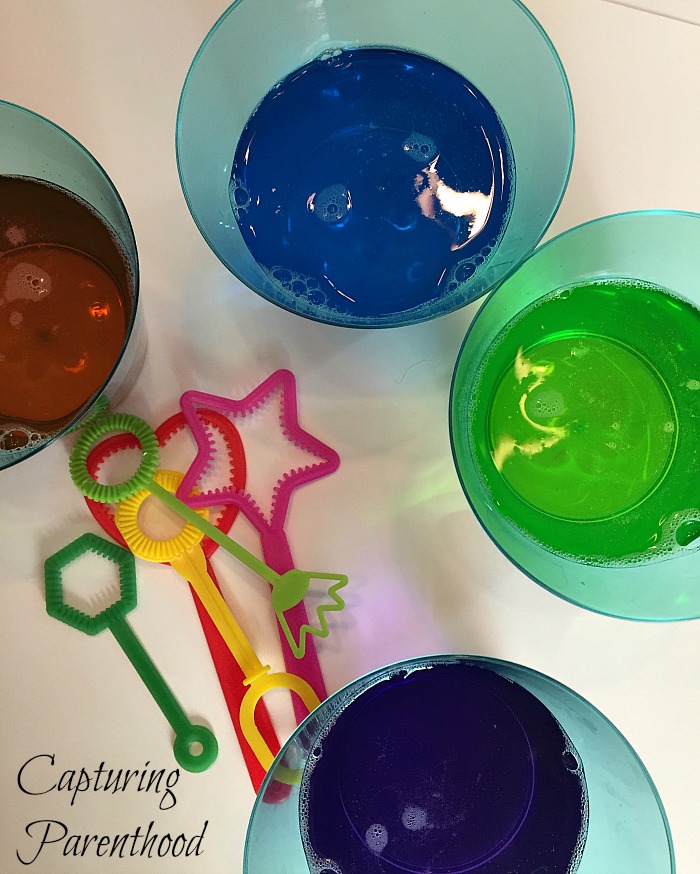 Lay the sheets of paper on a flat surface and have your little ones blow colored bubbles directly at the paper, so that the bubbles pop when they hit the paper, creating the popped bubble effect.
I must admit, our popped bubble paintings did not turn out as distinctly vibrant as the ones we saw on Broogly. Nevertheless, my little nugget had a blast blowing bubbles and watching the pops of color appear on the paper.
And then…we found a bubble painting technique that resulted in the most beautiful, and colorful masterpieces we've created, thus far. Want to know what it is? Keep scrolling!
---
Bubble Painting with Dish Soap & Food Coloring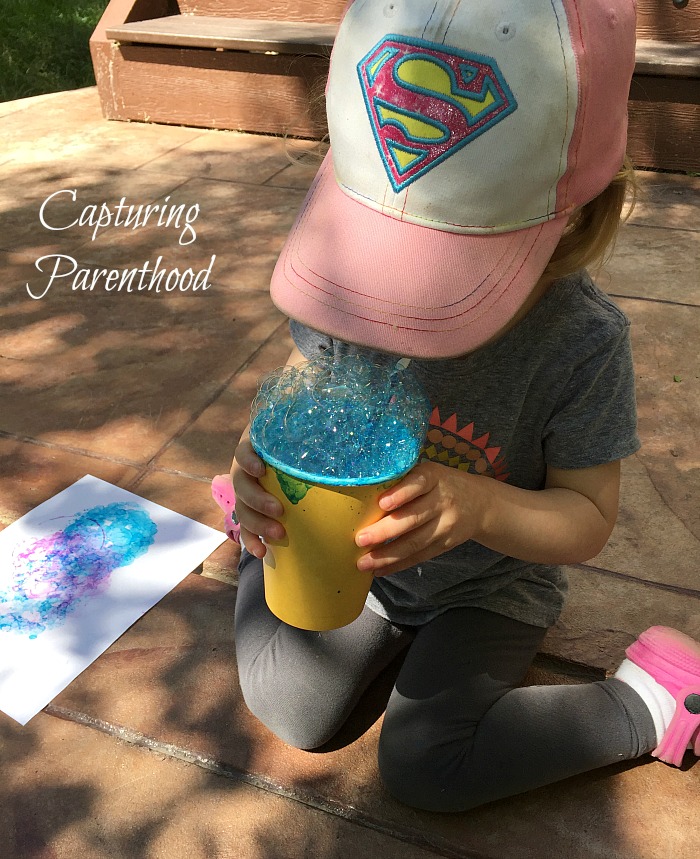 Bubble painting using dish soap and food coloring is definitely the way to go! After being a little disappointed with the finished product of our popped bubble art, I was thrilled when I stumbled upon an Instagram post from @creatingcreatives, with how-to steps to create some superb bubble art!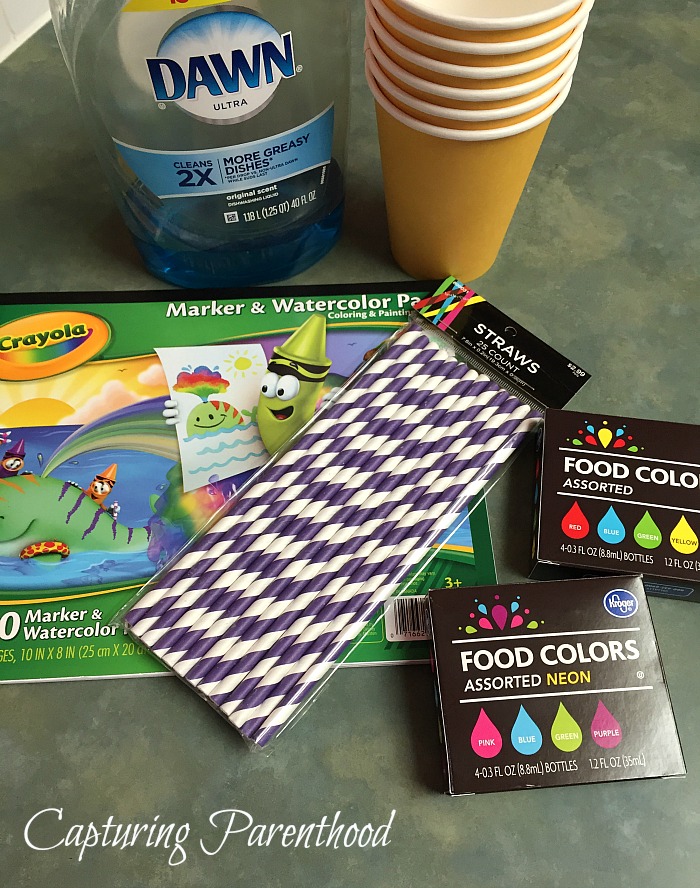 The required supplies for this art activity include: water, dish soap, cups, straws, food coloring, and watercolor paper.
Decide how many colors you want to create, select an equal number of cups, and fill each cup approximately 1/4 to 1/2-full, with water. Add some dish soap to each cup of water and then head outside, with all of the other necessary supplies. Working with one cup (and color) at a time, place a straw into the cup and begin blowing bubbles, until the bubbles emerge from the rim of the cup. Quickly place a few drops of food coloring onto the bubbles. This step was absolutely key to achieving the most vibrant colors on the paintings, so be sure to add the food coloring on top of the bubbles, as opposed to coloring the water/dish soap solution before blowing the bubbles.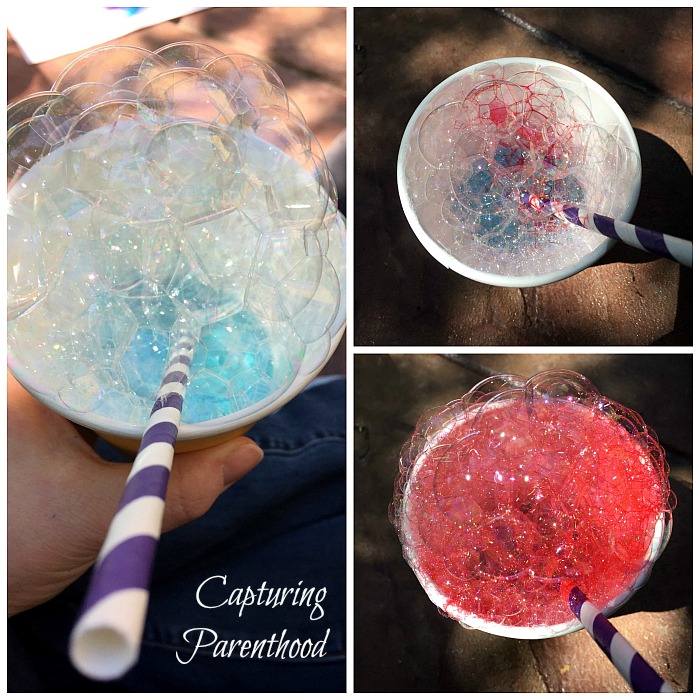 I was fascinated watching the way the food coloring dyed the bubbles in the cup – it's hard to describe, but you will see for yourself! Once you have applied the food coloring to the bubbles, quickly take your watercolor paper and place it over the top of the cup. Remove the paper to reveal the amazing bubble patterns. Set the paper aside, and repeat this process with each cup (and color), until your masterpiece is complete!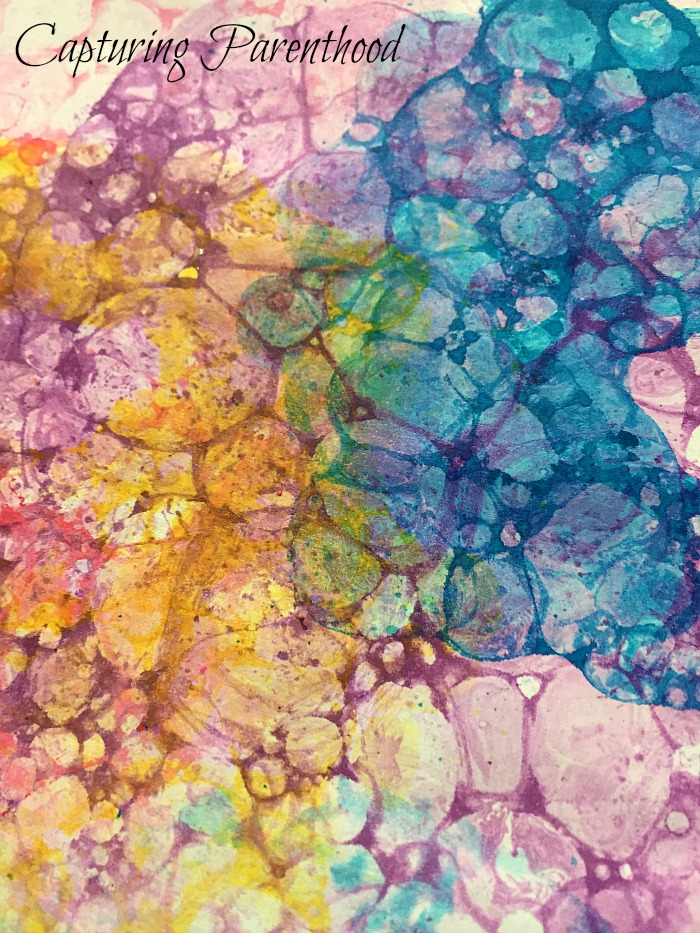 Word of warning…this bubble painting method may not be best for children who have trouble blowing on a straw, without also sucking on a straw. You don't want your little ones drinking the water and dish soap solution. 🙂 After my little nugget ingested a small amount, I decided it would be best if I blew the bubbles, while she assisted with the colors and paper.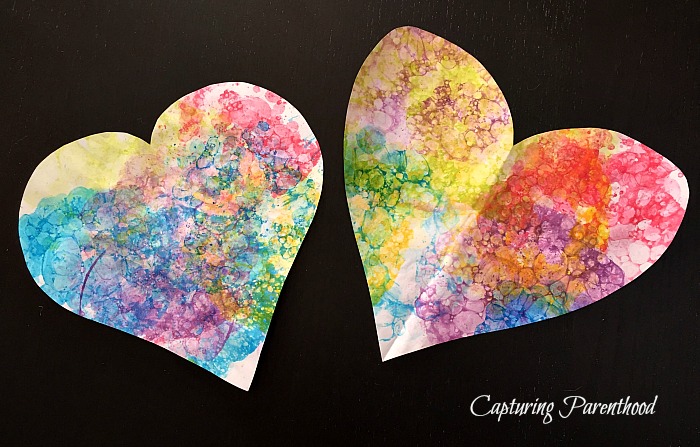 Once our bubble paintings were complete and dry, I cut hearts out of the paper, and we proudly displayed them on our art wall in the dining room!
---
Have you tried bubble painting with your kiddos? What's your favorite method? What other outdoor arts and crafts activities do you like creating with your little ones during the warmer months of the year? I would love to hear all about them in the comments section below!
START SPREADING THE NEWS!