I recently realized that it's been a little while since I posted any recipes for the furry members of our family, so today I'm showing some love to our fur-babies, with these Carrot & Banana Dog Treats!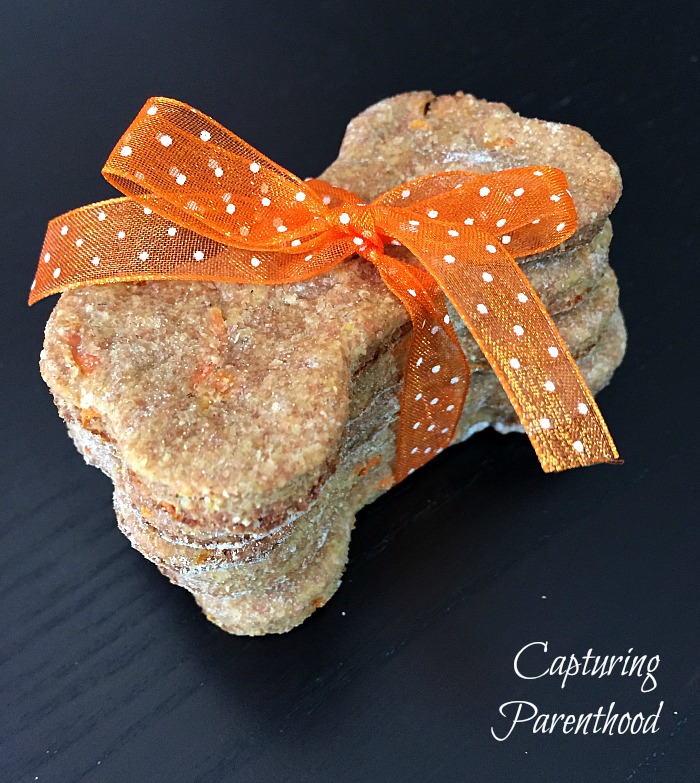 I came across the recipe for these delectable dog treats on 17 Apart (http://www.17apart.com/2012/02/how-to-carrot-banana-natural-dog-treat.html). Feel free to follow this link to the find the original recipe.
---
Carrot & Banana Dog Treats
Ingredients: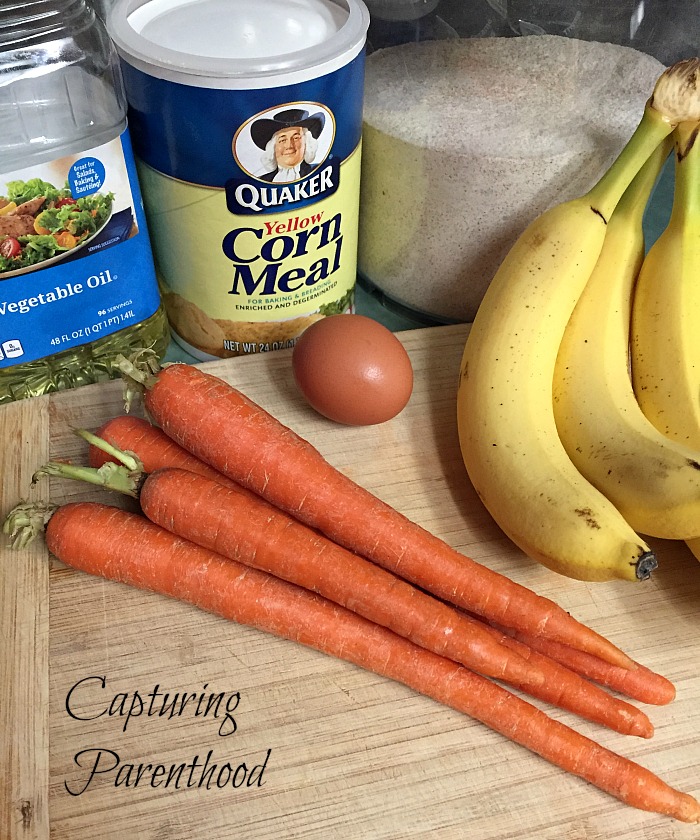 2-3 Ripe Bananas
1 Bunch (5-6) Carrots, Peeled and Grated
1 Egg, Beaten
1/3 Cup Vegetable Oil
1/2 Cup Cold Water
2-1/2 Cups Whole Wheat Flour
1/2 Cup Cornmeal
Instructions: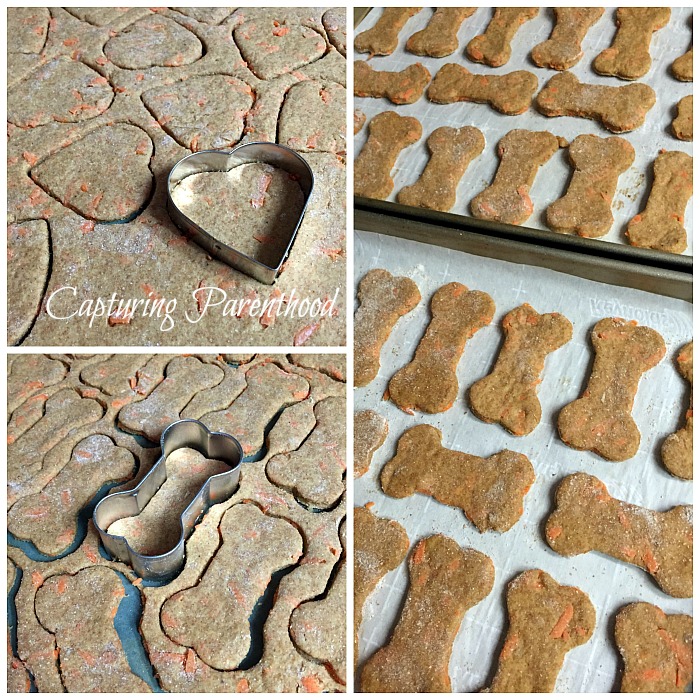 Preheat the oven to 350° F. Line a cookie sheet (or two) with parchment paper and set aside.
Peel the bananas and place them into a large bowl. Mash them up with a fork, until there are no more large chunks. Add in the grated carrots, beaten egg, vegetable oil, and cold water and stir until thoroughly combined.
In a medium-sized bowl, combine the whole wheat flour and cornmeal. Stir to combine.
Pour the dry ingredients (flour and cornmeal) into the wet ingredients, and mix until all of the ingredients are incorporated, and the dough has started to form. Feel free to get your hands a little dirty, by kneading the dough for a couple of minutes.
Sprinkle some whole wheat flour onto a clean, flat work surface. Place your dough on top, and using a floured rolling pin, roll out the dough to your desired thickness. Cut out your treats using the cookie cutter of your choice. I made a few heart-shaped dog treats, as well as some bone-shaped dog treats!
Place the cut-out treats onto the prepared cookie sheet (you can place them pretty close together, since they don't spread while baking). Bake the dog treats for approximately 35 minutes, or until the edges start to brown.
Remove the treats from the oven, and let them sit on the cookie sheet for a few minutes, before transferring them to a cooling rack, to cool completely.
Once fully cooled, toss a few to your eager dogs (for approval) and store the rest in an airtight container, or Ziploc bag.
---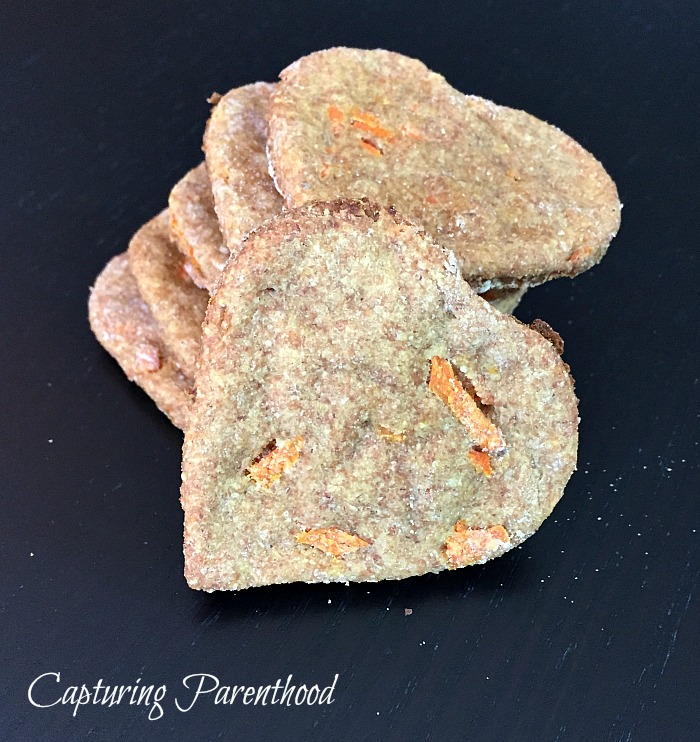 These dog treats, full of banana and carrot goodness, were a big hit with our fur-balls! Carrots are a wonderful addition to any dog treat – they are low in calories and fat, and chock-full of beta-carotene and Vitamin A. We even treat our dogs with plain ole' carrots (on occasion) because their crunchy texture helps clean their teeth! And bananas…they are another great ingredient for dog treats, because they are potassium-rich, and high in fiber and magnesium. Magnesium promotes bone growth and assists the body with vitamin absorption.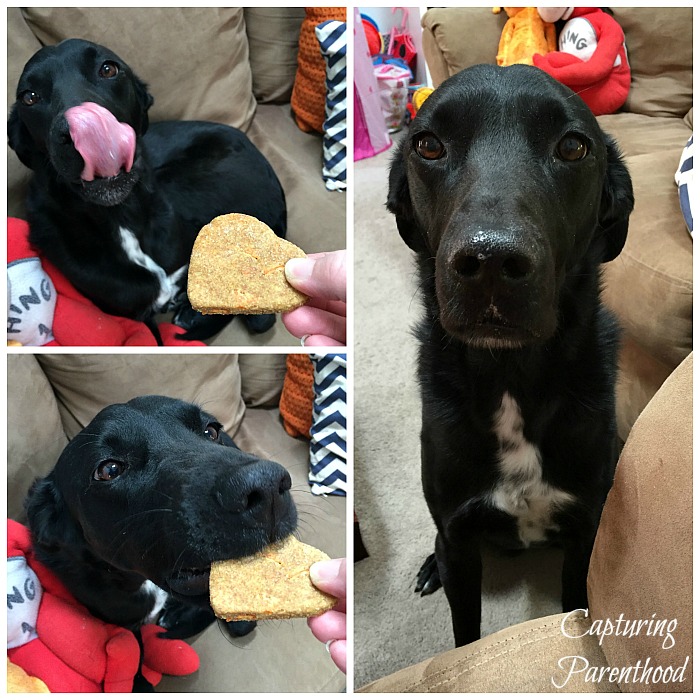 Just look at this happy dog! She sat in front of me (like this) for the remainder of the day – after snacking on a couple of these delicious dog treats!
"Don't mind me…I'm just silently begging for more yummy treats! "
"Is it working?"
START SPREADING THE NEWS!