It's almost Christmas! In our house that means our decorations are up, our tree is decorated, presents are (mostly) wrapped, Christmas goodies are in abundance, and our story times are filled with festive holiday books!
Our daughter was so excited to get our stack of Christmas books out this year…when she saw them on her bookshelf, she desperately wanted to skip bath time and "READ THEM ALL!!!" We also snagged a selection of holiday books from our local library – it's such a great way to enjoy a variety of books, without spending a bunch of money.
Our Favorite Christmas Stories (2016)
Merry Christmas, Curious George by Margret and H.A. Rey

George finds himself in a bind when he goes searching for a Christmas tree with the man with the yellow hat.

The Christmas Cub by Justine Korman Fontes

A curious bear cub decides to stay awake during the winter, and he learns all about the spirit of Christmas.

Is It Christmas Yet? by Jane Chapman

Teddy is so excited for Christmas, he just can't wait! But, Big Bear reminds him that they have to wrap all of the presents, bake the cake, and find a tree…before Christmas comes.

How the Grinch Stole Christmas by Dr. Seuss

This classic is a must-read, every year! Our little nugget loves to hear about the Whos in Who-ville, and their Christmas traditions. And she follows along excitedly as the Grinch carries out his sneaky plan.

Rudolph the Red-Nosed Reindeer: Rudolph Helps Out by Bendon

Rudolph lends a hand making toys, baking cookies, wrapping gifts, decorating trees and guiding Santa's sleigh.

Rudolph the Red-Nosed Reindeer: Santa's Big Day by Bendon

Christmas Eve is a very busy day for Santa…he has to eat a good breakfast, load all of the presents, get the reindeer ready to fly, and deliver toys to all the girls and boys.

Baby's First Library: Christmas by Yoyo Books

This simple picture book has been one of our daughter's favorites for the past two years. She loves flipping through the pages and telling us about everything she finds: stockings, snowflakes, candy canes, ornaments, angels, etc. When she gets to the holly, she tells us that it's leaves and tomatoes!

Elmo's Christmas Hugs by Matt Mitter

I'm not sure that I've ever met a toddler who does not love Elmo. In this cute story, you can help Elmo make a snowman, decorate a gingerbread house, hang ornaments, wrap gifts, and play piano while Cookie Monster and Ernie sing carols. Don't forget to give Elmo a great big hug!

The Night Before Christmas by Clement C. Moore (Illustrated by Holly Hobbie)

Another wonderful Christmas classic, with beautiful illustrations, that will be shared for generations to come.

The Twelve Days of Christmas by Andrews McMeel Publishing (Illustrated by Jade Fang)

And this is our little nugget's #1 favorite Christmas book this year! We sing the song on a loop throughout the day…and our daughter proudly finishes each verse, starting with her favorite, "five golden rings!" This particular version is beautifully illustrated, and also includes several pages of animations, that always catch our daughter's eye! I purchased this book for my daughter's very first Christmas, because it was my favorite Christmas story/song when I was a child. I love being able to share these special memories and moments with my little girl!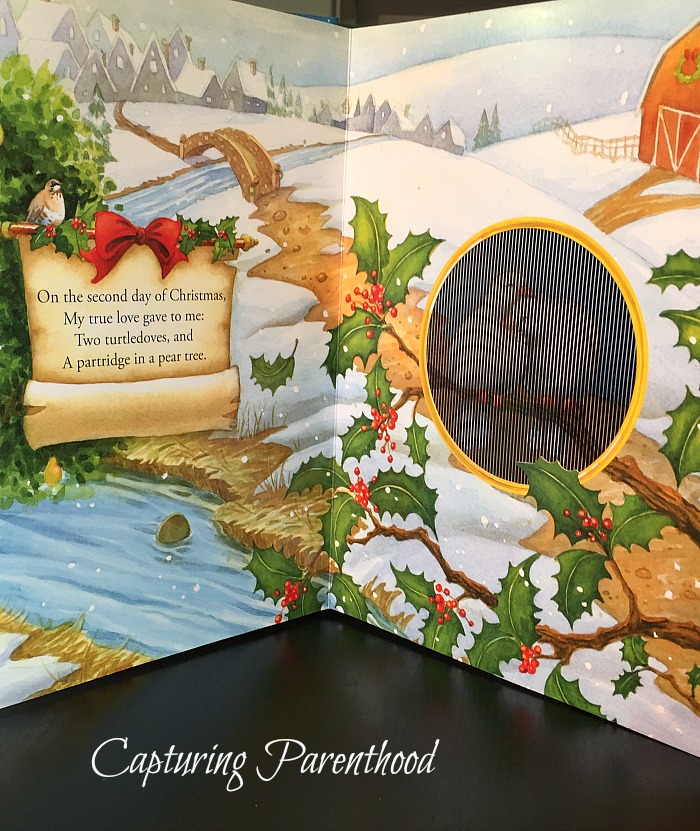 I would love to hear about your family's favorite Christmas, or holiday, stories – feel free to leave me a list in the comment section.
And make sure to take a break from all of the holiday madness, to cuddle up with your little ones, and read some heart-warming holiday stories!
START SPREADING THE NEWS!