"Valentine's Day is my favorite holiday. It's a day to tell people how special they are to you."
– Callie Pete the Cat: Valentine's Day Is Cool
We love using books to teach our little one about different things…whether we are learning about holidays, colors, numbers, feelings and emotions, foods, the weather, space…just about anything, really. Books are incredible tools that we can utilize throughout all the days of our lives. And the love of reading is a gift that never stops giving. On our most recent adventure to our local library, we decided to pick up a selection of Valentine's Day books, and we wanted to share our favorites with you!
---
Valentine's Day Books (2018)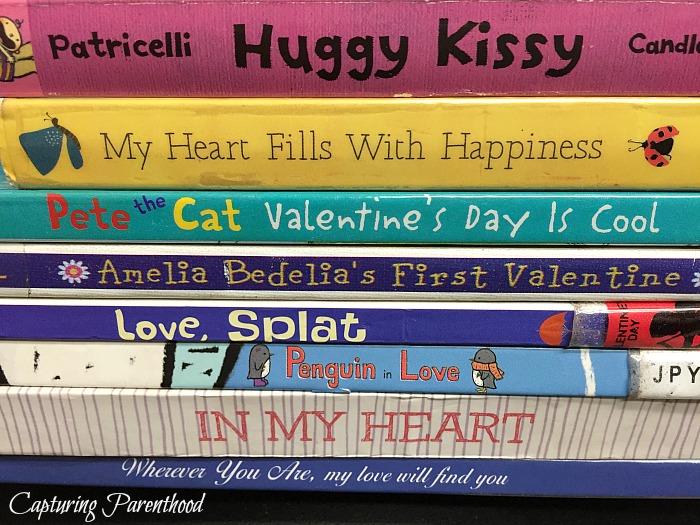 **Note: The below list contains Amazon Affiliate links, for convenience. See Disclosure Policy for more details.**
Huggy Kissy by Leslie Patricelli

This adorable book illustrates all the different ways our families (and friends) show us just how much they love us. Our little nugget loves looking at all of the different kinds of hugs and kisses on the last page…Eskimo kisses, bear hugs, boo-boo kisses…and so on.

My Heart Fills With Happiness by Monique Gray Smith

There are many things that can fill our hearts with happiness. This wonderful book illustrates just a few: singing, dancing, walking barefoot in the grass. Our little nugget loves picking up this story and flipping through the pages…she knows the whole thing by heart. When she's finished "reading" she always makes sure to ask us what fills our hearts with happiness, and then we ask her the very same question. 🙂 What fills your heart with happiness?

Pete the Cat: Valentine's Day Is Cool by Kimberly & James Dean

Pete the Cat is not so sure about Valentine's Day, until his friend Callie tells him exactly why Valentine's Day is cool! Pete and Callie create special Valentines for everyone in their lives…parents, classmates, their school bus driver, even the crossing guard. The day is going swimmingly until Pete realizes that he forgot to make a Valentine for Callie. How will that make Callie feel? Grab a copy of the book to find out!

Amelia Bedelia's First Valentine by Herman Parish

I remember reading Amelia Bedelia books when I was a little girl, so I figured I would snag this Valentine's edition, to share with my little nugget. Follow along as Amelia creates a special Valentine for each of her classmates, only to leave them under the seat on the school bus, on Valentine's Day. When the party at school starts, Amelia realizes that she has nothing to hand out, and she becomes distraught…until she discovers a creative solution hiding in her backpack. The Valentine's Day party is saved!

Love, Splat by Rob Scotton

Splat! Splat! He's one of our favorite cats! Splat is very nervous to deliver the very special Valentine that he made just for Kitten. And he loses all hope when his friend Spike gives Kitten a gigantic Valentine's Day card. Spike is sad and lonely. Can anything turn his Valentine's Day around? Perhaps a special Valentine from Kitten will do the trick!

Penguin in Love by Salina Yoon

We never tire of stories about our good friend, Penguin! We've gone with him on his vacation to the beach, witnessed his budding friendship with Pinecone, and watched his Christmas wish come true. And now, we're taking part in Penguin's quest for love. Will he find his match? With a little bit of help from some unsuspecting friends, he just might find his true love!

In My Heart: A Book of Feelings by Jo Witek

Let me start by saying that this book is a must-read…and in my opinion, a must-own! Each page of this beautifully-illustrated book conquers one of the many different emotions that we can find in our hearts. I absolutely love the way that this story describes the myriad of emotions that we can all experience on any given day…big feelings, little feelings, loud feelings, quiet feelings. How does your heart feel?

Wherever You Are: My Love Will Find You by Nancy Tillman

This captivating tale is the perfect way to teach our children that no matter where they go, what they do, who they become…our love (as their parents) will always be right beside them, unwavering. I love everything about this beautiful story. And my little nugget loves looking at all of the playful animals, as we flip through the pages of the book!
---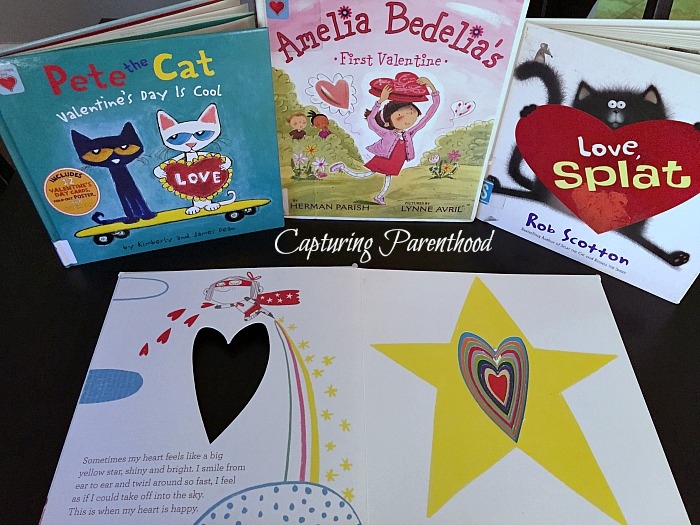 What are some of your little one's favorite Valentine's Day stories? Please feel free to share in the comments below.
START SPREADING THE NEWS!