My husband loves churros! I mean, what's not to love? Fried dough, rolled in cinnamon and sugar – it's pretty hard to beat. We celebrated my hubby's birthday recently, and for the weeks leading up to his big day, I was busy scouring my Pinterest boards looking for the perfect birthday treat, when I happened upon this Churro Cupcake post from The Domestic Rebel (http://thedomesticrebel.com/2015/05/01/churro-cupcakes-2/). I saved this pin almost two years ago and had honestly, completely forgotten about it. I'm so glad that it caught my eye again as I was busy scrolling. What could possibly be better than churros? Churro Cupcakes!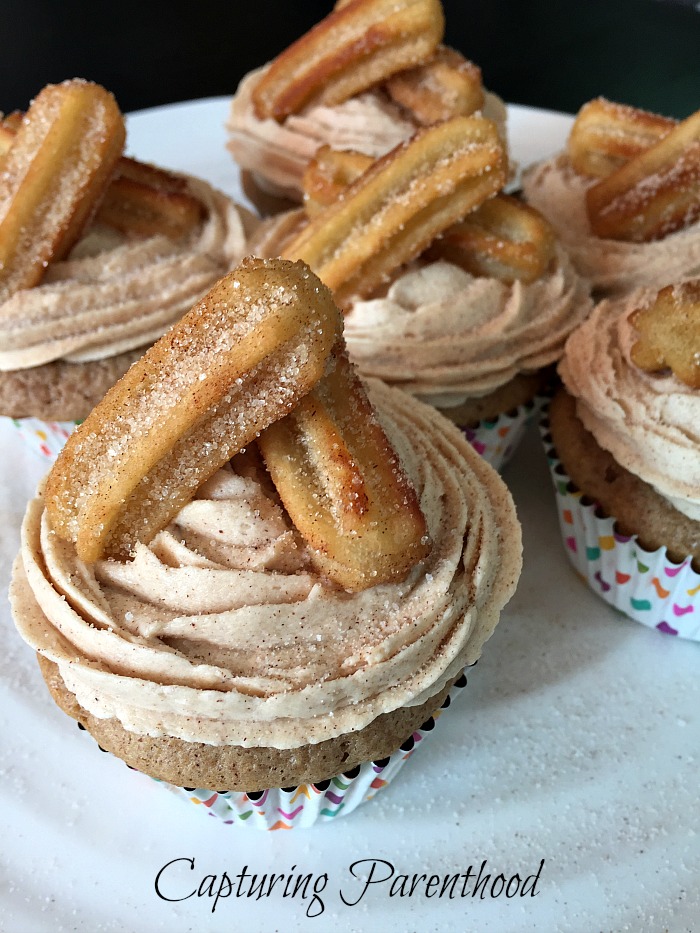 These cupcakes are super moist and delicious, packed with the delightful combination of cinnamon and sugar and topped with mini churros! Speaking of mini churros, I actually had a little bit of a hard time finding pre-made (frozen) churros. Haley, at The Domestic Rebel, mentioned in her recipe, that you could typically find these in the freezer section of your grocery store. I meticulously combed the freezer aisles at three of my nearest grocery stores, with no luck. I figured that I was going to just have to bite the bullet and make homemade churros, when as a last ditch effort, I logged on to trusty ole' Google. The first hit was for Trader Joe's Mini Cinnamon & Sugar Churros. My nearest Trader Joe's is 20 minutes away, but it was totally worth the trip. Does anybody really need an excuse to go to Trader Joe's?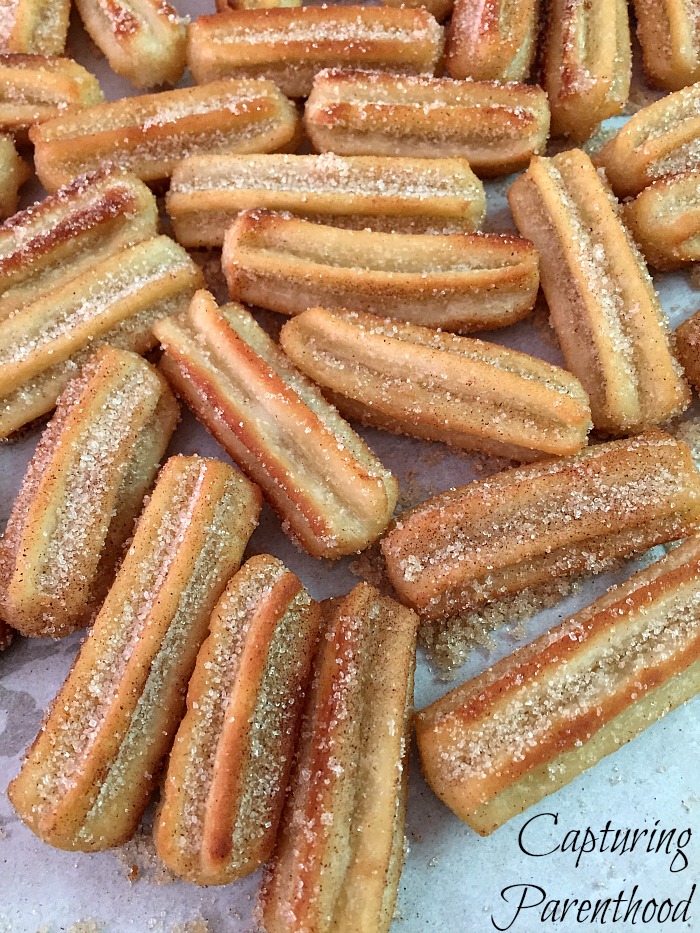 Anyways, these cupcakes came together quickly, and I might add, they turned out beautifully! They were a huge hit with the entire family (especially the man of the hour) and they were devoured in no time! I have no doubt that we will be enjoying these cupcakes for years to come.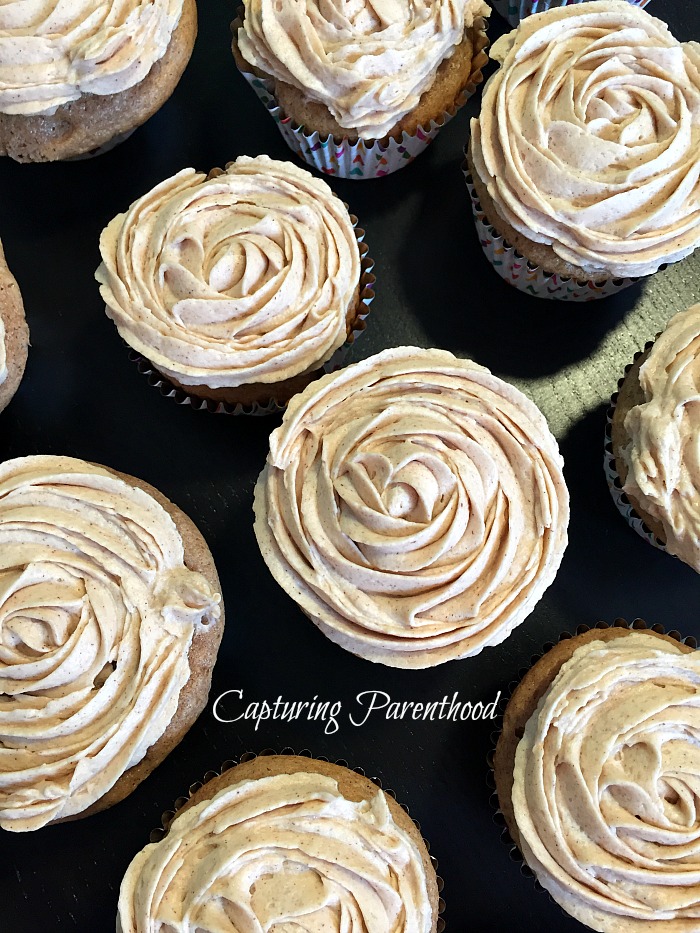 ---
Churro Cupcakes
Ingredients: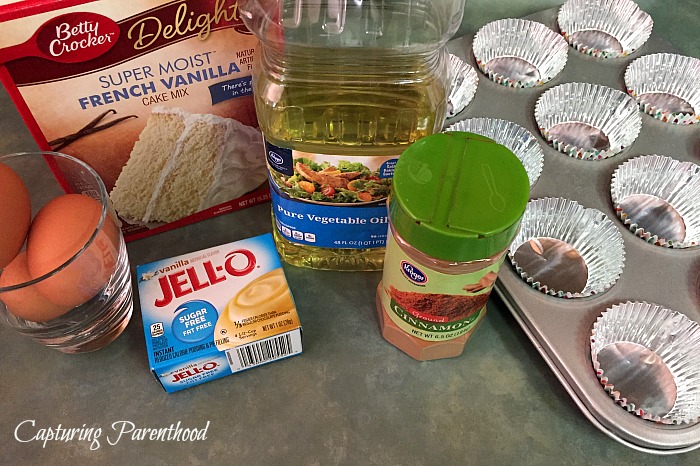 Cupcakes:

1 Box French Vanilla Cake Mix
3 Eggs
1/2 Cup Vegetable Oil
1 Cup Water
1 Small Box Sugar-Free/Fat-Free Instant Vanilla Pudding Mix
1 Tbsp. Cinnamon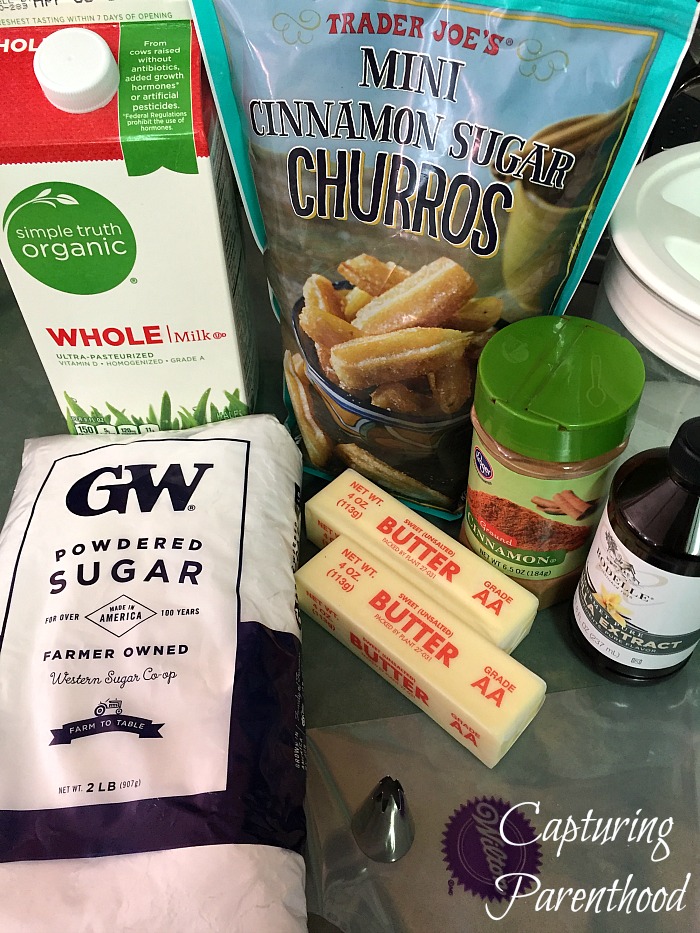 Frosting & Toppings

3/4 Cup Butter, Room Temperature
1 Tbsp. Vanilla
2 tsp. Cinnamon
3 Tbsp. Milk
Approximately 3 Cups Powdered Sugar
Mini Churros (I found mine at Trader Joe's)
Cinnamon & Sugar
Instructions:
Preheat the oven to 350° F. Line a muffin tin with paper cupcake liners and set aside. This recipe makes approximately 16 cupcakes.
In a large bowl, add all of the cupcake ingredients and stir until thoroughly combined. Pour the cupcake batter into the lined muffin tins, filling approximately 3/4 full. Bake for 15-18 minutes, or until a toothpick inserted into the center of the cupcakes comes out clean. Place on a cooling rack to cool completely, before frosting.
While the cupcakes are cooling and your oven is still hot, bake the mini churros according to the package directions. Cool completely.
When the cupcakes and churros are cool to the touch, start mixing the butter, vanilla, and cinnamon together, using a stand mixer. Mix on medium-high for a couple of minutes. Gradually add the powdered sugar, one cup at a time, until the frosting becomes nice and fluffy. Use the milk to thin out the frosting, as necessary.
Place the frosting into a piping bag fitted with a star tip, and carefully pipe the frosting onto each cooled cupcake. I piped in a circular motion, starting from the center of each cupcake, moving outward.
Top the frosted cupcakes with one (or two) baked mini churros. Sprinkle with some additional cinnamon and sugar, to top it all off.
Enjoy!
---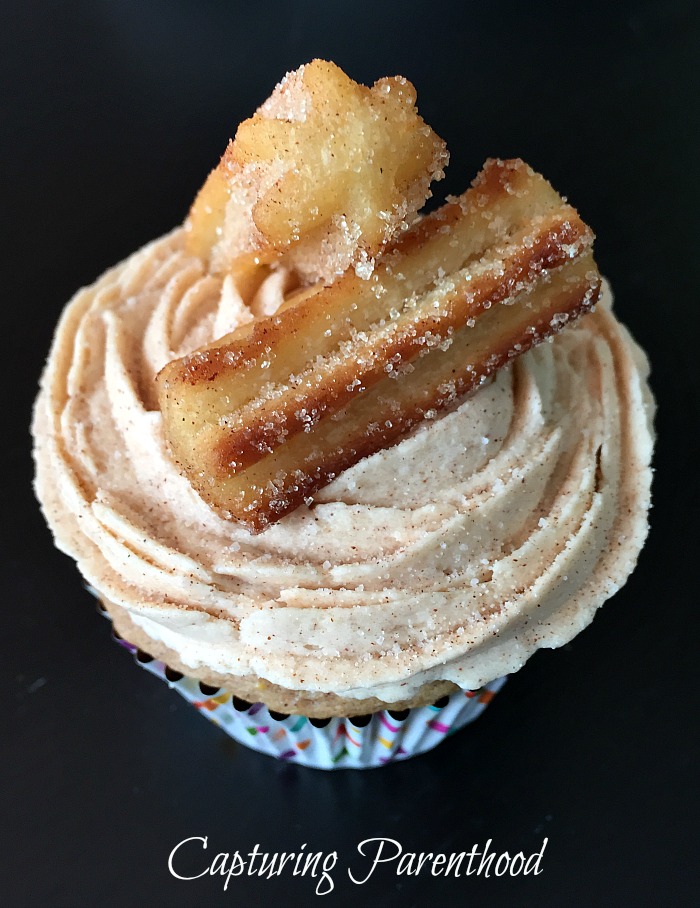 Just writing this post, and looking at these pictures, is making my mouth water all over again. Perhaps these cupcakes will be making another appearance in our home sooner, rather than later!
START SPREADING THE NEWS!