**Note: This post contains Amazon Affiliate links for convenience. See Disclosure Policy for more details.**
A couple of weeks ago, my little nugget and I were busy in the kitchen making some blueberry muffins. When I opened up our cabinet to find our muffin tin, our donut pan came flying out and landed on my foot…essentially (and not so subtly) reminding me that its been quite awhile since I put him to good use. How dare I leave him in the dark, feeling cold and abandoned, when he was destined to bring joy to the breakfast table? I needed a donut recipe…and quick!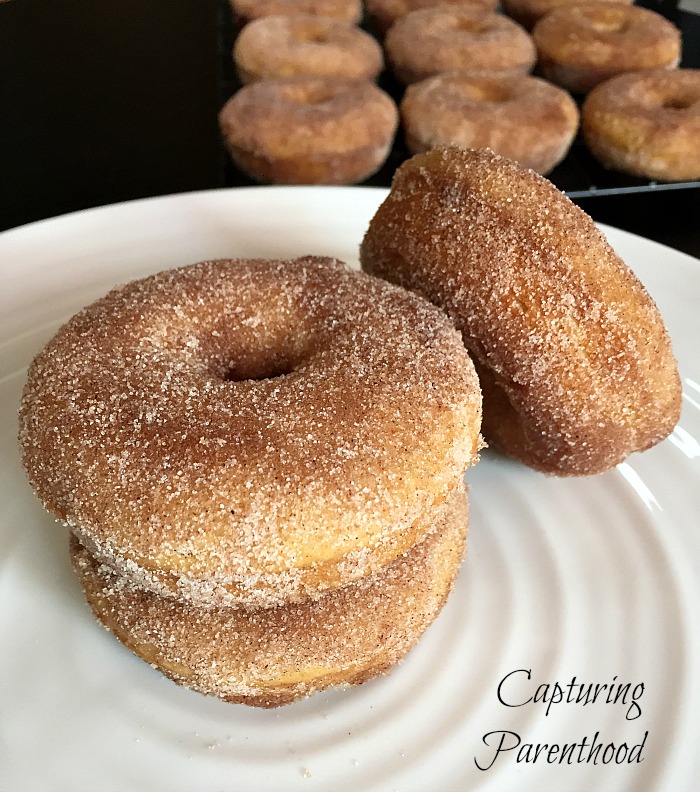 Nothing says November like Pumpkin. Pumpkin Spice Lattes. Pumpkin Pie. Pumpkin Playdough. You get the picture. 🙂 So when I came across this recipe for Pumpkin Cinnamon Sugar Donuts, from Ashley over at Baker by Nature, I knew I had found the perfect Autumn donut recipe!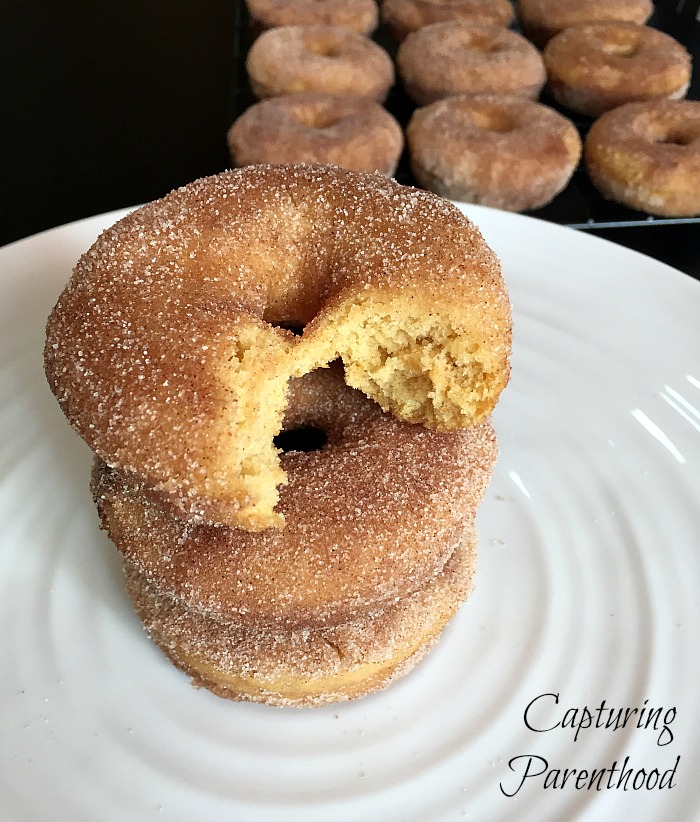 When I finally decided to take the leap into the donut-baking world, I purchased this 2-pack of Wilton 6-Cavity Non-Stick Donut Pans from Amazon. I could not be happier with these donut pans – they are perfect! Since I have two donut pans, and since Ashley's recipe states that it makes six donuts, I decided to double the recipe (well, most of it). Feel free to hop over to Baker by Nature to get Ashley's original recipe (including a vegan version too) or keep scrolling to view my (mostly-doubled) recipe. You can never have too many donuts, right? 🙂
---
Cinnamon & Sugar Pumpkin Donuts
Ingredients: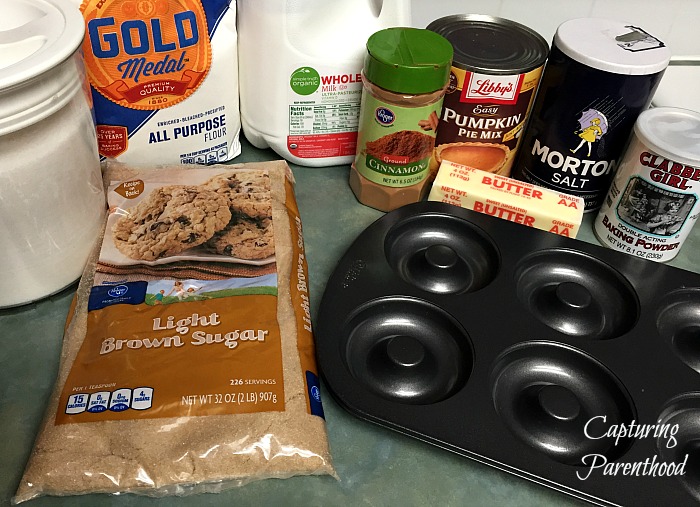 For the Donuts

2-1/2 Cups All-Purpose Flour
1 Cup Brown Sugar
1 tsp. Salt
2 tsp. Baking Powder
1/2 Cup Pumpkin Pie Puree (Yes, the actual pumpkin pie mix with all of the spices)
5 Tbsp. Butter, Melted
1 Cup Whole Milk

For the Cinnamon & Sugar Topping

6 Tbsp. Butter, Melted
1 Cup Sugar
1-1/2 Tbsp. Cinnamon
Instructions: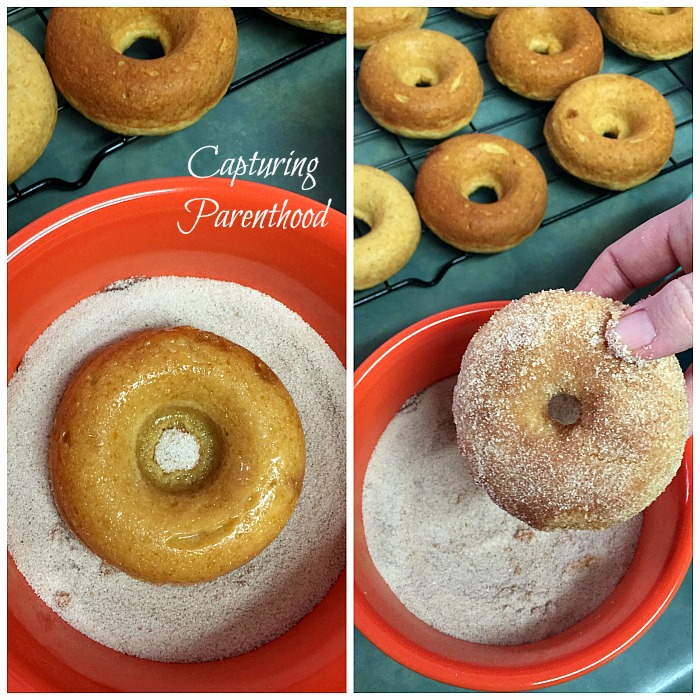 Preheat the oven to 350° F. Spray your donut pan(s) with non-stick cooking spray and set aside.
In a large bowl, combine the flour, brown sugar, salt, and baking powder. Stir until all ingredients are thoroughly combined.
In a medium-sized bowl, combine the melted butter, pumpkin pie puree, and milk. Stir until all ingredients are thoroughly combined.
Add the wet ingredients to the bowl of dry ingredients, and mix until just combined.
You can spoon the mixture into the cavities of the donut pan, but I find it easier to scoop the mixture into a cake decorating bag (fitted with a large round open tip) and squeeze the donut batter into the donut pan.
Place the donuts into the oven and bake for approximately 10-15 minutes, or until the donuts spring back into shape when you gently press them with a finger tip.
Remove from the oven and let cool in the pan for a few minutes, before transferring the donuts to a wire cooling rack.
Once the donuts are on the cooling rack, go ahead and stir together the cinnamon & sugar topping, and (in a separate bowl) melt the butter.
Working with one donut at a time, dunk a donut into the melted butter (on both sides) and then swirl it around in the cinnamon & sugar mixture (also on both sides) until the donut is sufficiently coated in cinnamon & sugar. Set back on the wire rack and continue this process until all of the donuts have been coated.
Enjoy!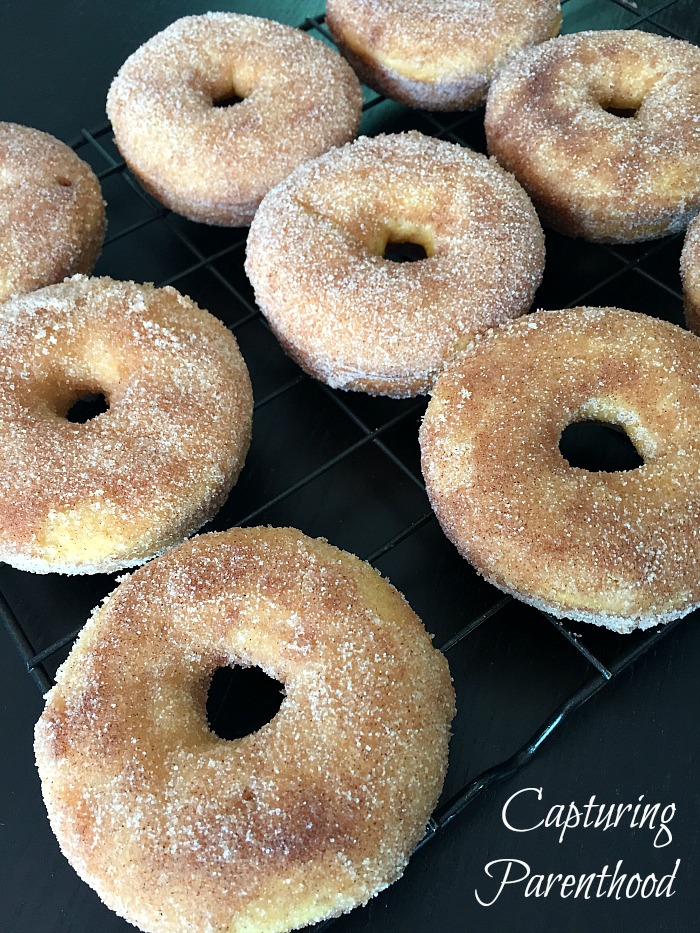 This recipe yields 12-15 donuts. Donuts are best enjoyed the day they are made, but will store in an airtight container for a few days.
---
If you're looking for more scrumptious baked donut recipes, I can attest to the deliciousness of these Baked Double Chocolate Donuts and these Baked Valentine's Day Donuts (Dairy-Free)!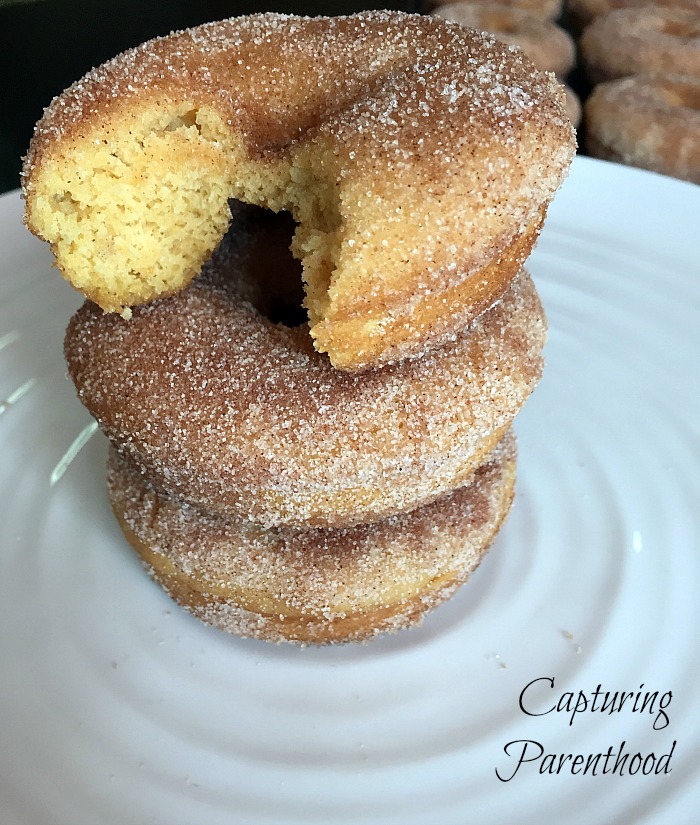 And while my daughter prefers the sprinkle variety (like the two recipes listed above), she never says "no" to a donut…and her Cinnamon & Sugar Pumpkin Donut disappeared in no time! 🙂
START SPREADING THE NEWS!