There's nothing quite like the blissful aroma of cinnamon baking in the oven. I have been craving cinnamon rolls for several weeks now, but to be honest, I've never made my own cinnamon rolls. My mom, on the other hand, makes delicious homemade cinnamon rolls (which my brother and I always try to con her into making when she visits). But for whatever reason, I've been hesitant to take the leap. Perhaps it's the fact that they seem so time and labor intensive…or (more likely) that I'm afraid that once I know how to make them, I will never stop! Needless to say, I decided to bridge the gap and try my hand at this delicious Cinnamon Swirl Bread, to start.
I came across this Homemade Cinnamon Swirl Bread from Lindsey on Pinch of Yum (http://pinchofyum.com/homemade-cinnamon-swirl-bread) and I became inspired when she mentioned that she was not a big bread-maker (since baking bread can be a frustrating endeavor), but that this bread always turned out great. I've made plenty of bread in a bread machine and loaf pans, but I'd never plopped a loaf down on a baking stone and wished for the best. Now was as good of time as any!
I must admit, I was so excited to make this bread that I did not want to waste any time running to the store to buy the high-gluten bread flour that Lindsey lists in her ingredients…so I made due with regular ole' all-purpose flour and it was still amazing!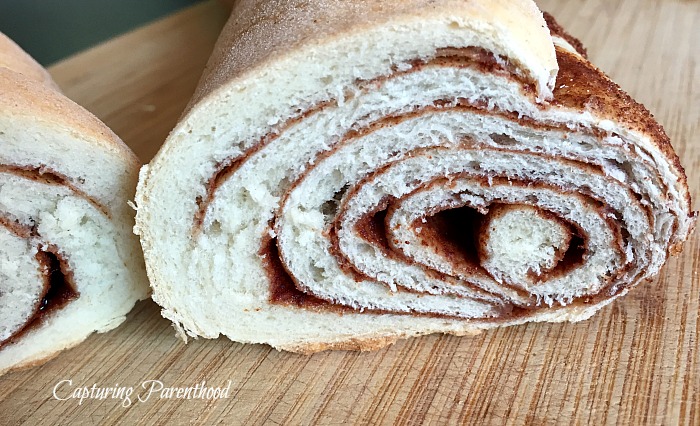 Feel free to visit Pinch of Yum for the original recipe – my adaptation is below:
Cinnamon Swirl Bread
Ingredients: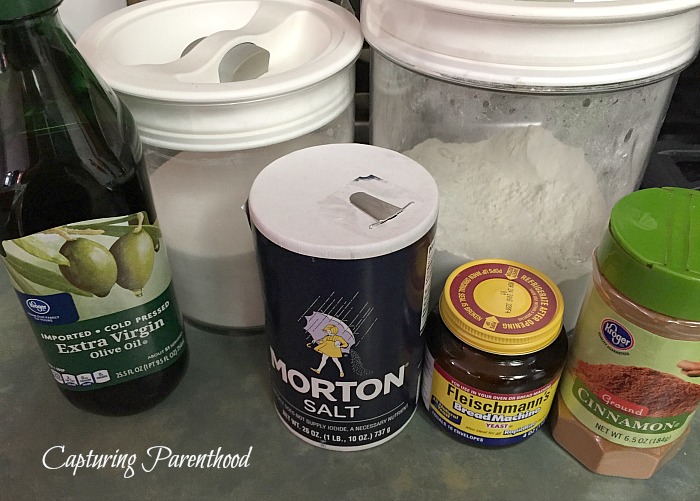 2 Tbsp. Sugar
1 Cup Warm Water
2-1/2 tsp. Yeast
2-1/2 Cups All-Purpose Flour
1 tsp. Salt
2 Tbsp. Olive Oil
2 Tbsp. Cinnamon
1/2 Cup Sugar
Instructions:
In a large bowl, mix the 2 tablespoons of sugar with the warm water.
Add the yeast and let it sit (without stirring) for approximately 5 minutes, until creamy.
Add in the olive oil, salt, and flour and mix by hand (or with a rubber spatula) until thoroughly combined, and the dough ball forms.
On a lightly-floured work surface, knead the dough for 5-10 minutes.
Spray another large bowl with cooking spray and set the dough in the middle. Cover with a piece of plastic wrap (make sure to spray the underside of the plastic wrap with a little non-stick cooking spray as well) and set in a warm place to rise for at least 1 hour.
While you wait, go ahead and mix up the cinnamon and remaining 1/2 cup of sugar.
Preheat the oven (with your baking stone) to 350°F.
Once the dough has risen, and is extra large and puffy, divide it in half. Take one half, and on a lightly-floured work surface, roll it into a rectangle. Generously add your cinnamon/sugar mixture so that all of the dough is covered. Starting at one end, roll the dough up tightly.
Repeat this process with the remaining half and then let the 2 loaves rest for a few minutes before transferring them onto your hot baking stone in the oven.
Bake for 30 minutes, or until the loaves sound hollow.
Remove from the oven and let cool, before slicing.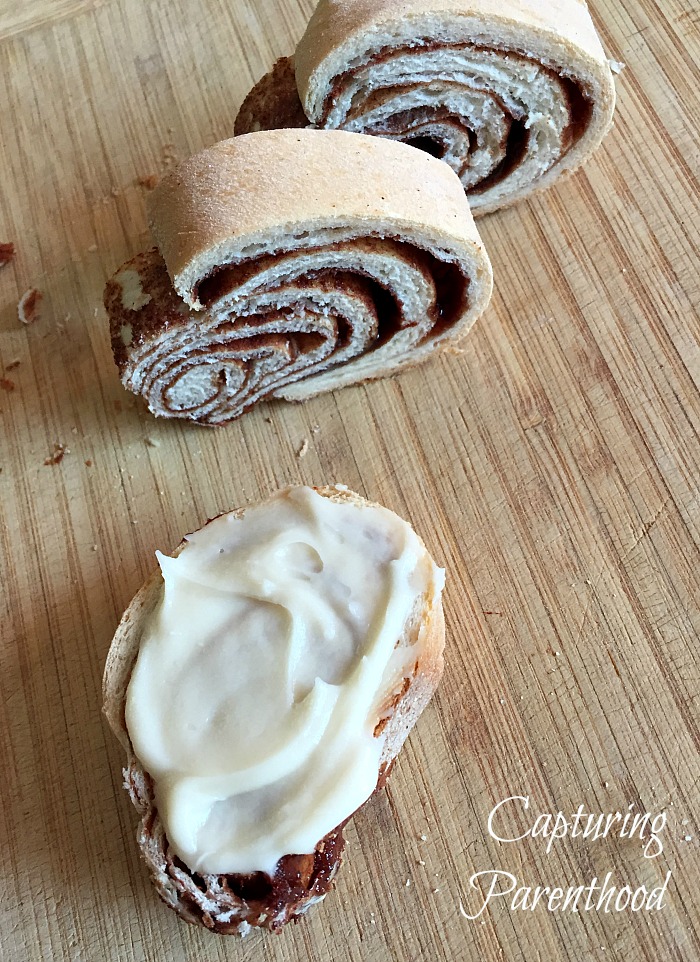 This Cinnamon Swirl Bread is delicious on its own, warmed up, toasted, or slathered in butter. You could also use it to make a tasty french toast recipe! Or…if you're like me and you've been craving cinnamon rolls (and the overwhelming cinnamon aroma got the best of you), you can whip up a little vanilla frosting (butter, powdered sugar, vanilla, and milk)! It was like eating a cinnamon roll, but a smaller portion, and without all the added butter…so it's healthier, right? At least that's what I'm going to keep telling myself.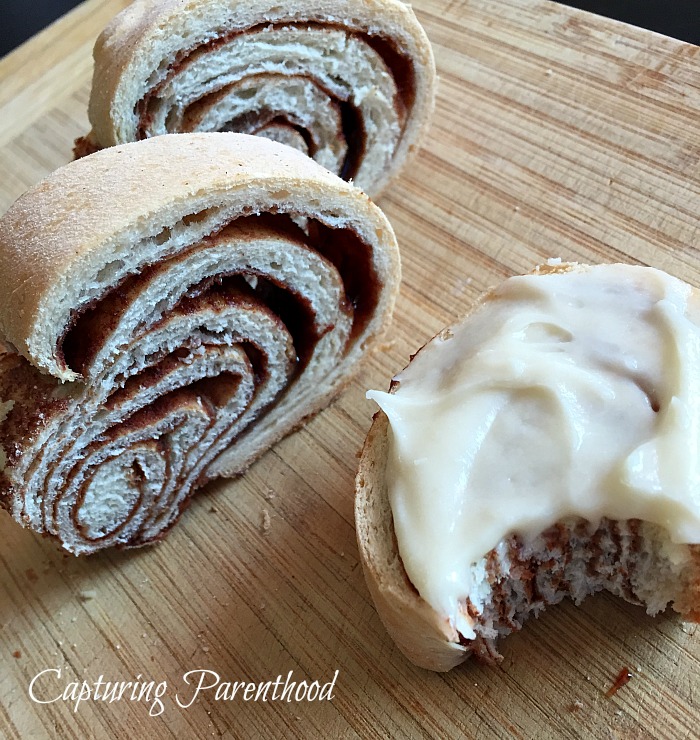 Needless to say…this Cinnamon Swirl Bread was approved by the entire family. Our little nugget was especially excited about the little frosting addition! No matter what way you slice it…this bread is totally worth baking and enjoying!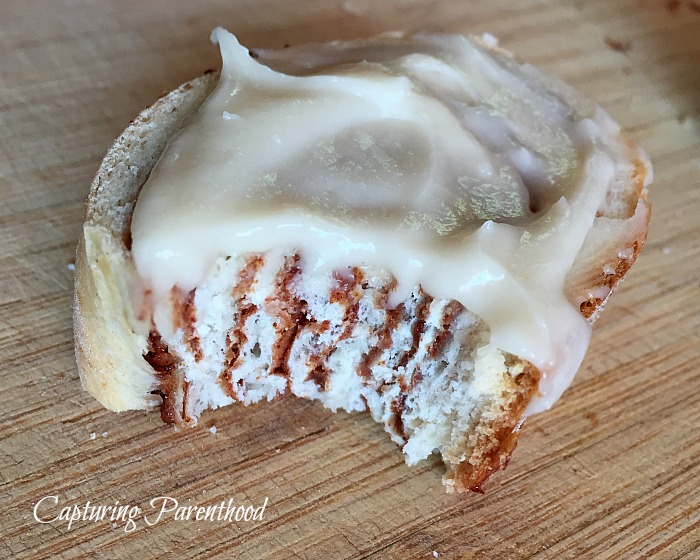 START SPREADING THE NEWS!