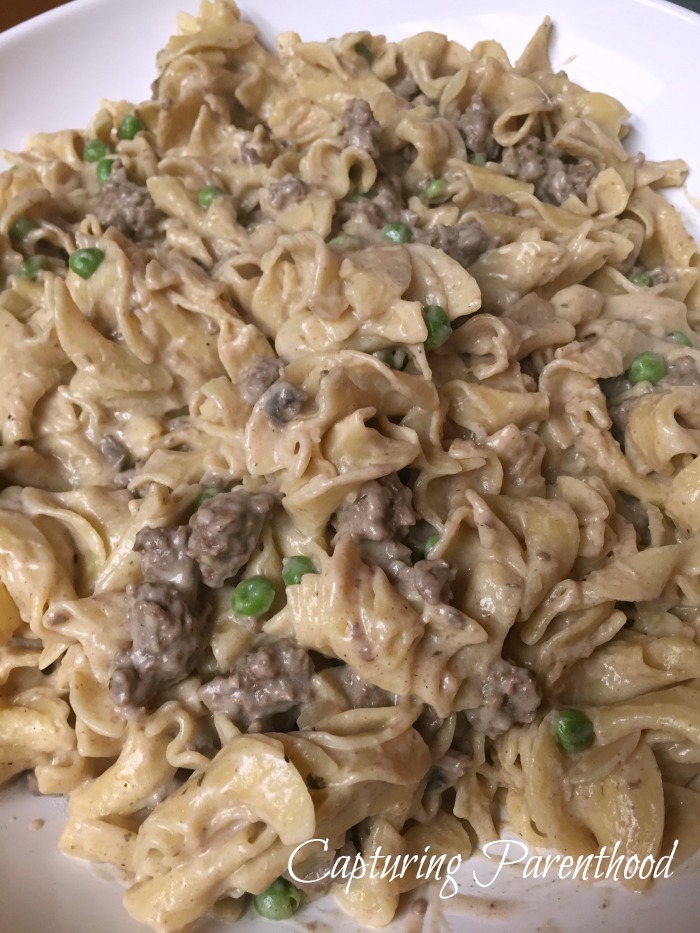 Beef stroganoff reminds me of my childhood – a warm, creamy, and comforting meal. When the leaves on the trees start falling, I find myself adding those feel-good meals to my weekly menu. So, it was no surprise that beef stroganoff made the cut this week.
I don't know about you, but when it comes to recipes that make you nostalgic, I prefer to keep them classic. I stumbled across this recipe from Brandie at The Country Cook (http://www.thecountrycook.net/2011/07/beef-stroganoff.html), and it sounded just like the stroganoff that my mom used to make, except that it was missing one ingredient – peas. This recipe is simple, yet delicious – the best kind of recipe, if you ask me. And my entire family enjoyed it – our little nugget especially loved the peas!
Classic Beef Stroganoff
Ingredients:
1 Package Egg Noodles (I prefer extra-wide)
1 lb. Ground Beef
1/3 Cup Chopped, Yellow Onion
1 tsp. Minced Garlic (approximately 1-2 cloves)
3 Tbsp. Butter
3 Tbsp. Flour
1-1/2 Cups Beef Broth
1 Cup Sour Cream
1 Can Cream of Mushroom Soup
1/2 Cup Frozen Peas
Salt & Pepper
Instructions:
Fill a large pot with salted water and bring to a boil.
In a large skillet, cook the onion and garlic over medium heat for 2-3 minutes.
Add the ground beef to the skillet, break it into desirable-sized chuncks, and cook until the meat is no longer pink. Pour the cooked beef mixture onto a paper towel-lined plate and set aside. Wipe out the skillet to remove excess grease.
Add your egg noodles to the pot of boiling water and cook according to the package instructions.
Place the skillet back on the stove over medium heat and add the butter. Once the butter has melted, add the flour and stir until combined.
Pour in the beef broth and stir vigorously to eliminate any lumps. Turn the heat up to high and bring the mixture to a boil for 2-3 minutes, or until it thickens slightly.
Turn the temperature back to medium and add in the Cream of Mushroom soup, and sour cream, stirring until all ingredients are thoroughly combined.
Season with salt and pepper, to taste.
Add the beef, garlic, and onion mixture back into the skillet. Add the frozen peas and stir to incorporate all ingredients. If the sauce thickens up too much, add a bit more beef broth.
Simmer for 5 minutes.
Spoon the stroganoff on top of the egg noodles, to serve. Or toss everything together in the large pot and dish it out accordingly.
START SPREADING THE NEWS!