We've been experimenting again…this time with colorful Skittles! But instead of tasting the rainbow, we were observing it instead (with a few little nibbles, here and there, of course)! 🙂
Today, we are sharing two fun, and colorful, experiments that we conducted using Skittles candy.
Melting the Rainbow – Skittles Experiment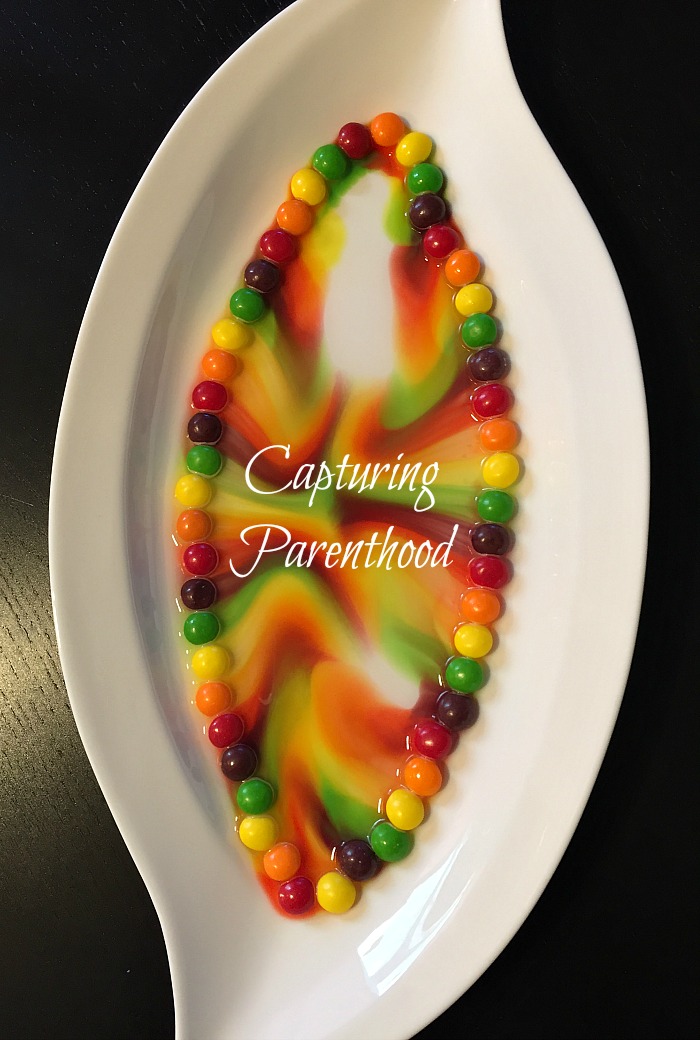 I've been seeing amazing pictures and videos of this experiment all over Instagram and Pinterest…so, I decided that we needed to give it a try ourselves.
All you need to conduct this simple experiment, is a bag of Skittles (we used the standard red bag of Skittles, with all of the original flavors), a white plate (or serving dish) that is fairly flat, and some hot water. That's it!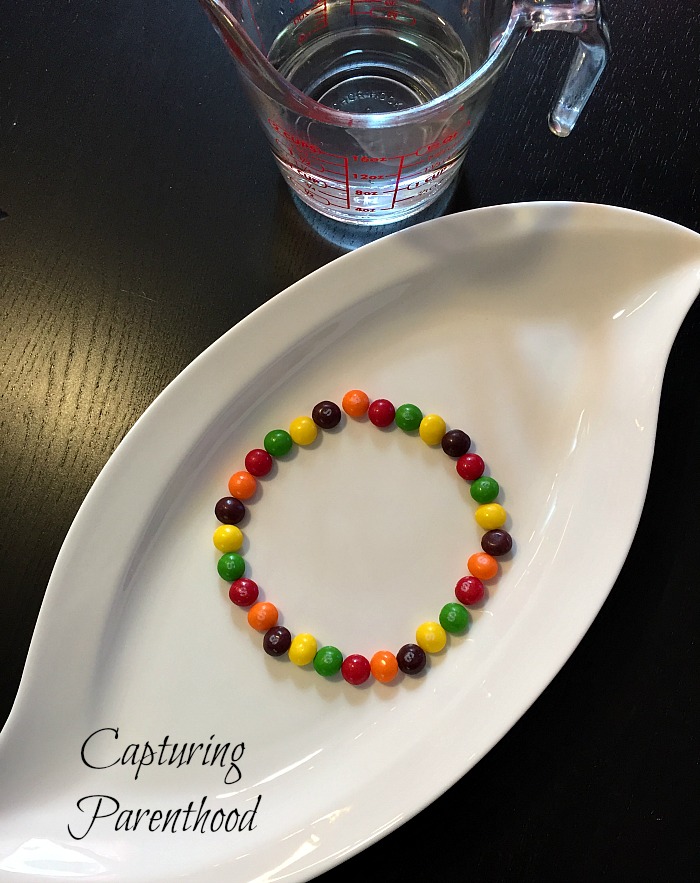 Arrange your Skittles in a circle around your plate, or along the outer border of your serving platter. You can arrange them in any order that you like. This would be a good time to practice patterns with your little ones, by creating a color pattern as you move around the circle.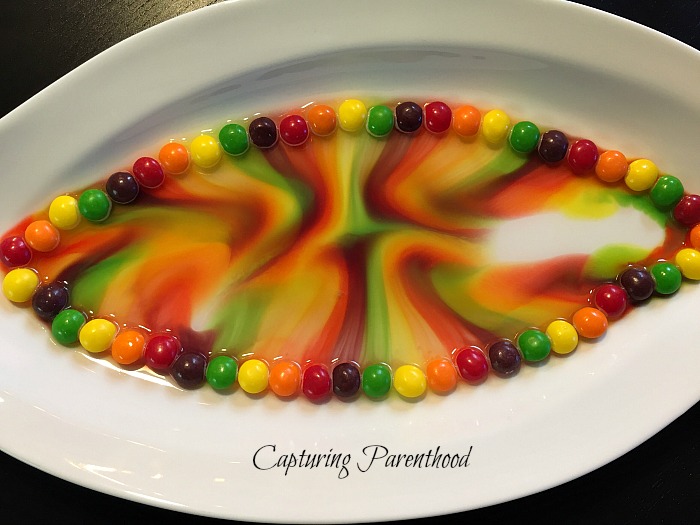 Once your Skittles are in place, you simply pour a small amount of hot water over them, and then sit back and watch the magic happen! It takes several seconds for the reaction to noticeably begin, but before you know it, each color will start melting down into the middle of your plate or dish, creating a beautiful rainbow of colors!
We actually conducted this fun experiment a couple of different times, with a couple of different shape patterns! We loved watching all of the colors slide slowly down into the center of the plate. This truly is a beautiful and visually-engaging experiment!
Skittles Density Experiment
The second colorful Skittles experiment that we conducted was all about density. My little nugget is a little too young to completely understand what density is, and that some liquids can be heavier than others, but we still had a great time collaborating on another rainbow-producing experiment!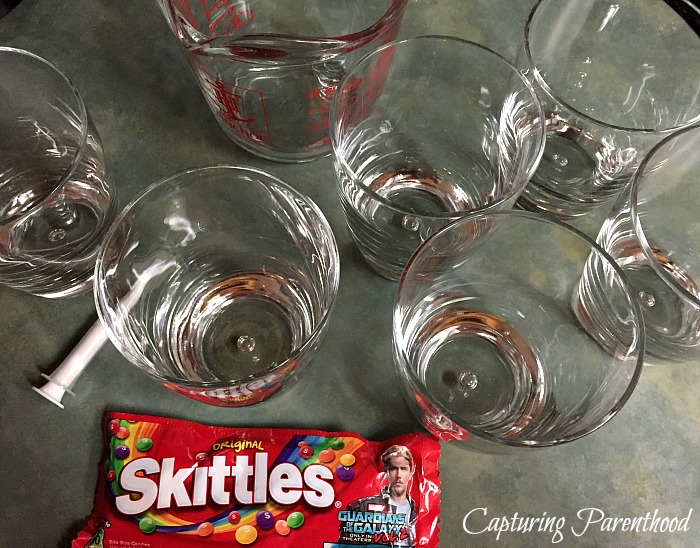 I found this experiment over on Playdough to Plato (http://www.playdoughtoplato.com/kids-science-skittles-rainbow/#_a5y_p=2784194). And while our end result was not nearly as vibrant, and distinctly layered, as Noirin's (it's a little tricky to gently layer the different colors, when you're sitting next to a fidgeting toddler), we thoroughly enjoyed the entire process.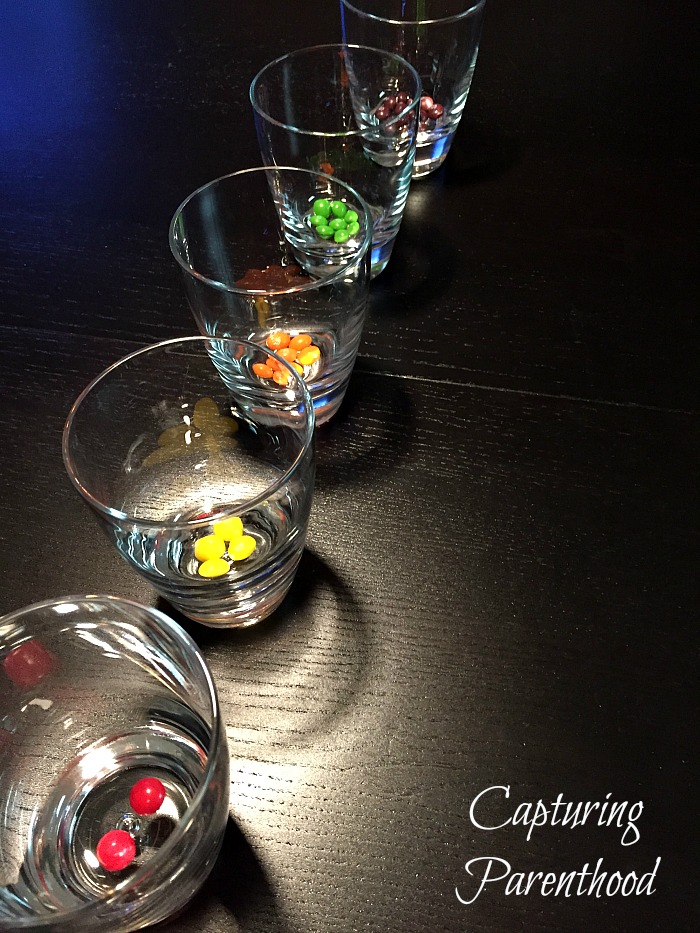 To start, we opened up our bag of Skittles (original flavors, again) and separated them into groups based on color. Then we grabbed five small glasses, and my little helper placed the following number of Skittles into each glass (keeping the colors separate):
2 Red
4 Orange
6 Yellow
8 Green
10 Purple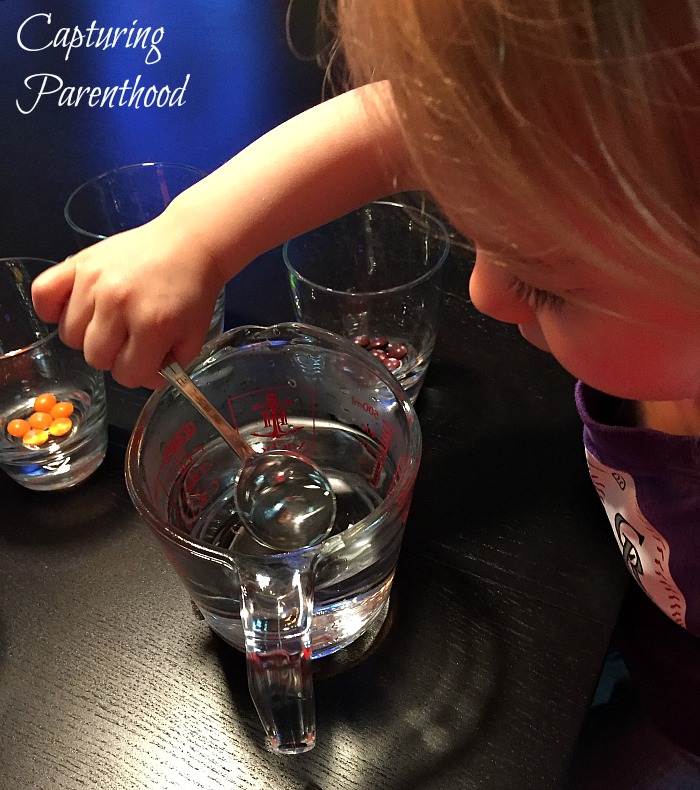 Then, my little nugget added 2 Tablespoons of hot water (I used the hottest water from our kitchen tap) to each glass. We swirled them around a bit, and then let them sit until the water had returned to room temperature, and the candies were dissolved.
Using a syringe, and starting with purple (the most dense) we transferred the colored water into a sixth small glass. Once we had all of the purple liquid in, we started slowly adding the green on top. I carefully squirted the syringe of liquid on the sides of the glass (as opposed to just squirting it right in on top, which would produce a murky brown end result). We continued this process, of layering each color on top of the next, until the red was fully transferred to the glass.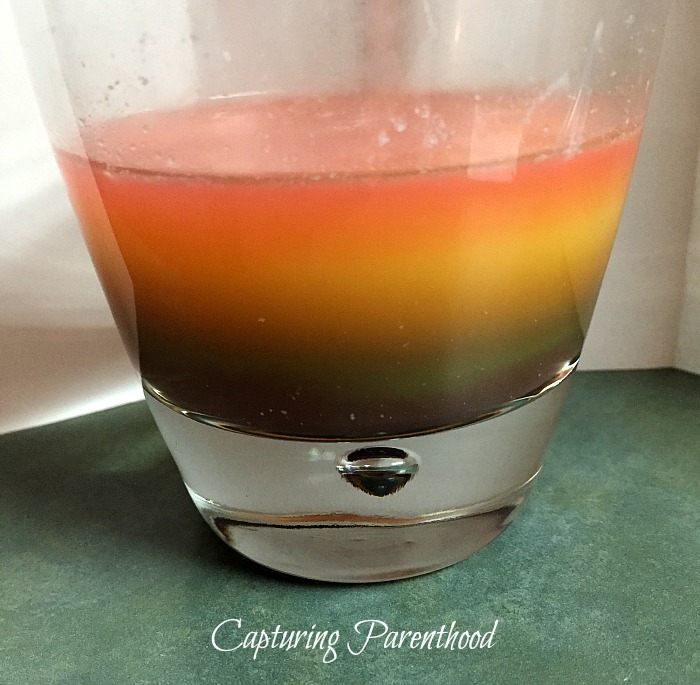 And then we sat back, mesmerized by the colorful rainbow we had created! I must also mention that it smelled pretty delicious too, but none of us were brave enough to try a drink. 🙂
Have you done any Skittles experiments with your kids? Which one was your favorite? I'd love to hear about it in the comments below.
START SPREADING THE NEWS!