We've been busy mastering our alphabet and letter recognition lately, and I'm always astonished when my little nugget looks at a word and proudly states all of the letters – correctly! I will never forget the first time we were driving and came upon a stop sign (which she can always see in her backseat mirror) and she loudly exclaimed, "S…T…O…P!" When she started showing interest, and inquiring about different letters, I decided it was time to create this DIY Alphabet Magnet Puzzle!
We decided to start working on our upper-case letters first, before tackling the lower-case letters. But eventually, I will create an alphabet magnet puzzle that incorporates both upper and lower-case letters, much like the puzzle I came across that @littletinylearner posted on Instagram. Their photo inspired me to create my very own ABC magnet puzzle! You can also find the photo of their Alphabet Garden Matching puzzle, on their website – as part of their Garden unit of learning (http://www.littletinylearner.com/themes/garden/).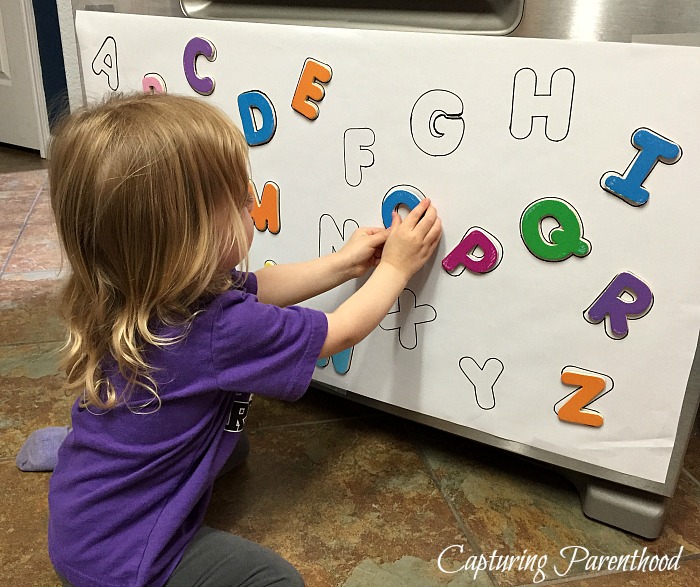 I chose to place our alphabet magnet puzzle on our freezer drawer in the kitchen, and I think it's the absolute perfect location (the dishwasher would work well too)! I love having a simple and engaging activity that my little nugget can enjoy, while I'm busy preparing meals!
---
DIY Alphabet Magnet Puzzle
Supplies: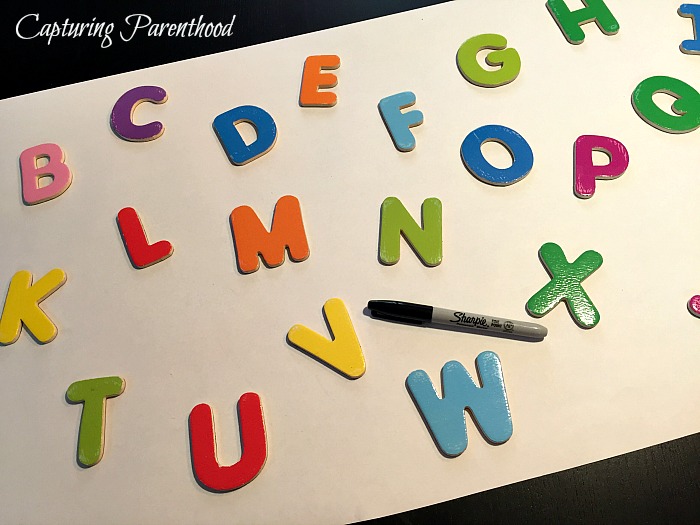 White Butcher Paper
Set of Alphabet Magnets
Black Sharpie Marker
Tape
Instructions: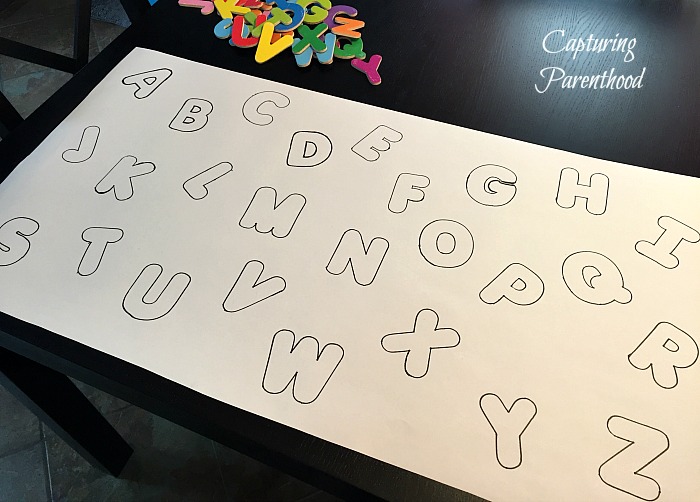 Measure the area where you plan to place your magnet puzzle. Using a pair of scissors, cut a piece of white butcher paper, to match in size.
Lay the paper out on a flat surface and place the alphabet magnets on the paper, in any pattern or arrangement that you choose.
Using the black marker, trace the outline of each letter onto the paper. Remove the magnet and set aside.
Once you have all of the letters traced onto the paper, adhere your paper to the selected (magnetic) location, using some tape.
Hand the actual magnets over to your toddler, and let them get to work completing their new puzzle!
---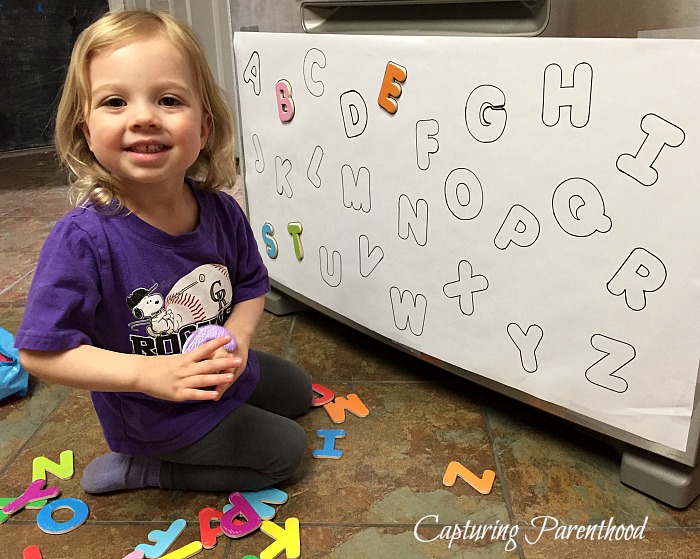 Our alphabet magnet puzzle has graced our freezer drawer for over a month now, and our little nugget still enjoys grabbing her letters and filling in the puzzle, from time to time! In fact, just the other day we found her playing in the kitchen…when we looked at her puzzle we had to chuckle, because she had intentionally misplaced each letter (on top of another letter – not matching). It was clear that she was testing us – clever girl! We laughed and asked her to put the letters in their correct locations. Two minutes later, she scurried out of the kitchen. I turned away from the chicken I was cooking to find that the puzzle was complete – with every letter in its proper place!
START SPREADING THE NEWS!