It would not be an Easter celebration without dying some Easter eggs! I'm always game to try new and exciting methods, aside from the standard vinegar and food coloring technique. I know a lot of people with small children go with the simple, sticker decorating option. Dying eggs can get a little bit messy, but this year, we were up for the challenge! And I'm happy to report that one of our two methods, is actually mess-free! So here you have it…our venture into creating Easter Eggs Two Ways!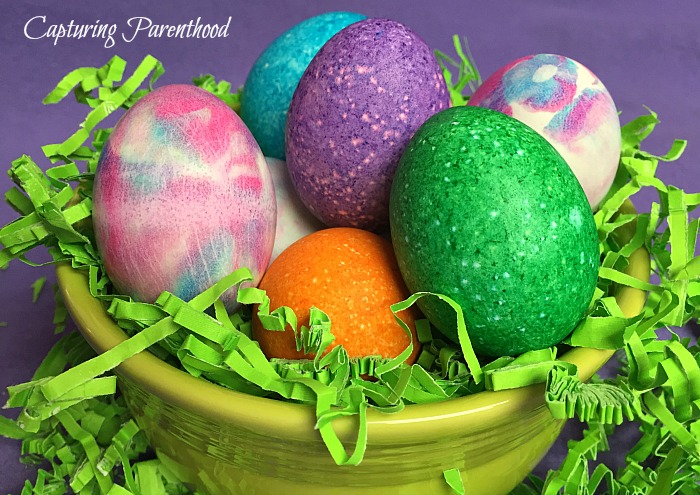 ---
Coloring Easter Eggs Using Rice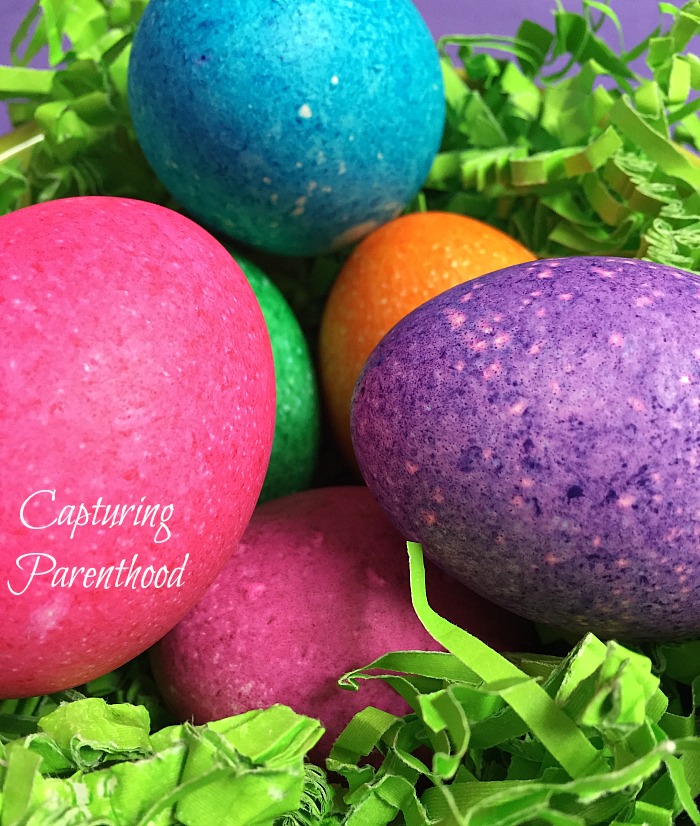 Let's start with the fun and mess-free coloring option! Coloring Easter eggs using rice was something I had never considered doing before, and yet my little nugget and I had so much fun shaking up our rice and eggs, and we absolutely loved the bright, colorful, and speckled results.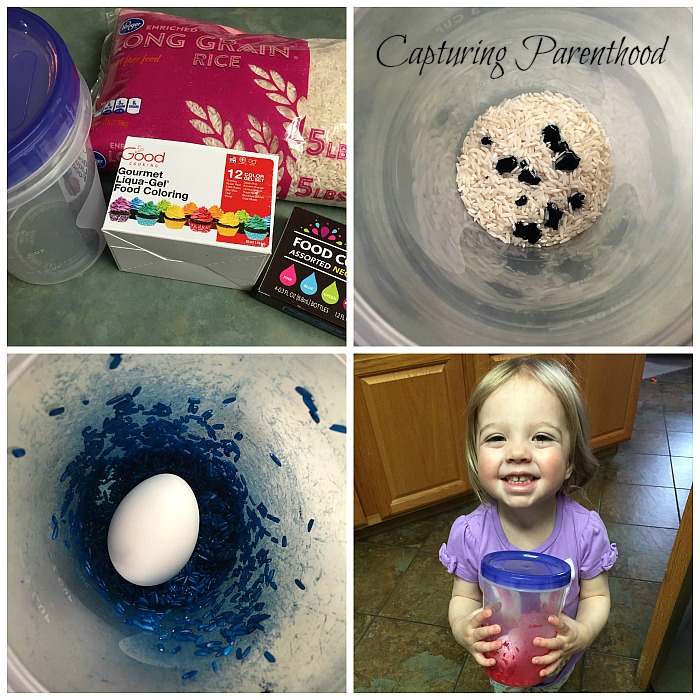 This simple technique requires a plastic cup (or container) with a lid, rice, food coloring (I used our set of Liqua-Gel colors for this one), and some white hard-boiled eggs.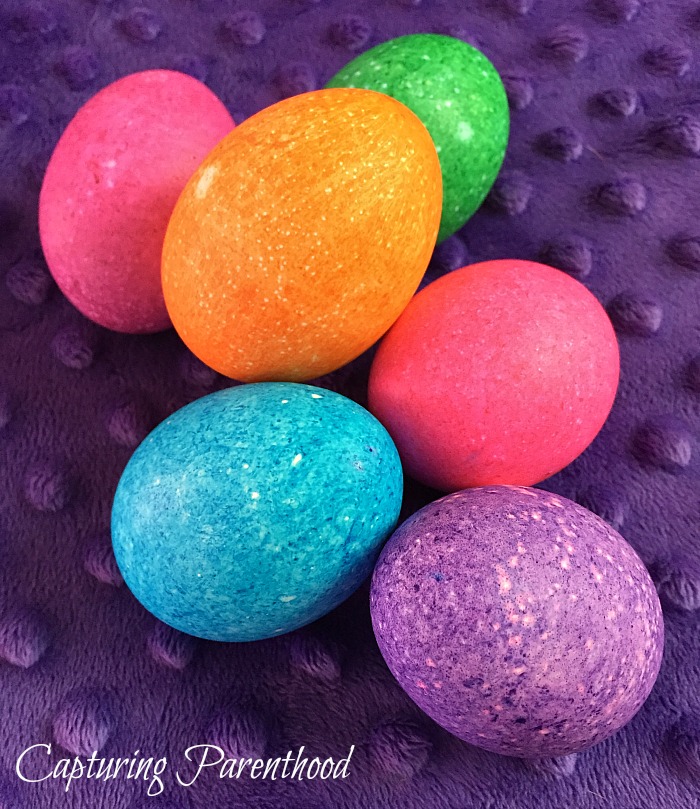 Pour approximately 1/4 cup of rice into your plastic container. Add in 5-6 drops of food coloring and secure the lid. Shake the rice up, until it is completely coated in color. Your little ones will have a blast shaking everything, and they can shake the rice as vigorously as they want. Once the rice is coated, carefully set a hard-boiled egg into the container and secure the lid, once again. Now this time, you want a more controlled, gentle shake so that you don't end up cracking the shell. I found that gently clapping the container into the open palm of your hand, worked the best. Shake until your egg is the perfect hue, and then gently remove the egg from the container (using a spoon, to keep hands clean) and set it on a paper towel to dry completely. You might want to gently roll the egg around, every so often, so that you don't get one big white spot on the bottom where the egg sat on the paper towel.
---
Marbled Easter Eggs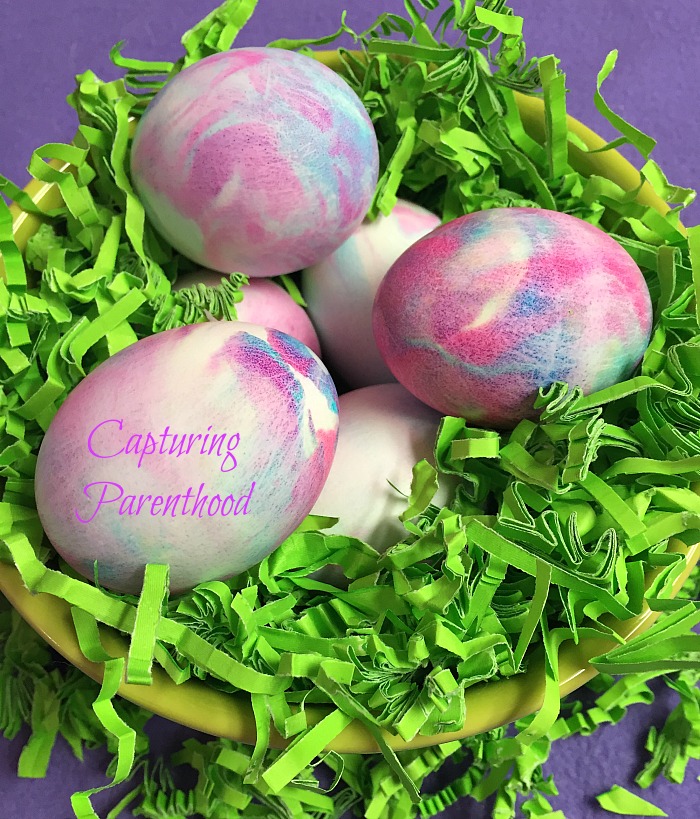 I came across a post from Michelle, over at Crafty Morning, where she made marbled Easter eggs using a shaving cream and food coloring technique (http://www.craftymorning.com/shaving-cream-dyed-easter-eggs/). While I loved the idea, and the fact that her eggs turned out beautifully, I was not sold on using shaving cream with a food item. We've done plenty of marbled art activities using shaving cream, and it is so smelly. And not a smell that I associate with food. I don't know about you, but we enjoy eating our Easter egg creations, and so I chose to substitute Cool Whip for the shaving cream. It worked like a dream! Not to mention, my toddler was ecstatic about this idea – there was not a trace of Cool Whip in the container when she was finished "helping out."
This Easter egg dying technique is so much fun, but it can also be a little bit messy. But hey, sometimes you just have to accept the mess, dig in, and enjoy your creative time with your little ones!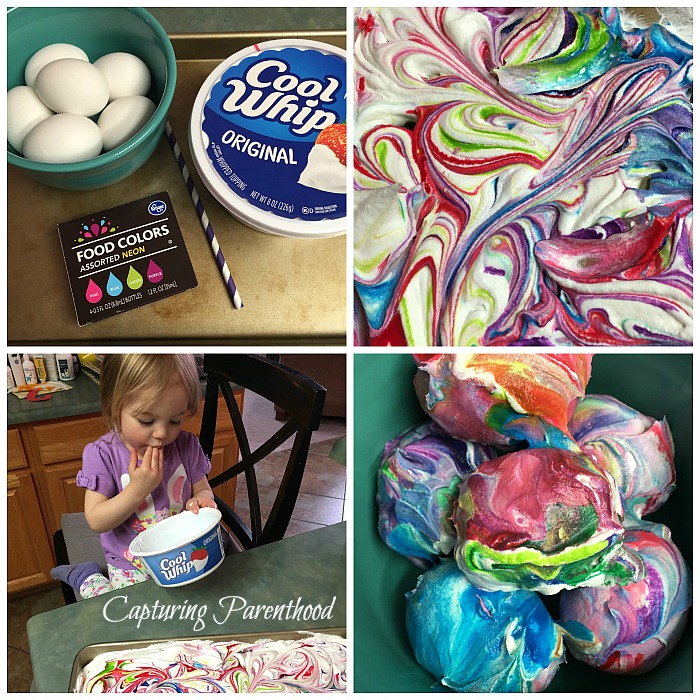 The supplies that you will need to create these Marbled Easter Eggs are: a cookie sheet, a container of Cool Whip, a straw, some food coloring (we used standard food coloring, but in neon colors, for this activity), and some white hard-boiled eggs.
Empty the entire container of Cool Whip out onto the cookie sheet and spread around evenly (a rubber spatula works like a charm for this). Hand the empty container over to your little one to make sure that every speck of whipped cream is removed from the container. 🙂 Then squirt your food coloring, in small drops, throughout the entire cookie sheet. My little nugget loved helping me add all of the colors! Next, take your straw and swirl it around in the Cool Whip until you've created a nice colorful, marbled palette. Gently place your hard-boiled eggs into the Cool Whip and slowly roll them around. Once fully covered, set them aside for approximately 10-15 minutes, before rinsing under cold water. Set the rinsed (and now beautifully marbled) eggs on a paper towel, to dry completely.
---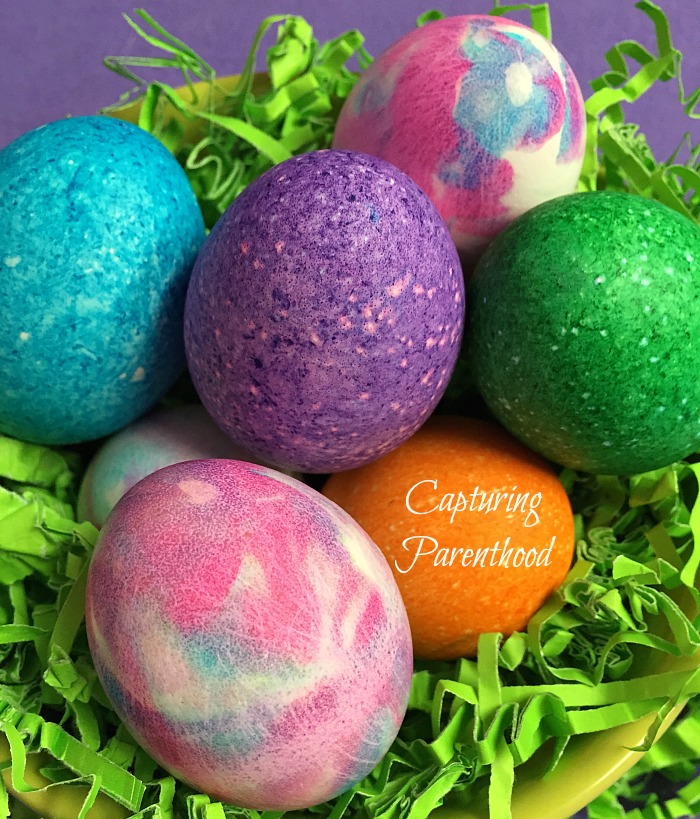 Have you tried any non-traditional methods of dying Easter eggs? What was your favorite? I'd love to hear about it in the comments below.
Happy Easter!
START SPREADING THE NEWS!