"You can find magic wherever you look. Sit back and relax, all you need is a book."
– Dr. Seuss
Have you ever noticed that a lot of children's books are part of a series? I'm not just talking about all of the books written by a single author (like Dr. Seuss). I'm specifically talking about the books (that one author has written) that also share all of the same main characters, and the same underlying themes. The characters that your kids have come to know and love. When you read each new book in the series, it's like you and your child are embarking on a new journey with an old friend.
Several of my daughter's favorite books, at this point in time, are actually part of a series. Each time we venture to our local library, we seek out a different story, in one of the series that we love to read. And today, I've decided to share a few of our favorites!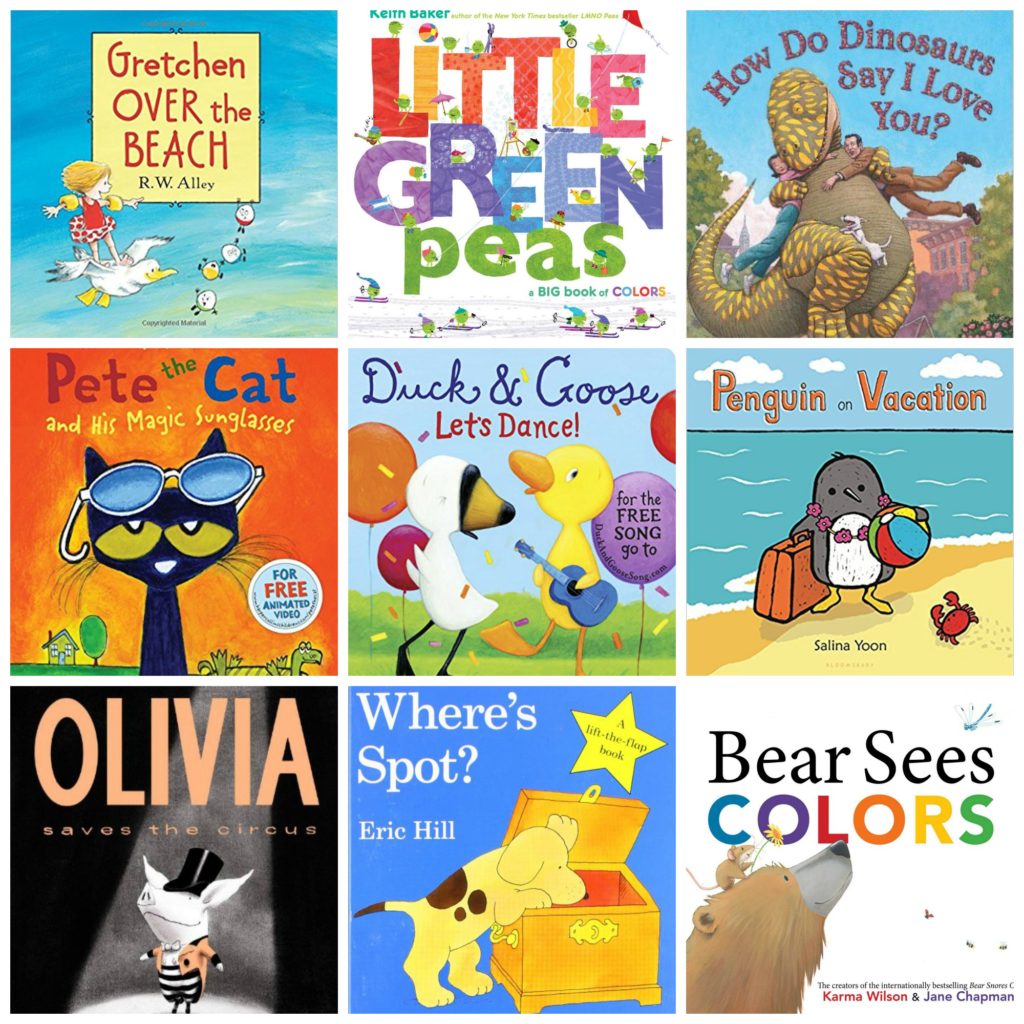 ---
OUR FAVORITE BOOK SERIES (TODDLER YEARS)
**Note: This post contains Amazon Affiliate links for convenience. See Disclosure Policy for more details.**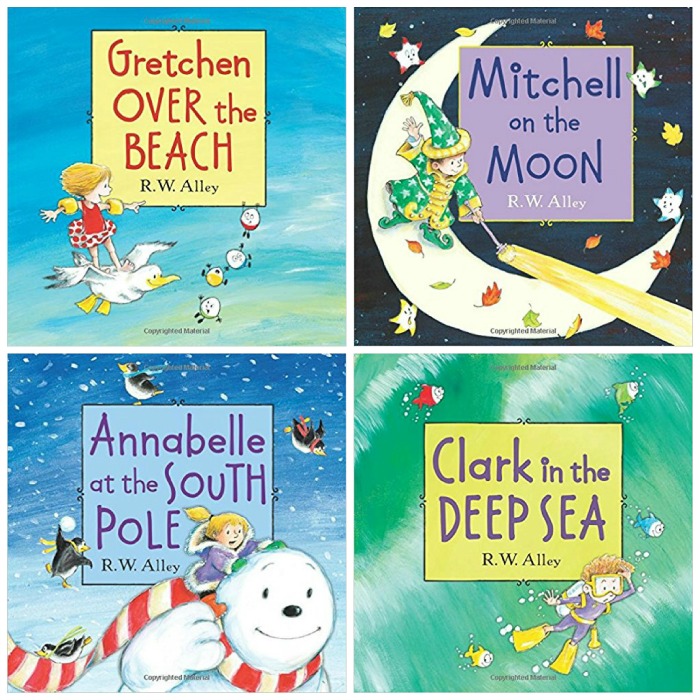 This adorable series written by R.W. Alley follows each of four siblings on a wonderful, make-believe adventure! We started our journey with Gretchen, and I'm so glad that we did, because that is where you become familiar with the roly-polys (Gretchen's little smiley-face eggs). The roly-polys continue to make appearances in each of the other books and my little nugget thoroughly enjoys pointing them out, and discovering what they've transformed into, in each story. These books are a great way to introduce the concept of imagination (and pretend play), since most of the adventures are carried out right in the family's backyard.
***************

This adorable, fun, and educational series is written by Keith Baker (and I believe a new one was just released at the end of last year). I love that these books are so colorful and engaging. We spend a bunch of time checking out each and every page (as we read along) to discover what all of the little peas are doing. Some of them are playing baseball, some are juggling, skiing, and so much more. My little nugget also takes pride in finding the little ladybug, on each and every page!
***************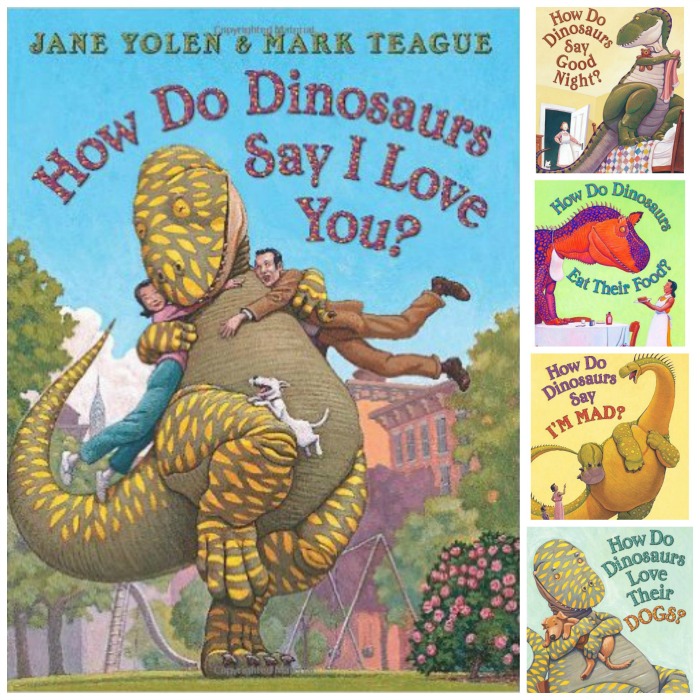 Jane Yolen and Mark Teague appear to have written a witty and relevant story for just about every parenting battle that one might have with a toddler. I love these books because they help my daughter understand what kind of behavior is appropriate – at the dinner table, for example. These stories help reinforce our family rules and values. When she starts climbing on our dog's back, I ask her how the dinosaurs treat their dogs, and whether or not it was nice of the dinosaurs to force their dogs to give them piggy-back rides. It works like a charm! Besides, what young child is not a huge fan of dinosaurs?
***************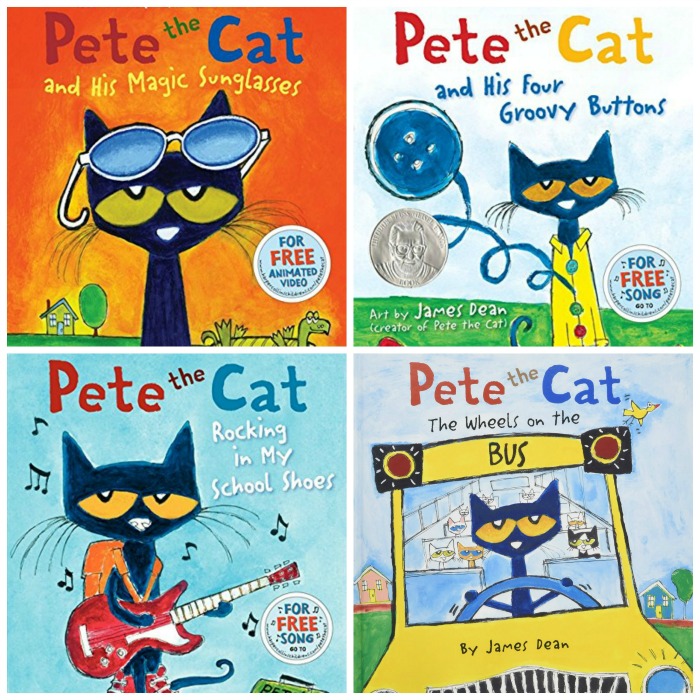 My daughter loves Pete the Cat! We never go wrong when we checkout one of these stories, by James Dean, from the library. There are stories specific to Pete, where he helps us learn to relax and worry less – "It's all good!" Some of them even include free songs that you can find online, and play as you're reading through the book. And then, there are lots of Pete stories that pair with several popular children's tunes (i.e. The Wheels on the Bus, Old MacDonald, Twinkle Twinkle Little Star, etc.).
***************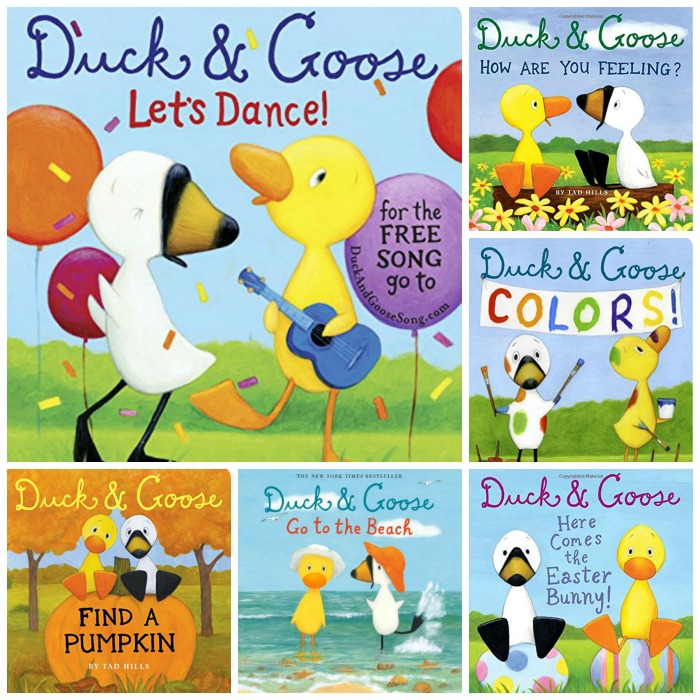 Tad Hills hit the mark when he created the lovable characters of Duck, and his best friend, Goose. Your child will love following these two on all of their fun adventures. These books are typically short and simple, making them great early reader books, as well! My little nugget loves listening to the song that goes along with the Duck & Goose: Let's Dance! book, and she she enjoys shaking her tail feathers too!
***************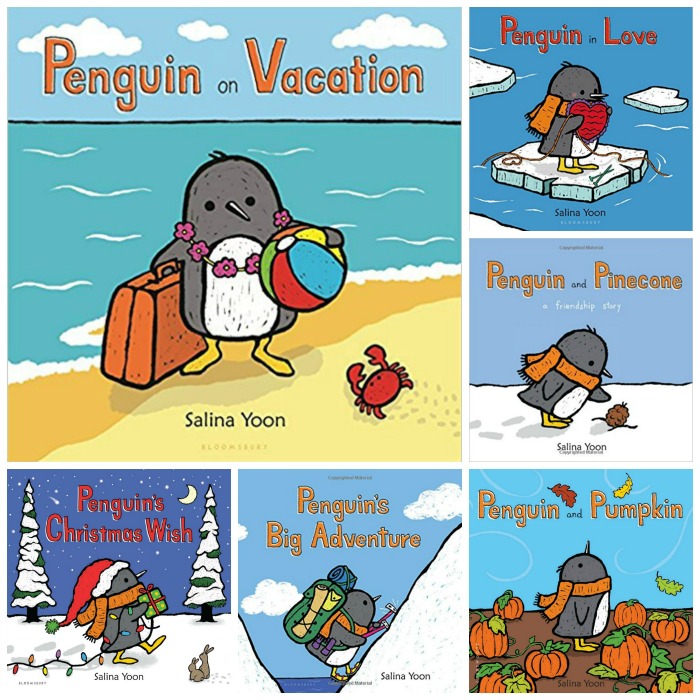 Our adventures with Penguin all began when my mother gifted us with the story of Penguin going on vacation to the beach. The book was perfect, since we were on a beach trip at the time. My daughter couldn't get enough of Penguin, and his new friend Crab, so I knew my daughter would love the rest of the series, by Salina Yoon!
***************
We received the original Olivia book, along with Olivia Saves the Circus, at our baby shower, and they quickly became two of our daughter's favorite books to read. She especially enjoys the end of the circus story, when Olivia's mother comes into the room (after catching Olivia jumping on the bed) and she asks her, "Who do you think you are? Queen of the trampoline?" My little nugget went around the house for days on end reciting that line, by Ian Falconer. And, when our daughter became interested in marching bands (after we took her to a couple of different town parades), I knew the story where Olivia forms her own one-man band, would be a huge hit!
***************

My brother introduced our little nugget to Spot this past Christmas, and she hasn't been able to get enough of the fun, lift-the-flap books, created by Eric Hill. She absolutely loves looking for Spot, and discovering all of the different animals along the way. These are also stories that our daughter loves to "read" to us, which we always encourage!
***************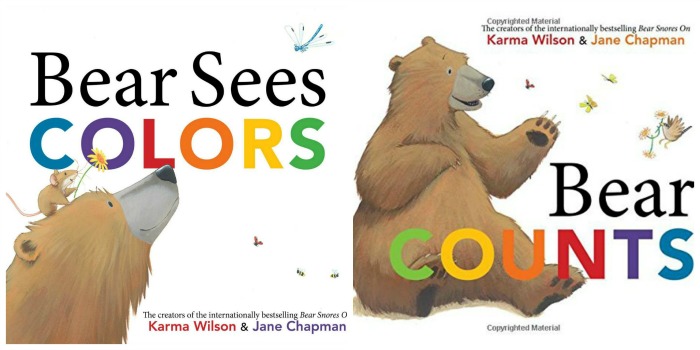 And last, but not least, comes Bear! This big lovable fella, and all of his furry friends, have made learning our colors and numbers a lot more fun! Karma Wilson and Jane Chapman create amazingly colorful and engaging stories for little ones! Our daughter happily shouts out each of the colors as we flip through the pages (even when we are at the library), and she loves helping Bear count all of the different animals, foods, and objects that appear throughout the story. If you have not read these books with your kids yet, I highly recommend picking them up at your local library!
---
And there you have it, our favorite book series! What are some of your little one's favorite book series? I would love to hear about them in the comment section below!
HAPPY READING!
START SPREADING THE NEWS!