"There are many little ways to enlarge your child's world. Love of books is the best of all."
– Jacqueline Kennedy Onassis
Reading books has always been an important part of my life – it's a way to escape on a new adventure, take part in solving a mystery, delve into historic events, learn about the amazing world we live in, or get lost in an unknown place where your imagination can run wild! I knew that I wanted to instill the same love of books in my daughter.
To kick things off, I requested that everyone attending our baby shower bring a book, in lieu of a card, so that we could build our daughter's first library. I must admit that my husband thought this was a silly idea – he figured we would just end up with numerous copies of the very same children's books. That certainly was a very strong possibility, but, miraculously, we only ended up with one duplicate book (which we donated)!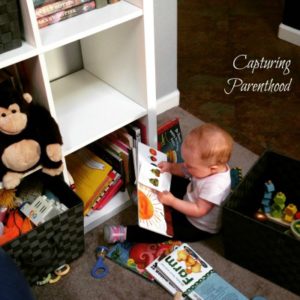 During our early days of parenthood, we discovered that our daughter enjoyed being read to – it relaxed her and eased her into sleep. We shared stories out of National Geographic magazines and jumped right into the wizarding world of Harry Potter!
When our daughter was old enough to scoot around, she began pulling her own books off of the shelf and flipping through the colorful pages.
We read books every single day, usually to varying degrees throughout the day, but at the very least, always before bedtime, as part of our bedtime routine. See our list of first-year favorites below:
**Note: The below list contains Amazon Affiliate links for convenience. See the Disclosure Policy for more details**
Our Favorite Books (0-12 Months)
And just to clarify, by "favorite" I mean, we read these books over and over and over again – three or more times in a row (in one single sitting), with repeat showings every night of the foreseeable future! There is nothing quite like reading one book on repeat, for nights on end, to really help you feel like time has stopped passing by – it provides a wonderful Groundhog Day effect (and for the record, I am not a fan of that movie).
START SPREADING THE NEWS!