"You're never too old, too wacky, too wild, to pick up a book and read to a child."
– Dr. Seuss
Story time is sacred in our home. There has yet to be a day that has passed without us reading to our daughter. Reading to (and with) a child is one of the most important, encouraging, educational, and loving things that we can do with our children. Taking 10-15 minutes out of your day to read a book (or five) with your little one, will make a world of difference – for them and for you!
If you're looking for some great books for your youngest bookworms, we're sharing an awesome list of stories that our daughter absolutely loved during her second year of life.
Our Favorite Books (1-2 Years)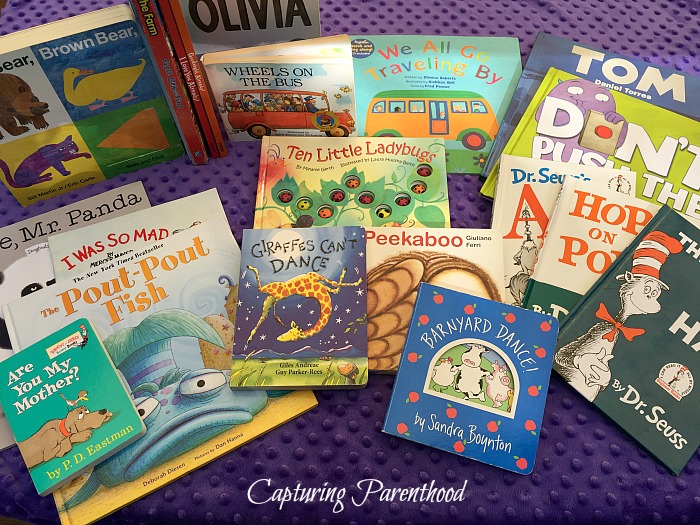 Brown Bear, Brown Bear 

(Slide and Find)

– Bill Martin Jr and Eric Carle

The "slide and find" aspect of this book makes it so much more fun and interactive.

Little People: On the Farm 

– Fischer-Price

Explore all that the farm has to offer – keep an eye out for the infamous rooster!

Goodnight Already

– Jory John and Benji Davies

This is such a creative and fun story to share – it's one of those books that you really don't mind reading on repeat. Our daughter always gets a laugh as she watches the exchanges between Duck and Bear unfold. She loves this one so much, she can practically read it to us now!

I Love You Already

– Jory John and Benji Davies

Since we loved Goodnight Already so much, it was a no-brainer to pick up the second installment, where we join Duck and Bear for a little stroll.

Olivia

– Ian Falconer

This was our very first (and the original) Olivia book, though we've also loved joining Olivia on her many adventures in subsequent stories.

Wheels on the Bus

– Raffi

What toddler doesn't love a book that requires you to sing? The Wheels on the Bus is quite possibly, our little nugget's favorite song!

We All Go Traveling By

– Sheena Roberts

And yet another musical story (this one comes with an accompanying CD). Join the kids as they make their way to school, using every mode of transportation, and don't forget to make all of the sound effects!

Tom

– Daniel Torres

Tom the dinosaur travels to New York City to explore the Big Apple, but he gets lonely.

Don't Push the Button

– Bill Cotter

My mom gave our daugher this book, after realizing how much she liked pushing the little red button on my phone to end our FaceTime conversations. Needless to say, it was an instant hit!

Please, Mr. Panda

– Steve Antony

This story provides a clever way to teach the importance of saying "please" and "thank you."

I Was So Mad

– Mercer Mayer

Every toddler can relate to feeling like their mommy and daddy say "no" to everything that they want to do.

The Pout-Pout Fish

– Deborah Diesen

Follow along as an array of sea creatures try to cheer up this glum and gloomy swimmer.

Are You My Mother?

– P.D. Eastman

A little baby bird hatches and can't find his mother, so he goes looking for her.

Ten Little Ladybugs

– Melanie Gerth

This book provides a wonderful, and rythemic, way to introduce counting.

Giraffes Can't Dance

– Giles Andreae and Guy Parker-Rees

Poor Gerald is the laughing stock at the Jungle Dance…until he learns that everyone dances to the beat of their own drum.

Peekaboo

– Giuliano Ferri

Lift the flaps and find out who's hiding underneath!

Barnyard Dance

– Sandra Boynton

Join all of the farm animals for this rousing and catchy dance number.

ABC

 – Dr. Seuss

Who can argue, Dr. Seuss was a genius and his books are always so much fun to read…for all the tall and the small.

Hop on Pop

– Dr. Seuss

Our daugher's favorite Dr. Seuss book during this timeframe – she loved telling Pat, "No Pat No, Don't Sit On That!"

The Cat in the Hat

– Dr. Seuss

The crazy ole' Cat in the Hat…full of lots of good fun that is funny. We also found that this was a good book to read to introduce the concept of shaking hands. "Would you like to shake hands with Thing One and Thing Two?"

Shh…We Have A Plan

– Chris Haughton

We randomly selected this book at the library one day, and it turned out to quite possibly be our little nugget's #1 favorite story (during her second year). It is so simple, yet so engaging. We've checked it out several times, and she now happily guides us on the adventure!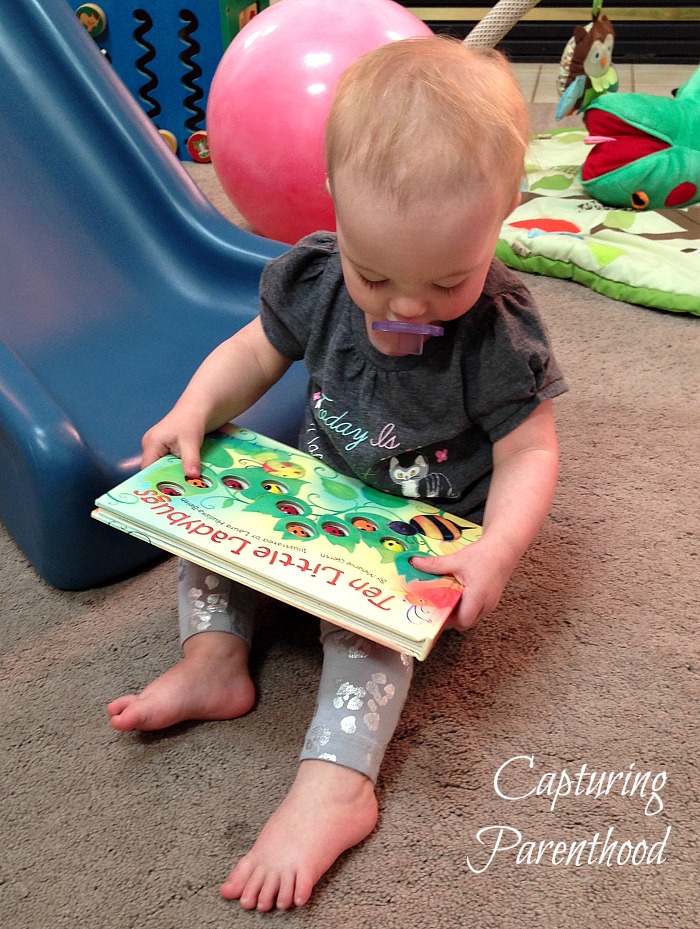 In case you missed it, or you have an even younger reader, check out Our Favorite Books (The First Year): http://capturingparenthood.com/favorite-books-first-year/.
What are some of your toddler's absolute favorite stories? You know the ones…the ones they want to read multiple times in a row, every single day. I would love to hear about them – feel free to leave a note in the comments below.
START SPREADING THE NEWS!