"The more that you read, the more things you will know. The more that you learn, the more places you'll go."
– Dr. Seuss
Did you know that several studies have found that simply reading aloud to children builds literacy…more so than just talking to your child? And that reading aloud to children (of all ages) is strongly correlated with their love for reading as they grow older?
Reading to children has endless benefits, and it gives you the opportunity to sit and have some quality time with your child…to engage with them. In our home, we read books several times a day. It's one of our favorite activities!
If you're looking for some great books for your youngest bookworms, we're sharing an awesome list of stories that our daughter absolutely loved during her third year of life.
Our Favorite Books (2-3 Years)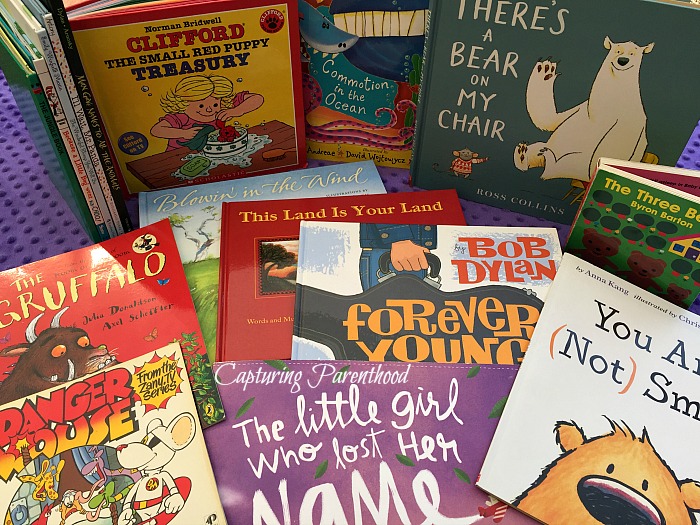 **Note: The below list contains Amazon Affiliate links for convenience. See Disclosure Policy for more details.**
The Jungle Book

– Walt Disney

Our little nugget loves following along with Mowgli, Bagheera, and Baloo…as they inevitably make their way through the jungle to the man-village.

Because a Little Bug Went Ka-Choo

– Rosetta Stone

This silly story proves that one little thing can have a huge impact. Follow along as a crazy chain-reaction of events occur…all because of one tiny bug's sneeze. 🙂

The Wonderful Things You Will Be

– Emily Winfield Martin

I personally love this book! It makes a wonderful gift for any child, or parents-to-be! This beautiful story is told from a parent's perspective, as they look upon their child and wonder what their little one will grow up to be one day. "This is the first time there's ever been you, so I wonder what wonderful things you will do."

I'll Wait, Mr. Panda

– Steve Antony

We absolutely adore the book Please, Mr. Panda, so it was no surprise that we also love the second installment. In the first book, we learned the importance of manners. In this second book, we learn the importance of patience.

Man Gave Names to All the Animals

– Bob Dylan

One of our daughter's grandfathers gifted her with several song books when she was born, and she became obsessed with them this past year. We literally read them every single night. I mean, what could be better than combining stories with music? We absolutely love looking at all of the beautiful animal illustrations created by Jim Arnosky, as we sing this classic Bob Dylan tune.

Clifford, the Small Red Puppy Treasury

– Norman Bridwell

As I mentioned in our post about our favorite Halloween books this year, our little nugget loves Clifford – doesn't everyone? This group of stories is her absolute favorite – it's all about Clifford when he was a tiny puppy (including his first school day, first sleepover, first autumn, and first snow day)!

Commotion in the Ocean

– Giles Andreae

"There's a curious commotion at the bottom of the ocean. I think we ought to go and take a look." Discover a new sea creature on each page of this fun, rhythmic book. Our favorites are the jellyfish, shark, lobster, and barnacles!

There's a Bear on My Chair – Ross Collins

We received this delightful book in the mail, from a friend, and it became an instant hit. This fun, rhythmic story follows a mouse who becomes distraught about a bear that is sitting in his chair. He tries everything, but he can't get the bear to move. Eventually the mouse gives up and leaves…after which the bear decides to go home, only to find a surprise in his own house!

The Gruffalo – Julia Donaldson

This fun and clever story just might be our absolute favorite from this past year! We love following along as the little mouse makes his way through the woods, getting out of being eaten by other animals by cleverly creating a fictitious monster that all of the other animals will fear. But is the monster really fictitious? 🙂

Danger Mouse: Trouble with Ghosts

– Purnell Books

My husband loved the Danger Mouse cartoon when he was a little boy, so when his dad found out that we were having a child, he acquired a set of four Danger Mouse stories (based on the cartoon series). Needless to say, they quickly became a hit with our daughter (the ghost one being her hands-down favorite)!

Blowin' in the Wind

– Bob Dylan

This is another one of the beautiful song books that we received from my father-in-law. And it is one that our daughter loves to sing along with. Every time we read/sing it, I can't help but think of all of the injustices and atrocities that are still happening in our world. It is truly a timeless song.

This Land Is Your Land

– Woody Guthrie

I honestly had no idea that there were so many different verses in this Woody Guthrie song, before we received this book. I love the message that this book teaches our daughter – that this land is for all of us…that we all belong here. We also love the beautiful paintings/illustrations that were created by Kathy Jakobsen.

Forever Young – Bob Dylan

"May you build a ladder to the stars, and climb on every rung." This is the last of our Bob Dylan song books, and one that we read on a very regular basis. The illustrations by Paul Rogers are also wonderfully descriptive.

The Little Girl Who Lost Her Name

– David Cadji-Newby & Pedro Serapicos

We ordered this custom story as a Christmas gift for our little nugget, and it's adorable. She loves that the story is about her, and that we get to tag along as she goes on an adventure (meeting lots of different creatures along the way) to find her name! This book makes the perfect gift for a young child!

The Three Bears

– Byron Barton

We adore this board book version of the classic Goldilocks and the Three Bears tale! Our daughter likes to pretend that we are the family of bears in the story. 🙂

You Are (Not) Small – Anna Kang

Our little nugget knows this story by heart – it's one that she enjoys reading to us! She becomes a very boisterous storyteller with this book, as she tells the tale of two fuzzy creatures arguing about their size. As it turns out…size just depends on who's standing next to you.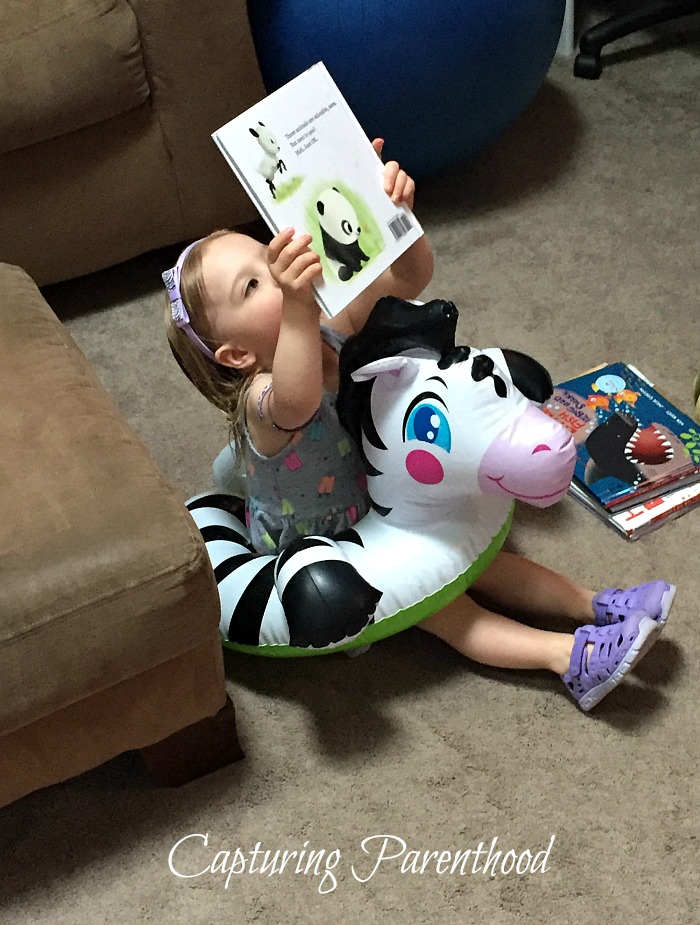 In case you missed it, or you have an even younger reader, check out Our Favorite Books (The First Year) and Our Favorite Books (The Second Year).
What are some of your toddler's absolute favorite stories? You know the ones…the ones they want to read multiple times in a row, every single day. I would love to hear about them – feel free to leave a note in the comments below.
START SPREADING THE NEWS!