**Note: This post contains Amazon Affiliate links for convenience. See Disclosure Policy for more details.**
Smoothies are wonderful concoctions. They are quick and easy to make, versatile, healthy, and you can take them on the go! Our daughter was never a big milk drinker, and so, in order to help her reach the suggested daily calcium requirements, I decided to venture into the smoothie world. I purchased a single-serving blender (the Bella Rocket Blender) and never looked back. My little nugget's initial reaction…smoothies are loud (well, the blending part, that is). But she also concluded that they are delicious too – yay! And my husband was happy, because our daughter (sometimes) decides to share.
We've tried a handful of different recipes at this point, but we keep coming back to our favorite fruit smoothie, and so I figured I would share it with you today.
I use the following: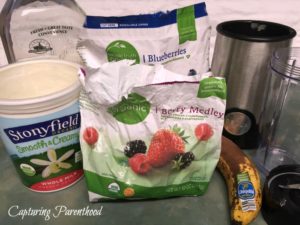 Frozen Berry Medley (blackberries, strawberries, and raspberries)
Frozen Blueberries
Banana
Stonyfield Organic Whole Milk Vanilla Yogurt
Whole Milk
Since I use the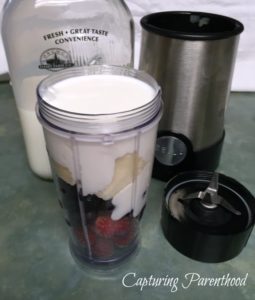 single-serving blender, I typically pour in approximately 1/4 cup each of the berry medley and blueberries (I like to use frozen fruit, that way I don't have to add ice). I break up one banana and shove it in, and then add approximately five to six heaping spoonfuls of the yogurt. Lastly, I add a little bit of milk. Once it has blended for a bit, I usually check the consistency to see if it is too thick – if so, I add a touch more milk and pop it back on the blender. When my daughter is the only one partaking in the smoothie goodness for the day, I pour half into a straw cup (more on that below) and save the other half for later (she likes to drink it after she wakes up from nap).
And that's it…simple as that. Keep in mind that you can put just about anything in a smoothie – our pediatrician even told us that smoothies are wonderful ways to hide extra nutrients from greens (spinach, kale, broccoli, etc.)!
Now…as for our f
avorite toddler smoothie-drinking device…obviously, smoothies tend to be thicker, and so I knew that I needed a wider straw than most toddler straw cups. I ventured over to my favorite store (Target) and set out on a search. I settled on these cute little milk tumbler straw cups – with fun animals and designs (like the one pictured). They worked well, however, over time, they started to crack (I believe this was caused by the dishwasher – even thought it stated that they were top-rack dishwasher safe). Eventually, they would form a wide enough crack that the smoothie would start seeping out. After a couple of different attempts, I knew it was time to find a better solution. I did not want to fill up our cupboards with even more cups, so I popped on to Amazon and found some awesome Boon Snug Straw silicone lids that fit over most toddler-sized cups! These lids do come with their own straws, but after reading several reviews, it sounded like the straws were not wide enough to accommodate smoothies, so I ordered a pack of Silikids Siliskin Silicone Straws too – they were exactly what I was looking for! And they are all top-rack dishwasher safe! Smoothie cup problem solved!
START SPREADING THE NEWS!