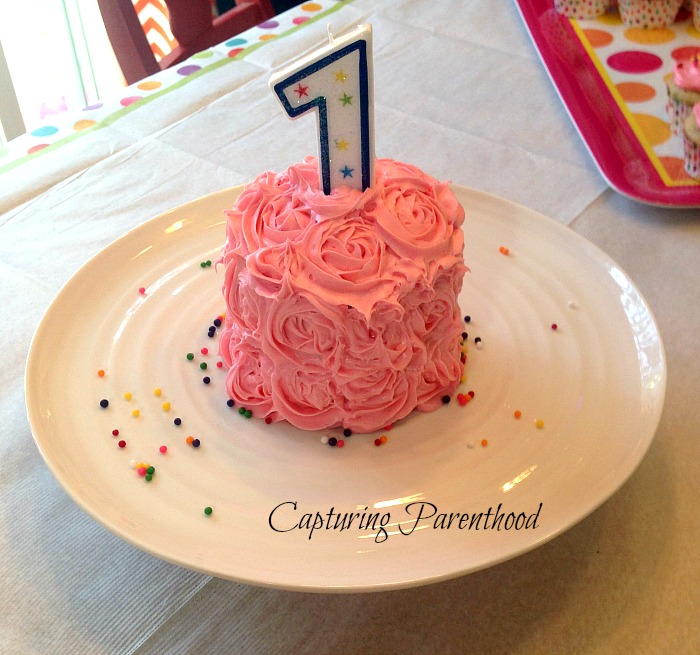 When our daughter turned one, I wanted her birthday celebration to be memorable…and of course, all about her! You only turn one once!
I decided to stick with a simple theme – polka dots – so as not to distract from the real reason we were all there – to celebrate our little nugget's first year of life and send her our best wishes for the coming year (and…also to pat mom and dad on the back for surviving year #1)!
When it came to party planning there were a few things that I knew I absolutely wanted to do…
Make a smash cake for my daughter to destroy (and enjoy)!
Find a beautiful outfit for my little princess to wear.
Have guests write letters to our daughter (to be opened on her 18th birthday).
Take some awesome one-year photos and capture some great memories.
Find some fun activities for the kids to enjoy!
Item #1 – The Smash Cake: Now if you read my bio (http://capturingparenthood.com/about/), you already know that I like to bake, but I must admit, I've never been skilled at frosting and decorating cakes. Baking is one thing…decorating is another. But my baby was turning one, so I put my big girl pants on and set out to make an amazing cake. I came across a great tutorial from Debbie at One Little Project At A Time (http://onelittleproject.com/how-to-make-a-smash-cake-for-a-first-birthday/#_a5y_p=4075426) and that was all I needed to get started. I purchased some mini Springform pans at Target, along with a cake decorating kit (disposable bags and frosting tips)…used store-bought cake mix (used up the extra batter for cupcakes), layered my cakes, and busted out the large open star icing tip…and…before I knew it, it was complete. Piece of cake! Ha!
I think it was a success and I am very proud of the finished product. Watching a one-year-old (who has never had cake before) slowly dig in and explore a birthday cake, is a truly memorable…and messy…experience. It's a first birthday right of passage!
Item #2 – The Birthday Outfit: As you can imagine, this was an easy task – the options are endless. I opted for a beautiful, bright pink tutu dress, with an accompanying flower bracelet (it also came with a matching headband, that was a little too big) that I bought from KadeesKloset on Etsy.
Item #3 – Letters to Our Daughter: I got wind of this idea on Facebook and Pinterest, and I thought it was such a wonderful concept – invite the birthday guests to pen letters to your little one that he/she can open on their 18th birthday. You never know how much those letters will mean to your child in the future – they could very well contain words from loved ones who were lost along the way. It is an incredibly simple, yet immensely special idea. I set out some decorative letter-sized paper and some colorful pens, and left a little note with instructions. The letters are now safely stored in an envelope for our little nugget to open when she enters adulthood.
Item #4 – Take Awesome One-Year Photos: How hard could this be, I already had the beautiful outfit. Needless to say, the day of the birthday party was a bit hectic and so our one-year birthday photos did not happen until the following day (luckily, we removed her birthday outfit during the cake smash, so it was still pretty clean). I had come across a couple of ideas on Pinterest that I thought were pretty neat – one involving bubbles, and the other involving one balloon for each year of age. So…how hard could it be?Well, it would have been easy if my daughter was at all in the photo-taking mood…but, c'est la vie. Below are my two favorite images (she was screaming in the one where she is lying in the grass – oh, the dramatic life of a one-year-old)!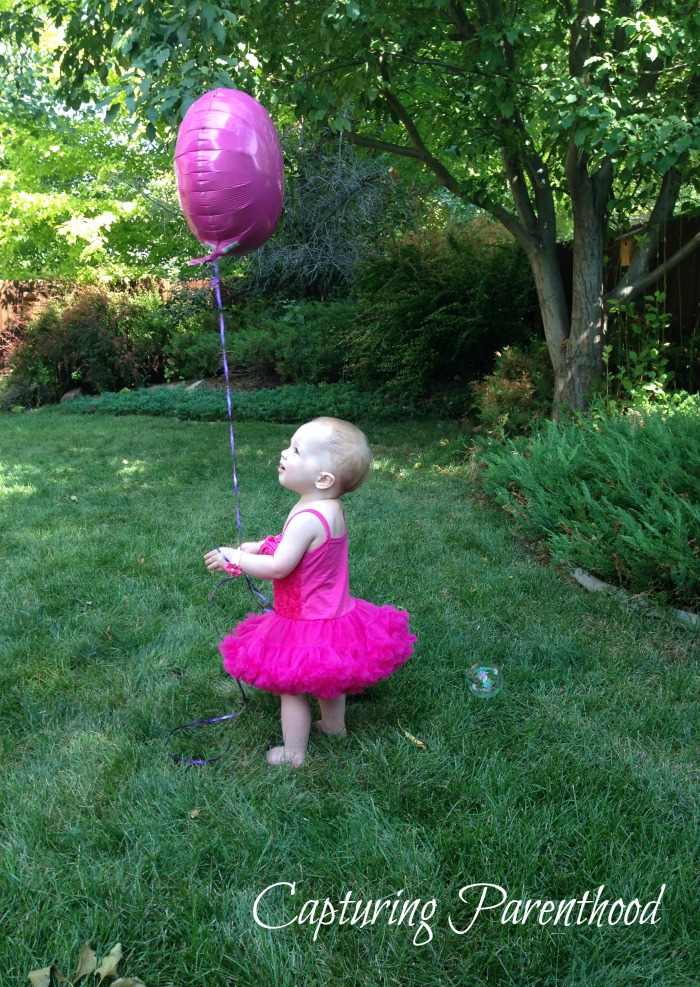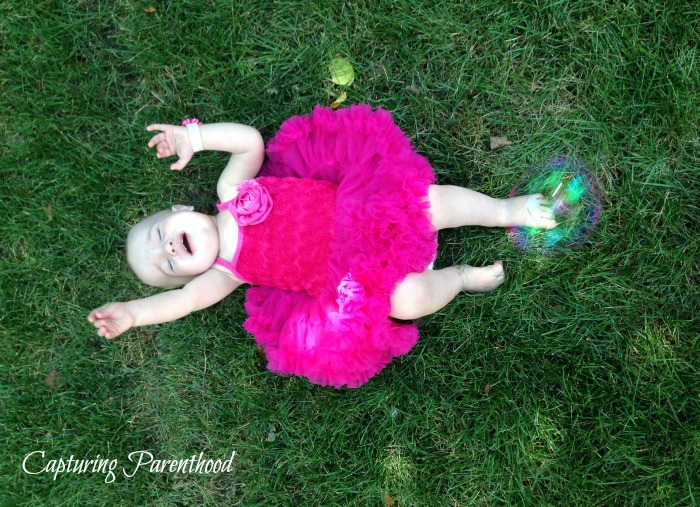 Item #5 – Fun Activities: Bubbles are always a good choice with young kids, I made sure to have lots of bubble wands and bubble solution for all to share (I stepped up my game for the next birthday and purchased a bubble machine – so much easier). And everyone received an awesome party-favor bag full of silly straws, sunglasses, squirt bath toys, and…more bubbles. But the biggest success of the entire party was the mini ball pit! We purchased a small inflatable pool and filled it with small plastic balls (beware: you need a lot of balls to fill a ball pit…way more than you imagine). Regardless…this was a hit with all of the children in attendance, from the babies, all the way up to the 8-year-olds!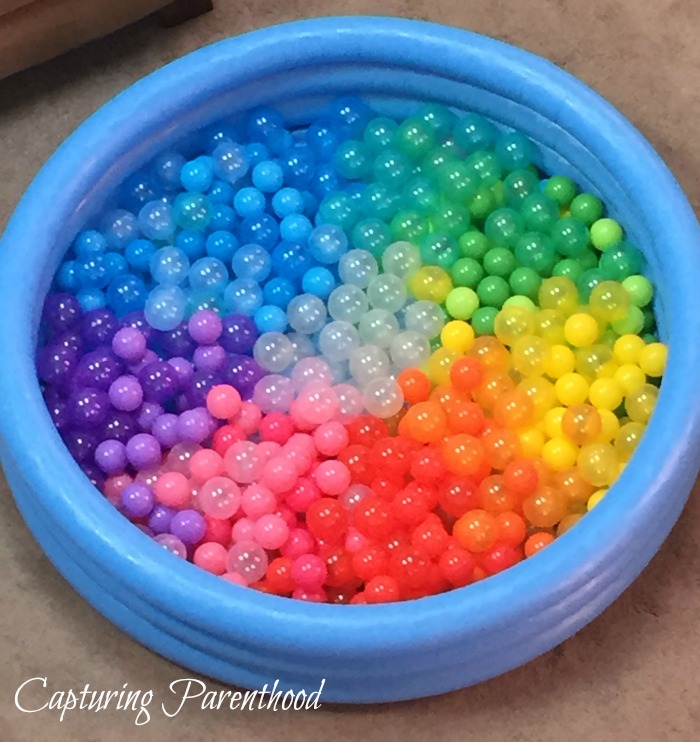 There is nothing quite like a first birthday party, surrounded by your close friends and family – it is a celebratory occasion, but it is also bittersweet – your baby is one already, and it's time to move on to the next adventurous year!
START SPREADING THE NEWS!