If you caught Tuesday's post about the little gifts that I left for my daughter for each day that I was away last month, you know that I ventured on my very first girls trip (post motherhood) to San Francisco with my best friend. I've been day-dreaming about jetting off on a kid-free trip for quite some time now, but it just never seemed like the right moment…we always had other things going on. So earlier this year, when my husband and I were discussing his forthcoming solo trips to Puerto Rico in May (as the best man in a wedding) and then a work retreat in Cabo San Lucas in August, I decided it was high time that I planned a trip for myself!
I texted my best friend, who lives in Seattle, and who I had not seen in person in several years, to find out what she thought about doing a girls trip. I was more than prepared for her to politely turn me down, because she has two 8-year-old twin girls, and a toddler. She is a terrific mom, and she is always insanely busy. But, to my delight, she answered with an enthusiastic "YES!"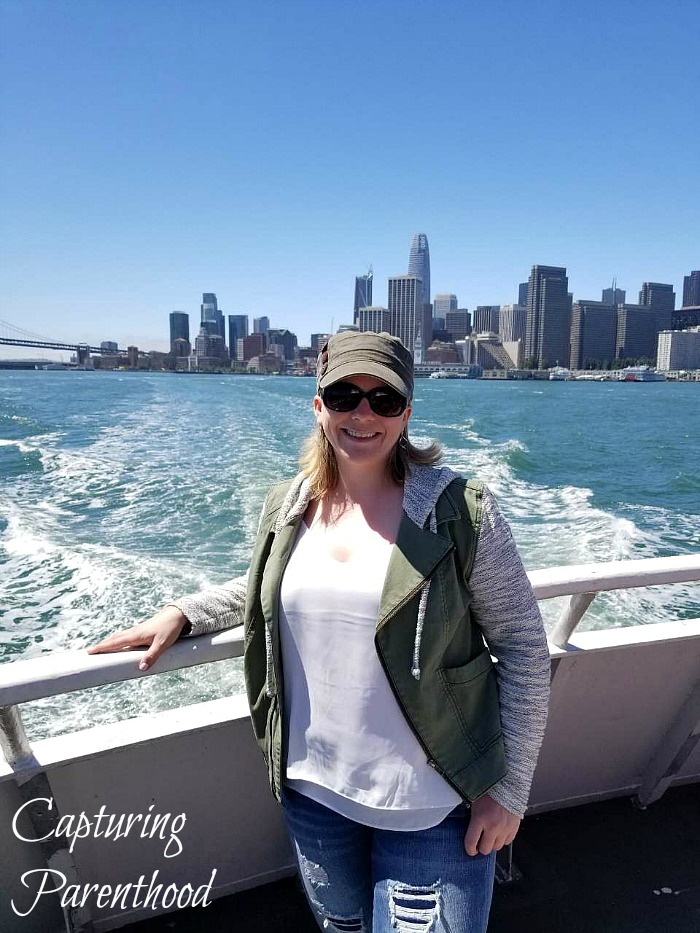 It was high time that these mamas got a break from the daily grind that is motherhood. 🙂
To be honest…I really needed a break. I love my daughter more than anything in this world, but I rarely take time for myself (even though my husband advocates for it on a regular basis), and I was getting really worn down. I've read all the articles about the importance of self-care, and creating some quality me-time, when you're a parent. But it's one thing to agree with an idea, and another to actually put it into practice in your own life. Even though I had quite a bit of anxiety about leaving my daughter for five days (I had only ever been away from her for one night before), I'm glad that I went on this adventure. Not only was it good for me, but it was beneficial for my daughter, and it even helped strengthen the bond between my little nugget and her daddy. It was a win-win-win!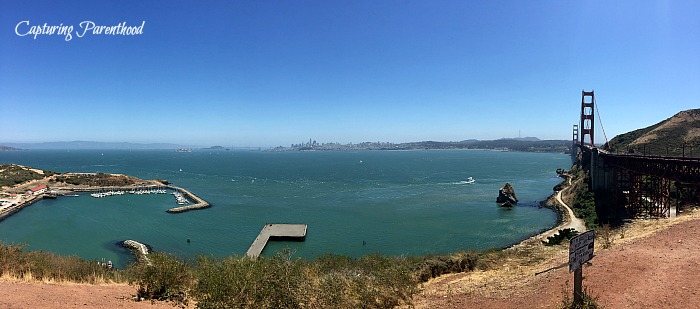 But, back to the trip…my friend and I knew that we wanted to go somewhere that neither of us had been before. We talked about New York City, Charleston, Nashville, Hawaii, and San Francisco. Ultimately, the destination that provided a short, non-stop flight for each of us, was the winner. As for the other options…well, there will be additional girls trips in our future, no doubt. 🙂
We purchased our plane tickets, booked our hotel (Parc 55 in Union Square), and waited (fairly patiently) for our trip to kick-off.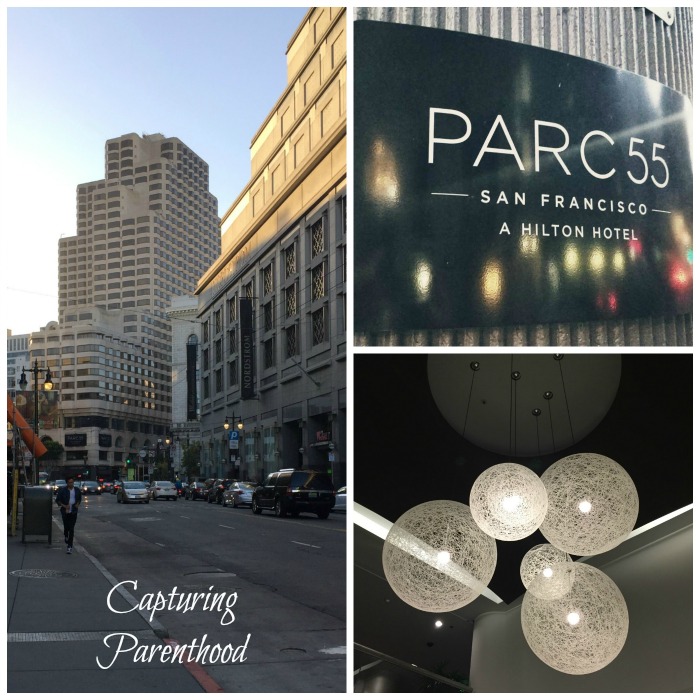 After landing at SFO, we made our way to the BART station in the international terminal. It took approximately 30 minutes to reach the Powell St. station in Union Square, which was long enough, considering the horrific noise that the train makes when it travels underground. But, all things considered, the BART is definitely the way to get from the airport to the city – it is way less expensive than a LYFT or taxi, and we had zero desire to spend money on a rental car that we wouldn't need. Staying in Union Square, we were surrounded by a multitude of transportation options, and we never had an issue getting to any of our destinations.
Speaking of destinations, I figured I would give you a glimpse of what we did each day, in case you, yourself are planning a get-away to the City by the Bay!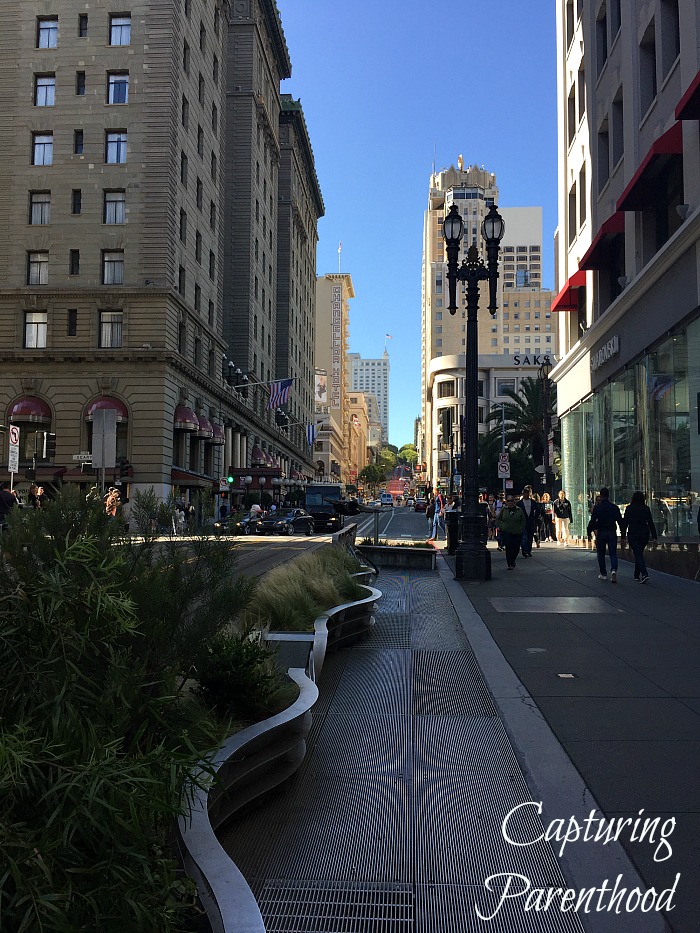 After checking into our hotel, we decided to meander around the Union Square area. We came across an awesome band that setup on the corner of Powell St. and Market St. – they were there every evening of our visit. After wandering around the square, and the numerous shops, it was time for dinner. We settled on John's Grill – one of the city's oldest establishments, and a popular spot among celebrities (throughout the years) including: Robin Williams, Johnny Depp, Bill Gates, Ronald Reagan, and many more. After a bit more exploring, we capped the night off with some delicious crepes.
---
Tuesday
The next morning we took it easy. It was so nice to relax and get dressed at our leisure, without having to get our kiddos up and ready for the day. We wandered over to the Chancellor Hotel to eat breakfast at Luques. Once we were caffeinated and full, we walked over to Ten Zen Nail Spa where we both were treated to a Milk & Honey Deluxe Manicure and Pedicure. It was by far and away the best, most relaxing mani/pedi I've ever had – hot tea and cookies, warm neck pillows, soft cozy booties and mittens! Take me back – please! It was so rejuvenating that after our week of site-seeing, my friend and I joked that we should have scheduled the mani/pedi as the very last thing on our to-do list. Oh well, there's always next time!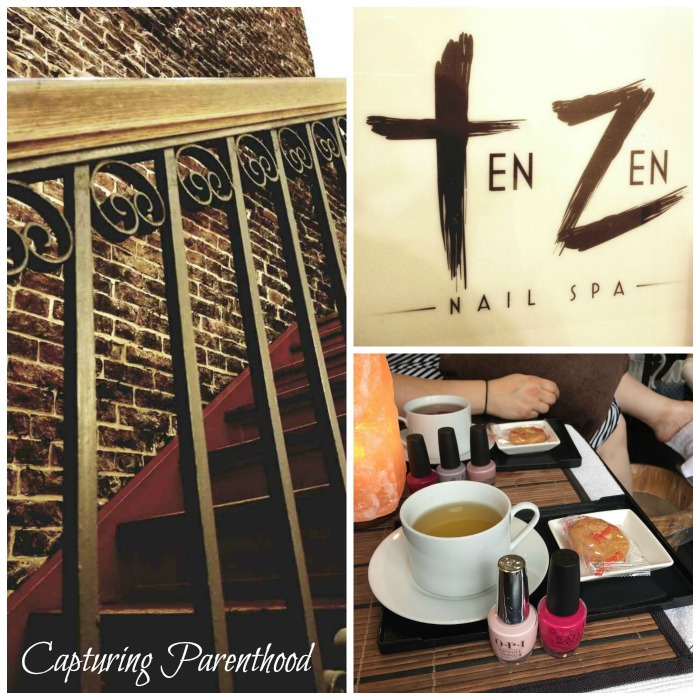 After our pampering session, we hopped aboard our 2-day cable car tour – the Hornblower Classic Hop-On-Hop-Off City Tour. This was an incredibly awesome way to tour the city – in an open air (converted) cable car. We loved that it was way less crowded than the many double-decker bus tours around town, but there were some drawbacks as well. It's a 30-40 minute wait at each stop before the next trolley arrives, and they are not really on a set schedule, so there were times that we went to a stop to get on, where we just had to cross our fingers, and hope it would arrive soon. The undetermined wait time, along with the fact that they completely missed a stop that we wanted off on (at the Ferry Building, which resulted in us running several blocks down the Embarcadero to catch our departing ferry), made it slightly less than fantastic, but still a win in our book.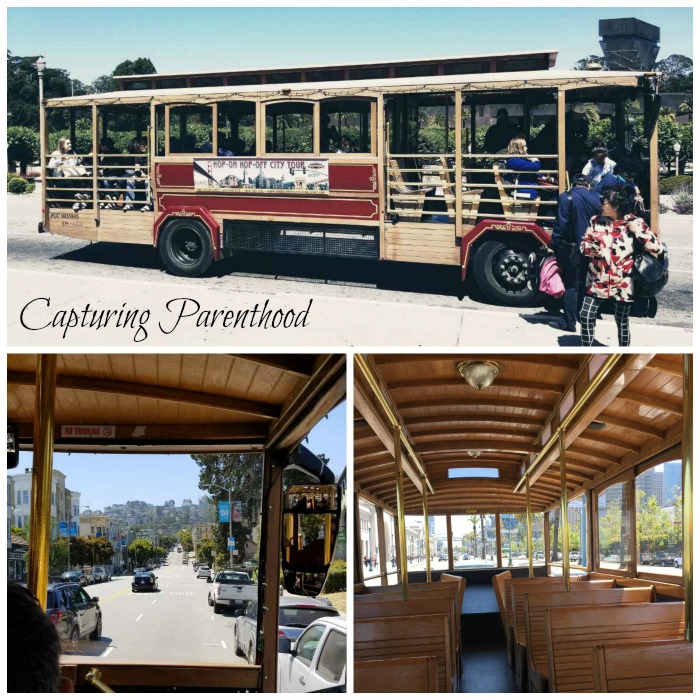 Our first hop-off stop was at the stairs to Coit Tower…over 400 stairs up a cliff-side, to be exact. Needless to say, we got a good workout, and we were both completely out of breath when we reached the top, but we made it. Not to mention, we saw some pretty breathtaking views at various points on the climb up, but they didn't compare to the views from the top of Coit Tower! Note: After all of those stairs, we paid to ride the elevator to the top of the tower. 🙂 This was the only spot where we were able to get full 360° views of the city, and it was beautiful. We could see the towering buildings of the financial district, the Bay Bridge, Alcatraz, Treasure Island, the Golden Gate Bridge…we could see it all! When we departed the tower, we chose to continue our on-foot effort, and made our way down Telegraph Hill to Pier 39.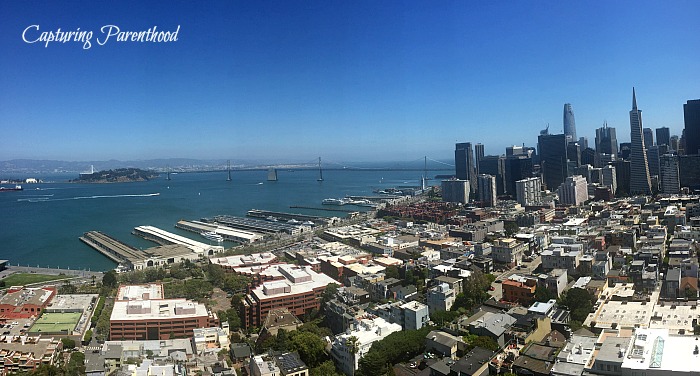 Pier 39 is famous for the sea lions that like to sunbathe on the wooden docks. My little nugget loved the videos I sent of the loud and boisterous sea creatures. The rest of the pier is inundated with a multitude of shops and restaurants. This is where you will find most of the touristy chain restaurants (as well as at Fisherman's Wharf). We shopped, devoured the biggest, juiciest peach on the planet, and stopped for dinner at Pier Market. Then we grabbed a LYFT to our Paint Nite destination – The Cigar Bar & Grill on Montgomery St. Side note: LYFT was another incredibly easy and affordable way to get around town. We never waited longer than a couple of minutes for a ride, and all of our rides were under $10 (pre-tip)!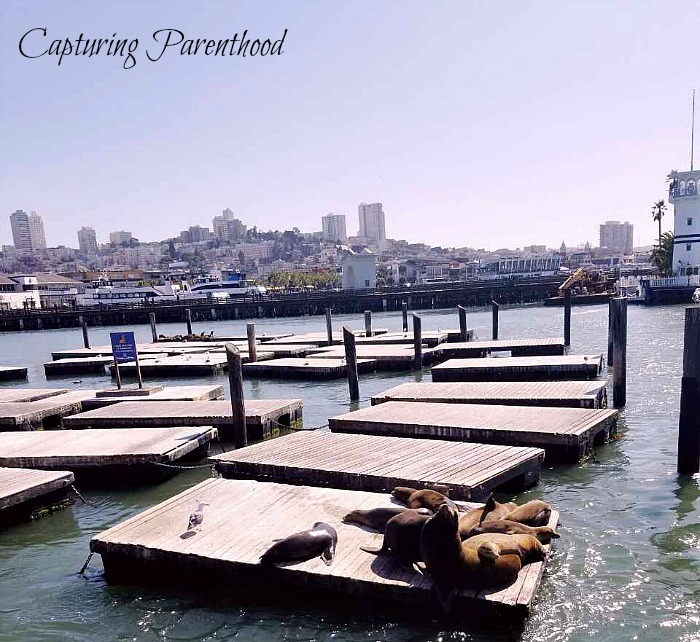 I've never done a Paint Nite before, and I'm not super artistic when it comes to a paintbrush and canvas, but pair it with my best friend, and some drinks, and I'm in! We created a Starry Golden Gate painting, and while there were a few areas that I wish I had time to go back and fix, I'm pretty happy with the finished product. Plus, it provided the perfect memento of our trip, and our time together. Not to mention, when I returned home, my little nugget fawned over my new painting for days. She constantly remarked on how beautiful it was, and she asked me to hang it in her room. 🙂 She really knows how to turn on the charm!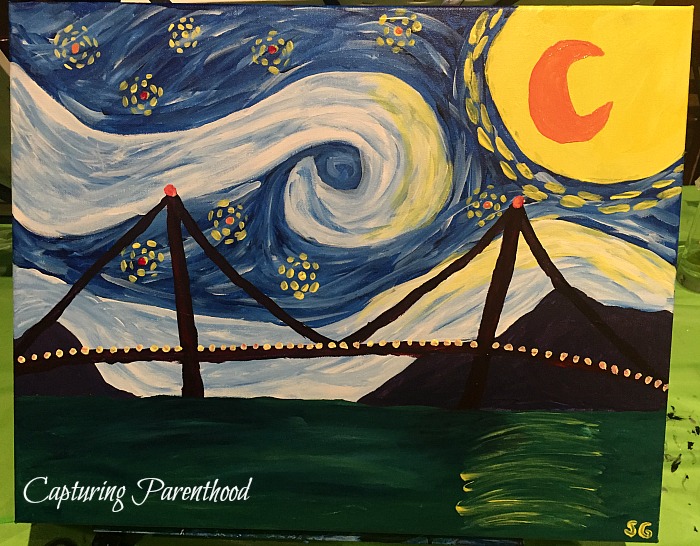 Wednesday
We started our morning with the most delicious croissant sandwiches (and some pastries, to go) from Barbary Coast Pastry & Coffee, that is housed in the Parc 55 hotel. Seriously, this tiny little gem was so scrumptious, that we chose to eat breakfast here the rest of our trip! Why mess with a good thing, right?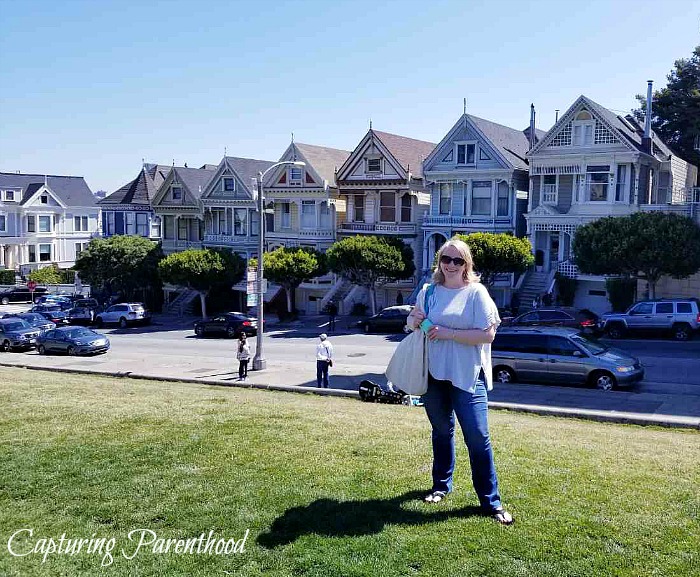 With our bellies filled, we hopped back on our cable car tour in Union Square, and made our way past civic center and city hall, to our next stop…Alamo Square. The home of the Painted Ladies – the best looking row of Victorian houses in San Francisco. This spot was a must-see on our list, because these houses are the very ones featured at the end of the intro, to the show Full House (when they are having a picnic). It is important to note that the Painted Ladies were not where the Full House family actually lived…that specific house is an approximately 20-minute walk from Alamo Square.
We hopped back on the trolley car, rode through the Haight-Ashbury District, and made our way to Golden Gate Park. I was pretty floored at just how enormous the park really was – over three miles in length (1,017 acres). Due to our previous day of stair climbing, neither of us was fully prepared to complete a 6-mile walk, but we ventured far enough into the park to reach Stow Lake, where we hopped in a paddle boat. We paddled around, came across several turtles, seagulls, ducks and geese, and just enjoyed the lush scenery. Then we huffed it back to our tour pickup spot.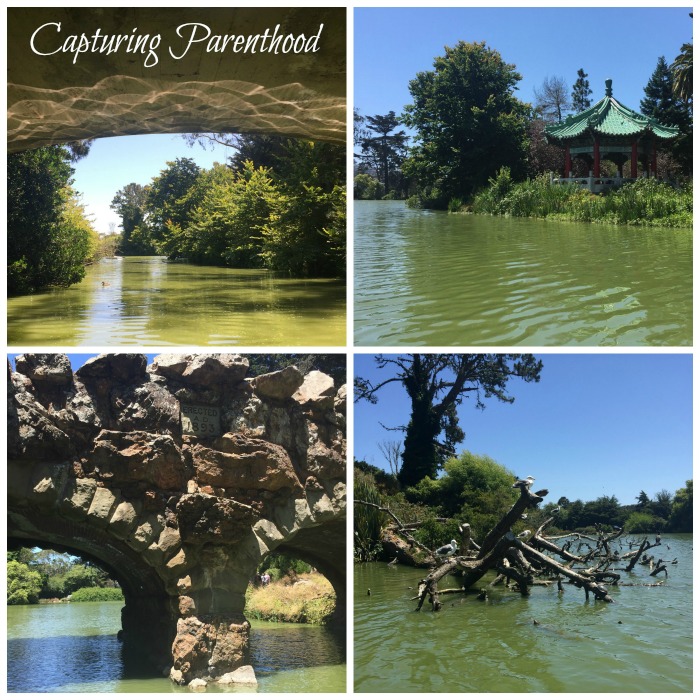 Next stop…the Golden Gate Bridge! The must-see attraction…the most notable, iconic landmark in San Francisco! We were treated to a very breezy ride over the bridge on our open-air cable car, before we disembarked at North Vista Point. We were slightly surprised at just how windy (and chilly) Vista Point really was, so we were happy to hear that the cable car would be staying at this location for 10 minutes, before departing for the next stop. We agreed that this wasn't a spot that we wanted to wait for an additional 30-40 minutes, for the next cable car to come along. We quickly made our way to the best bridge (and city) viewing areas, and snapped numerous photos for the memory books. Although, the blustery wind made almost all of the pictures of us look completely ridiculous – our hair was flying every which way. 🙂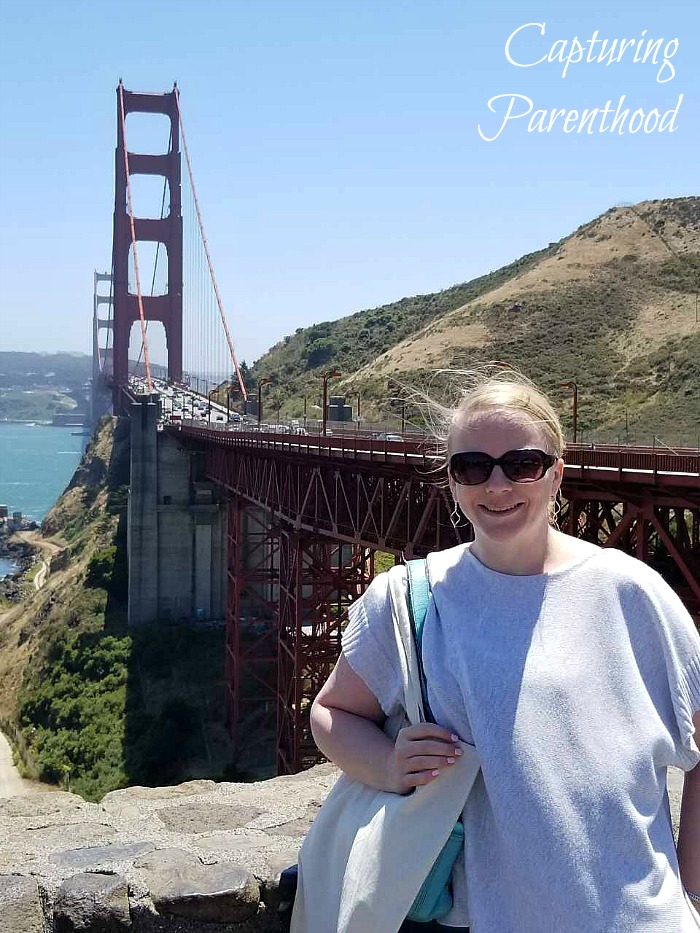 And then we were off to see the crookedest street in the world – Lombard Street! But first, we had to make the long haul up a very steep few blocks. San Francisco is very hilly…and by hilly, I mean super steep hills. As we were walking up Lombard, we started laughing about the cars parked perpendicular to the street – they were so slanted that it looked like you could easily walk up and tip them over (though we would never think of actually doing such a thing). Once we were at the top (and caught our breath) we took in the beauty of the one-block section of street, containing 8 hairpin turns, all made with vibrant red bricks. I think the novelty of this street is actually driving down it (and there were many people lined up to do as such), but we were more than happy to walk down alongside it, snapping photos of the beautiful flowers and landscaping as we went. A couple more pictures at the bottom, and then we wandered off to Little Italy for lunch.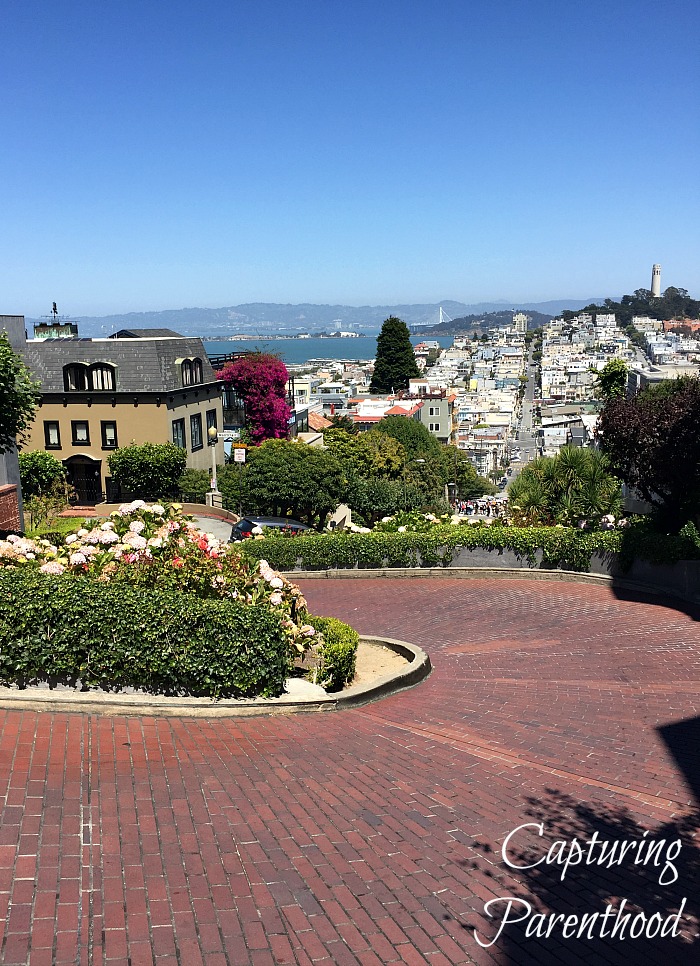 We had the most delicious pasta at The Italian Homemade Company, before we grabbed a LYFT to Chinatown. At this point our feet were pretty tired, and we didn't have the energy to find the nearby cable car tour stop, nor did we feel like waiting for what could have been close to an hour for the next one to arrive. We had decided that it was best to wait and buy souvenirs in Chinatown, because we figured that they would be cheaper than the other touristy areas, but this really was not the case at all. In fact, we preferred all of the souvenirs that we found at Pier 39 and Fisherman's Wharf, and they were all in the same price range. In all honesty, our trip to Chinatown was quick…and a little disappointing.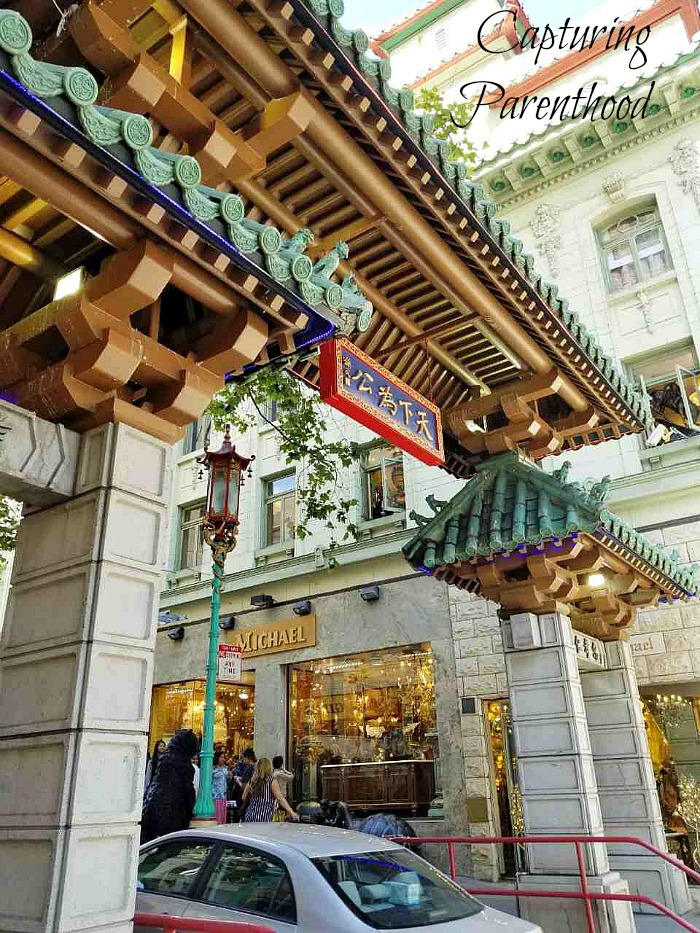 The gate to Chinatown is just a couple of blocks (past some very fancy shops – hello Valentino!) from Union Square, so we waltzed back in that general direction. It was at this point that exhaustion started to set in, so we grabbed a quick coffee, and headed back to the hotel to relax for awhile, before getting ready for our dinner reservation.
That night, we ate at the highly-regarded Kin Khao – Thai Eatery, that is housed in the Parc 55 hotel. I had read several outstanding reviews of this restaurant – it's earned a Michelin Star the past several years (among other accolades). So, we decided it was a must-try. My friend was a bit hesitant, as she had never eaten Thai food before, so I reassured her (based on my slim experience at Thai restaurants). Needless to say, we were both a little surprised when we sat down and viewed the menu. As a small, highly-rated restaurant, I should have expected the menu to be lacking in lots of options, but I honestly hadn't given it much thought. There was not a whole lot to choose from, and most of the dishes included pork (which my friend does not eat). And when it comes to spicy dishes…well, we are both weenies. 🙂 That being said…we ended up trying some foods that neither of us ever expected to try, and we were both delighted by the amazing flavors in our dishes, though one ended up being entirely too spicy. If you're in the neighborhood, you should definitely swing by. A heads up…their menu is always changing, based on the availability of foods from their local purveyors, but they usually have a current menu posted on their website. It might be a good idea to check that first.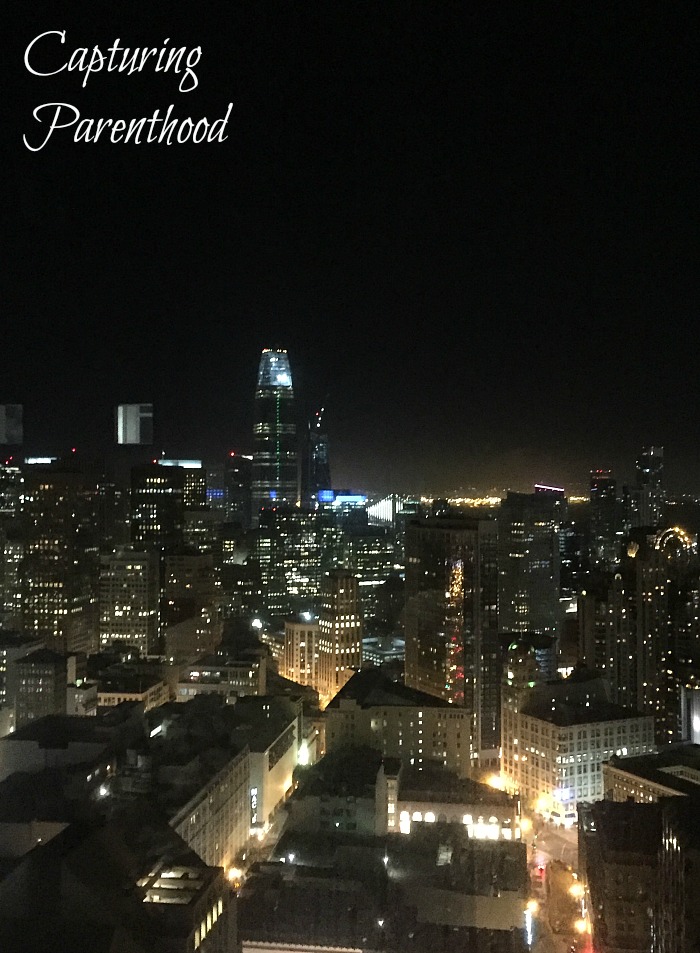 We capped off our evening with a visit to the Cityscape Lounge, located on the 46th floor of the nearby Hilton. We were treated to amazing night time views of the city, as we sat back and enjoyed some drinks. And then we made our way back to the hotel to catch some zzz's.
Thursday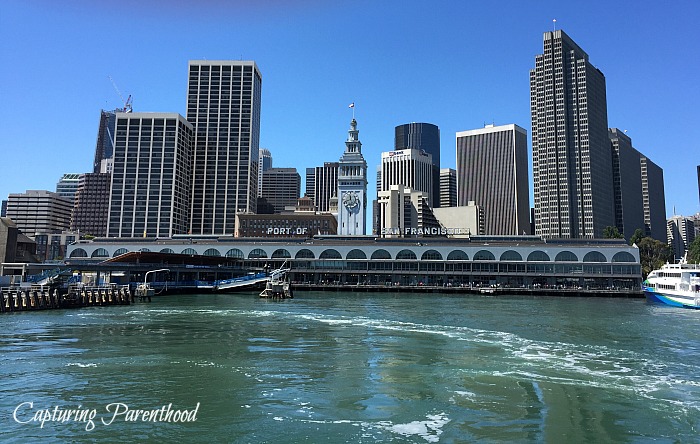 After our favorite croissant sandwich breakfast, we hopped back on the cable car tour (for the final time – the two-day passes last a total of 48 hours from the very first time you step aboard a tour). Our destination that morning was the Ferry Building, located along the Embarcadero. And you guessed it, this was the moment that the tour forgot to stop at their designated location. Since we did not know the exact location of the stop (and there was no wire to pull to signal we wanted off) we waited a few minutes, until it became very clear that we must have missed it. At that point we stood up, and spoke up. Unfortunately, we were nearly back at the Coit Tower stop, before we were able to safely hop off. Our ferry to Sausalito was due to depart in five minutes…we didn't have much time, but we decided to run for it. And thankfully, we made it!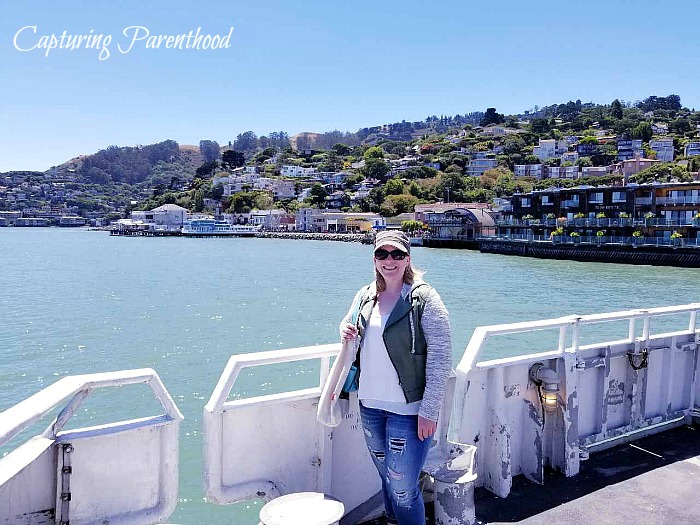 Taking the ferry to Sausalito was one of my favorite experiences of the trip. I've always loved being on boats, and we got to see brand new views of the city from the water, and they were spectacular. The ferry ride lasts approximately 30 minutes, passes Alcatraz and the Golden Gate Bridge (albeit not that close), before docking in the quaint little town of Sausalito, California. The downtown area branched directly out from the ferry landing, and featured a multitude of gift shops, as well as some of the most delicious restaurants. We wandered down the waterfront until we happened upon Scoma's – where we decided to grab a table inside the small establishment, since a patio table (looking out across the bay) was close to a two-hour wait. Our lunch at Scoma's was the best meal that we ate the entire trip, so if you're ever in the area, make sure to stop by…you won't regret it!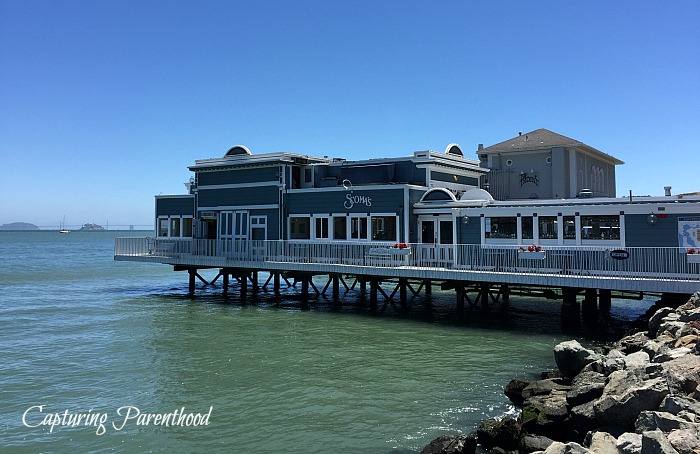 After browsing the different shops along the waterfront, and watching all of the bicyclists riding down through town (following their ride across the Golden Gate Bridge), we boarded a ferry back to San Francisco. Back at the Ferry Building (with our expired hop-on-hop-off tour tickets) we decided to grab a LYFT to Fisherman's Wharf.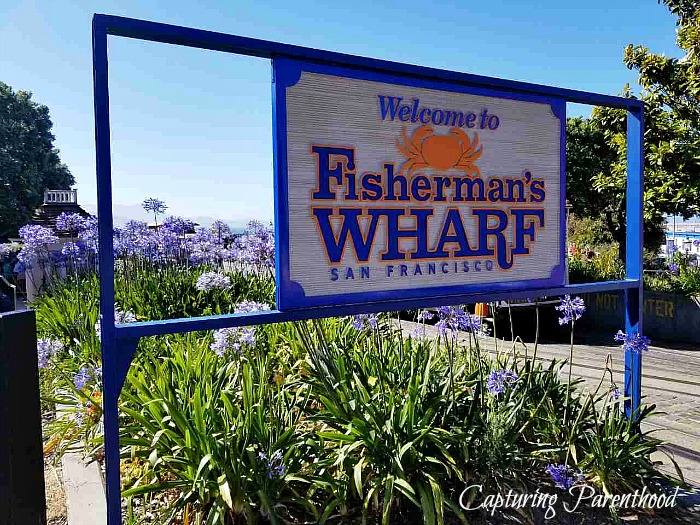 We perused the many shops along the wharf (and purchased a few additional souvenirs to bring home) before we made our way to Ghirardelli Square. Obviously we had to pop into the chocolate shop and restaurant, where we enjoyed a delicious brownie ice cream sundae! My mouth is watering just thinking about it. 🙂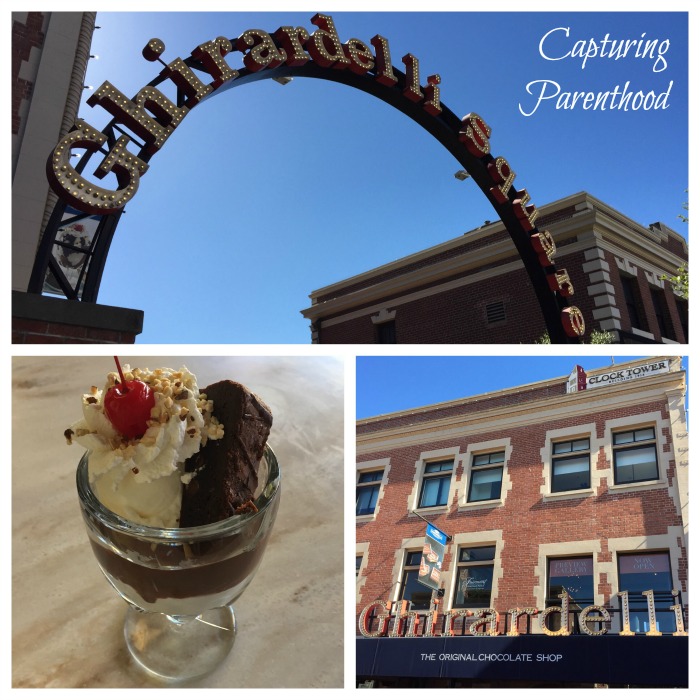 After our delightful treat, it was time to check the final to-do item off of our list…to ride one of the still-operating (real) cable cars. We walked over to the Hyde St. turnaround, and hopped in line. The line was pretty long…when we first arrived, the estimated wait was approximately 60 minutes. It seemed like the line was moving pretty smoothly though (at that point), so we figured why not? Needless to say, the line stalled shortly after that and we ended up waiting for over 90 minutes. We maintained our patience, and thanked our lucky stars that our kids were not with us. 🙂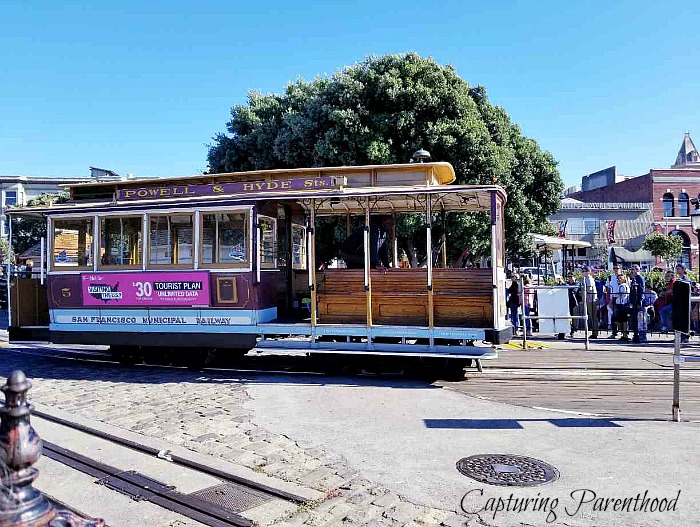 We enjoyed our ride on the iconic cable car, all the way to the other end of the line…at the Powell St. turnaround. And then we meandered around the Union Square area for awhile, before making our way back to the hotel for a quick dinner at the hotel restaurant and bar – appropriately named, Cable 55.
It was another long, fun-filled day and we were beat. It was time to head up to the hotel room to get some rest, before our travel day.
---
Friday morning, we took our time getting ready and packing our bags, before we made a quick trip downstairs to grab breakfast (and some pastries, for our flights home) from our go-to morning spot. We then gathered our belongings, checked out (hooray for late checkouts) and boarded the BART train back to the airport.
Our adventure was over, and we reluctantly said our goodbyes. It's always hard to leave the people that mean the most to you, especially when you have no idea how long it will be until you will see them again.
We both made it back home safely, where we snuggled up with our kiddos and enjoyed our family time. I was so happy to see my little nugget, and the big smile on her face when she saw that I was finally home. There is just nothing better to come home to.
Going on this girls trip was one of the best things I've done for myself (and my family). I will cherish the memories that I created with my best friend for all of our years. And now…I'm thinking ahead to the next adventure!
P.S. For those of you who have read my post regarding my husband traveling with one of our daughter's stuffed animals (http://capturingparenthood.com/husband-travels-stay-home/), you will be happy to know that I also had a travel companion – Sunshine Bear!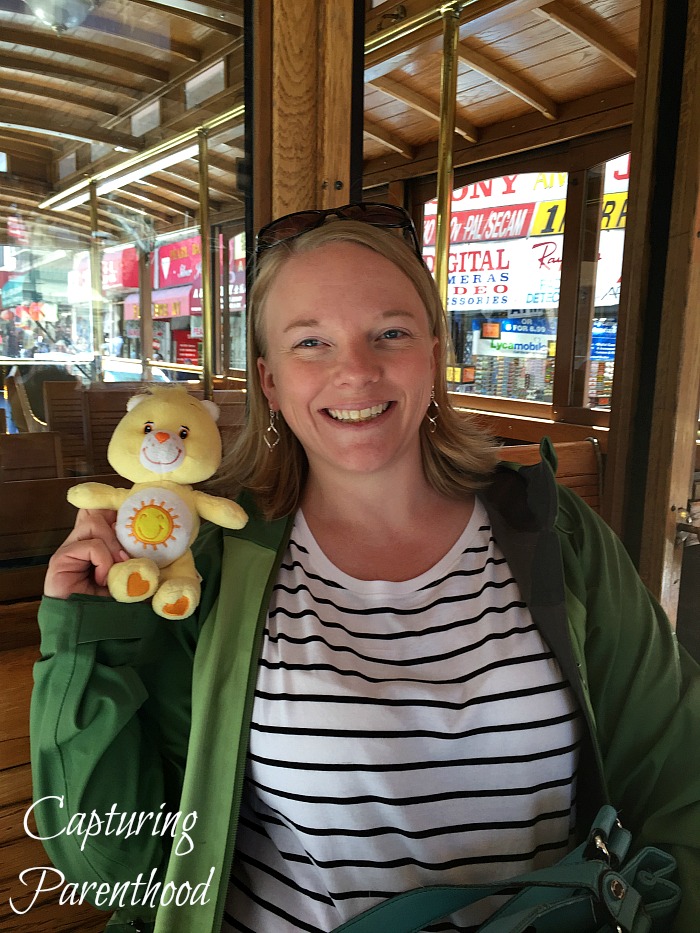 START SPREADING THE NEWS!