With St. Patrick's Day fast approaching, rainbows are in abundance in our home. Not only have we made lots of rainbow crafts (with pots of gold for our leprechauns, of course), but we also found an awesome rainbow science activity that our little nugget continues to request…a fizzing rainbow!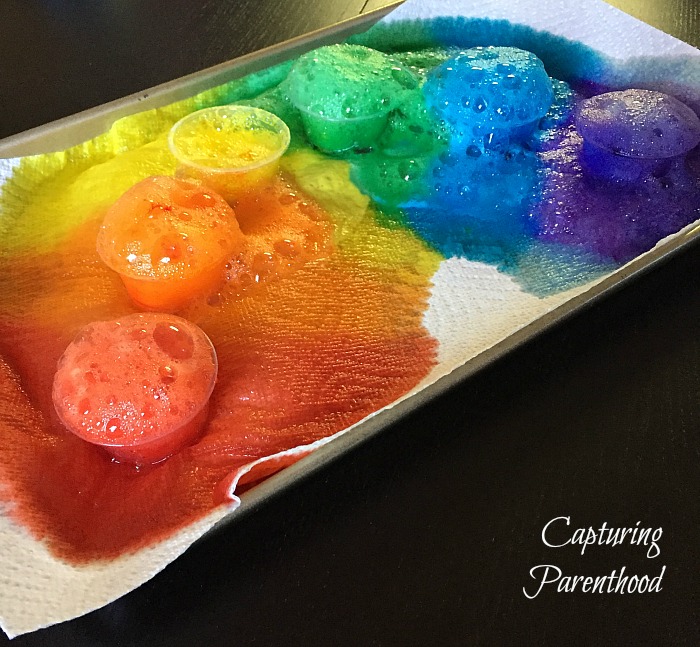 I mean, how could you go wrong with an experiment that erupts with color, fizzes and bubbles, and puts a smile on everyone's face?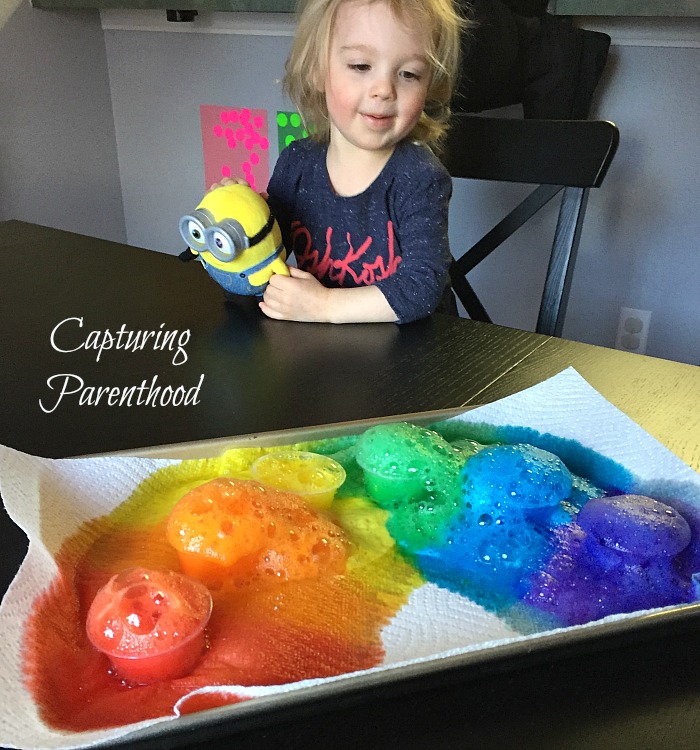 I came across the idea for a DIY Erupting Rainbow on She Knows (http://www.sheknows.com/living/articles/1076071/diy-erupting-rainbow-experiment-for-kids). The experiment is so quick and easy, but highly rewarding for your little ones. Kelly Dixson, the author of the linked blog post, refers to the experiment as an erupting rainbow, or exploding rainbow – both accurate descriptions. My little one, however, likes to call it a fizzing rainbow, so that's what I'm going with.
---
Fizzing Rainbow
**Note: This post contains Amazon Affiliate links for convenience. See Disclosure Policy for more details.**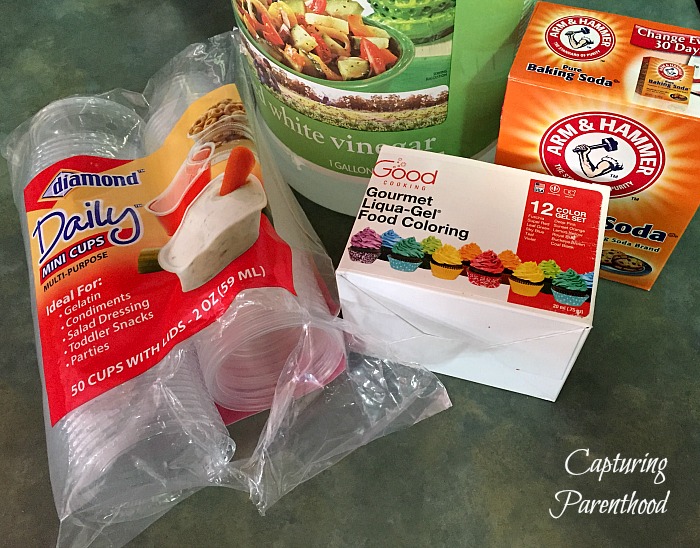 Supplies:
Mini Plastic Cups (I found mine at Target)
Food Coloring (I used this gel food coloring from Amazon, after it took my grocery store over two months to restock their standard food coloring)
Distilled White Vinegar
Baking Soda
Paper Towels
Cookie Sheet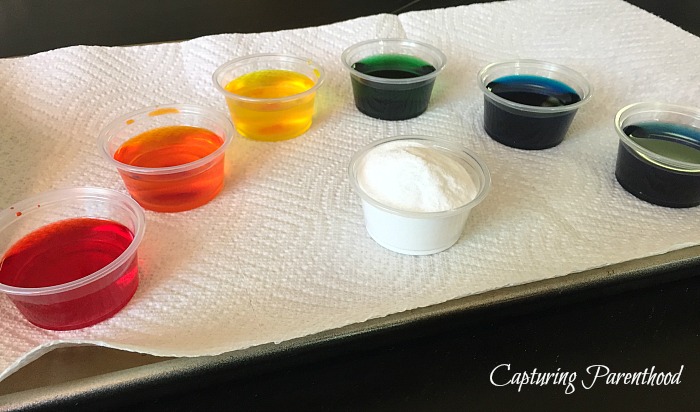 Instructions:
Cover your cookie sheet with a couple of paper towels.
Set out 7 of the mini plastic cups. Place a drop of food coloring into the bottom of each plastic cup (one color, per cup) so that you have one of each of red, orange, yellow, green, blue, and purple. Fill the remaining cup with baking soda.
Pour the white vinegar into the cups containing food coloring. We filled our cups approximately 3/4 full. Now you should have 6 cups of liquid in all of the colors of the rainbow.
Align your six color cups in a rainbow (arc) on your cookie sheet in the proper color order (as listed above).
Gather your little ones, set the cookie sheet in front of them and when you're all ready, go ahead and quickly pour small amounts of the baking soda into each of the cups.
Watch the colors erupt and bubble, and keep your ears peeled for the fizzing noises. Don't forget to glace over at your little ones, who will surely be in a state of excitement and amazement!
My favorite part of this colorful fizzing rainbow experiment, aside from watching my daughter's facial expressions (messy hair and all), is the rainbow of color that is created on the paper towel itself after the colors have bubbled over. This happened just by sheer luck, when I decided that the clean-up would likely be easier if I placed some paper towels down on the cookie sheet first. I'm so glad that I did, and I highly recommend you try it too. Why wouldn't you want a bonus rainbow?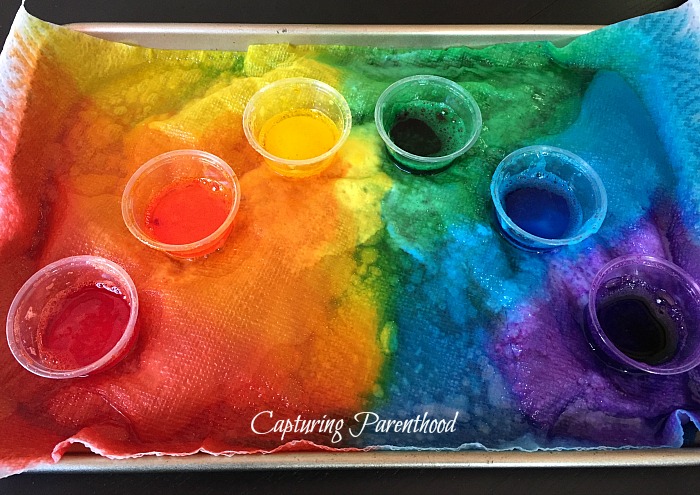 Once all of the fizzing has stopped, take the opportunity to talk to your little scientists about the experiment. What did they observe? How did it work? What happens when you combine baking soda and vinegar? And when all is said and done, feel free to let them do some additional experimenting with color-mixing. My little nugget had a great time pouring liquid from one container to another until she had created one big cookie sheet full of murky brown vinegar.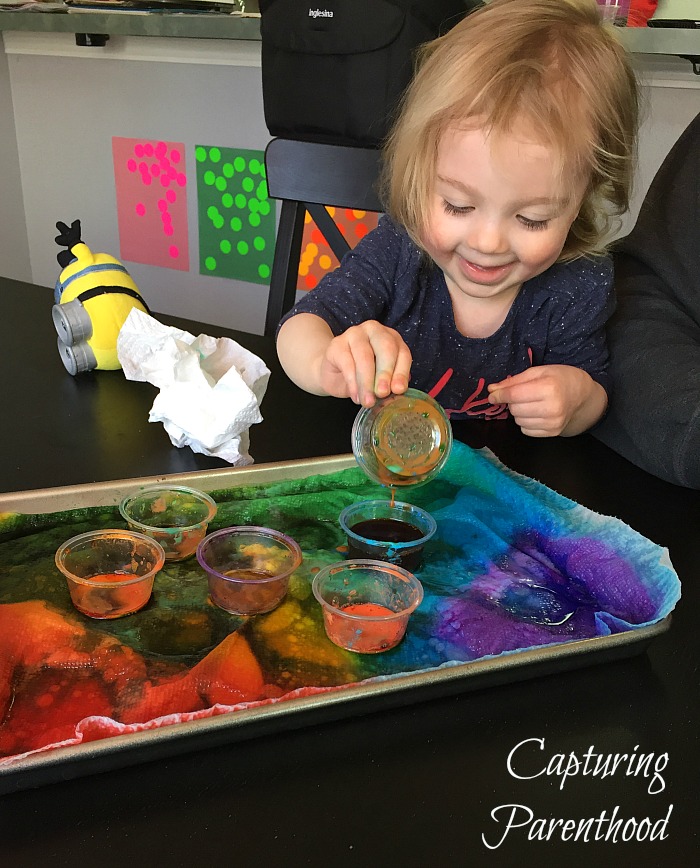 START SPREADING THE NEWS!