It's time for another fun experiment – a Foaming Fountain Experiment, also known as Elephant Toothpaste (though it is not edible)!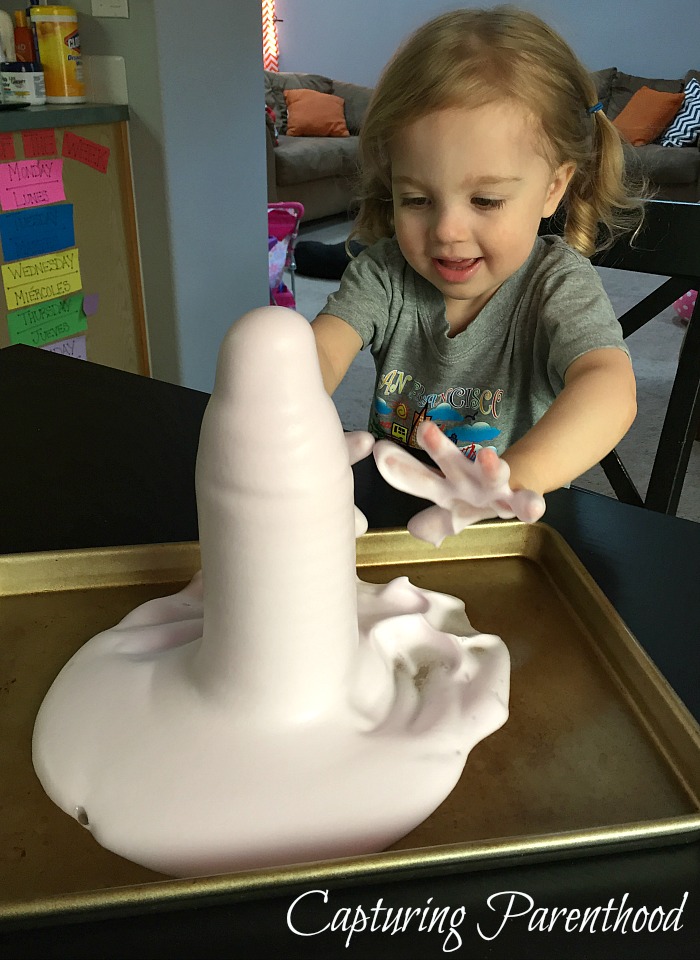 My little nugget loved watching the foam erupt from the water bottle – she was actually the one who dubbed it a "foaming fountain." But she loved sinking her hands into the foam, even more! What child can refuse squishing their hands into soft, foamy bubbles?
I came across the instructions for this simple experiment over on Navigating By Joy (http://www.navigatingbyjoy.com/2013/02/16/elephants-toothpaste-fun-with-catalysts/). Lucinda states that you should use 6% hydrogen peroxide for this experiment, but I could only find 3% at our local stores. Needless to say, I think the foaming reaction would have been more powerful with the higher percentage of peroxide, but we had a great time conducting the experiment anyway.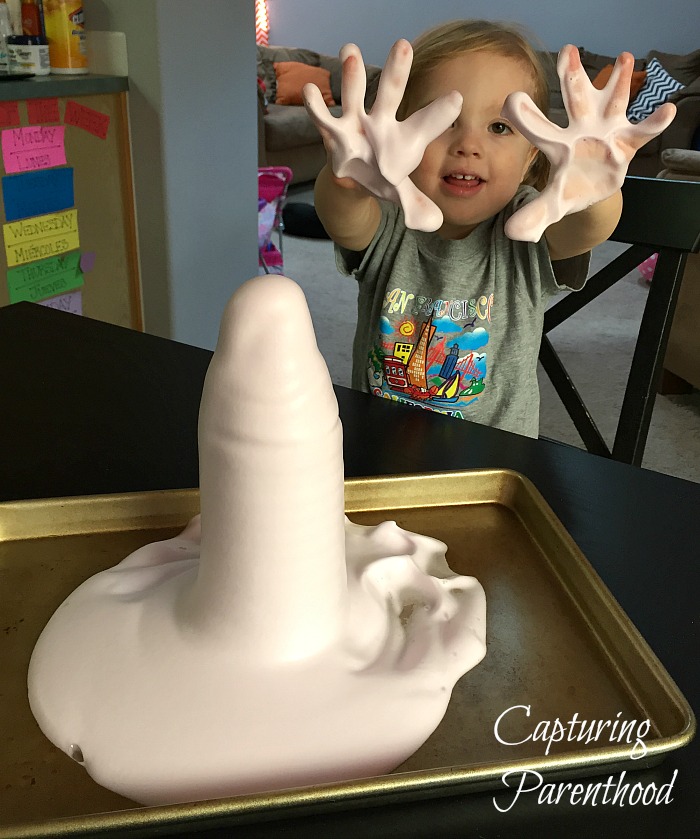 **Note: This post contains Amazon Affiliate links for convenience. See Disclosure Policy for more details.**
---
Foaming Fountain Experiment (Elephant Toothpaste)
Supplies:
1/2 Cup 6% Hydrogen Peroxide (as stated, we could only find 3%, so that is what we used)
1 tsp. Yeast
2 Tbsp. Hot Water
Food Coloring (color of your choice)
Dish Soap (a couple of squirts)
Empty water/soda bottle
Tray or Cookie Sheet (to catch the foam)
Instructions:
Add the hydrogen peroxide to the empty bottle, and set aside.
Add the yeast to a small bowl. I chose to use my 2-cup measuring cup (with spout) to make it easier to pour the mixture into the water bottle.
Add the hot water to the yeast (I used the hottest water from our tap). Stir until thoroughly combined.
Squeeze two to three squirts of dish soap into the water bottle (with the hydrogen peroxide). Add a couple of drops of food coloring to the water bottle, as well. Give it a good swirl to get everything mixed.
When you're ready, pour the yeast mixture into the water bottle, and get ready for a fountain of foam to emerge!
Feel free to let your kiddos play in the foam – it's the best part!
---
So…the science behind this experiment? The yeast acts as a catalyst to remove the oxygen from the hydrogen peroxide. Because the reaction is so fast, it creates tons of tiny bubbles filled with oxygen! Isn't science grand?
As I mentioned before, I think if we had found a higher percentage of hydrogen peroxide, we would have had an even better chemical reaction. After completing this experiment, I did a little bit more research and found that most Elephant Toothpaste experiments call for 6-10% hydrogen peroxide, which can apparently be found at beauty supply stores, or salons. I also found this 6% laboratory-grade hydrogen peroxide, and this 12% hydrogen peroxide on Amazon! Making a note for next time!
I also stumbled across an adult version for this experiment, which uses 20% hydrogen peroxide, dish soap, food coloring, and potassium iodide (instead of the yeast mixture). These ingredients appear to create a much more forceful fountain, and massive amounts of foam – but the mixture is very hot! Therefore, it's not a great recipe for the kiddos who will immediately want to reach out and touch the foam. Perhaps you can save this particular method for when your kids get a bit older – or do it for your own enjoyment, after you put the kids to bed. 🙂
START SPREADING THE NEWS!