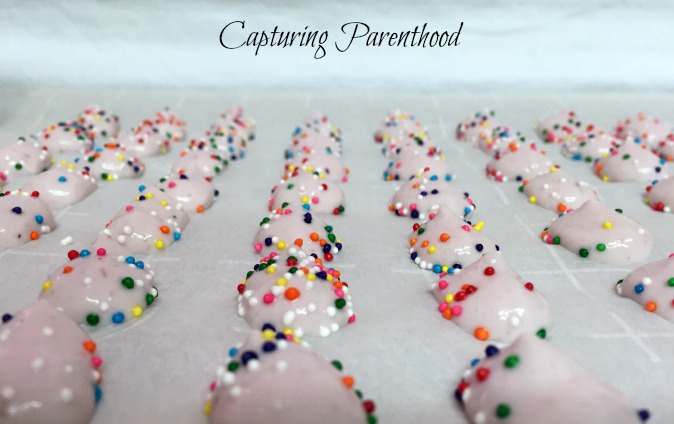 My daughter and I love these frozen Greek yogurt bites! I'm so glad that I stumbled across them on the A Healthy Slice of Life blog at http://www.ahealthysliceoflife.com/kid-friendly-frozen-greek-yogurt-drops/.
My little nugget loves them because they are cold, bite-sized drops of sprinkled deliciousness – her words, not mine (ok, ok…her specific words are "Delicious, Mommy!"). She asks for them for breakfast, lunch, and dinner – even though she gets them as a snack (typically after she wakes up from nap – it helps start the afternoons off on the right foot).
I love them because they are one of the quickest and easiest things that I make for my daughter. And they are on the healthier-side, which every parent loves (you could even fore-go the sprinkles, but that is no longer an option in our house).
These little wonders only take a few minutes of preparation…really!
Things you will need: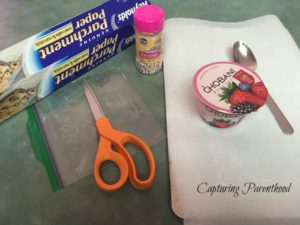 Greek yogurt – I've been using Chobani Mixed Berry Blended
Sprinkles (optional)
Cookie sheet (or another portable flat-surface)
Parchment paper
Sandwich-size Ziploc bag
Scissors
Spoon
Directions:
Line your cookie sheet with parchment paper.
Open and stir-up the yogurt.
Open the Ziploc bag and spoon the yogurt into one corner of the bag.
While carefully holding the Ziploc bag, snip off a small section of the opposing (empty) corner.
Slowly squeeze the yogurt over to the open corner of the bag. Once the yogurt appears in the small opening, point the open corner down and gently squeeze out a small drop of the yogurt onto the parchment-lined cookie sheet. Repeat until you have squeezed all of the yogurt from the bag.
While holding the cookie sheet over the kitchen sink (I do this to cut-down on sprinkles flying all over my kitchen) gently shake the desired amount of sprinkles onto the drops of yogurt. If you are using a cookie sheet with no edges, you can gently tilt the cookie sheet from side to side so that the unattached sprinkles can slide into the sink (instead of into your freezer during the next step).
Place the cookie sheet into your freezer and let the drops freeze for a couple of hours (or until firm to the touch).
Once frozen, simply pop the drops off of the parchment paper and toss them into another clean Ziploc and store back in the freezer.
Enjoy!
Please note: If you remove the yogurt bites from the freezer for an extended period of time without consuming, they will start to melt. Sometimes my daughter gets distracted with books or toys, after requesting her yogurt bites, and when she realizes she still has some snack, they are a bit messier to eat – but delicious all the same!
I've also seen an adaptation of this idea using applesauce (without the sprinkles, of course), but I have yet to try it.
START SPREADING THE NEWS!