Teaching our little ones about emotions, and the best ways to navigate them, is an important task. I've found that it's not only helpful to identify emotions in the heat of the moment, but to also learn about them in a myriad of different ways. This Funny Face Flip Book is a crafty way to illustrate different emotions, using facial expressions!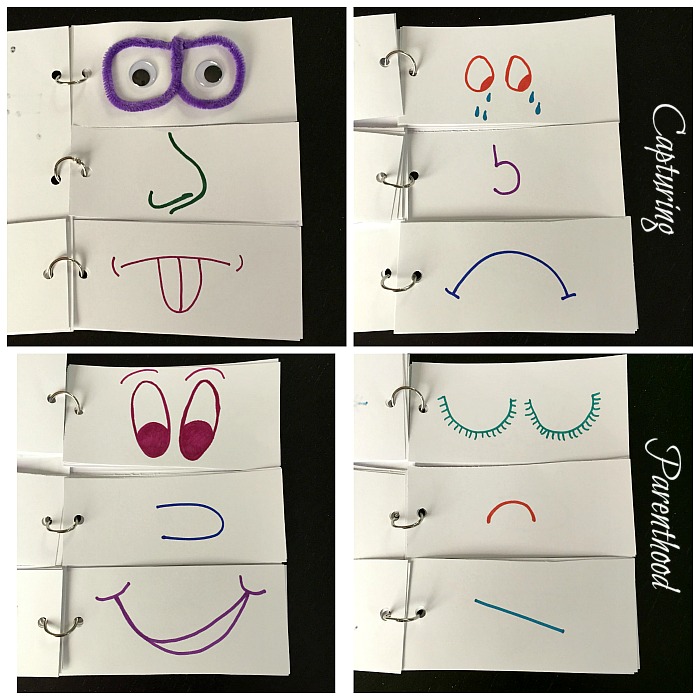 I've found that our little nugget is much more likely to retain various concepts, if we make the learning process fun and interactive. And you can never go wrong with a bunch of silly faces! 🙂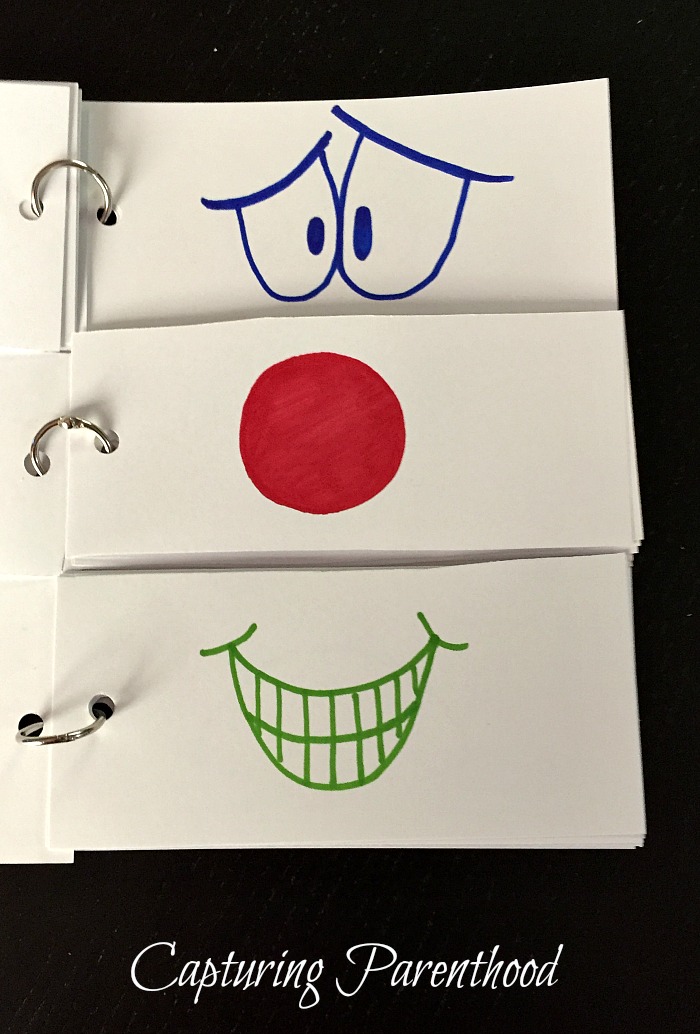 When I stumbled across Rachel's DIY Funny Face Flip Book, over on I Heart Crafty Things, I knew that it would make a wonderful (and entertaining) educational tool, so we set out to make one of our own.
---
Funny Face Flip Book
**Note: This post contains Amazon Affiliate links, for convenience. See Disclosure Policy for more details.**
Supplies: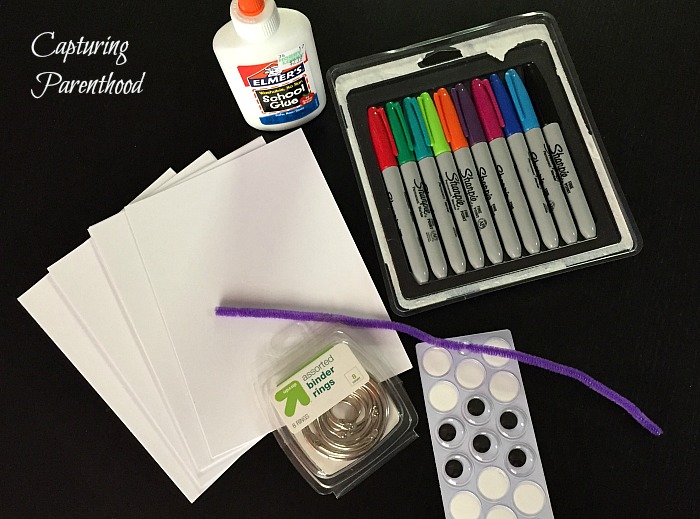 White Cardstock
3 Binder Rings (I found mine at Target, but Amazon offers this great variety pack)
Scissors
Hole Punch
Markers
Googly Eyes, Pipe Cleaners, Glue (optional)
Instructions: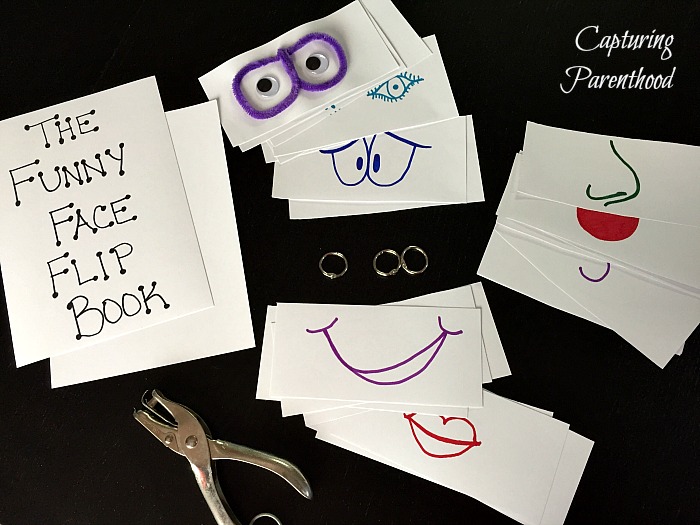 Start by deciding how many faces you would like to have in your flip book (we made eight). Gather up a corresponding number of cardstock pages, and cut them into thirds. The three sections do not have to be equal in size…we chose to make our nose sections smaller than our eye and mouth sections.
Once you have your cardstock pieces cut, grab your markers and get to work drawing a variety of different eyes, noses, and mouths. We chose to utilize a pair of googly eyes (I love these peel-and-stick googly eyes from Amazon), and we paired them with a pair of purple glasses that we fashioned out of a pipe cleaner. Get creative and let your imagination run wild!
When you've finished drawing/creating your different facial expression components, use the hole punch to punch a hole in each piece of cardstock.
I recommend grabbing two more full sheets of cardstock to use as the front and back cover for your flip book. Punch three holes in these sheets of cardstock.
Finally, assemble your funny face flip book, securing the pages with the three binder rings.
Don't forget to add a book title on the front cover!
---
Our little nugget loves flipping through this silly book, creating different faces at every turn. It provides an additional way for us to talk about emotions. When we create a face, I ask her what she thinks the person is feeling, and she responds by identifying the emotion (happy, sad, angry, scared, excited, tired…the list goes on). I have also utilized this book when our daughter is personally struggling with a difficult emotion, or when she's having a tough time identifying the emotion that she is feeling. I just ask her to create a face in the book that shows how she feels at that particular moment. And inevitably, the task of creating the face usually helps diffuse the potentially stressful moment!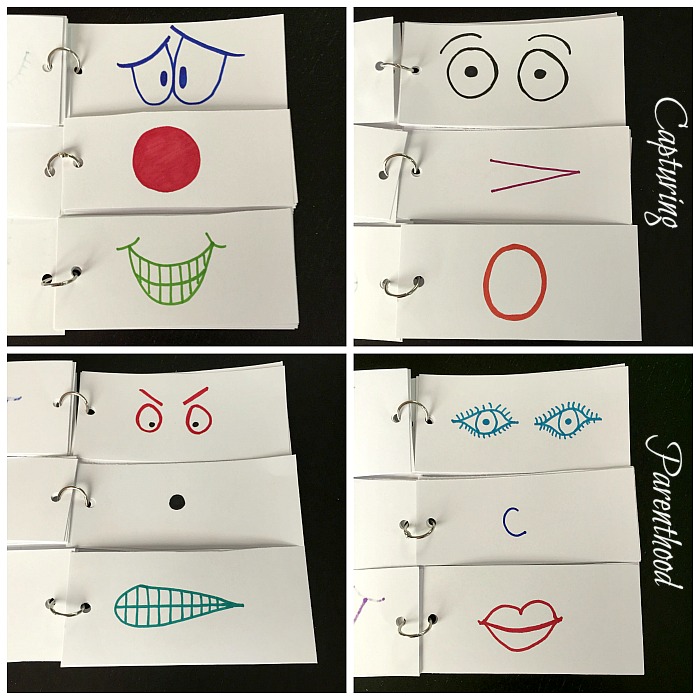 If you're looking for another fun way to teach your little ones about emotions, while also providing a stress-relieving activity…make sure to check out our Playdough Stress Ball Balloons!
START SPREADING THE NEWS!