It was this time last year that we were preparing to watch our Denver Broncos dominate the Carolina Panthers in Super Bowl 50!!! It was such a great game to watch (if you're a Broncos fan, of course). The Denver Broncos have been a part of my life since the day I was born – my Dad held season tickets and my parents attended just about every home game. Now, when I was little, I was not so fond of their obsession with football, but as I've grown older, I've become a fan myself. There's just something about gathering together with friends and family to cheer, scowl, yell at the referees, overcome defeat, and celebrate victories. And let's not forget about the friendly banter with fans of the opposing team. But there is one more big highlight to game day gatherings…the food!
I've got the perfectly delicious (totally unhealthy), salty, cheesy, and gooey game day grub that you absolutely need to make for your Super Bowl party this year…Loaded Totchos!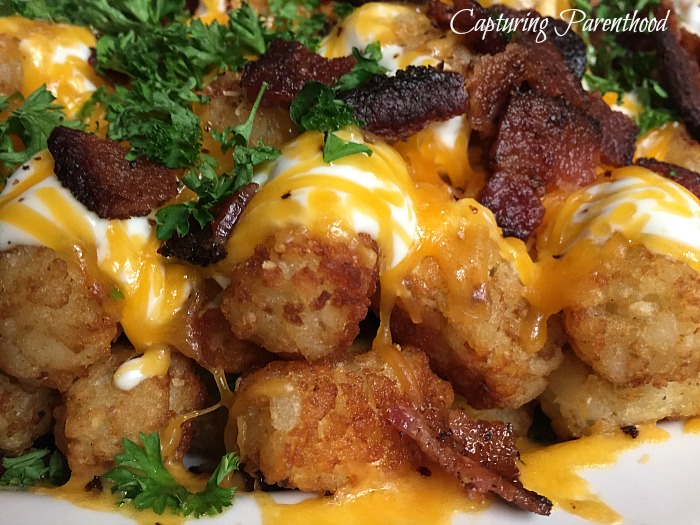 That's right, I said Totchos. Not Nachos. Crisp and golden tater tots, drenched in a sour cream/ranch dressing mixture, topped with cheddar cheese, bacon crumbles, and chopped parsley – all melted together to create a creamy, crunchy, melt-in-your-mouth concoction that you won't be able to stop eating until the plate has been wiped clean!
Seriously…these Game Day Loaded Totchos are perfection! You won't be the least bit sorry that you cooked up a batch, and you just might be crowned the champion of Super Bowl Sunday!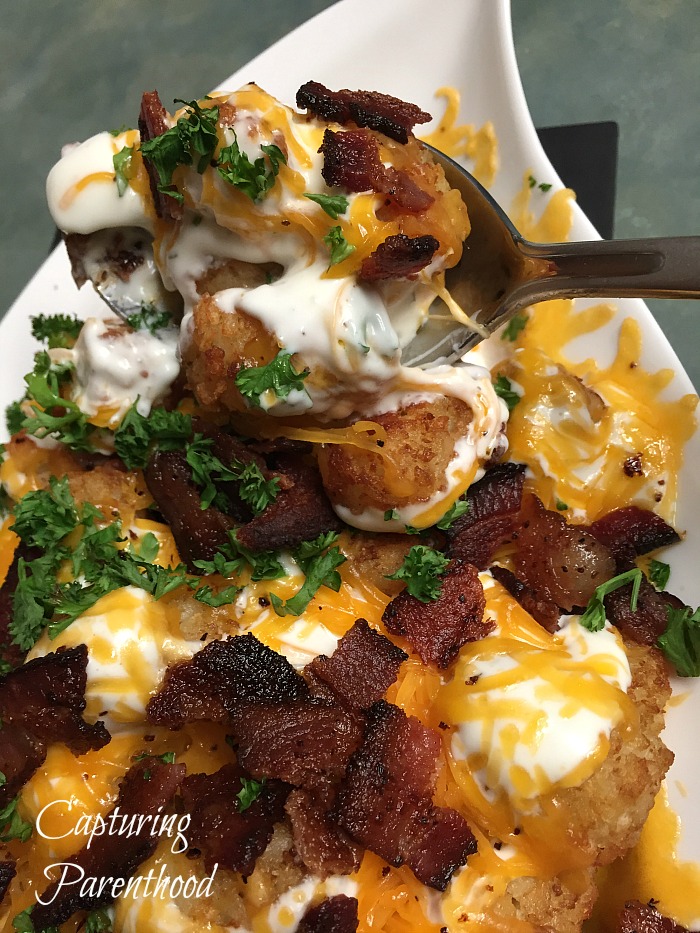 So go ahead…run (don't walk) to the grocery store to get the necessary ingredients.
Game Day Loaded Totchos
Ingredients:
1 (32 oz.) Bag of Tater Tots
3/4 Cup Sour Cream
3/4 Cup Ranch Dressing
3 Tbsp. Fresh Parsley, Chopped
6 Slices of Bacon, Cooked and Crumbled
1-2 Cups Shredded Cheddar Cheese (depending on how cheesy you want them to be)
Instructions:
Preheat the oven to 425°F. Spread the entire bag of tater tots onto an 11×17 cookie sheet, making sure they are all in an even layer.
Bake the tater tots according to the (full-bag) instructions – typically for 28-32 minutes, or until nice and crispy, and golden brown.
While the tater tots bake, mix the sour cream and ranch dressing together in a small bowl.
Once the tots are done, remove them from the oven and transfer half onto an oven-safe serving platter. Top with half of the sour cream/ranch dressing mixture, half of the bacon crumbles, chopped parsley and cheese and pop the platter back into the oven for a few minutes, until the cheese has melted.
Remove from the oven and repeat the above steps, building a second layer of tots and toppings until you have utilized all of the ingredients. Place back into the oven for another few minutes until everything is nice and gooey.
Remove from the oven and happily serve to that hungry crowd of football fans!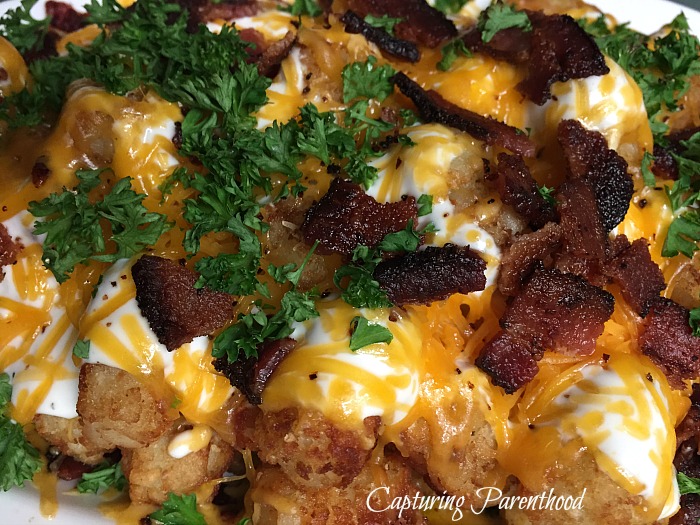 This recipe was adapted from the Loaded Totchos recipe that Angela shared on About A Mom (http://www.aboutamom.com/loaded-totchos/).
Even though our team didn't make it to the big show this year (didn't even make it into the playoffs, for that matter), we will still sit down to enjoy the big game on Sunday…along with some delicious game day grub! GO FALCONS!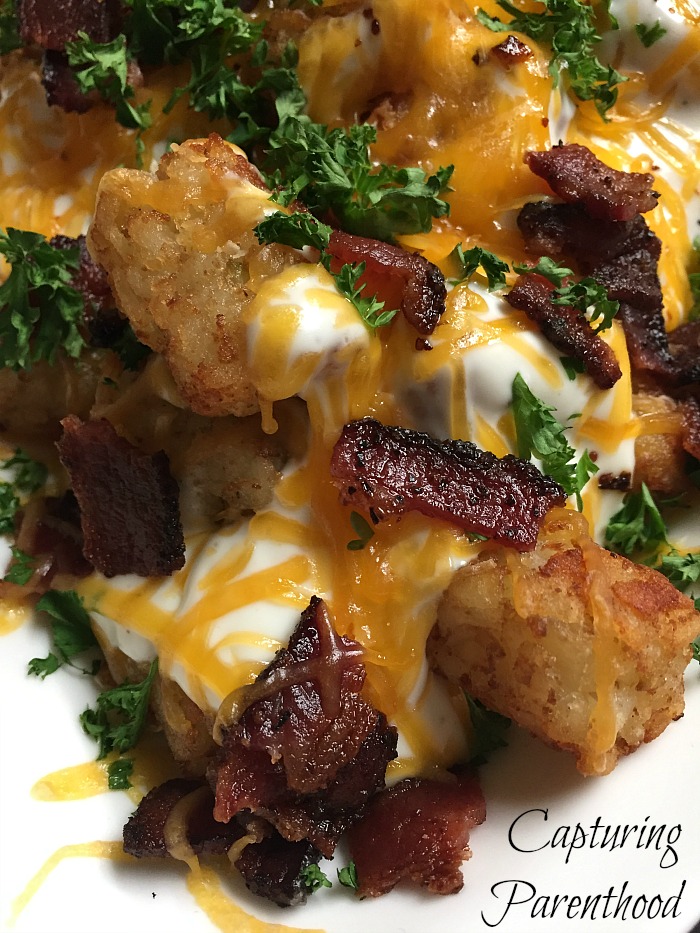 What are some of your favorite game day recipes?
START SPREADING THE NEWS!