I don't know about you, but play dough is a very big deal in our household. It is something that our little nugget can play with every single day (without tiring of it), and usually for 30-60 minute periods of time!
We enjoy playing with classic Play-Doh (I find the smell intoxicating), but we also like to create our own play dough too! We had a great time playing with some homemade pumpkin play dough a couple of months ago, so I knew we just had to try this Peppermint Christmas Play Dough that I discovered on Emma Owl (http://www.emmaowl.com/peppermint-christmas-play-dough/#_a5y_p=4746646).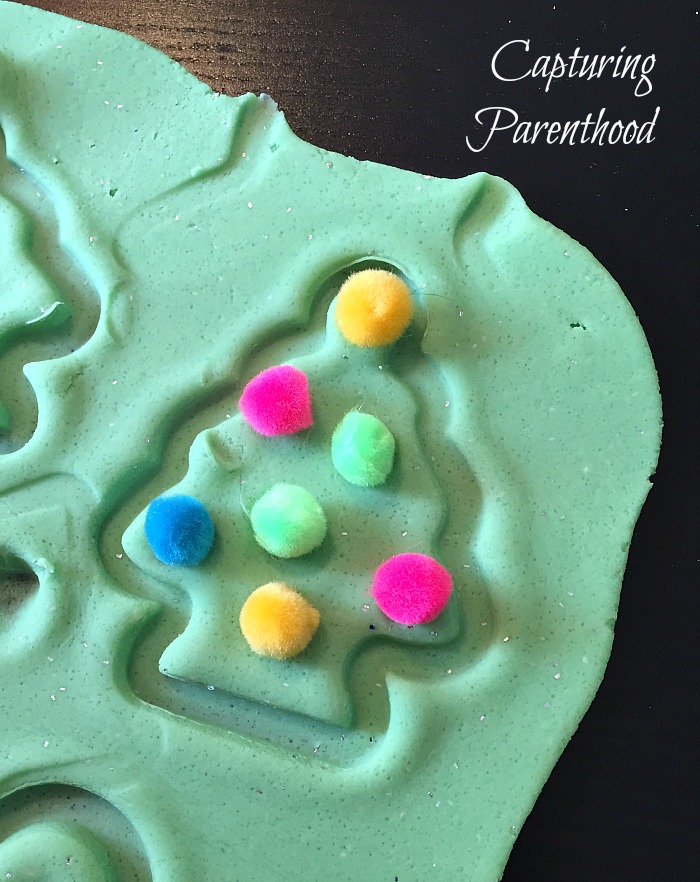 I made a few adjustments to Julie's recipe – I omitted the glycerin, and I used peppermint extract (instead of oil), because I had some on hand. I also added some silver glitter to the mix (prior to adding the water) to make the play dough more sparkly and festive!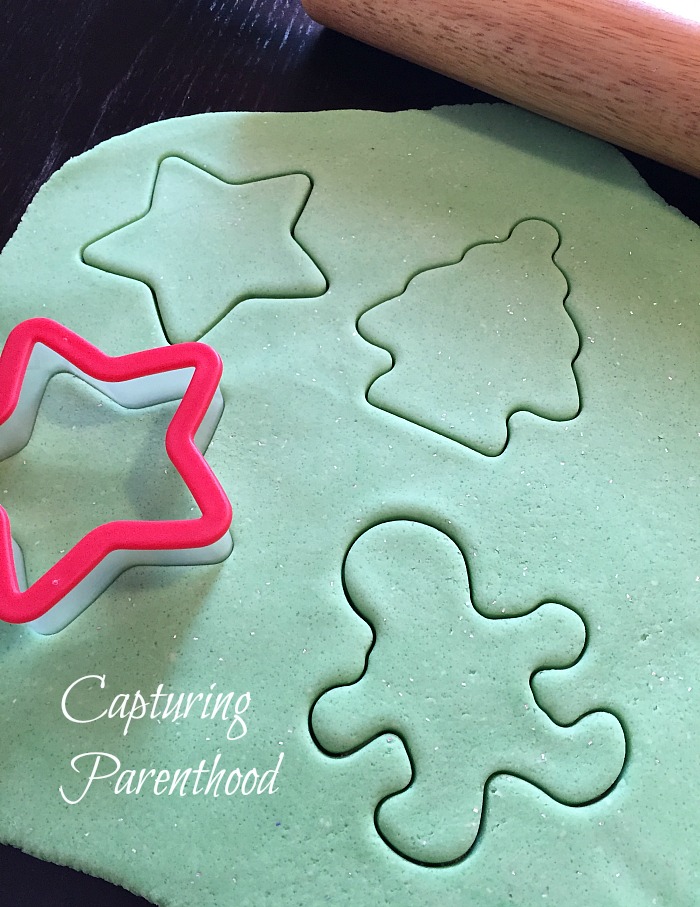 Our Holiday Peppermint Play Dough provided an excellent opportunity to practice our cookie cutter skills, prior to the Christmas cookie extravaganza that will commence in our kitchen next week! Our daughter loved cutting out all of the different shapes, and had equally as much fun turning the cookie cutters over and using them as stamps.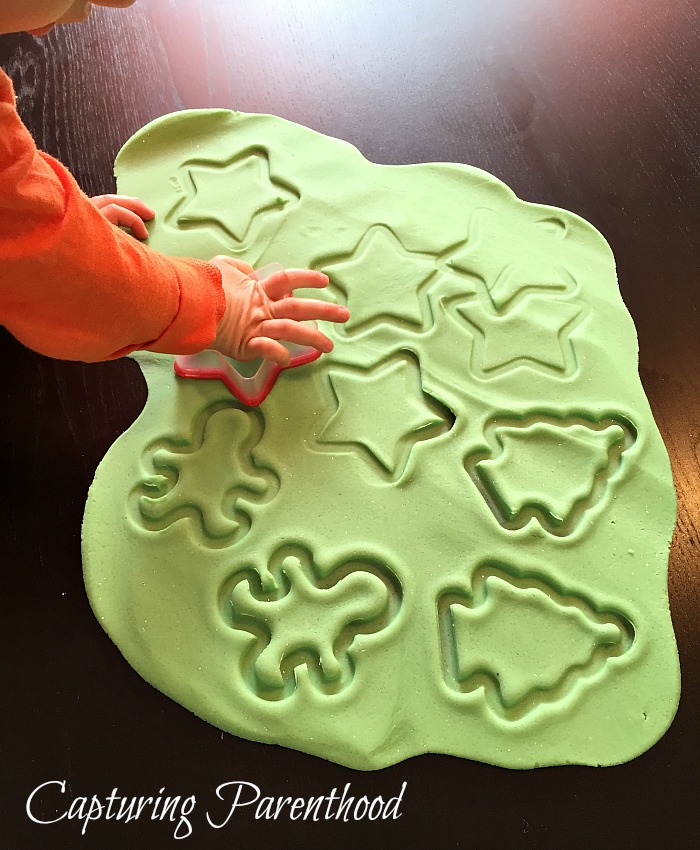 Holiday Peppermint Play Dough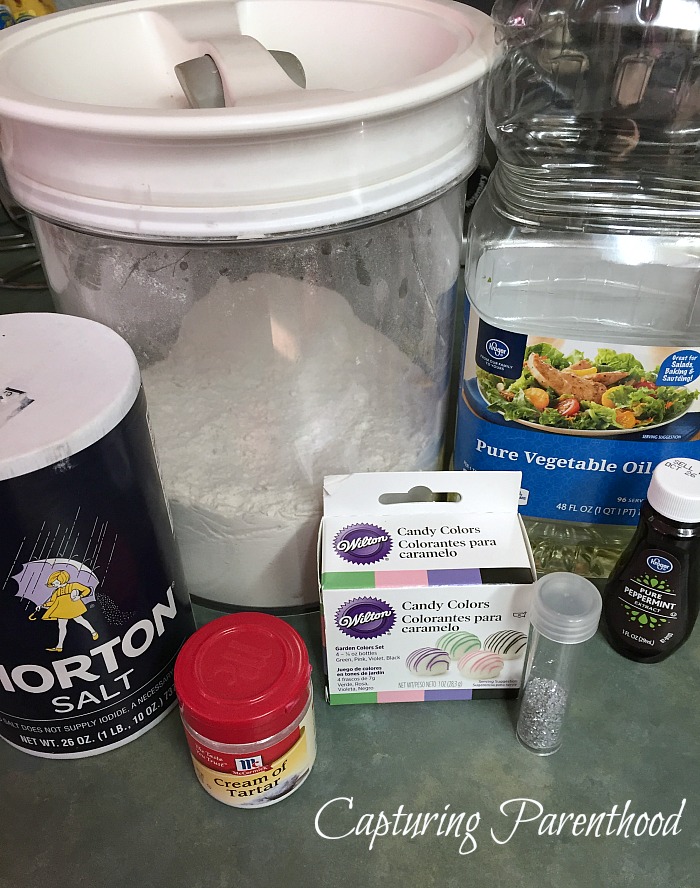 Ingredients:
2 Cups Flour
1/2 Cup Salt
2 Tbsp. Cream of Tartar
1 tsp. Glitter (or more, per your preference)
Green Food Coloring
1 Cup Boiling Water + 1/2 Cup to add, as needed
2 Tbsp. Vegetable Oil
1 tsp. Peppermint Extract (or more, per your preference)
Instructions:
Add all of your dry ingredients (flour, salt, cream of tartar, glitter) to a medium-sized bowl and stir to combine.
Add the food coloring to the boiling water and stir to incorporate (you can knead more food coloring into the dough later, if desired).
Add 1 cup of the boiling water, along with the vegetable oil, to the dry ingredients and stir to combine.
Slowly add the remaining 1/2 cup of water, as needed, until all of the dry ingredients are absorbed.
Once the dough has cooled to the touch a bit, add in your peppermint extract and knead the play dough until it reaches the desired consistency.
Plop it on the dining room table, with your little one, and let the creativity begin!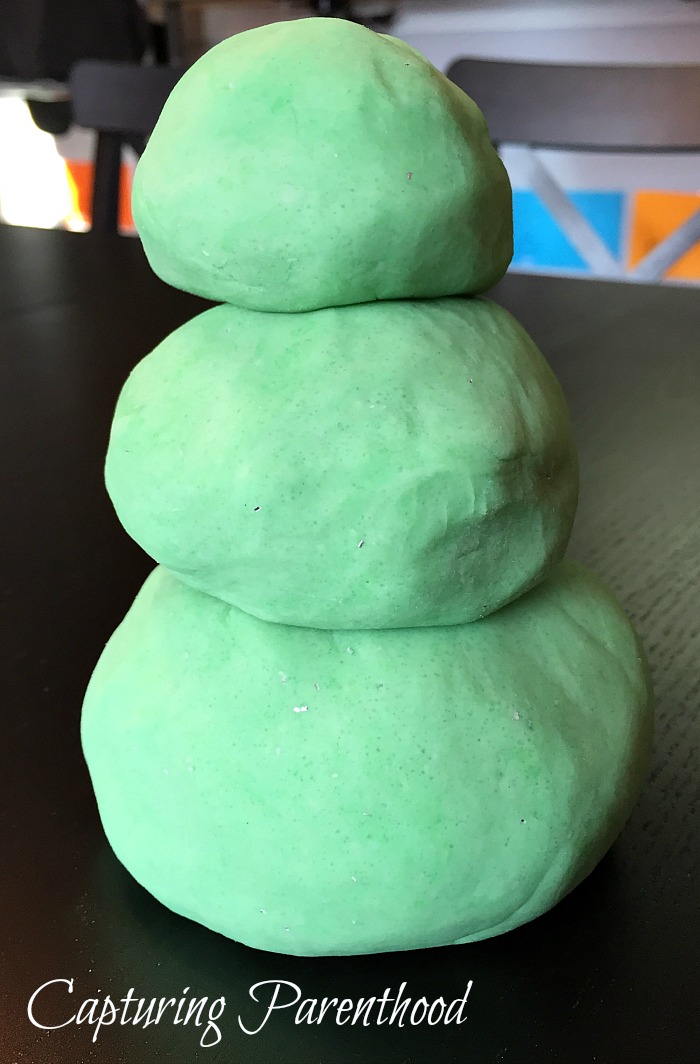 START SPREADING THE NEWS!