Earth Day is tomorrow! This special day was first celebrated in the United States in 1970, and it was billed as a national day to focus on our environment and environmental protections. It became an international event in 1990, and now, Earth Day events are held in more than 193 countries around the world.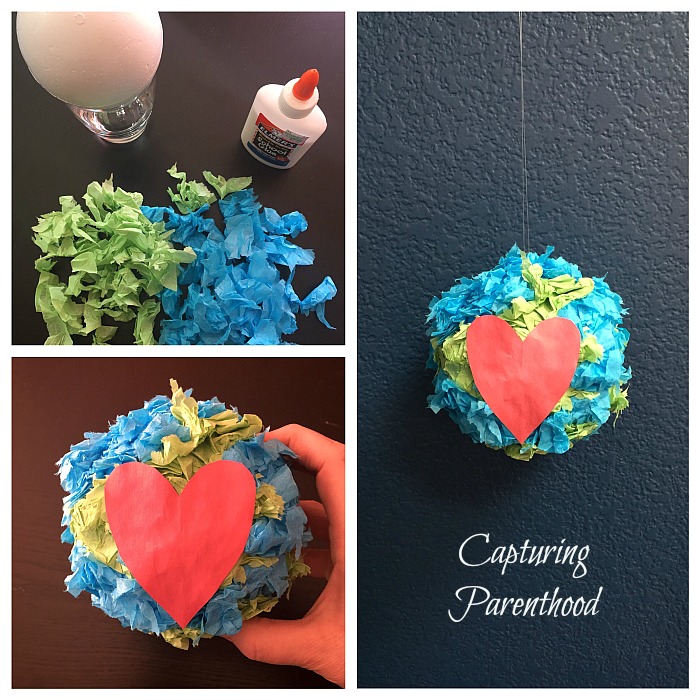 This year, I wanted to introduce my little nugget to the planet that we call home, and also instill the important notion that we must all make an effort to love and care for our environment, so that we will always be able to enjoy its beauty. Therefore, we decided to make this I Love The Earth – Foam Ball Craft!
I Love The Earth – Foam Ball Craft
Supplies: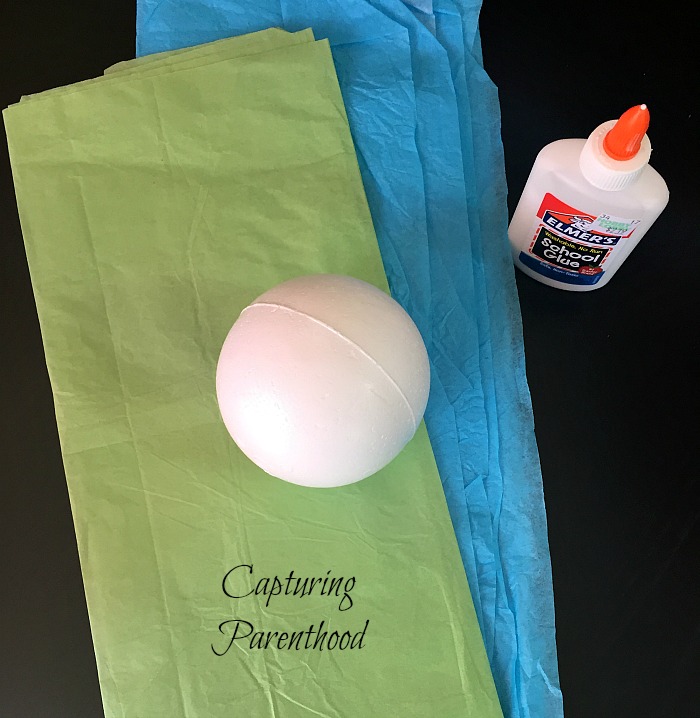 Foam Ball (choose your preferred size)
Elmer's Glue
Blue Tissue Paper
Green Tissue Paper
Red Construction Paper
Eye-Hook and Fishing Line (optional)
Instructions: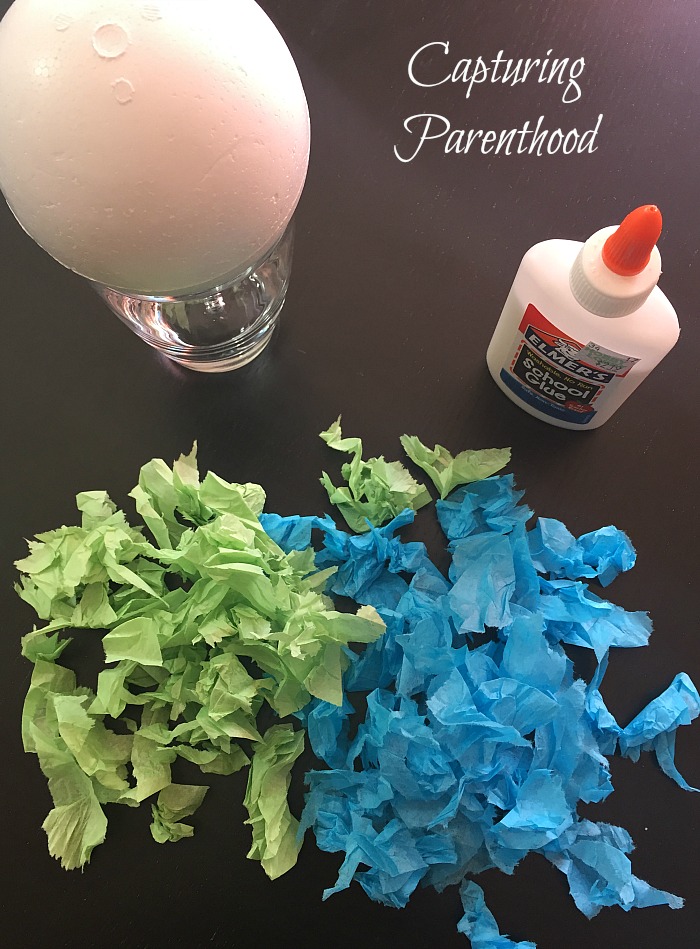 Start by tearing the blue and green tissue paper into small pieces and scrunching each piece. Your little ones will love helping with this part!
Place your foam ball on a glass or cup (or other adequate apparatus), so that you have your hands free for gluing. Working in batches, apply a decent amount of glue to a potion of the foam ball and then start pressing the pieces of tissue paper onto the glue. Continue this process until the entire ball is covered in green and blue. Note: We adhered the tissue paper to one side of the foam ball and then let it dry completely, before turning the ball over and gluing the tissue to the remaining side.
Once the foam ball has transformed into Earth, set it aside to dry completely.
Lastly, cut a heart out of your red construction paper, and glue it to the foam ball.
If you would like to proudly hang your Earth (for all to see and admire) simply screw a small eye-hook into the top, and then run some clear fishing line (or other string) through, knot it, and you're good to go!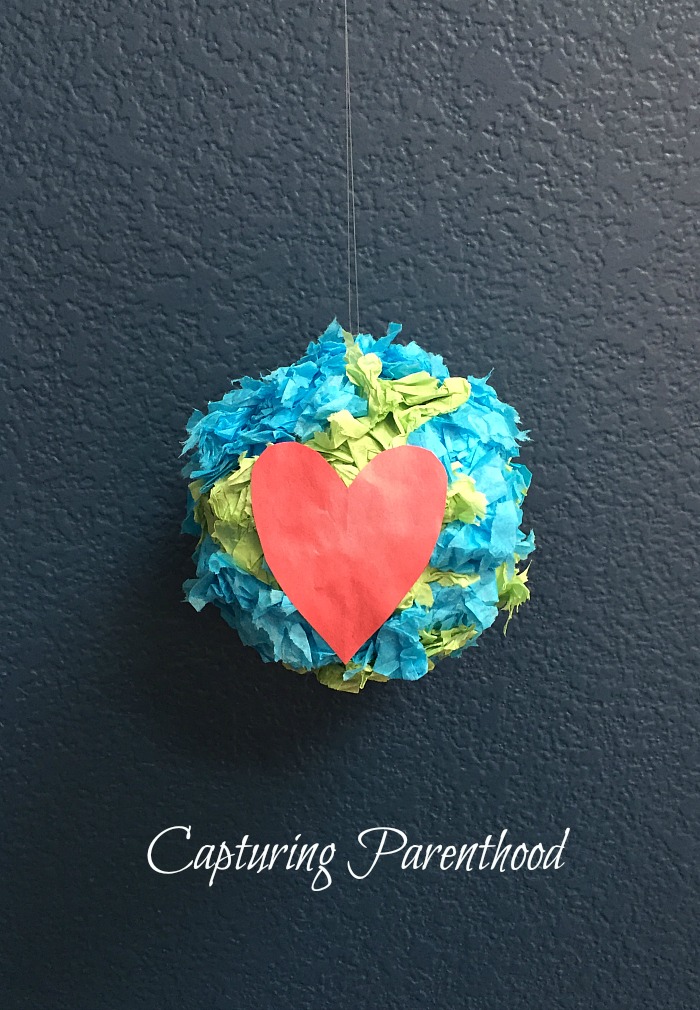 My little nugget had a lot of fun tearing and squishing up all of the tissue paper. She even stuck around to help me glue some of the tissue onto the ball. And now, when it catches her eye (as it hangs in our dining room), she starts a conversation about Earth!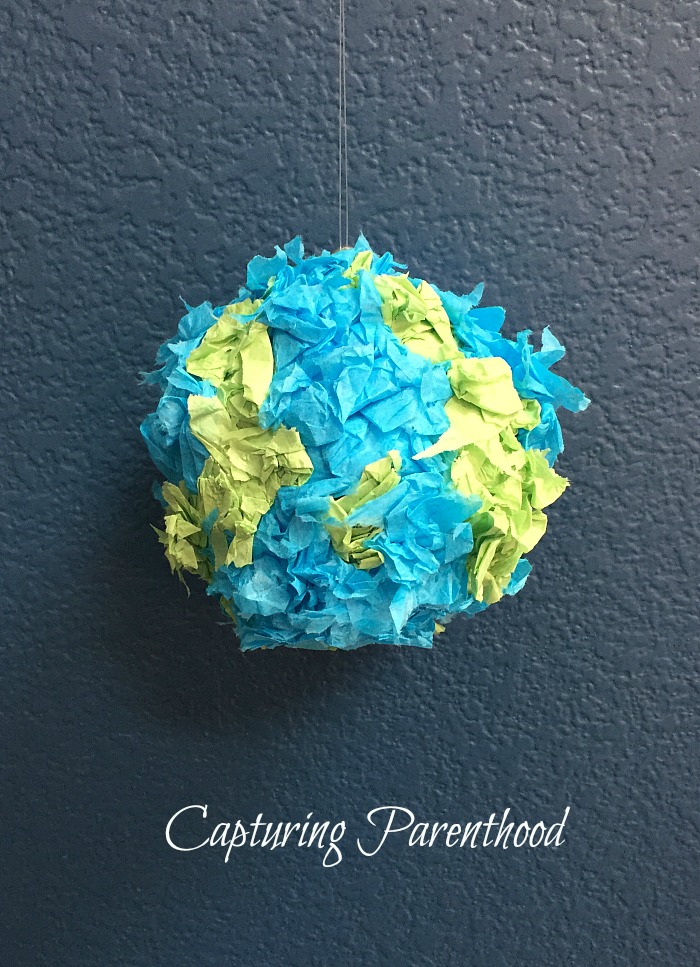 We have another fun Earth Day craft that we are looking forward to making tomorrow, along with a special Earth Day treat! Stay tuned to our Instagram to catch a glimpse!
START SPREADING THE NEWS!