It's officially Day 12 of our Sensory Bottle Extravaganza! Yesterday, I shared a sensory bottle that is a bit tricky to make. And today, I'm sharing the easiest bottle that I've created – this Magnetic Pipe Cleaners Sensory Bottle! Trust me…your kiddos are going to want one of these.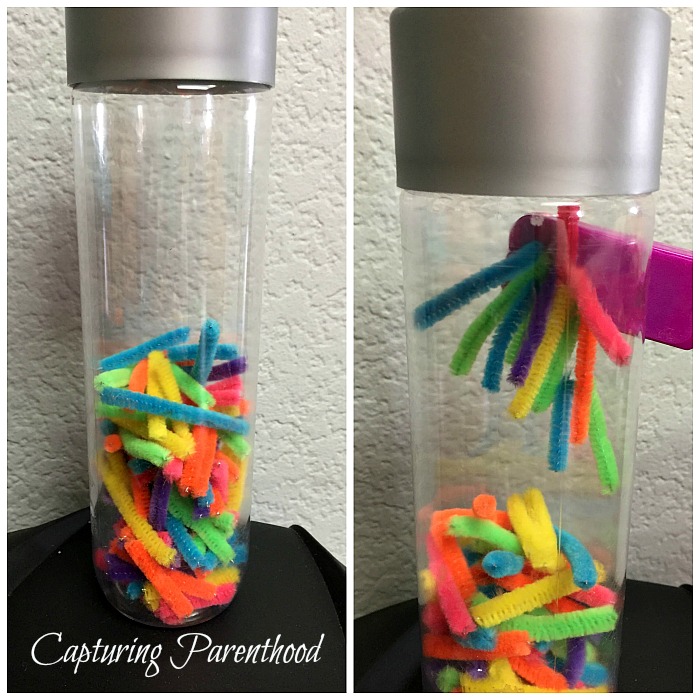 You can put this dry-ingredient sensory bottle together in a matter of minutes, and yet your little ones are likely to be so enamoured and engaged with it, that you might just be able to go to the bathroom (alone!), load the dishwasher…AND…finish your cup of coffee while it's still hot. 🙂 Woohoo!
I was perusing Pinterest one evening, when I happened upon a photo for one of these pipe cleaner sensory bottles – from the Frugal Fun for Boys and Girls blog (https://frugalfun4boys.com/2013/07/03/preschool-play-with-magnets-and-pipe-cleaners/). I knew that this simple sensory bottle would be an immediate hit with my little nugget, and it would be entirely different than all of our other sensory bottles! I had to make it!
---
Magnetic Pipe Cleaners Sensory Bottle
**Note: This post contains Amazon Affiliate links for convenience. See Disclosure Policy for more details.**
Supplies: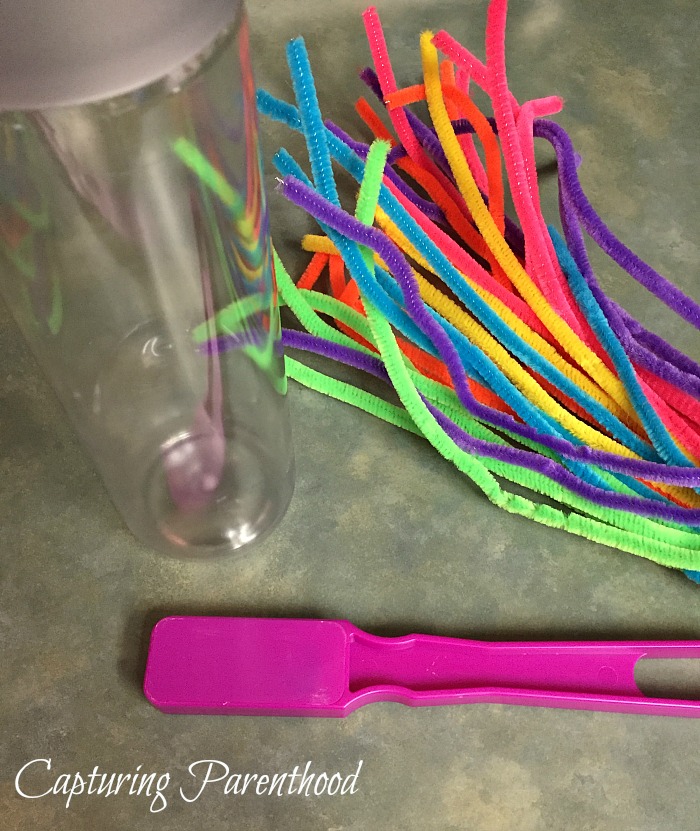 Instructions:
Empty the plastic bottle (if it contained a non-water beverage, rinse out the bottle). Remove all labels from the bottle. If you have a hard time getting the sticky residue off, Goo Gone works wonders. I find that if I take my time and peel slowly, I can get the Voss labels off without any fuss.
Considering that this is a dry-ingredients sensory bottle, make sure that the interior of your bottle is completely dry, before moving on to the next step.
Using a pair of scissors, cut the pipe cleaners into approximately 1-inch to 2-inch pieces.
Drop the pipe cleaners into the bottle, and tighten the cap (I'm not at all worried about pipe cleaners escaping onto the floor of my house, so I chose not to glue the cap onto this bottle).
Using the magnet wand, demonstrate how to move the pipe cleaners around the bottle, and then hand the bottle and wand to your little one. Watch as they explore, learn, and create!
---
On its own, this colorful sensory bottle creates interesting sounds when you shake it. But the real wonder and magic of this particular bottle happens when it's paired with a magnet wand. It's so much fun to move the wand around, watching as the pipe cleaners follow along. One of our favorite things to do with this bottle, is turn it upside down and pull a group of pipe cleaners all the way up to the top, to hang in mid-air. 🙂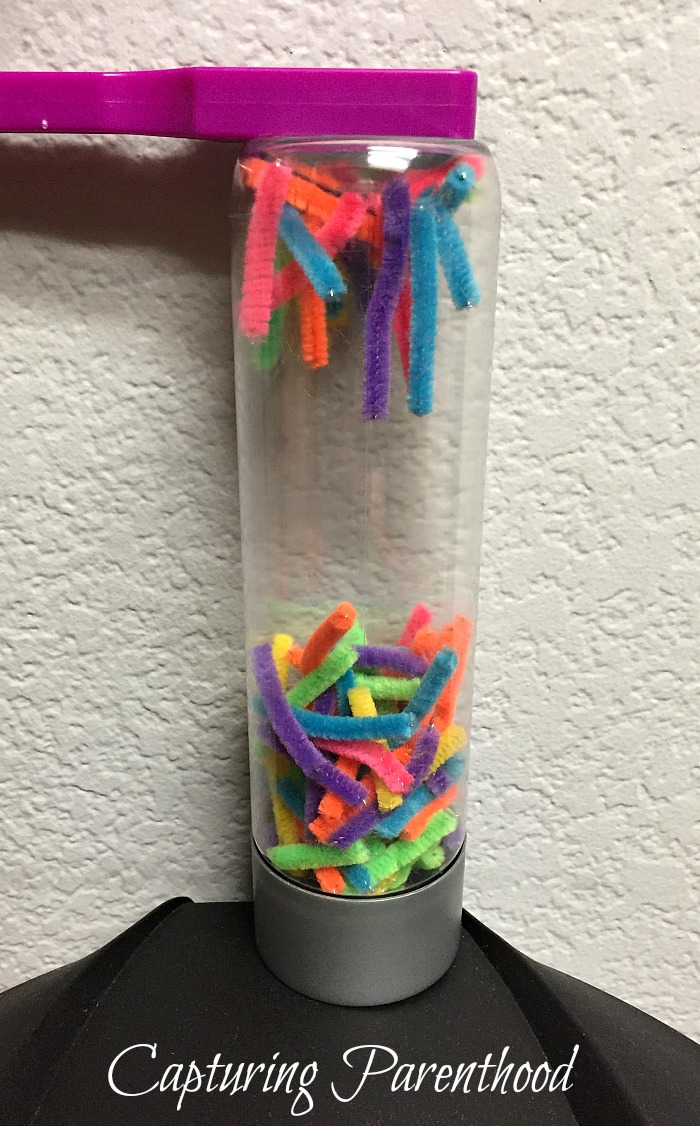 I'm looking forward to utilizing our magnet wand on a liquid-ingredient sensory bottle…in the future! I love the one with baby oil, and circular magnetic chips, that Katie (Preschool Inspirations) shares as part of her "Magnetic Discovery Bottles" post (https://preschoolinspirations.com/magnetic-discovery-bottles/).
*Sigh* My list of sensory bottles to make just continues to grow. 🙂
Stay tuned…there's only two more days of our Sensory Bottle Extravaganza…and I'm saving the best for last!
START SPREADING THE NEWS!