I remember the beautiful stained glass suncatcher that hung in my bedroom window when I was a young girl. It depicted a little girl holding a bright bunch of colorful balloons. I remember staring at it on sunny days, watching the colors bounce off of the walls when the sun hit it just right. It was beautiful.
When I happened upon Jean's blog post, over on The Artful Parent, detailing how to make a mobile from melted plastic bead suncatchers (http://artfulparent.com/2012/07/melted-bead-suncatcher-diy-baby-mobile.html), I knew that making our very own Melted Craft Bead Suncatchers, would be the perfect arts and crafts activity to share with my little nugget!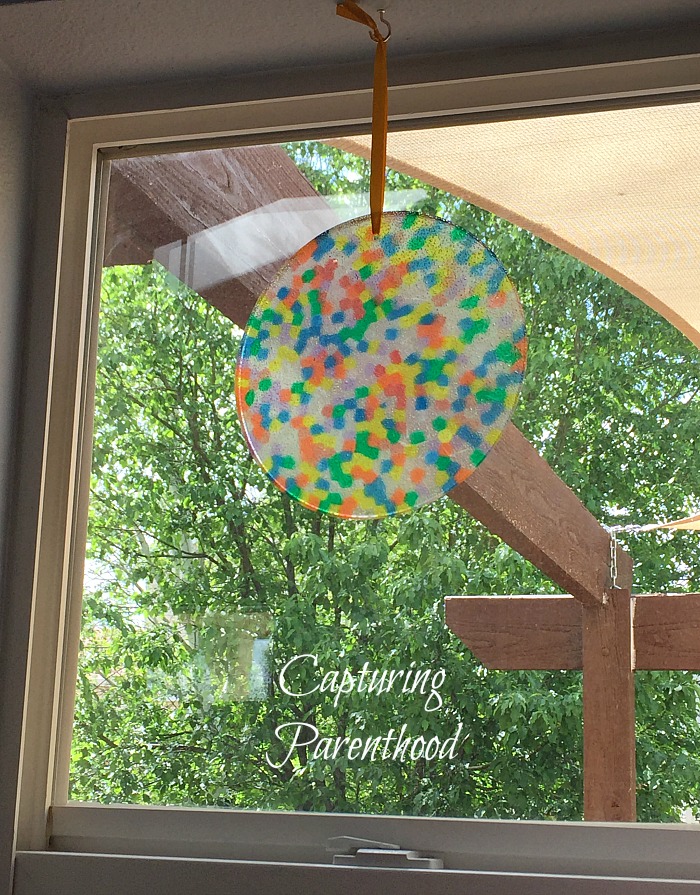 After scouring Jean's post, I decided that we would just stick to using a large cake pan, and a muffin tin for our suncatchers (since I did not want to risk getting the craft beads stuck in our cookie cutters – as happened to a few of Jean's). We spent quite a bit of time choosing what colors would go into each muffin tin/suncatcher, and whether we wanted to make some sort of design, or keep it random. My husband must have been bit by the craft bug that day, as he too joined us to create a few suncatcher designs of his own!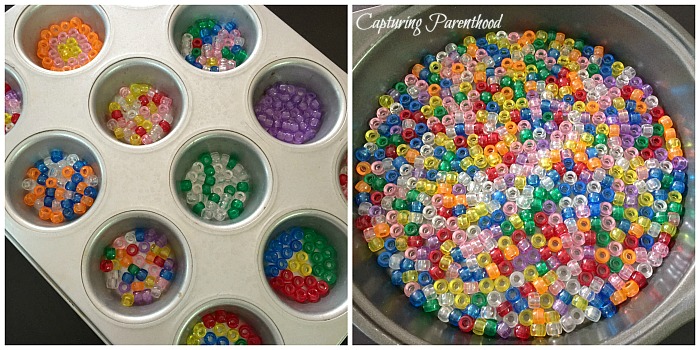 Once the cake pan and muffin tins were covered in a single layer of craft beads, it was time to melt them down. Of all the helpful suggestions Jean provides in her tutorial, the best tip was most definitely to melt the beads outside on a gas grill. I had honestly never considered it, but of course melted plastic releases a horrible, toxic aroma. So instead of filling your entire home with the nasty smell, keep the fumes outside!
---
Melted Craft Bead Suncatchers
Supplies: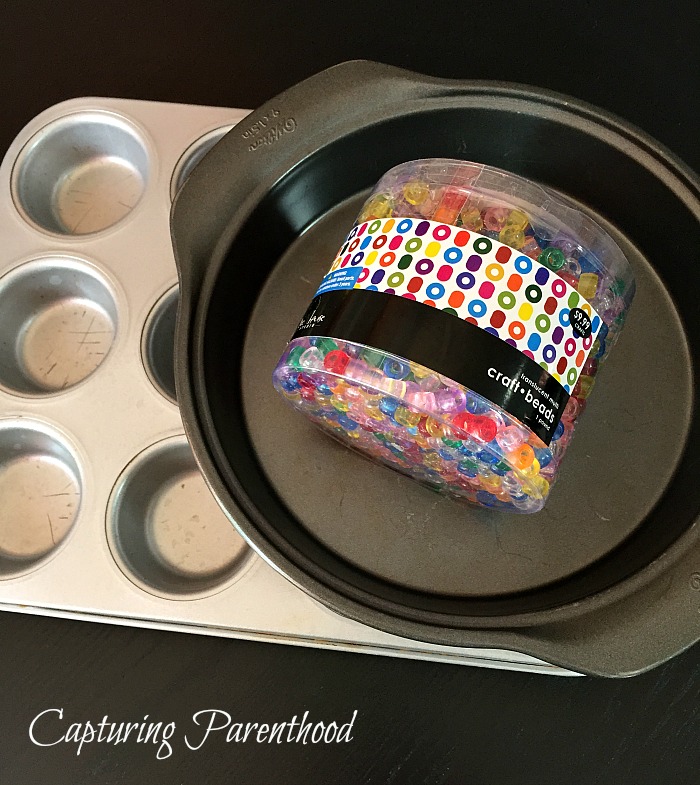 Translucent Plastic Craft Beads (also known as Pony Beads)
Metal Muffin Tin/Cake Pan
Gas Grill
Drill
Ribbon/String
Instructions:
Place the plastic craft beads into the metal muffin tin and/or cake pan, forming a single layer of beads. Create your own designs and color combinations.
Place the muffin tin/cake pan onto the hot grill and close the lid. Heat for approximately 10-12 minutes, or until the plastic craft beads have completely melted.
Remove the tin/pan from the grill, and set aside to cool completely.
Once cooled, the suncatchers should pop out of the muffin tins/cake pan easily. If they don't pop out immediately, apply some gently pressure, or gently hit the back of of the tin/pan, to get them to release.
Using a drill, create a small hole on one edge of each suncatcher.
String a piece of ribbon through each hole and tie the ends in a knot.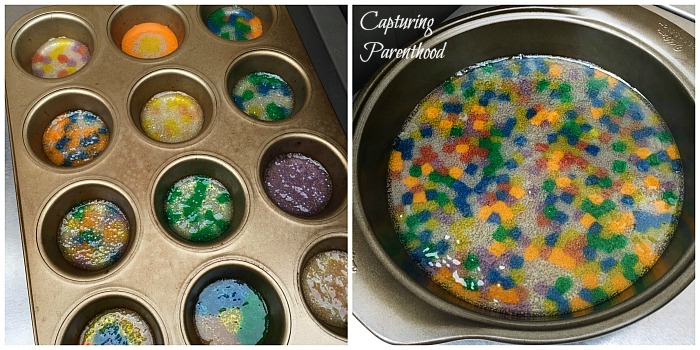 ---
These Melted Craft Bead Suncatchers turned out to be a wonderful craft activity that the entire family enjoyed! Although, I must admit, when our suncatchers were complete, I looked at the large pile on our kitchen counter and wondered what we would possibly do with all of them. It turns out, they make fantastic, handmade grandparent and teacher gifts!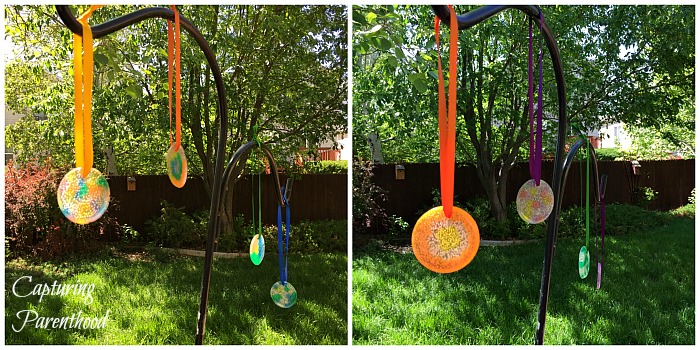 As for the ones we kept…our large suncatcher is prominently displayed in a living room window, and I love the pop of color it adds to the room! We have a suncatcher hanging from the rear-view mirror of each of our vehicles, and our little nugget keeps her special, purple suncatcher in her purse (for safe-keeping). 🙂
START SPREADING THE NEWS!