My daughter is not a huge fan of eating meat, so I'm constantly trying to find new and exciting ways to integrate chicken, beef, pork, and fish into her diet. Though I've never been a huge fan of chicken pot pie myself, I figured it might be worth a try, for my little nugget. Obviously it helps if you can make the food small and fun! These hearty, Mini Chicken Pot Pies not only include chicken, but they are also packed with veggies and rice, all in a delicious crescent roll crust.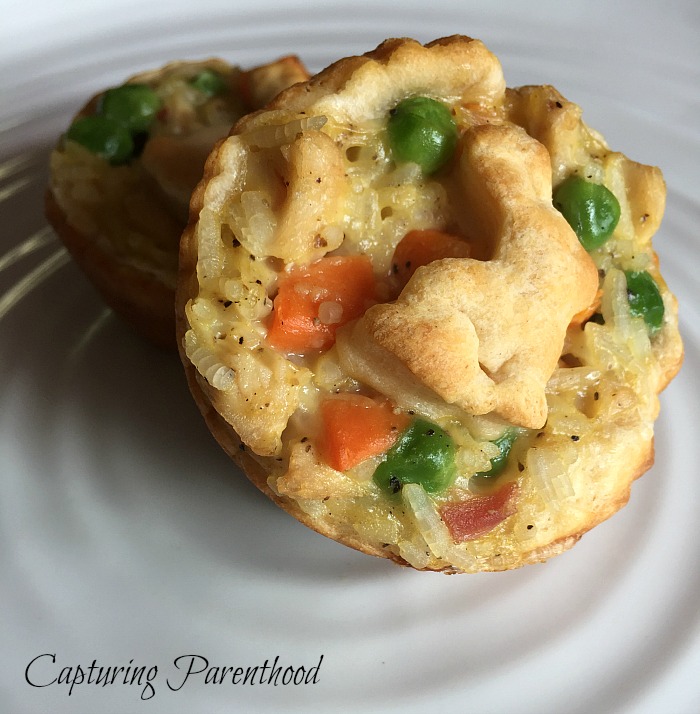 To top them off, since Easter is right around the corner, I decided to cut some bunnies, chicks, and butterflies out of the extra crescent roll dough that I had, and I used them to top my pies. They turned out great and I'm happy to report that my little nugget loves them, she eats the entire pie (chicken included), and has actually requested them for lunch and dinner. Mini Chicken Pot Pies for the win!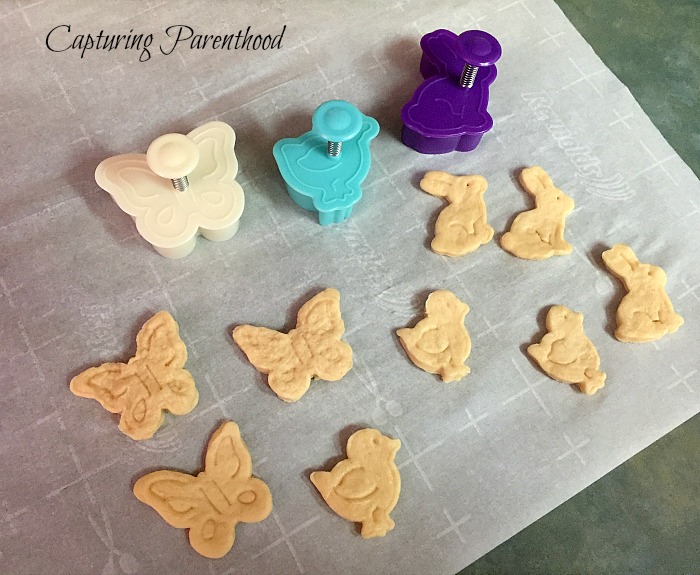 I originally spotted this idea on Easy Toddler Meals (http://easytoddlermeals.com/2016/07/4-ingredient-mini-chicken-pot-pies/) and decided to adapt it a little bit.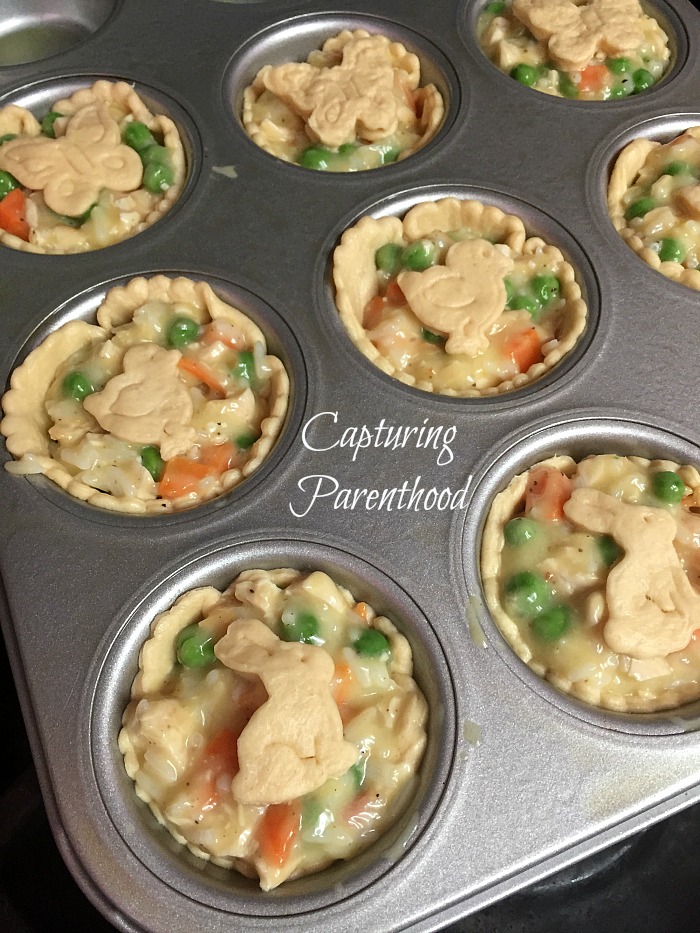 ---
Mini Chicken Pot Pies
**Note: This post contains Amazon Affiliate links for convenience. See Disclosure Policy for more details.**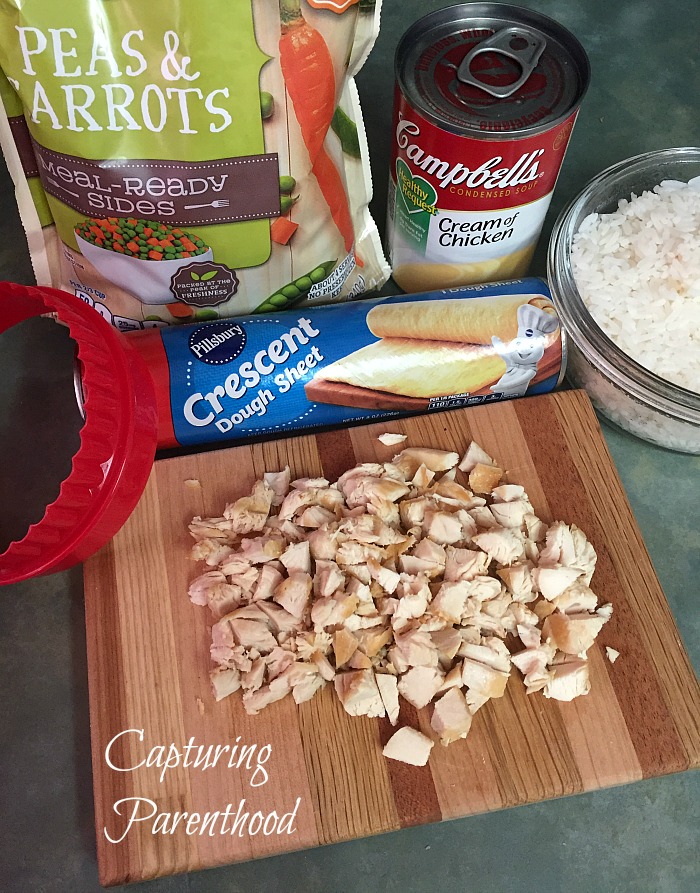 Ingredients:
1 Can Pillsbury Crescent Roll Dough Sheet
1 Cup Chicken, Cooked and Chopped
1 Cup Frozen Peas & Carrots
1/2 Cup Rice (brown, white, or wild – I had some leftover white rice on hand, so that is what I used this time)
3/4 Cup Campbell's Cream of Chicken Soup
Salt & Pepper, To Taste
Instructions:
Preheat the oven to 400° F. Grease a muffin tin with cooking spray and set aside.
In a large bowl, mix together the chicken, veggies, rice, cream of chicken soup, and salt & pepper, until thoroughly combined. Set aside.
On a flat surface, unroll your crescent dough sheet and using your hands, or a rolling pin, stretch the dough a little wider on each side.
Take a 3″-4″ round cookie cutter (or glass) and cut out approximately 9 circles. Carefully place the circles of dough into the greased muffin tin, pressing the dough down on the bottoms and sides.
Spoon the chicken and veggie mixture into each of the crescent dough crusts, filling even with the top of the crust.
Take the remaining dough and cut out small animals or shapes, of your choice, to top each of the pies. These are the ones I purchased on Amazon, but they are currently unavailable. However, there are similar ones available featuring different animals (like these). I love the added detail on top of the shapes! If you don't have any small cookie cutters on hand, you can simply cut thin little strips of dough and do a traditional lattice, or cross-hatch, pattern on top of your pies.
Bake the pies for 15-20 minutes, or until they are nice and golden brown. Let cool, before serving.
---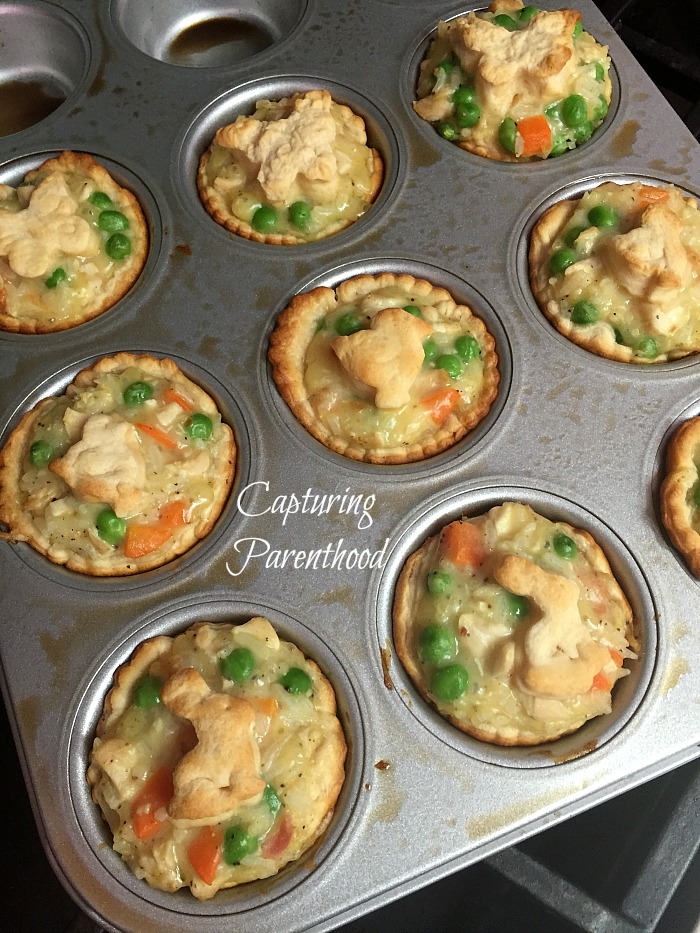 These tasty treats are so quick and easy to make. They will keep in your fridge for a few days, but you can also store them in your freezer. Just take a couple out the day before you plan to eat them, and set them in your fridge to thaw completely. Warm them up in the microwave, and bon appetit!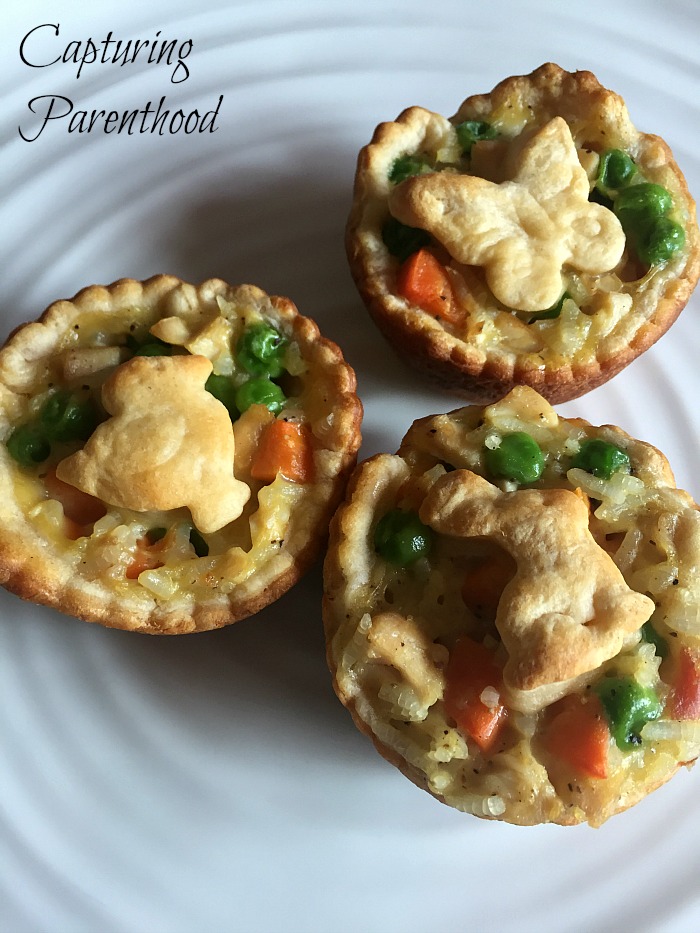 START SPREADING THE NEWS!