I came across this little saying the other day, "Keep calm, and get your pumpkin on!" It seems like an appropriate statement during this time of year, because when I think of holiday desserts, the first thing that pops into my head is pumpkin pie. I'm pretty sure that we had a pumpkin pie (and usually an apple pie, too) at every Thanksgiving gathering during my childhood. The past couple of years, however, I decided I wanted a new take on the classic dessert.
Mini Pumpkin Pies
**Note: This post contains Amazon Affiliate links for convenience. See Disclosure Policy for more details.**

Last year, my daughter had a Thanksgiving feast at school – the turkey was provided, but parents were encouraged to bring a side or dessert. I chose pumpkin pie, but I wanted to make it extra special for all of the kids and give them their own personal pumpkin pies! Luckily, I stumbled upon this idea for Mini Pumpkin Pies at Home is Where the Boat Is (https://homeiswheretheboatis.net/2012/11/10/mini-pumpkin-pies-and-a-blooming-can/).
These Mini Pumpkin Pies were fairly simple to make…all you need is a box of refrigerated pie crusts (typically come 2/box), a 4-inch round cookie cutter, a leaf-shaped pie crust cutter (I found mine on Amazon – click here), a can of pumpkin and all of the necessary ingredients/spices listed on the can's recipe for pumpkin pie, and a greased muffin tin!
Needless to say, these were a hit with all of the kids, parents, and teachers! Feel free to venture over to Home is Where the Boat Is for the full details.
No-Bake Pumpkin Cheesecake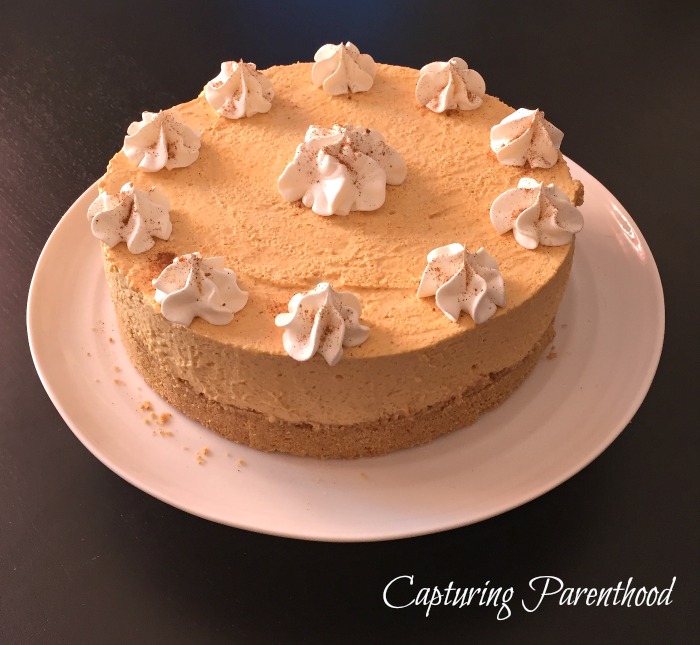 This year, since I was hosting Thanksgiving dinner, I wanted to change things up a bit in the dessert department. Honestly, my husband and I are not huge fans of the traditional pumpkin pie – I'm pretty much in it for the whipped topping! But, I did not want to veer too far from traditional, so I stuck with the main ingredient and created a No-Bake Pumpkin Cheesecake that Jen over at CincyShopper.com shared (http://cincyshopper.com/no-bake-pumpkin-cheesecake/).
This was just the change I needed! This No-Bake Pumpkin Cheesecake was so light and creamy and delicious! I followed Jen's instructions without making any adjustments, so head on over to CincyShopper.com for this wonderful recipe! One helpful tip: secure a piece of parchment paper to the bottom of your Springform pan before adding your graham cracker crust – it will help the entire cheesecake slide right off the pan and onto your serving platter, once it has set!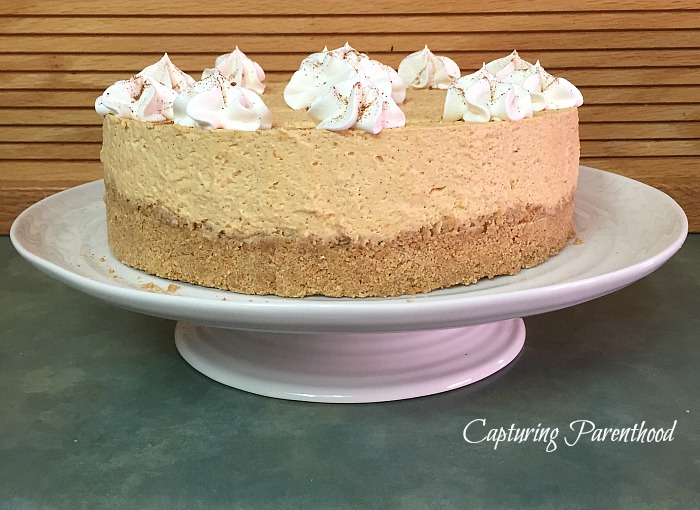 START SPREADING THE NEWS!