**Note: This post contains Amazon Affiliate links, for convenience. See Disclosure Policy for more details.**
In our household, there are two activities that we love the most…reading and art! When we get the opportunity to combine the two together, it's perfection! And that's exactly what happened when we conducted this Mix It Up! Color-Mixing & Art Project!
Mix It Up! is an irresistibly imaginative and engaging children's book, written by Herve Tullet. The story playfully invites each reader to get creative with color…mixing up a new hue on each page! What happens when you combine yellow and red? Green and white? Blue and black? You quickly find out within the pages of this genius book! If you have not read Mix It Up! with your kiddos yet, I highly recommend snagging a copy from your local library…or you can purchase your own copy from Amazon, here!
The book alone brought us loads of enjoyment, but I decided to take things a step further so that our little nugget could explore the wonders of color-mixing in real life! Since we had recently conducted our Walking Rainbow Experiment (that we shared with you last Thursday), I knew I wanted to create a color-mixing activity that didn't involve coloring water. So, I chose to utilize one of our other favorite sensory materials…shaving cream!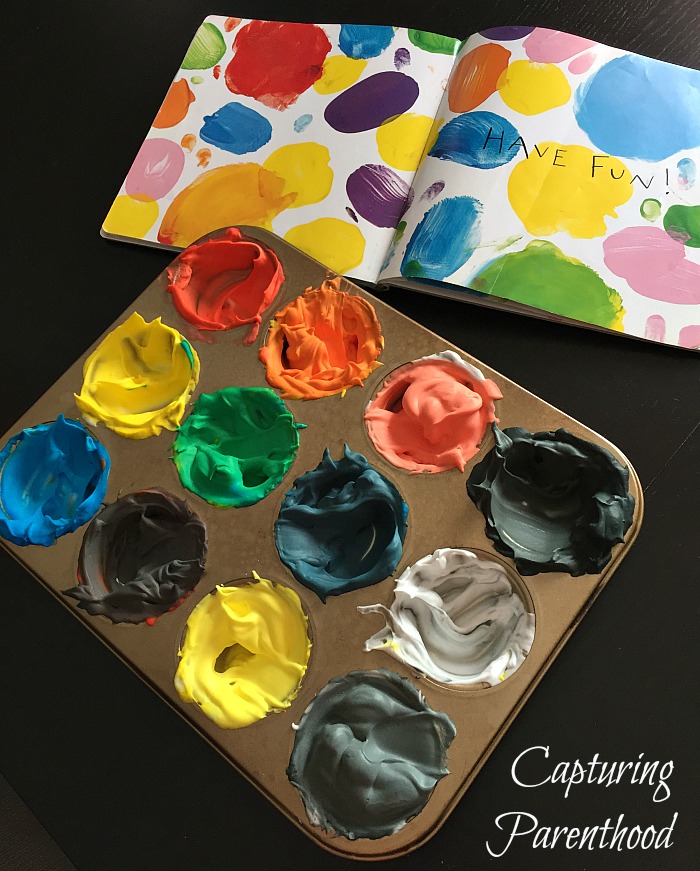 I grabbed our shaving cream canister, a few vials of food coloring, stir sticks, a muffin tin, and our copy of Mix It Up!…and we set off on our creative adventure!
---
Mix It Up! Color-Mixing & Art Project
Supplies: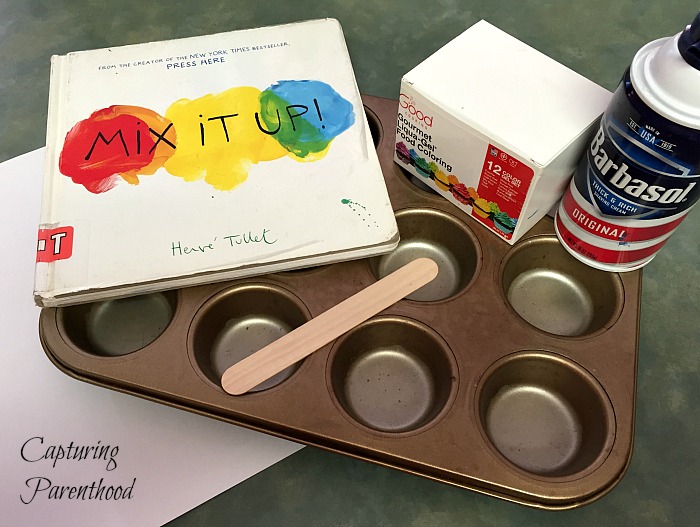 For the color-mixing component:
For the art project component:

Shaving Cream Colors (as created during the color-mixing activity)
White Paper or Cardstock
Ruler
Instructions: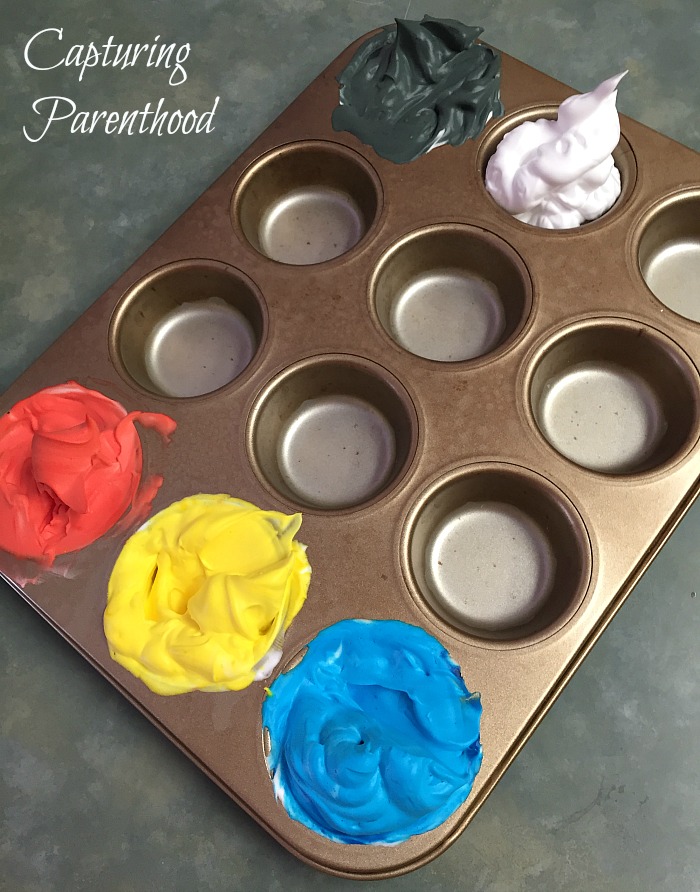 For the color-mixing component:
Start by squirting shaving cream into five of the twelve muffin tin cavities. Using food coloring, color one shaving cream-filled cavity red, one yellow, one blue, one black, and leave one white. Mix each color into the shaving cream until they are thoroughly combined.
Next, open up your Mix It Up! book and follow along, creating each color as you flip through the pages. Scoop some red into an empty muffin tin cavity and then add a scoop of yellow. Mix it all up and you've got a vibrant orange!
Continue on until you've created the six colors of the rainbow. Then it's time to discover what happens when you add white to a color. Choose one color and add a scoop of it to an empty cavity, then add a scoop of white. Mix them together! What happened? We combined red and white, and ended up with pink!
Black is next on the list. Choose a color and add a scoop of it to another empty cavity. Then add a scoop of black. Mix the two together! What happened this time? We combined blue and black, and ended up with a beautiful navy blue!
Lastly, stir a scoop of white together with a scoop of black and you've got…gray!
At this point 11 of the 12 muffin tin cavities should be full. Let your little ones decide what color they want to create in the final slot. Once your muffin tin is completely full of color, you can move on to the art project!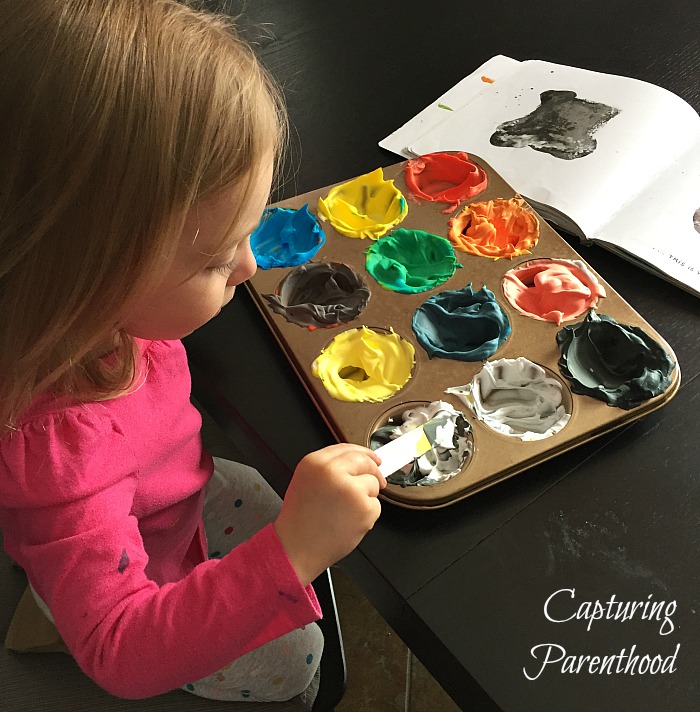 For the art project component: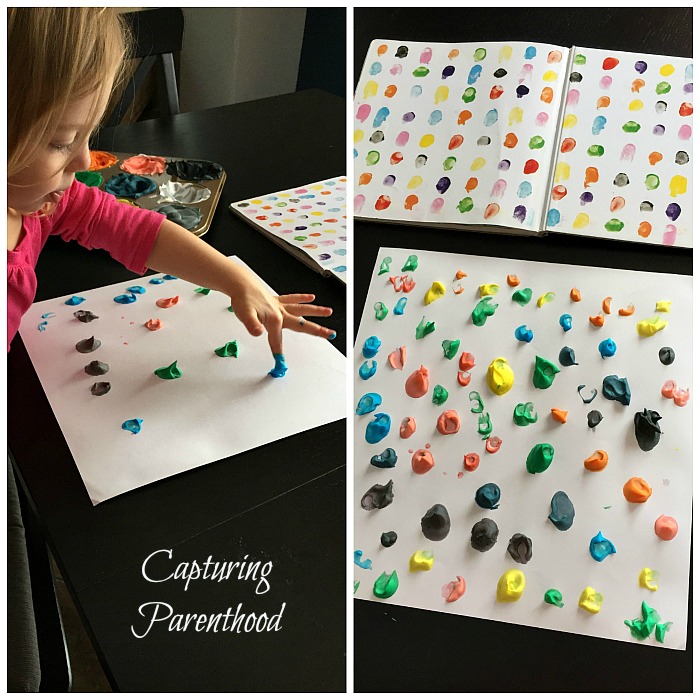 Have your little ones apply dabs of shaving cream paint (using their finger tips) to the white paper, in whatever design they choose.
When they are finished painting, grab a ruler. Press the edge of the ruler down firmly at the top of the paper, and slide it all the way down to the bottom of the paper. Ta Da!
Set the piece of paper aside to dry completely. Once dry, proudly display the colorful masterpiece on your refrigerator or art wall!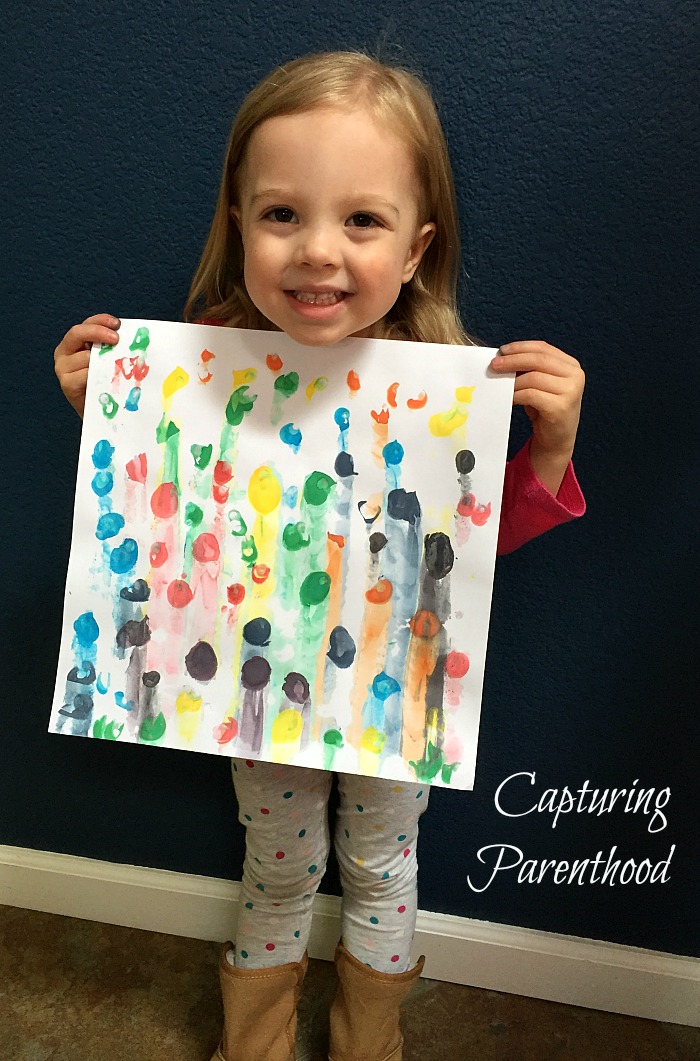 ---
I can't even tell you how much fun we had with this entire activity! Our little nugget was completely engaged, and super enthusiastic, the entire time! This Mix It Up! Color-Mixing & Art Project definitely ranks high on our list of favorite activities, and is one that I'm sure we will repeat often!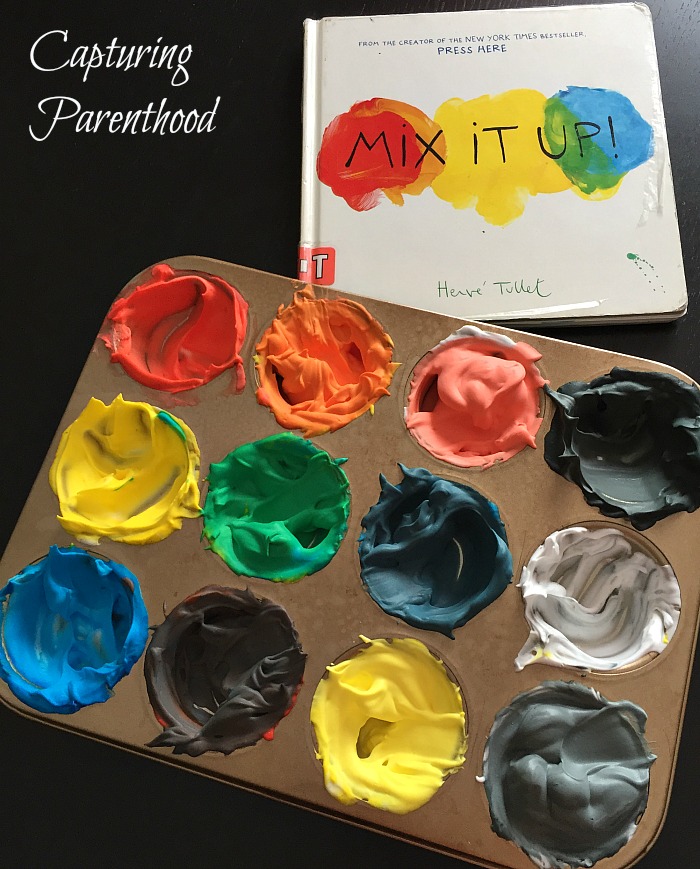 Make sure to check out our Instagram account (@capturingparent2016) tomorrow…we will be sharing another fun art activity, based on another popular Herve Tullet book, Press Here. It's another fan favorite!
START SPREADING THE NEWS!