Valentine's Day is tomorrow! Over the years, I've discovered that my loved ones truly enjoy a homemade, Valentine's Day treat…especially if it includes chocolate (or sprinkles). Last year, I made these delicious Baked Valentine's Day Donuts! So, this year I chose to skip the sprinkles (and double down on the chocolate) with a batch of these super soft, and delightfully decadent, M&M Chocolate Chip Valentine's Day Cookies!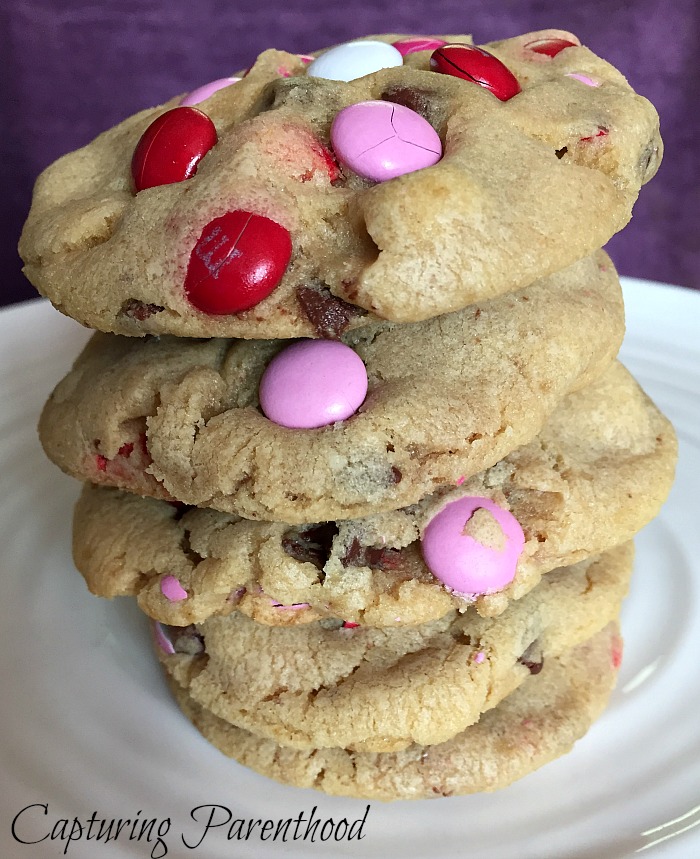 These cookies are an instant success. They are thick, gooey, and packed with chocolate! The cookies that dreams are made of. 🙂 And the Valentine's Day M&M's add the perfect touch of holiday color! I count myself lucky that I stumbled across this incredible recipe, posted by Averie, over at Averie Cooks! Feel free to follow the link directly to Averie's post, or keep scrolling to find the recipe below.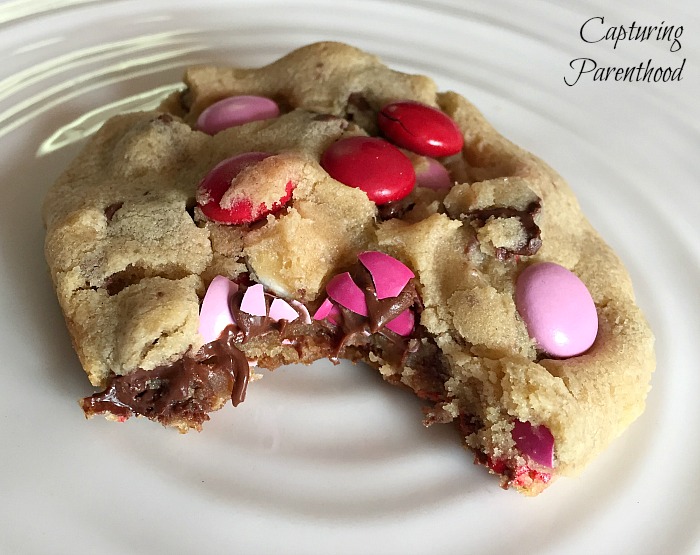 * Note: The following recipe belongs to Averie (at Averie Cooks), and is by no means my own personal recipe…though it is one that now resides in my book of favorites!
---
M&M Chocolate Chip Valentine's Day Cookies
Ingredients: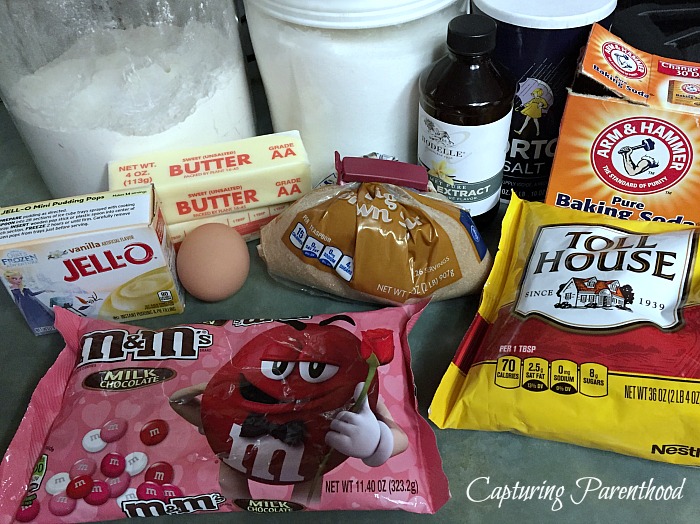 3/4 Cup Butter, at room temperature
3/4 Cup Brown Sugar
1/4 Cup Granulated Sugar
1 Egg
1 tsp. Vanilla Extract
2 Cups All-Purpose Flour
1/4 Cup Instant Vanilla Pudding Mix
1 tsp. Baking Soda
Pinch of Salt
3/4 Cup Semi-Sweet Chocolate Chips
3/4 Cup Milk Chocolate Valentine's Day M&M's (for the dough)
1/2 Cup Milk Chocolate Valentine's Day M&M's (for the tops of the cookies)
Instructions: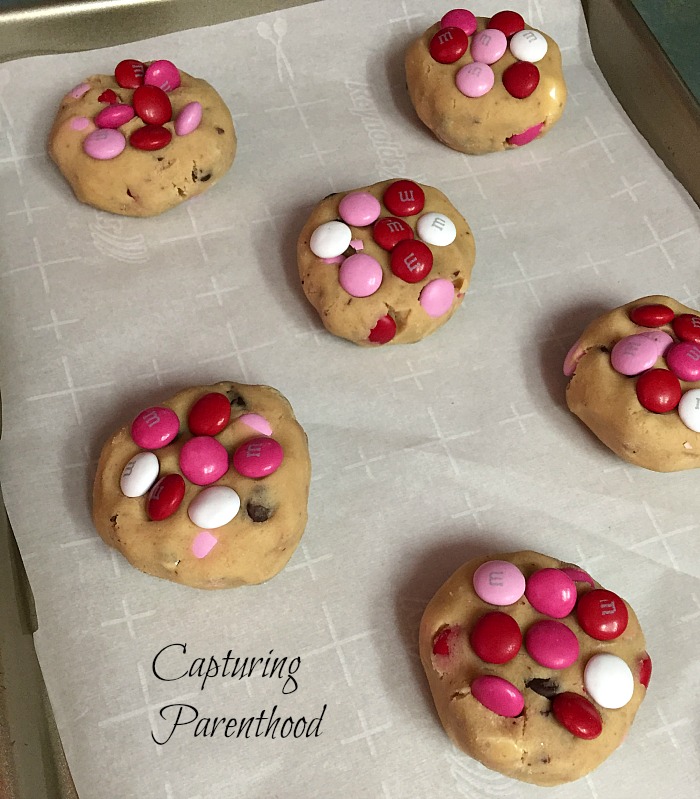 In the bowl of a stand mixer (fitted with the paddle attachment), add the softened butter, brown sugar, granulated sugar, egg, and vanilla.
Beat on medium-high for approximately 4 minutes (scraping down the sides, as necessary). Mix until ingredients are thoroughly combined and creamy.
Add the flour, instant vanilla pudding mix, baking soda, and salt. Mix on low speed until just combined (scraping down the sides of the bowl, as necessary).
Add the chocolate chips, along with the 3/4-cup of M&M's. Beat on low until fully incorporated.
Scoop approximately 1/4-cup of dough into your hands, and roll into a ball. Place the balls of dough on a parchment paper-lined tray, and flatten each ball slightly with the palm of your hand.
Add approximately 1 Tbsp. M&M's to the top of each dough mound, pressing firmly.
Transfer the tray to the refrigerator for at least 2 hours, to chill the dough.
When the dough is chilled and you're ready to bake, preheat the oven to 350° F.
Line a cookie sheet with parchment paper, and place dough mounds on the cookie sheet (spacing 2″ apart).
Bake for 11 minutes, or until the edges have set and the tops are almost set…even if they look slightly under-cooked or glossy in the center.
Allow the cookies to cool directly on the cookie sheet for 10 minutes, before transferring them to a wire rack to cool completely.
Cookies will last for several days, if stored in an airtight container.
---
Nothing says Happy Valentine's Day like a warm, gooey, M&M chocolate chip cookie!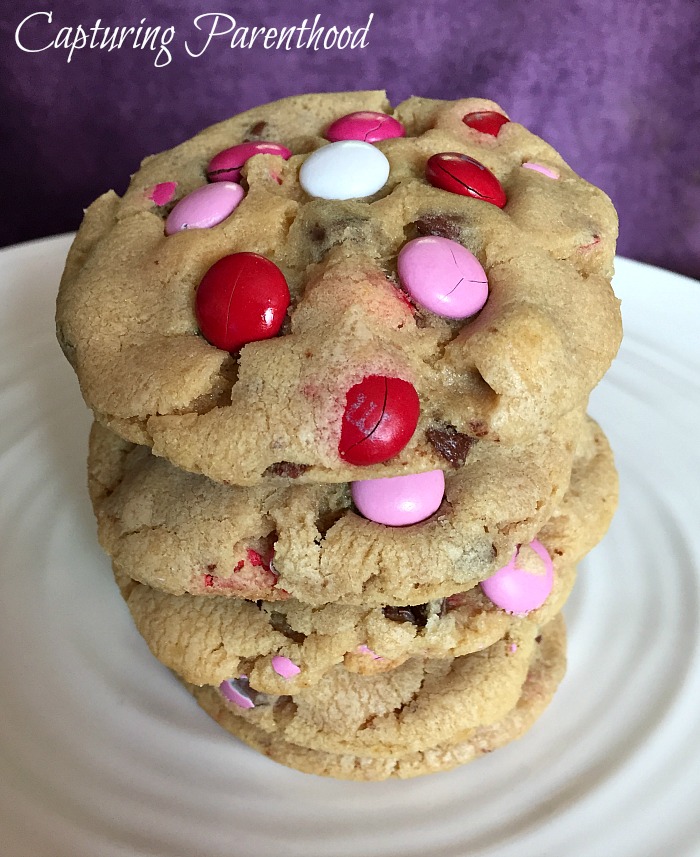 HAPPY VALENTINE'S DAY!
START SPREADING THE NEWS!