If you caught my Counting Caterpillar post earlier this week, you will know that I've been trying to find fun and engaging ways to help my little nugget learn number recognition. I find that it is always a good idea to create varying activities and lessons when teaching something new – it keeps it interesting!
I came across a Number Pocket Game for Toddlers and Preschoolers, on Toddler Approved, awhile back and I thought it was a great idea. You can check it out here: http://www.toddlerapproved.com/2015/02/number-pocket-game-for-toddlers-and.html.
I set out to create my own number pocket game, but after scouring the aisles at my closest craft store, I could not find anything resembling the pockets (library card holders) that Kristina used. I did, however, find some crafty little cardboard buckets and I paused to think of all of the ways that I could utilize them for our number recognition activities. I found that I had plenty of ideas that would never have worked in the paper pockets, but the small buckets would do just the trick! I purchased the pack of ten, and snagged some colorful gift tag stickers on my way out.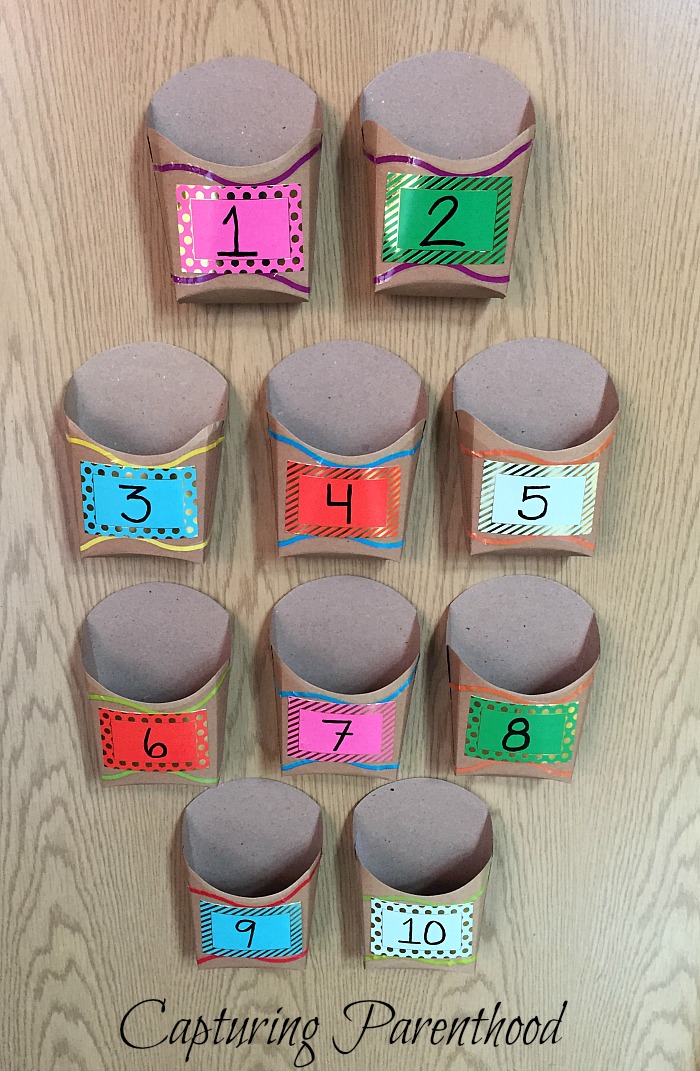 Number Buckets
Supplies:
Pack of 10 small cardboard buckets (with a flat back)
Colorful gift tag stickers
Black Sharpie marker
Tape (packing or painter's)
Instructions:
Using the Black Sharpie marker, write numbers 1-10 on the gift tag stickers (one number per sticker). Peel the stickers off and place one sticker in the middle of each cardboard bucket. Feel free to decorate your buckets with additional stickers, markers, etc.
Once numbered and decorated, tape each number bucket onto your designated wall (I taped ours to the end of one of our cabinets).
Let your imagination run wild with things to count – the options are endless. You will find some of our ideas below.
Popsicle Sticks
Branching off of Kristina's idea, we broke out our bag of Popsicle sticks and started counting. We counted the number of sticks we needed to fill each number bucket with the appropriate amount.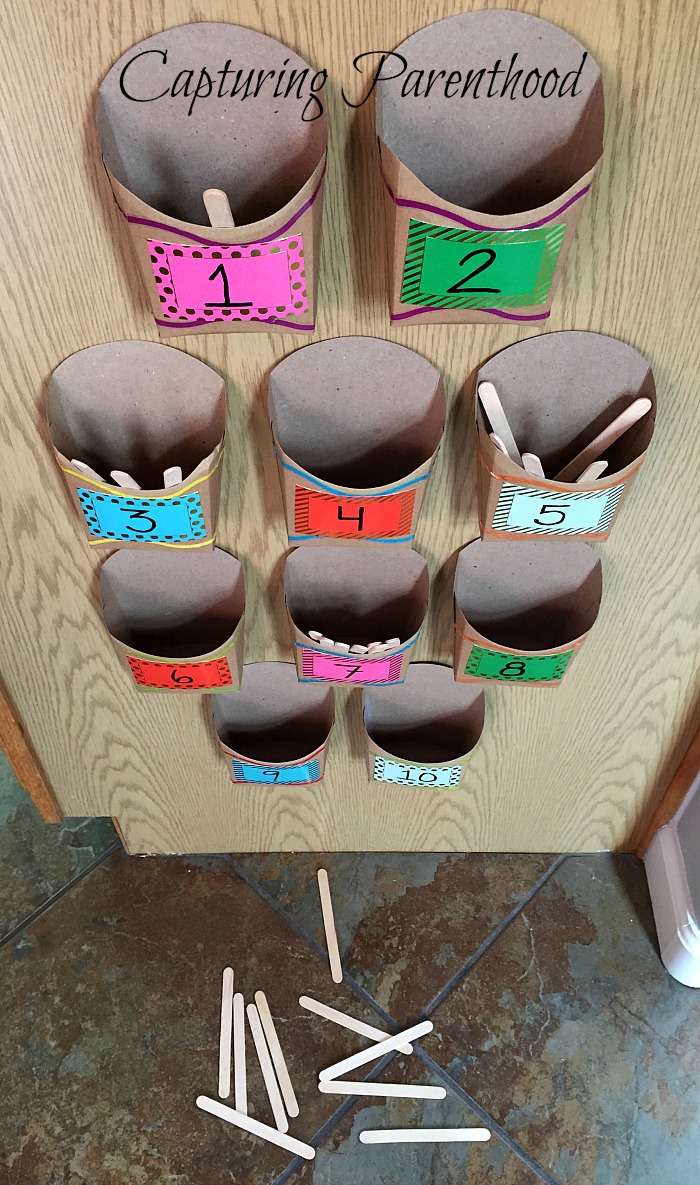 Colorful Poms
Next, we gathered up our varying sizes of colorful poms and dropped them into the buckets, as we counted out the number that we needed to fill each bucket.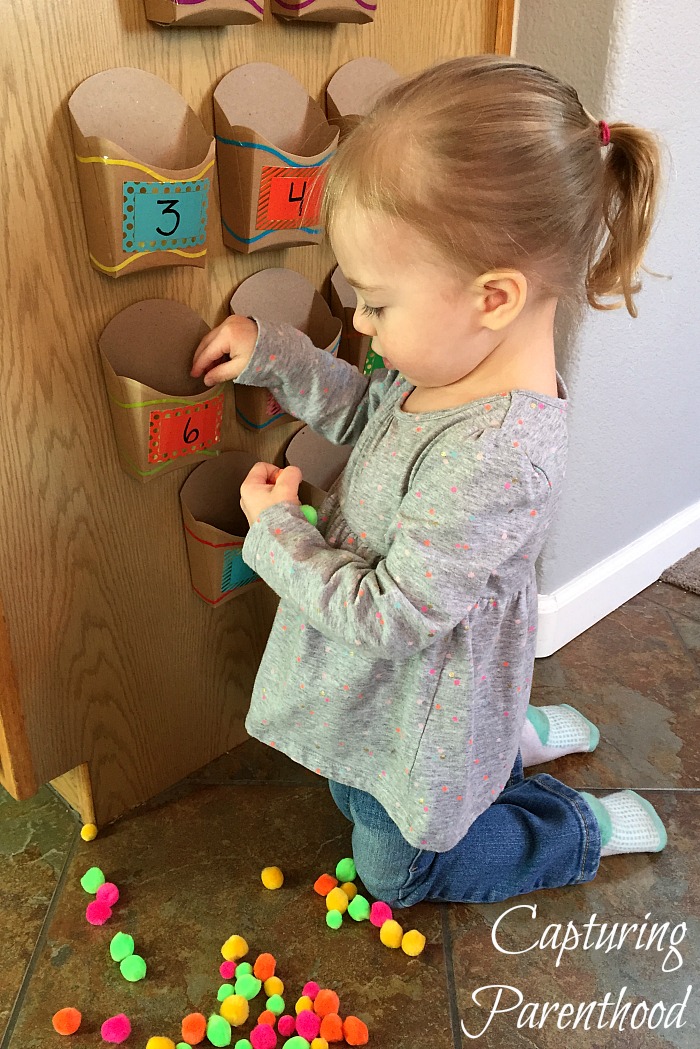 Foam Numbers & Counters
**Note: This post contains Amazon Affiliate links for convenience. See Disclosure Policy for more details.**
Lastly, we tested our new number recognition skills by filling up each bucket with it's matching foam number.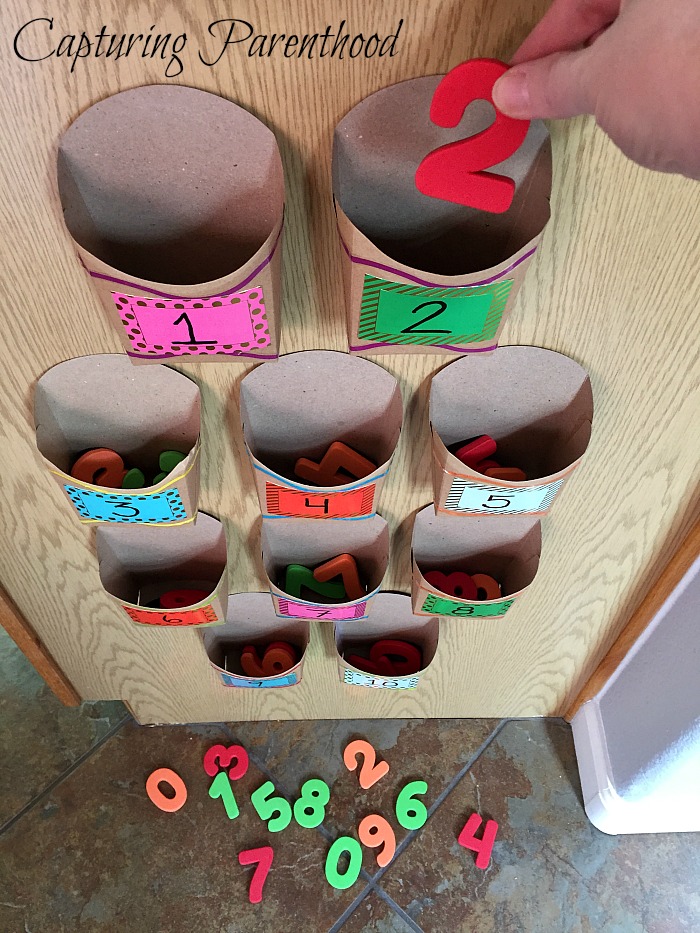 I purchased these (magnetic) foam numbers from Amazon. The set also came with "counters" as well. The counters consist of different animals (bunnies, ducks, turtles, etc.). We utilized these as well, by placing the appropriate number of animals into each number bucket.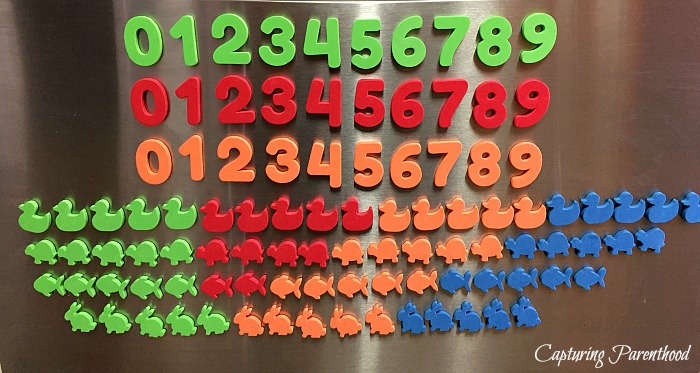 The options really are endless. So, tape up some number buckets and let the counting begin!
START SPREADING THE NEWS!