It's Day 3 of our Sensory Bottle Extravaganza! Next up…an Ocean Creatures Sensory Bottle!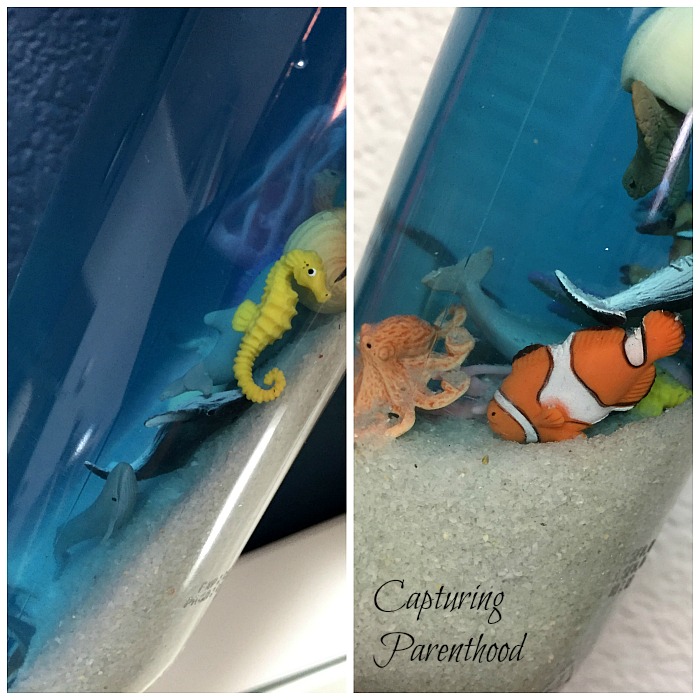 This Ocean Creatures Sensory Bottle is one of the easier sensory bottles that I've created, yet it is also one of our favorites to play with! In my first sensory bottle post, I mentioned that I had come across plenty of wonderful sensory bottle ideas on Pinterest. This bottle was inspired by one from (another) Katie, over at A Little Pinch of Perfect (http://alittlepinchofperfect.com/mini-aquarium-in-a-bottle-ocean-sensory-play-to-learn-and-explore/).
My little nugget loves ocean creatures…one of her favorite stories to read is Commotion in the Ocean by Giles Andreae. So, when I made this sensory bottle, she was super pumped! She shakes the bottle and watches all of the creatures swimming in the sea…happily pointing out all of her favorites: "Nemo! Seahorse! Octopus! Shark!"
---
Ocean Creatures Sensory Bottle
Supplies: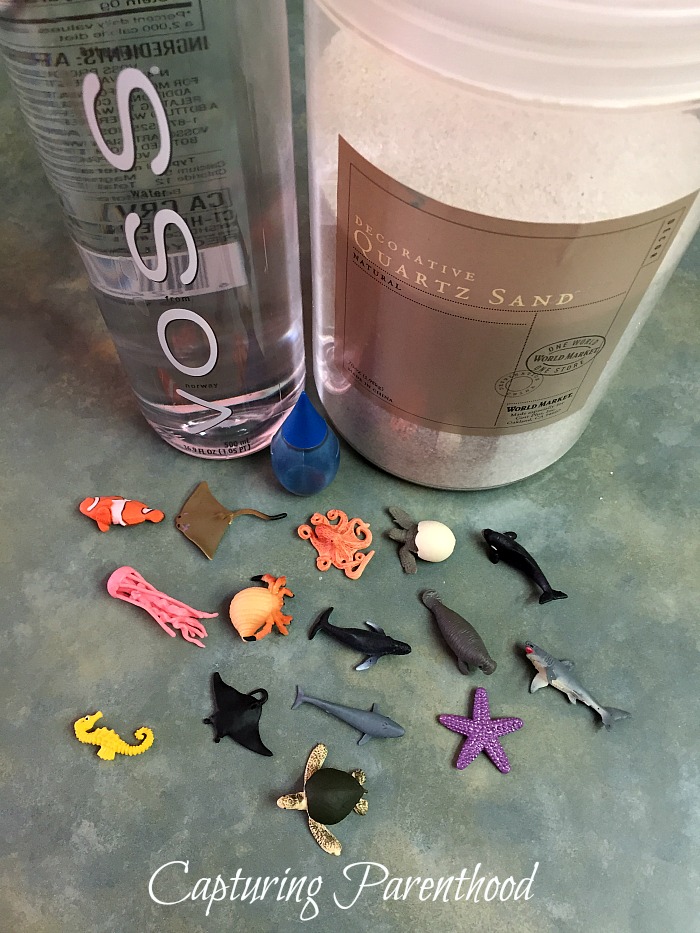 Plastic Bottle with Wide-Mouth (I love using Voss water bottles)
Water
Blue Food Coloring
Sand
Plastic Ocean Creatures (I used some mini Toobs ocean creatures, that I found at Hobby Lobby)
Instructions:
Empty the plastic bottle (if it contained a non-water beverage, rinse out the bottle). Remove all labels from the bottle. If you have a hard time getting the sticky residue off, Goo Gone works wonders. I find that if I take my time and peel slowly, I can get the Voss labels off without any fuss.
In a small bowl, give the sand a quick wash in some warm water. Drain the water from the bowl. *Note: This was a step that I did not complete when I made my bottle. I wish I had, because I think that pre-washing the sand would have made the bottle a bit less cloudy. 
Fill the bottom 1/4 of the bottle with sand. Drop in your ocean creatures.
Next, add a few drops of blue food coloring to a glass of water (I used my 2-cup glass measuring device, because it conveniently has a pour spout)!
Once the water is the color of blue that you desire, fill the remainder of the bottle with the blue water (I typically like to fill my bottles to the brim).
Then, add a dab of hot glue around the inside of the cap, and quickly seal the bottle (you don't want your child unscrewing a bottle full of colored water and sand inside your house). 🙂
---
Your little ones are going to love this opportunity for some up-close, under the sea exploration!
♫♫ "Just look at the world around you, right here on the ocean floor. Such wonderful things surround you. What more is you lookin' for?" ♫♫
Ok…we might be a little bit obsessed with The Little Mermaid, these days. 🙂 Perhaps, a new mermaid-themed ocean sensory bottle is in our future!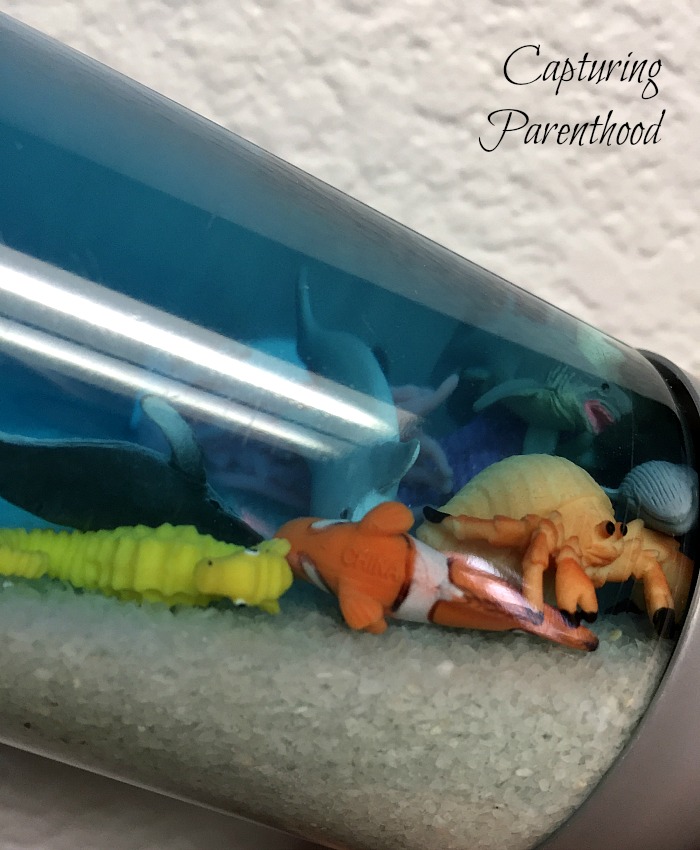 Stay tuned…tomorrow brings a brand new day, and a brand new sensory bottle!
START SPREADING THE NEWS!