Are you sick of sensory bottles yet? 🙂 I hope not, because today I'm sharing one of our favorite bottles – an Oil & Water Galaxy Sensory Bottle!
I love this bottle, because it truly shimmers and sparkles when each piece of glitter catches a ray of light (just like the millions of stars that glimmer in a galaxy). The combination of oil and water also makes for some amazing bubbles!
My daughter loves this bottle because its purple, of course. 🙂
I came across this sensory bottle idea over on One Little Project (http://onelittleproject.com/galaxy-in-a-bottle/2/). When Debbie explained the calming effect that this bottle had on her kiddos (and herself), along with the added detail that when the glitter-filled bubbles pop, it looks like fireworks going off inside the bottle – I was sold!
---
Oil & Water Galaxy Sensory Bottle
Supplies: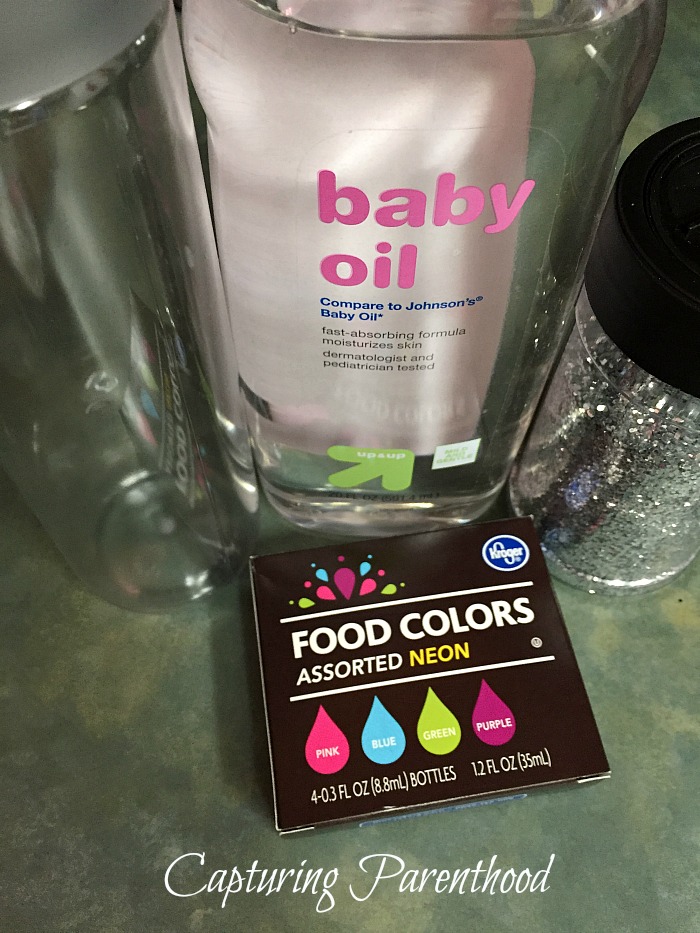 Plastic Bottle with Wide-Mouth (I love using Voss water bottles)
Baby Oil
Water
Purple and Blue Food Coloring (neon set)
Silver Glitter
Instructions:
Empty the plastic bottle (if it contained a non-water beverage, rinse out the bottle). Remove all labels from the bottle. If you have a hard time getting the sticky residue off, Goo Gone works wonders. I find that if I take my time and peel slowly, I can get the Voss labels off without any fuss.
Fill the bottom 1/2 of the bottle with baby oil.
Top the baby oil with a hefty amount of silver glitter.
Add water to a glass (I used my 2-cup glass measuring device, because it conveniently has a pour spout)! Stir in approximately 8 drops of purple food coloring, and 5 drops of blue food coloring – or as many drops of each until you've created the perfect purple "galaxy" hue.
Fill the remainder of the bottle with the purple water, leaving just a bit of space under the cap free for the ingredients to move around.
Then, add a dab of hot glue around the inside of the cap, and quickly seal the bottle (you don't want your child unscrewing a bottle full of colored water, glitter, and oil, inside your house). 🙂
---
I could literally sit and stare at this bottle all day long – I just love it! Of course, I have to wait until my little nugget is finished shaking and swirling…and watching the glitter gracefully fall down into the purple water. Thank goodness for nap time. 🙂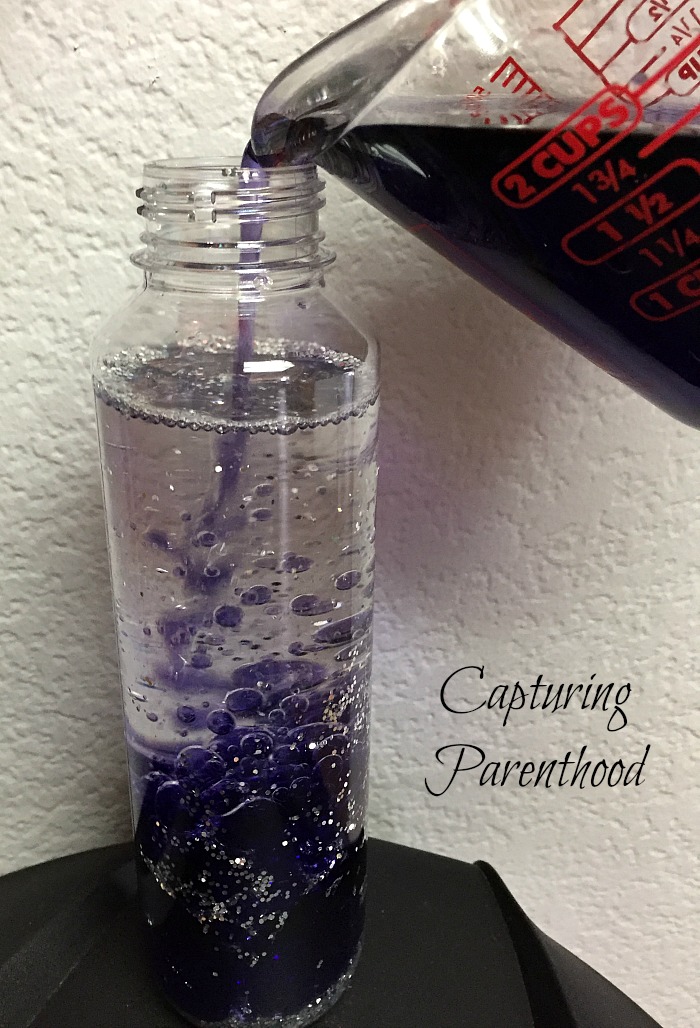 Tomorrow , we will be sharing another glittery sensory bottle, but this one is made using an ingredient that we have yet to see in our Sensory Bottle Extravaganza! Are you excited? Stay tuned…
START SPREADING THE NEWS!