Sensory Bottle Extravaganza – Day 4! Sticking with yesterday's theme (minus the sea creatures), today we're sharing an Oil & Water Ocean Sensory Bottle.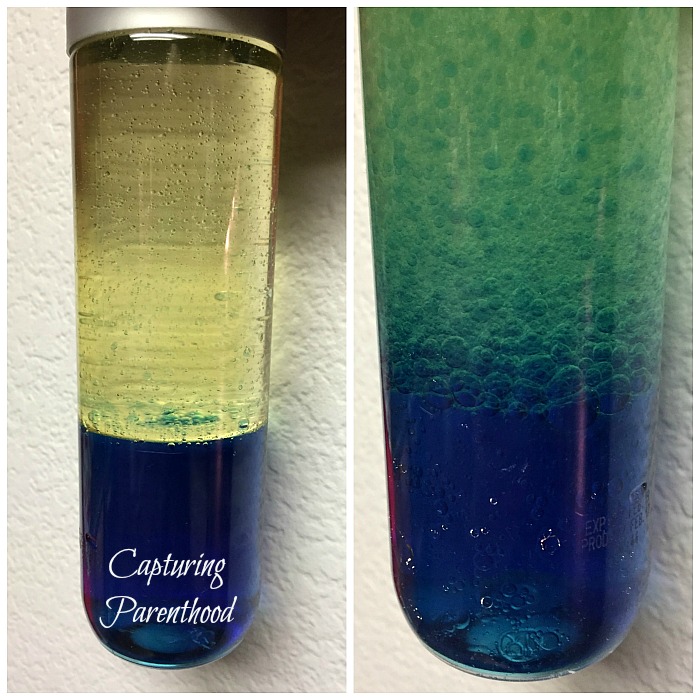 This bottle is not much to look at when it's just sitting on the table, but when you pick it up and turn it upside down, a giant blue wave starts to swirl through the bottle. The yellow-hued oil turns a beautiful sea green color, and little blue bubbles form (since water and oil do not mix). It's simply beautiful!
I came across this wonderful idea, over on Happy Hooligans (http://happyhooligans.ca/ocean-in-bottle/). Jackie suggests using a large bottle (2L soda bottle) for this activity. Although, she ended up using a mouthwash bottle, when she created one with her preschoolers. While the larger bottles may make for a bigger effect, I found that the concept still worked just as well in our Voss water bottle!
---
Oil & Water Ocean Sensory Bottle
Supplies: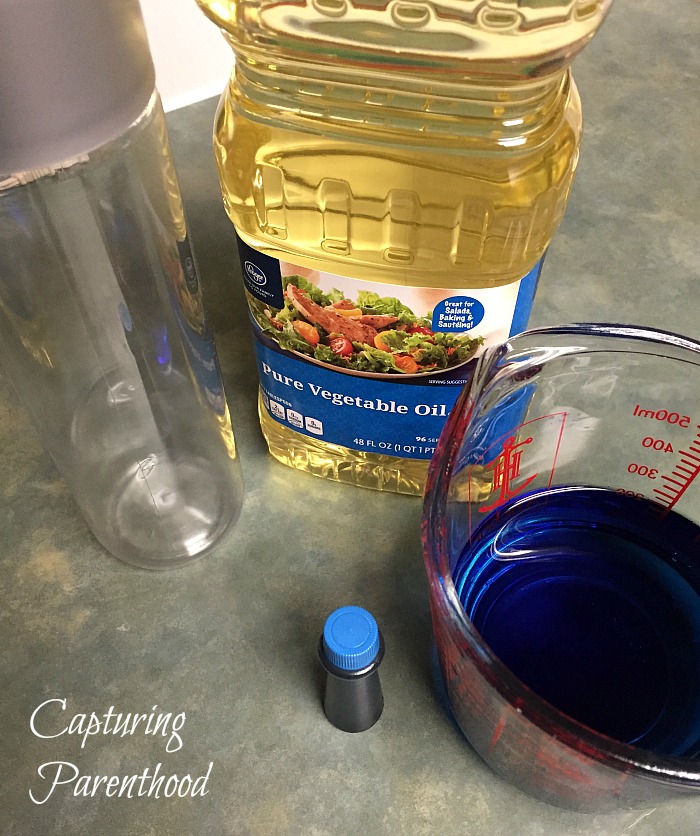 Plastic Bottle with Wide-Mouth (I love using Voss water bottles)
Vegetable Oil (Canola Oil works too)
Water
Blue Food Coloring
Instructions:
Empty the plastic bottle (if it contained a non-water beverage, rinse out the bottle). Remove all labels from the bottle. If you have a hard time getting the sticky residue off, Goo Gone works wonders. I find that if I take my time and peel slowly, I can get the Voss labels off without any fuss.
Fill a glass with water (I used my 2-cup glass measuring device, because it conveniently has a pour spout)! Stir in several drops of blue food coloring, until you are satisfied with the shade of blue.
Pour the blue water into the bottle – filling the bottom 1/3 of the bottle.
Fill the remainder of the bottle with vegetable oil (I typically like to fill my bottles to the brim).
Then, add a dab of hot glue around the inside of the cap, and quickly seal the bottle (you don't want your child unscrewing a bottle full of colored water and oil, inside your house). 🙂
---
This sensory bottle is so simple. It requires only 4 things (bottle, water, oil, and food coloring) and you can put it together in just minutes. Now that's my kind of sensory bottle!
In fact, it could be said that I like playing with this ocean sensory bottle, even more than my little nugget. 🙂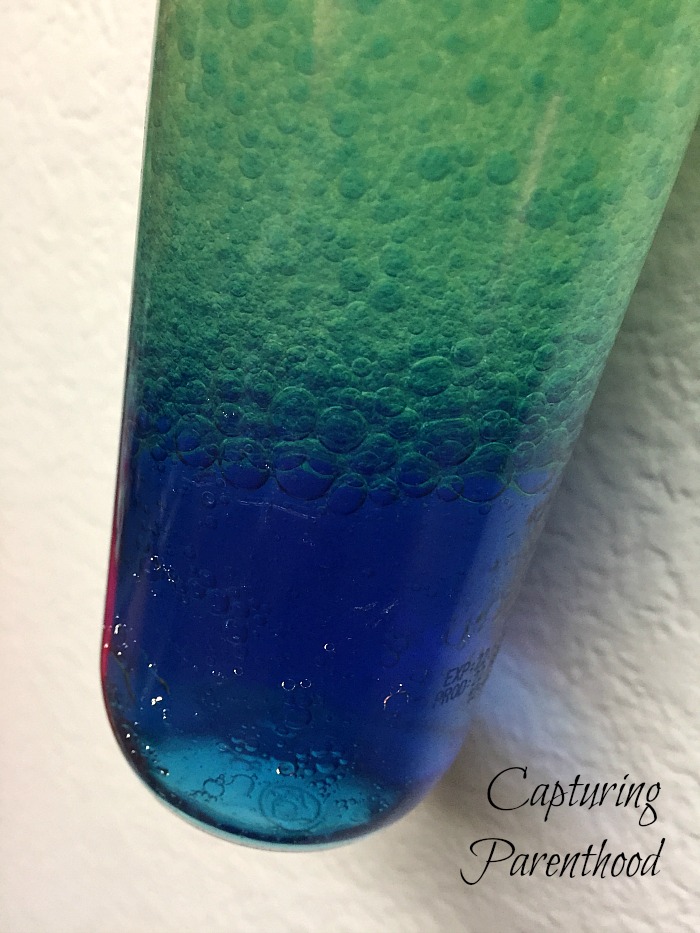 Well, the sun shall rise again tomorrow…and with it, there will be yet another new sensory bottle featured on Capturing Parenthood! Stay tuned…
START SPREADING THE NEWS!