Our dogs LOVE peanut butter! In fact, one of them is so enamoured with the deliciously nutty and creamy treat, that I often find her quietly sneaking up behind me in the kitchen anytime I get the jar out of the cupboard. I turn around to find her sitting patiently, before I've even opened the jar. Don't ask me how she knows, because she doesn't use this sneaky kitchen maneuver for any other type of food – just peanut butter.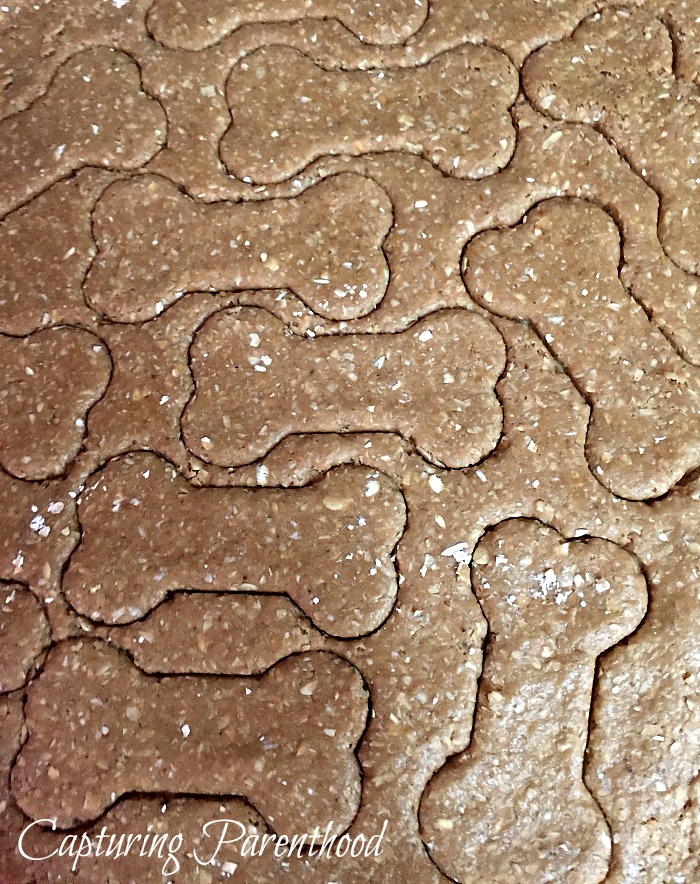 When I came across this 3-Ingredient Puppy Treats recipe (utilizing my pups' favorite ingredient) on Michelle's blog – Crafty Morning (http://www.craftymorning.com/3-ingredient-puppy-treats/), I knew I needed to bake a batch for my cuddly pups! And who can argue with a simple 3-ingredient recipe?
Peanut Butter & Banana Dog Treats
**Note: This post contains Amazon Affiliate links for convenience. See Disclosure Policy for more details.**
Ingredients:
1-1/2 Cups Old-Fashioned Oats
1/2 Cup Creamy Peanut Butter
1 Ripe Banana
Instructions:
Preheat the oven to 350° F.
Place the oats in a food processor and pulse until it turns into flour. Pour into a bowl and set aside.
Place the peanut butter and banana into the food processor and puree until the peanut butter and banana are smooth and thoroughly combined.
Add in your oatmeal flour (reserve 2 Tbsp. for rolling out the dough) and process until all of the ingredients are combined and the dough has formed. Feel free to get those hands messy and knead the dough for a minute.
Sprinkle the remaining oat flour mixture onto a clean and flat work surface and roll the dough out to desired thickness.
Cut out your treats with whatever shape you prefer, I used a large bone-shaped cookie cutter (I like these ones from Amazon).
Re-roll your dough and continue to cut out the dog treats, until you have utilized all of the dough.
Place the dog treats onto a cookie sheet, lined with parchment paper, and bake for approximately 15 minutes. If you are baking smaller treats, your bake time will decrease…so keep an eye on them!
Remove from the oven when they are nice and golden, and set aside to cool.
Note: This recipe yields 24 large bone-shaped treats. Store in a Ziploc bag or airtight container.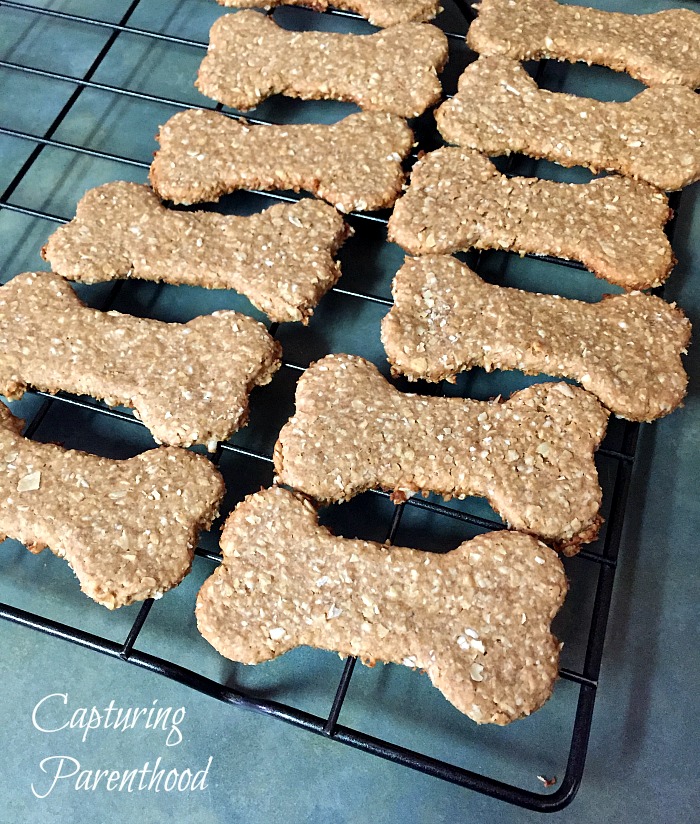 These Peanut Butter & Banana Dog Treats were a huge hit with our pups! Every time they hear the rustle of the Ziploc bag, they come running!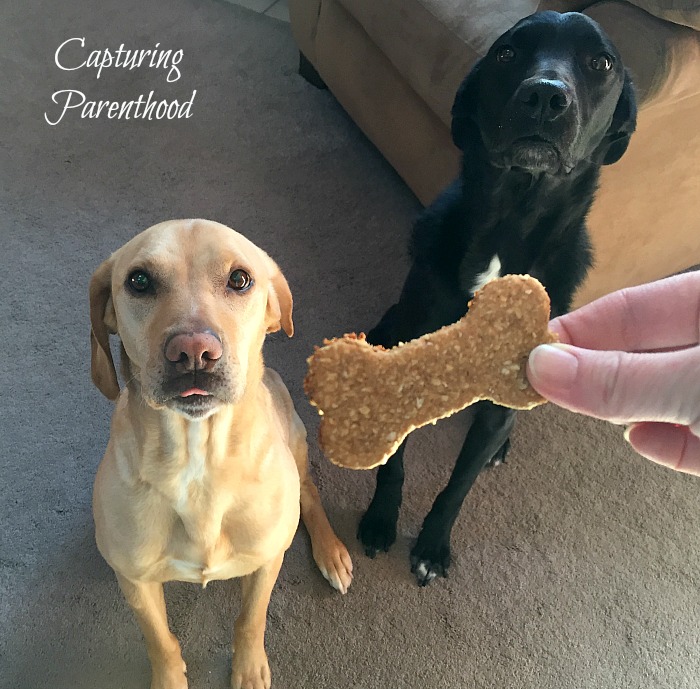 I will leave you with a helpful peanut-butter/canine tip: If you ever need to get your dog to swallow pills…hiding the pills in peanut butter and sticking the mound of peanut butter to the roof of their mouth works like a charm – every single time!
START SPREADING THE NEWS!