I don't know about you, but I happen to enjoy a nice cold treat on a hot summer day. And everyone in my household feels the same…including our dogs! We've purchased doggy ice cream before (which they thoroughly enjoy), but did you know that you can make your furry family members their own frozen treats? These Peanut Butter & Banana Frozen Dog Treats are not only delicious (and dog-approved), they are also super easy to make! And I might add, they're cheaper than buying frozen dog treats at the pet store!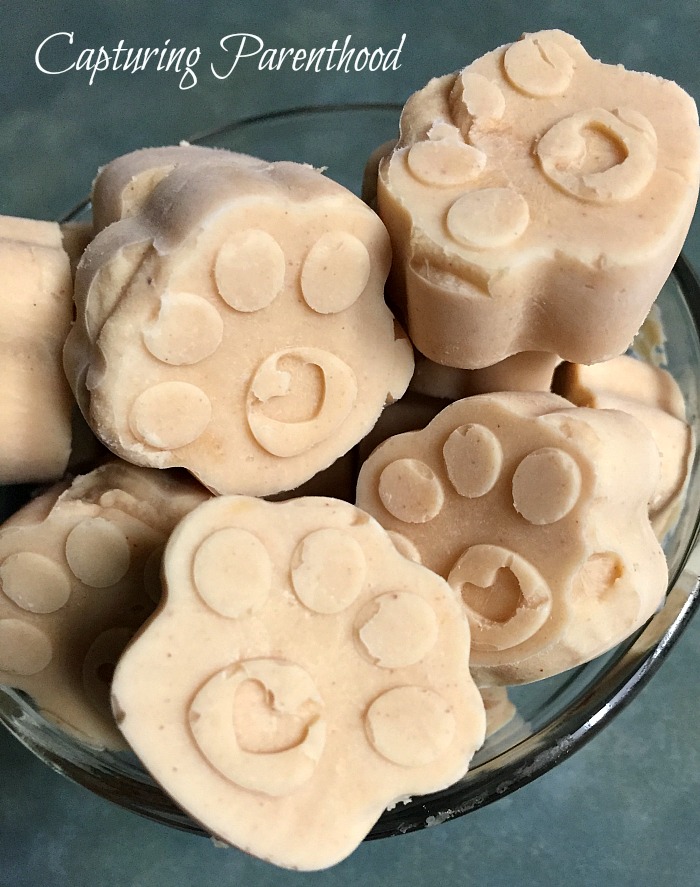 I stumbled across this incredible dog treat idea on Sugar & Soul Co (https://www.sugarandsoul.co/peanut-butter-banana-frozen-doggy-bites/).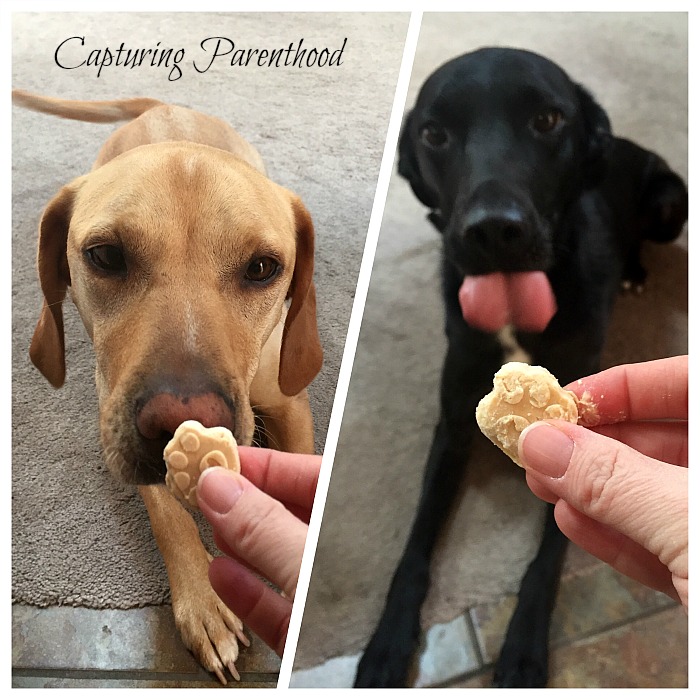 My little helper loved that she could make these dog treats all on her own. She scooped the yogurt and peanut butter, stirred them together, and then helped press the mixture into the silicone paw print molds. And I loved that all of the ingredients were safe for my little helper to taste. Heck, she can even indulge in one of the treats, if she so desires…they're just yogurt and peanut butter!
---
Peanut Butter & Banana Frozen Dog Treats
**Note: This post contains Amazon Affiliate links for convenience. See Disclosure Policy for more details.**
Ingredients: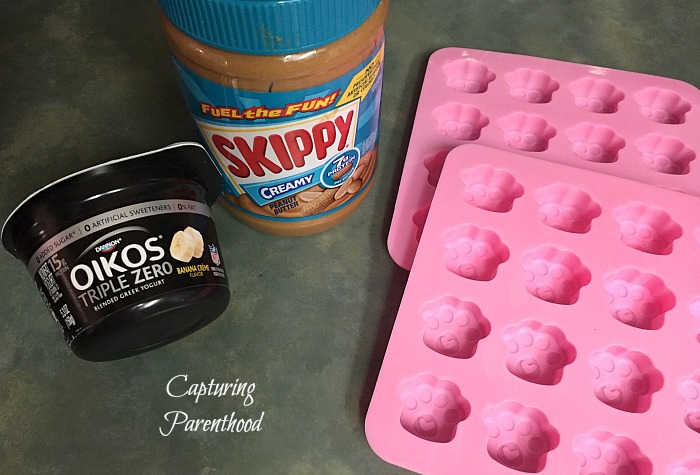 5.3 oz. Container Banana Yogurt (I used Oikos Triple Zero, as it was the only banana yogurt I could find)
1/4 Cup Creamy Peanut Butter
Instructions: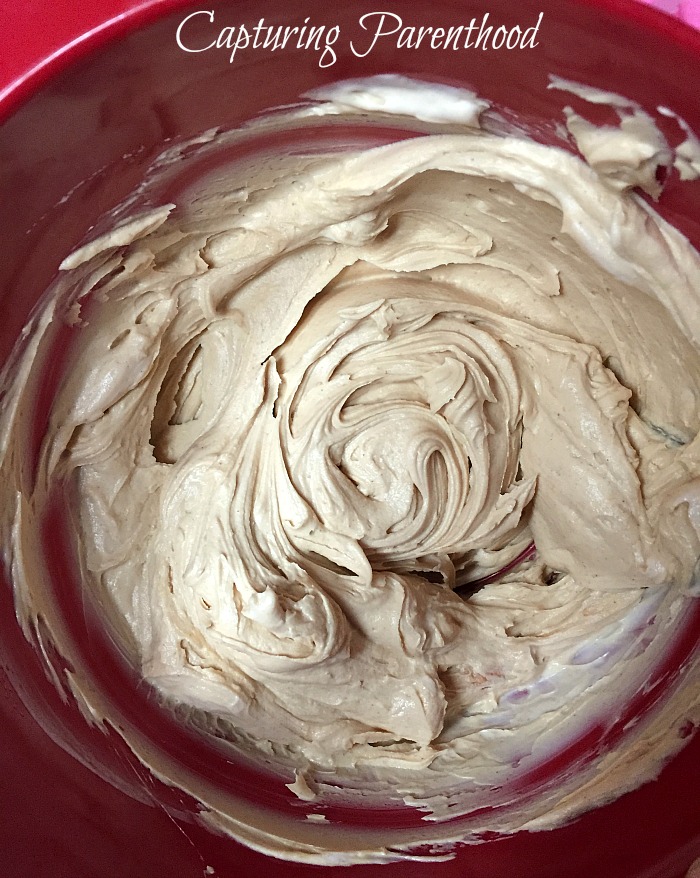 Combine the banana yogurt and creamy peanut butter in a medium-size bowl. Mix until thoroughly combined.
Scoop the mixture into a silicone mold – we love these little paw print silicone molds that we purchased on Amazon. **Note** In order to fill both 16-paw print molds, I doubled the recipe. If you do not have a silicone mold on hand, you can also use an empty ice cube tray!
Make sure to press the mixture down (using a rubber spatula) when filling the molds, so that each one is filled completely. Scrape off any excess mixture from the molds.
Place flat in the freezer, and freeze for at least one hour, or until treats are firm and frozen.
Carefully remove the treats from the molds (or ice cube trays) and toss a few to your eager pets. Place the rest in an airtight container, or Ziploc bag, in your freezer.
---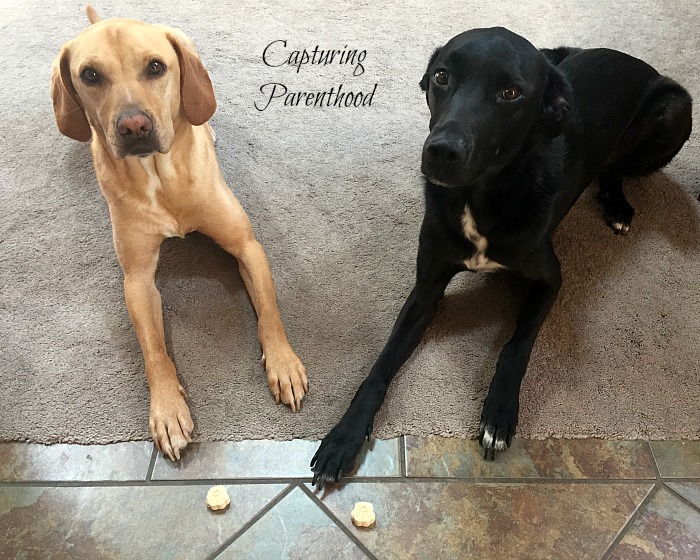 I'm so glad that my little nugget and I decided to whip up a batch of these Peanut Butter & Banana Frozen Dog Treats – our dogs LOVE them! They will be a summer staple in our home for years to come!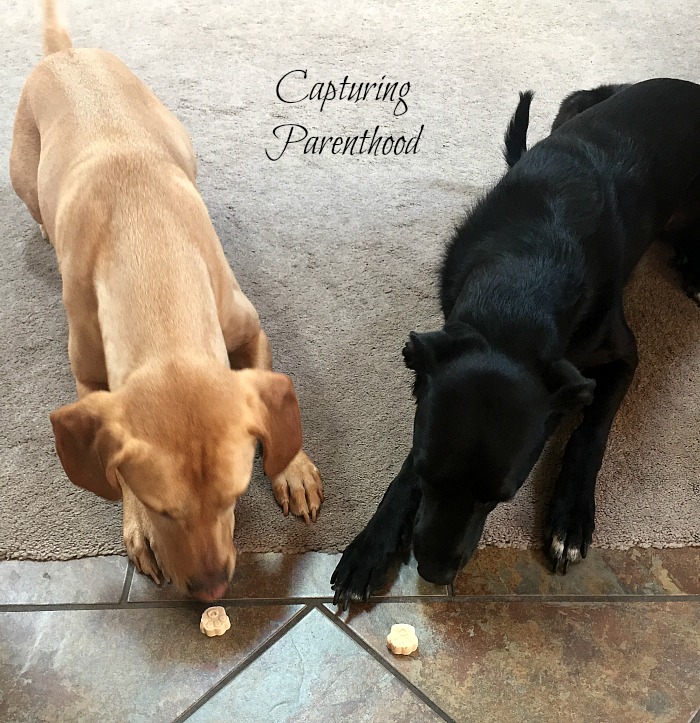 START SPREADING THE NEWS!