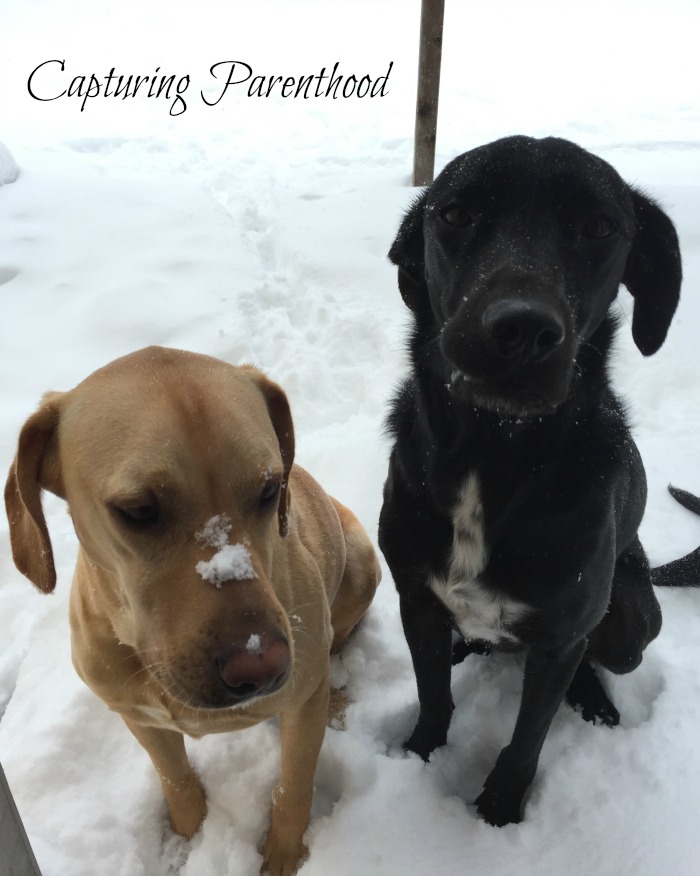 Our dogs are a part of our family and they deserve some homemade treats every once in awhile too! Our crazy pups happen to love pumpkin – we sometimes plop a dollop of pumpkin puree on top of their dog food when they are not feeling well (it can help ease a canine's upset stomach), or even just for a special treat.
So when I came across this Pumpkin Dog Biscuits recipe from Marilyn at http://simmertilldone.com/2009/10/07/retriever-retriever-pumpkin-eater/, I knew my dogs would be happy!
Side note: I did adapt the recipe in regards to the flour (I chose to use oat flour instead of brown rice flour) and I chose to make larger biscuits.
**Note: The below list contains Amazon Affiliate links for convenience. See Disclosure Policy for more details.**
Pumpkin Dog Trea

ts
2 Eggs
1/2 Cup Canned Pumpkin Puree (not the canned pumpkin pie mix)
2 Tbsp. Dry Milk
1/4 tsp. Sea Salt
2-1/2 Cups Oat Flour
1 tsp. Dried Parsley
Dog Bone Cookie Cutter (click the link to see the ones I like from Amazon)
Preheat oven to 350° F.
In the bowl of your stand mixer, combine the eggs and pumpkin and mix until smooth. Add in the dry milk, sea salt, and parsley.
With your mixer on the slowest setting, gradually add the oat flour until all ingredients are thoroughly combined and the dough has formed. If the dough is so dry that it will not stick together (even when you knead it by hand), you can add a small amount of water. If the dough is too wet and sticky to handle, you can add a small amount of flour. *Keep in mind though, that the dough will pick up more flour when you roll it out.
Spread some oat flour around on a large, flat surface and place your dough on top. Roll the dough to your desired thickness (depending on how chewy or crunchy your dog prefers their treats).
Cut out your treats using the cookie cutter and place them on an un-greased cookie sheet (tip: use a standard cookie sheet, not an air-bake style cookie sheet).
Lightly press fork tongs halfway through the middle of each treat, and then place them in the oven to bake for 20 minutes. Remove from the oven, flip the cookies over, and put them back in the oven for 20 more minutes.
Transfer the cookies to a cooling rack and let them cool completely before serving.
Repeat the above steps with the remaining dough, until all of the treats have been baked.
These Pumpkin Dog Treats can be stored in an airtight container, or Ziploc bag.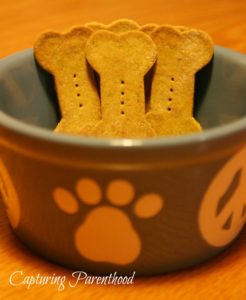 This recipe made 38 large, crunchy dog treats!
And if you're wondering whether our pups actually enjoyed these…anytime we opened a Ziploc bag (any Ziploc bag) they were suddenly sitting right by our side! These treats are even safe for human consumption…so, if you are inclined to try one, go ahead and pop it in your mouth. I will admit that they are a bit bland for my taste, but our dogs think that they are scrumptious!
START SPREADING THE NEWS!