**Note: This post contains Amazon Affiliate links for convenience. See Disclosure Policy for more details.**
One thing that every parent seems to search for during the toddler years, is the perfect spill-proof cup or water bottle. And one thing that every parent learns during the toddler years, is that even though most toddler cup/water bottle brands claim their products are spill-proof…most of them (sadly) are not. And thus, I've decided to share our quest for the best spill-proof cup/water bottle, in the hopes that it will help other parents who have also grown frustrated with all of the so-called spill-proof drinkware.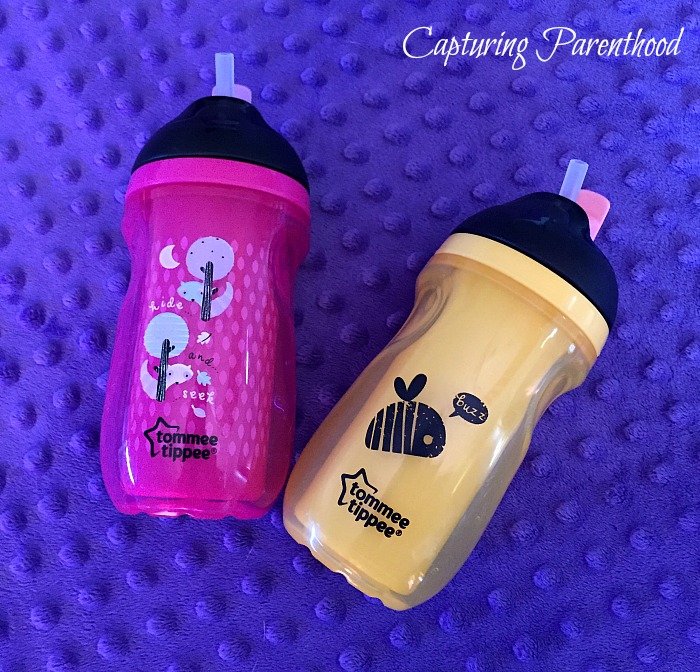 Our toddler drinkware journey began when our little nugget gave up bottles (around 1-year-old). Since she had enjoyed using her Tommee Tippee bottles so much as an infant, I figured I would stick with the brand when it came to acquiring our first set of spill-proof cups. I went ahead and purchased a set of their 9 oz. Insulated Flippee Straw Cups. I also purchased a set of their 9 oz. Insulated Sipper Tumblers…you know the ones that would soon become part of the massive recall, due to mold development in the one-piece valve (in case you missed it…you can read all about the recall here). Luckily, our daughter preferred the straw cups, and had only used the tumblers a couple of times prior to the recall, so we never experienced any adverse effects from mold developing in the cups.
While we always provide our daughter with a completely open (plastic) cup at mealtimes, we still prefer to use the spill-proof cups and water bottles when we are out and about, or at nighttime. What we soon discovered with the Tommee Tippee Insulated Flippee Straw Cups, was that while our little nugget could flip the cup around without water pouring out, the cup itself would leak out of the straw during any temperature change. Since our daughter prefers the cold water our of our refrigerator dispenser, we would inevitably always find her cup surrounded by a pool of water, about an hour or so later. This was not at all what I expected from a spill-proof cup. I guess if you want to get down to brass tacks, the cups could be considered spill-proof, but certainly not leak-proof…and I wanted both.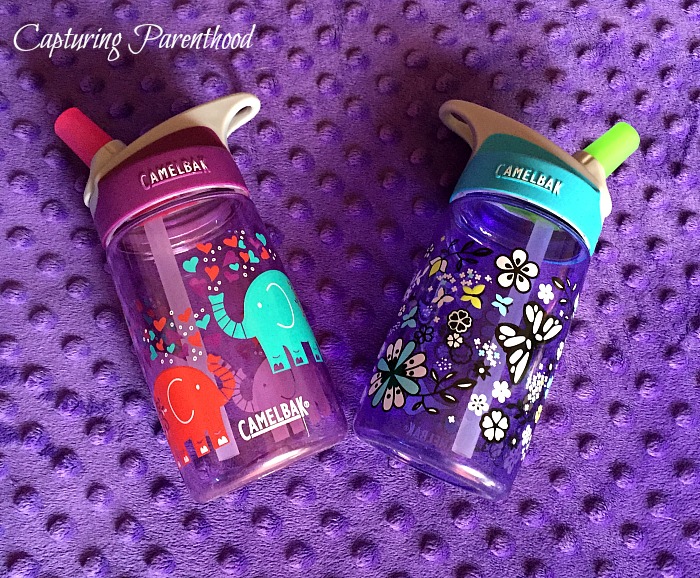 Ironically, at roughly the same time, our daughter moved to a new classroom at school, and her new teachers requested that she bring a water bottle everyday, so that they could make sure she was staying hydrated while they were playing outside (as well as throughout the rest of the day). And thus began my quest for a spill-proof water bottle. I eventually decided upon this CamelBak Eddy .4L Kids Water Bottle. This water bottle has a straw-system as well, which I decided was good since our daughter was already used to using her straw cups at home. The reviews for this water bottle were pretty stellar, and the bottles came with some really cute designs (which my little nugget was very pleased with), but they didn't live up to the spill-proof hype either. In fact, we had the exact same problem with the CamelBak Eddy water bottles, that we did with the Tommee Tippee straw cups…they leaked during temperature changes. 🙁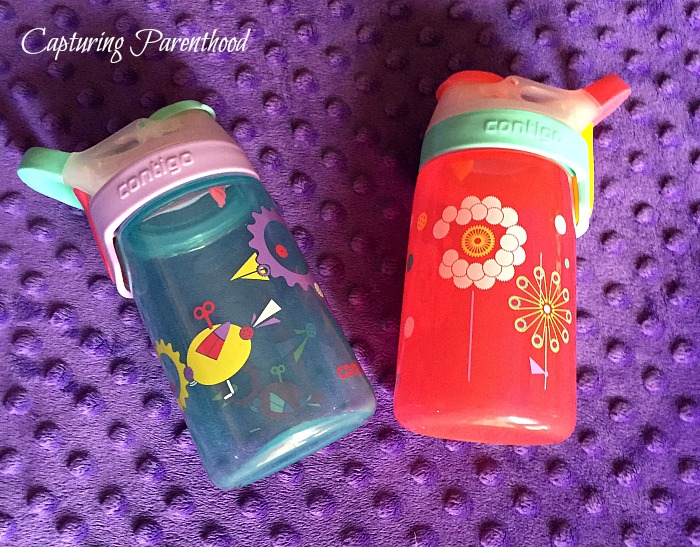 I couldn't take all of the little pools of water anymore, so my quest continued. As I researched, I found a lot of parents/reviewers who were experiencing the same issues that we were facing with our spill-proof cups and water bottles…and most of them said that switching to Contigo solved all of their problems. I was just about to purchase this Contigo Autospout Straw Gizmo Flip Kids Water Bottle (shesh…that's a mouthful) because I read only the very best things about it. My one reservation…it was another straw-system. And as you know by now, I don't have very good luck when it comes to using straw cups and water bottles. Since Amazon conveniently shows several related products, when you are looking at one particular item, I happened to click over to this Contigo Autoseal Gizmo Sip Kids Water Bottle. I was elated to see that there was no straw-system. I sat for a moment pondering whether our little nugget really needed a straw water bottle…and then it dawned on me…if our daughter could drink from an open cup or glass like a pro (which she can) then she should just as easily be able to handle a non-straw water bottle. This water bottle works by simply pressing the button on the back to open the seal, when you're ready to take a drink. And guess what? Contigo makes some pretty super water bottle designs too!
The verdict…we LOVE the Contigo Autoseal Gizmo Sip Kids Water Bottle! It's the one for us! We have not had a single issue with these water bottles…and we now own six of them! Needless to say, I got rid of our Tommee Tippee straw cups and our CamelBak water bottles. When we are not sitting down for a meal, our daughter has one of the Contigo water bottles at her disposal (day and night).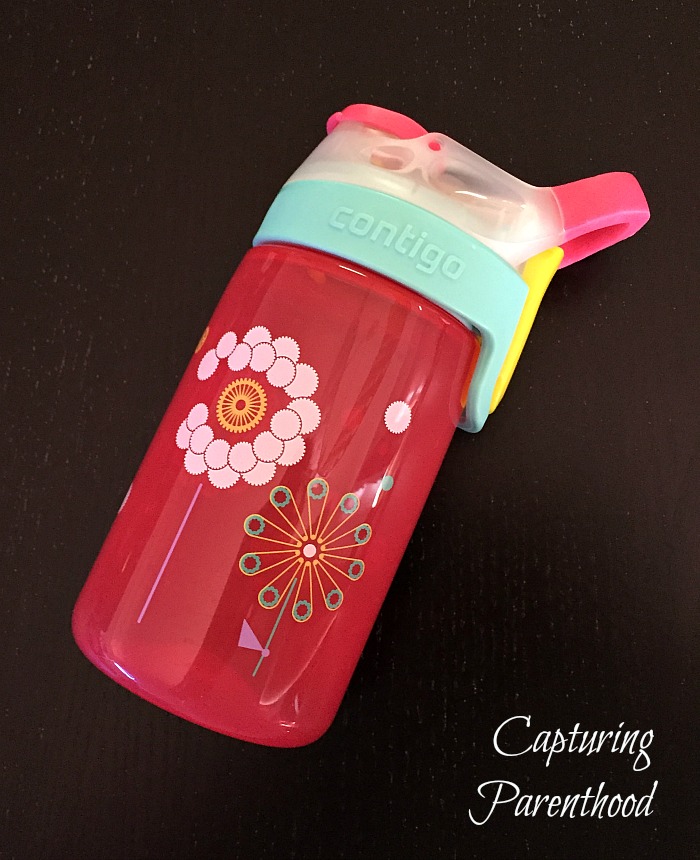 So…if you're like me and you've been searching desperately for that perfect spill-proof cup or water bottle…try the Contigo…you won't regret it.
Have you found other spill-proof cups and water bottles that you swear by, and that your kids love? If so, please share them in the comments below…parents can never have too many good recommendations!
START SPREADING THE NEWS!