I've been scouring Pinterest for great sensory bin ideas for some time now. I love sensory bins, because you can set them down in the middle of the kitchen when you're trying to make dinner, and they will keep your toddler happily occupied! I had seen plenty of pins depicting dyed rice for sensory bins, and I honestly always passed them over, thinking that they would be way too much work. I also feared that the colors would never be as vibrant as the photos depicted online. Boy was I wrong. Creating our Rainbow Rice Sensory Bin was so easy and the colors…they are perfect!
I'm so glad that I came across a blog post on "How To Dye Rice for Sensory Bins" from Michelle at Crafty Morning (http://www.craftymorning.com/dye-rice-sensory-bins/). It was the perfect tutorial.
Rainbow Rice Sensory Bin
Supplies: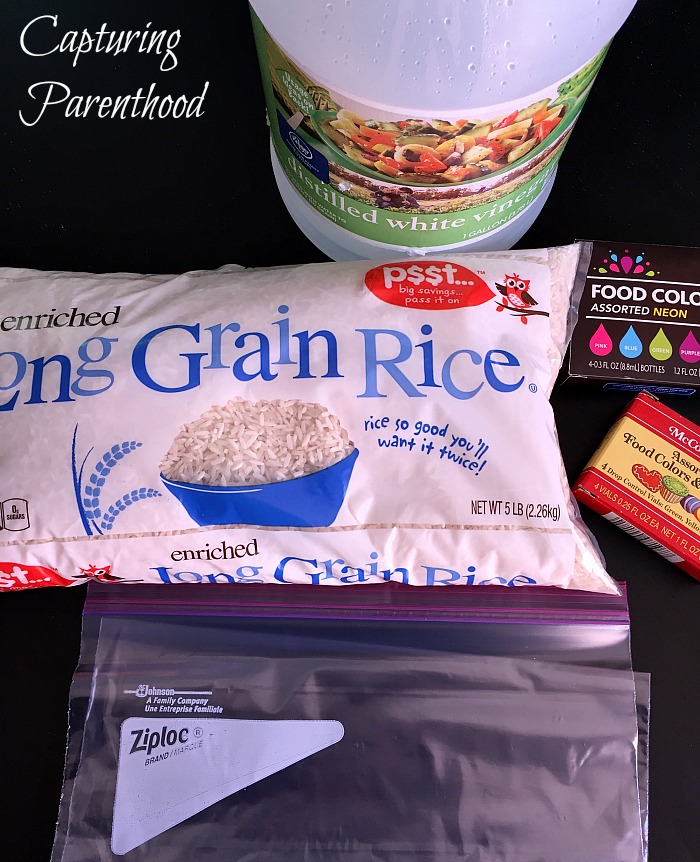 Ziploc Bags (storage size)
Distilled White Vinegar
White Rice
Food Coloring
Tinfoil
Instructions:
To make each color of rainbow rice, simply add a few tablespoons of vinegar, several drops of the food coloring of your choice, and a couple of cups of rice to a Ziploc bag. Seal the bag and then squish the rice around until it becomes the color you desired. Repeat this step for each color. Note that you will likely need to combine some of the colors of food coloring to make all the colors of the rainbow. Most food coloring packages come with your standard red, yellow, green, and blue. To make orange, combine red and yellow. To make purple, combine red and blue.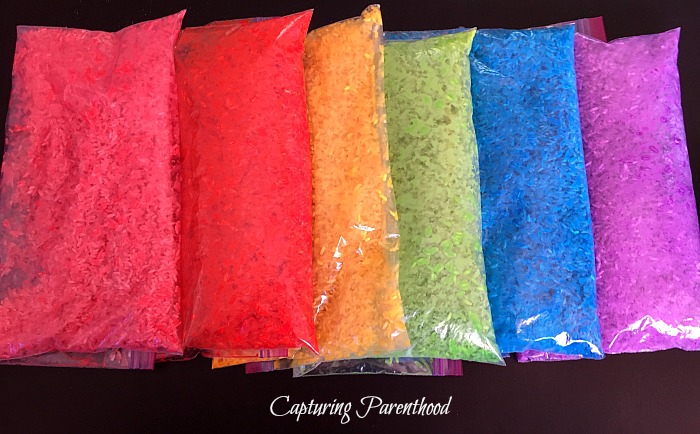 Once you have all of your colors made, place a large sheet of tinfoil on a flat surface and pour the rice onto the tinfoil to dry. It will take approximately 1-3 hours for all of the rice to dry.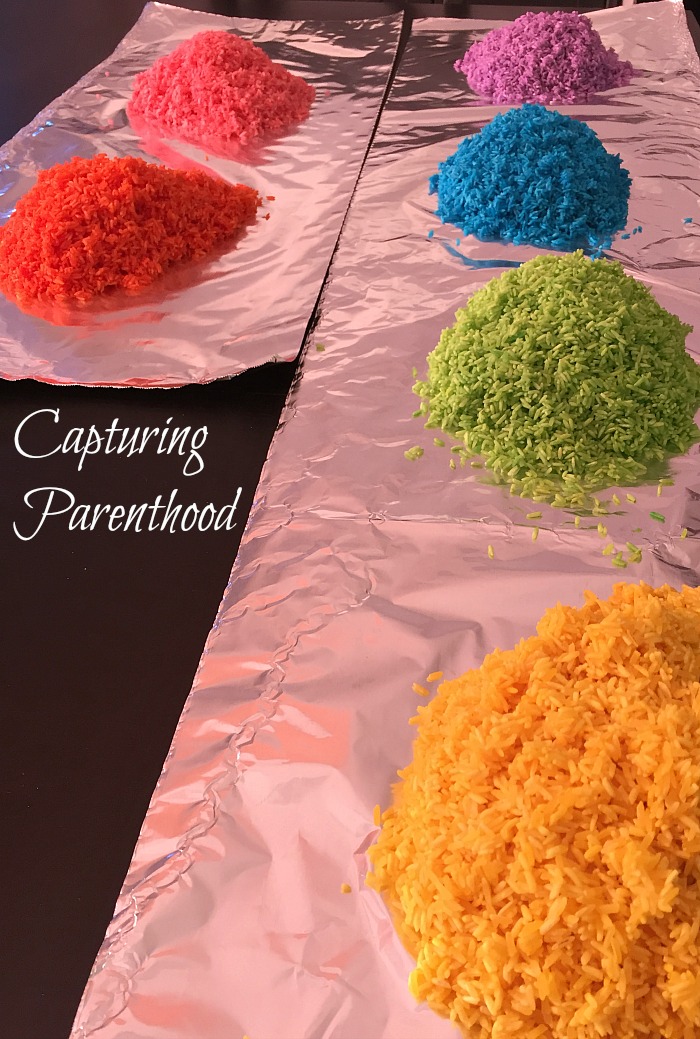 Once all of your rice is dry you can toss it into a large plastic bin. If you're like me (slightly OCD), you can carefully place each color in the bin, to create a rainbow!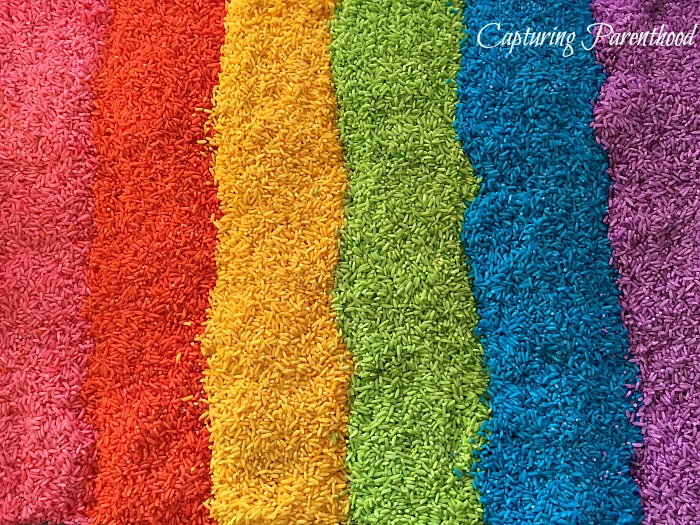 Take a few minutes to admire the beautiful rainbow of color that you've created…because once your toddler gets their hands on it, it will never look like this again!
The best part about sensory bins is that they are so versatile. You can add all sorts of toys, utensils, measuring devices…they all add to the fun! We've been having a great time scooping up the rice with some measuring cups and spoons. Try filling up a strainer/sifter and then shake the rice back into the bin!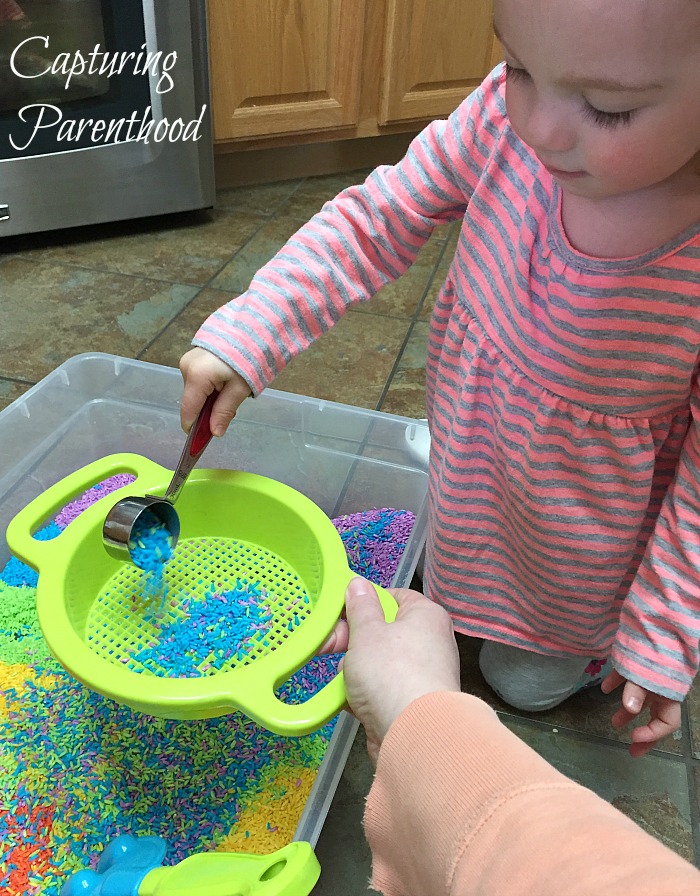 We've raked the rice. And we've discovered exactly how many scoops of rice it takes to fill up our plastic fish and seahorse.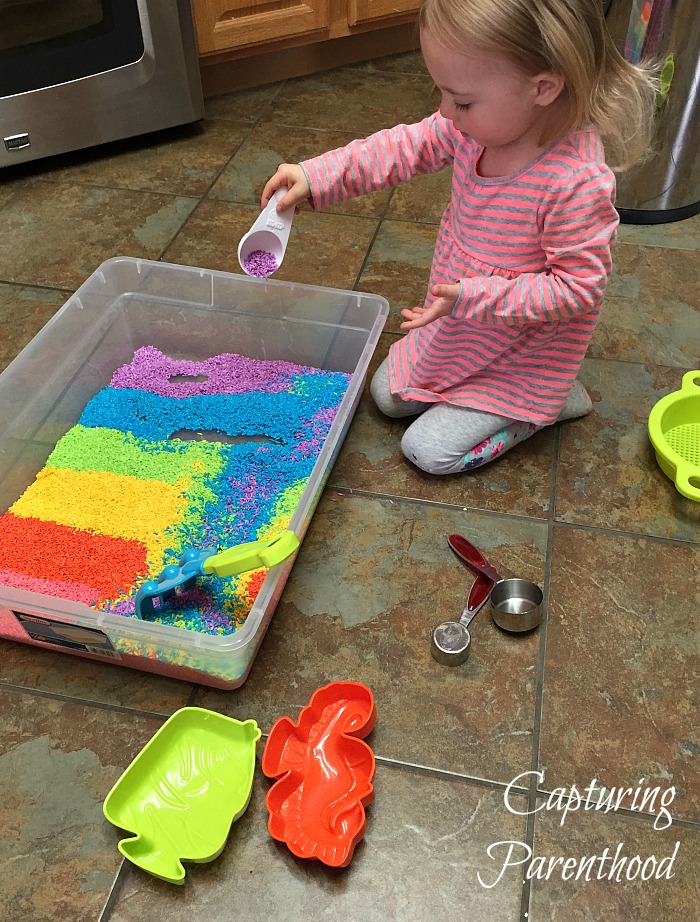 We made big mountains of rice in our bin, and we even busted out our little dustpan to use as a big shovel, that in turn created big, colorful waterfalls of rice. Keep that dustpan nearby, it comes in handy for cleanup too!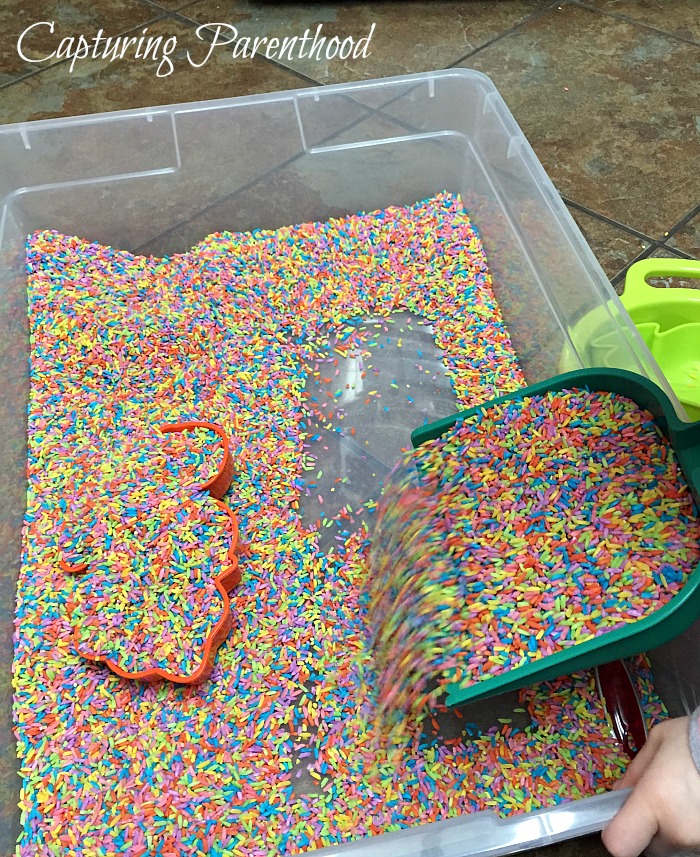 Once your little one has exhausted themselves with the wonders of the Rainbow Rice Sensory Bin, pop the lid on the bin and store it away until next time. I wouldn't put it too far away though, if your toddler is anything like my little nugget, the requests to play with the colorful rice will be frequent!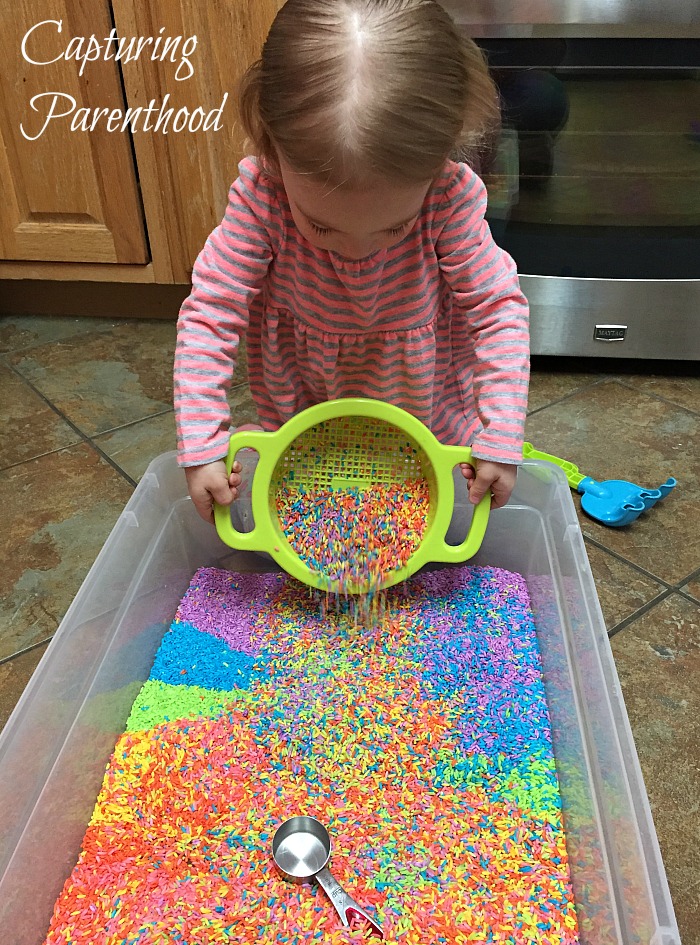 START SPREADING THE NEWS!