We made it! It's the final day of our Sensory Bottle Extravaganza! I hope you're not burned out, because I saved the best for last. This Rainbow Water Beads Sensory Bottle literally took my breath away when I made it. The vibrant colors…the floating orbs…and the absolute magic that happens when you hold it up to a light source. It's magical, mesmerizing, and magnificent. Well, you get the picture…I'm in LOVE with this bottle. 🙂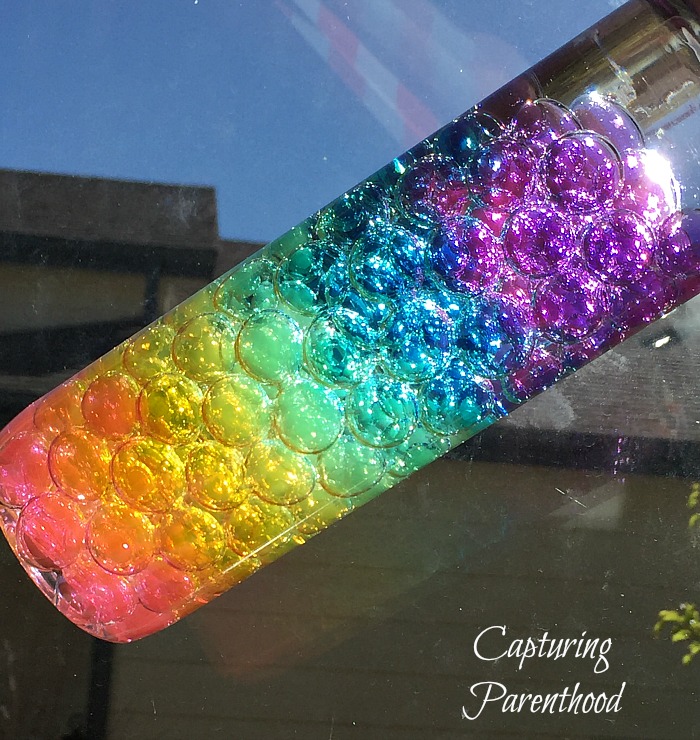 I'm not the only one in our household that likes to marvel at this beautiful sensory bottle – my daughter is fascinated with it. I mean, how could you go wrong with water beads in all the colors of the rainbow? And my husband actually suggested that I make a second one…the very same day I made the first. It's a hit with the entire family!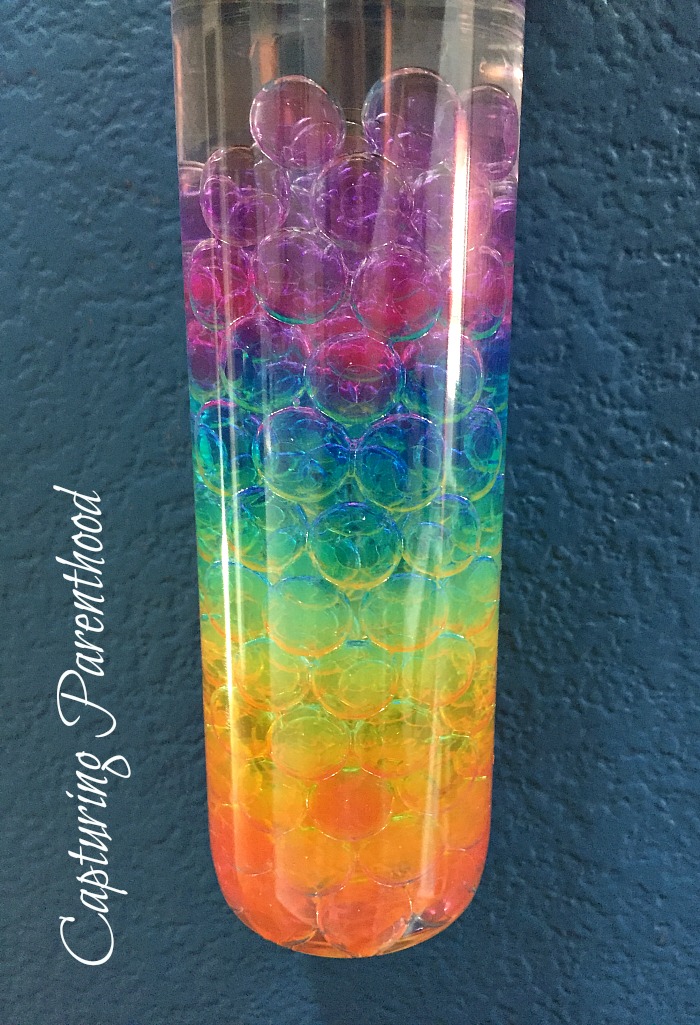 I'm incredibly lucky that I stumbled across this "Rainbow Sensory Bottle" post, over on the Ryan & Marsha blog (http://ryanandmarsha.com/diy/rainbow-sensory-bottle/). I had seen a few other water bead sensory bottle ideas, but none even come close in comparison. If you're only going to make one sensory bottle in your lifetime…it has to be this one!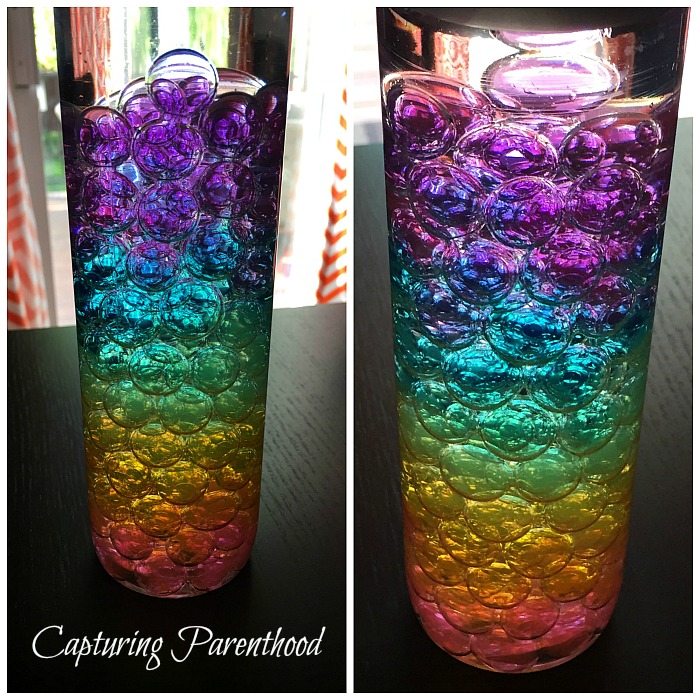 ---
Rainbow Water Beads Sensory Bottle
**Note: This post contains Amazon Affiliate links for convenience. See Disclosure Policy for more details.**
Supplies: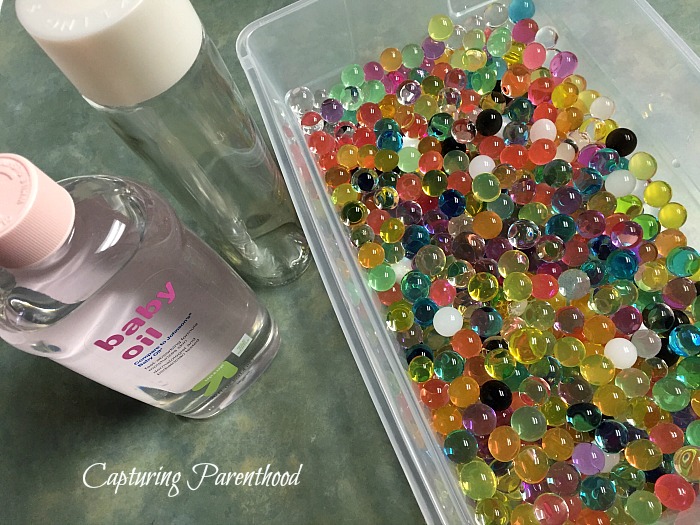 Instructions: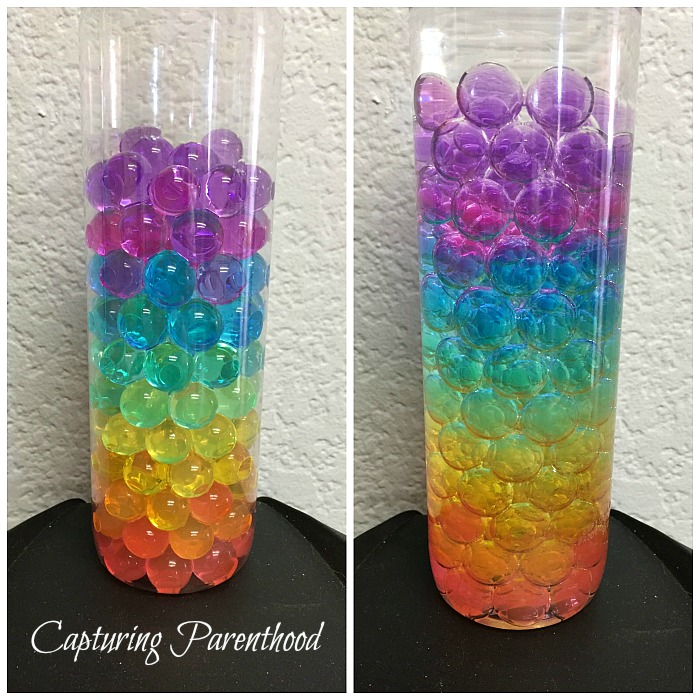 Empty the plastic bottle (if it contained a non-water beverage, rinse out the bottle). Remove all labels from the bottle. If you have a hard time getting the sticky residue off, Goo Gone works wonders. I find that if I take my time and peel slowly, I can get the Voss labels off without any fuss.
Hydrate the water beads until they are full-size. I used our multi-color water beads that take at least 8 hours to hydrate, and then sorted out approximately 15 water beads in each color.
Place the red (ours were actually pink) water beads in the bottom of the bottle. Carefully drop the orange water beads on top. Continue layering each color (yellow, green, blue, and purple). You want the water beads to fill approximately 3/4 of the bottle (so that there is room for them to move around).
Fill the entire bottle with baby oil (I typically prefer to fill my bottles to the brim).
Then, add a dab of hot glue around the inside of the cap, and quickly seal the bottle (you don't want your child unscrewing a bottle full of baby oil, inside your house). 🙂
---
As we've played with our Rainbow Water Beads Sensory Bottle, some of our colors have moved around a bit – they are no longer in perfect rainbow layers, but they are still beautiful nonetheless.
That being said, if you would prefer your water beads stay in place and maintain the rainbow effect, you can add a few more water beads to each layer (before you begin), so that the bottle will be completely full, and all the water beads will be snuggled in place. That's what I did when I made our second bottle.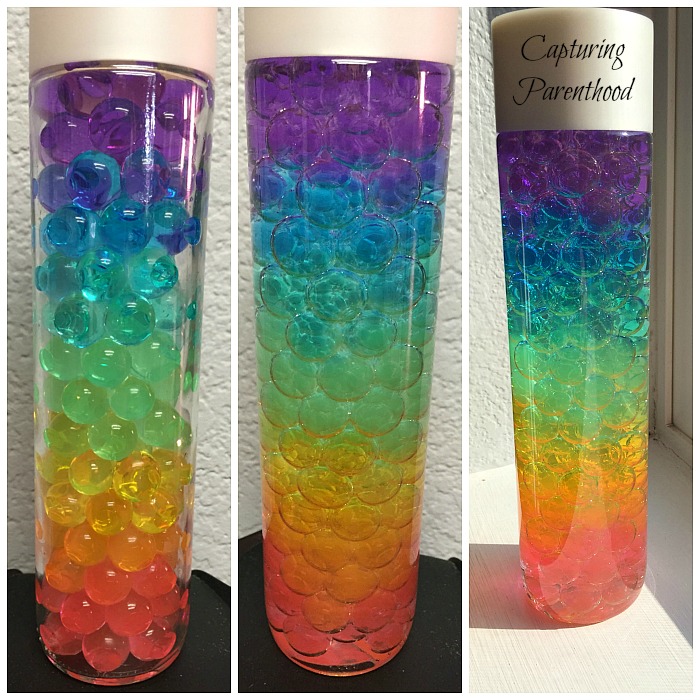 That's right…I loved this sensory bottle so much, I had to make one for myself. 🙂 This time, I used a glass Voss water bottle, and I filled it completely full of water beads, so that it would forever maintain the spectacular array of rainbow colors.  I just can't get over how beautiful and mesmerizing this Rainbow Water Beads Sensory Bottle is…it's perfection!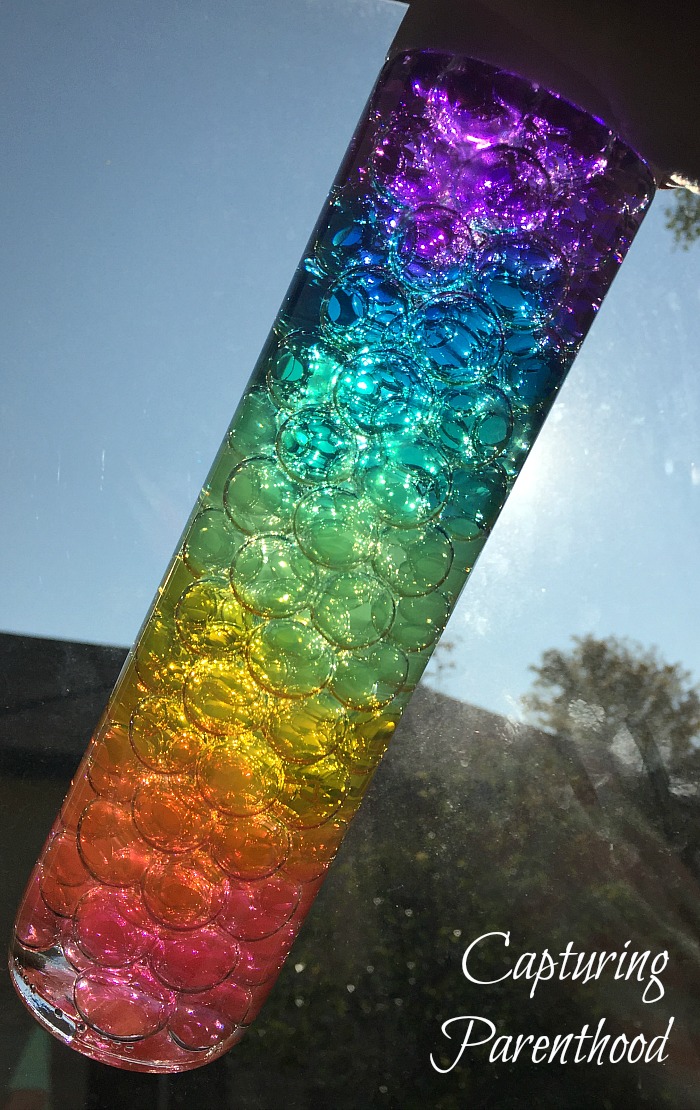 That's a wrap! Our Sensory Bottle Extravaganza is officially complete! Well…at least until next time. I'm sure my recently acquired sensory bottle addiction will result in an entirely new array of bottles to share with you in the future. 🙂
START SPREADING THE NEWS!