We're getting a little wild on Day 7 of our Sensory Bottle Extravaganza! Today, we are sharing this Rice Zoo Sensory Bottle!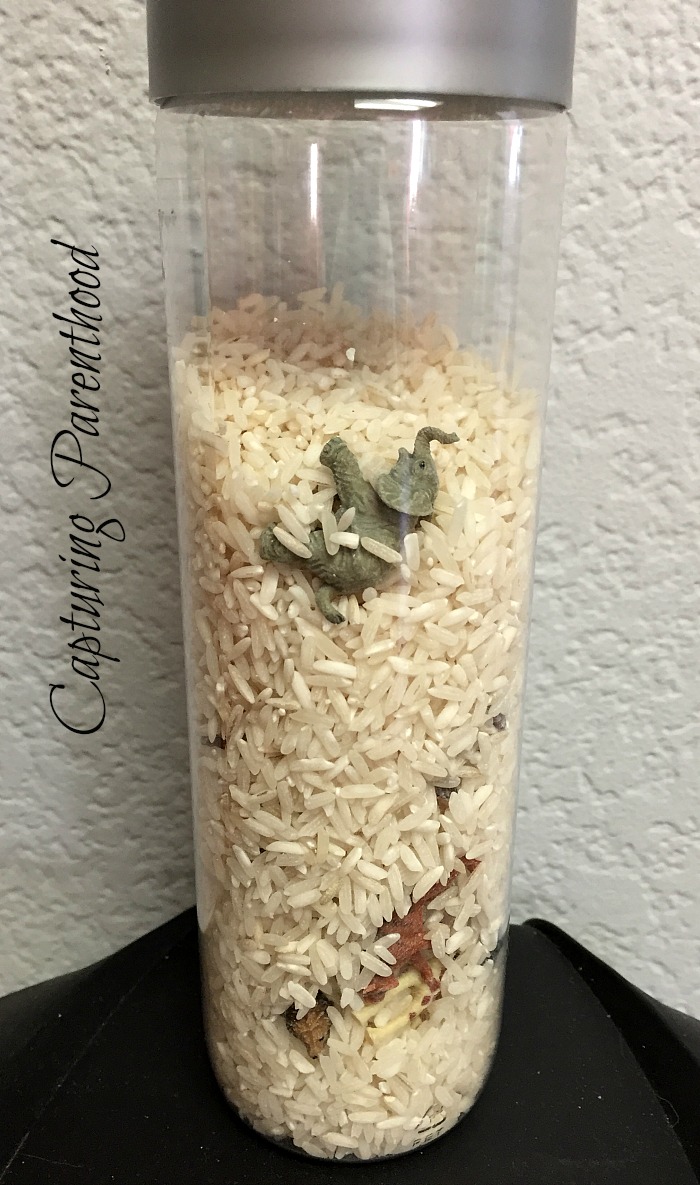 This simple sensory bottle was super quick and easy to put together, yet my little nugget always plays with it for quite some time. The rice provides little hiding spots for all of the zoo animals, so it becomes a bit of a scavenger hunt, as she twists and spins the bottle in every direction, looking for her favorite animals!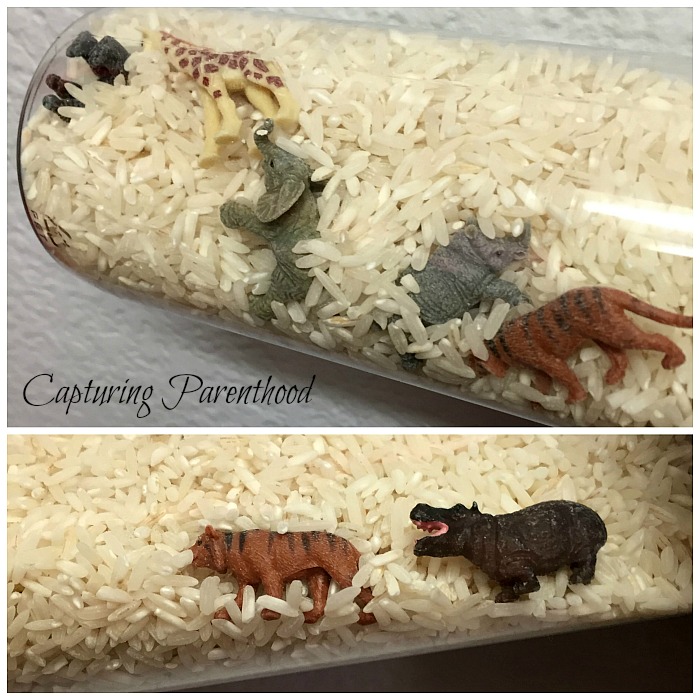 After making a handful of different liquid-filled sensory bottles, I figured it was time to change things up a bit, and try a dry-ingredients bottle! Katie, at Preschool Inspirations, shares a huge list of dry ingredient ideas in her "How To Make A Perfect Sensory Bottle" post (https://preschoolinspirations.com/how-to-make-a-perfect-sensory-bottle/).
---
Rice Zoo Sensory Bottle
Supplies: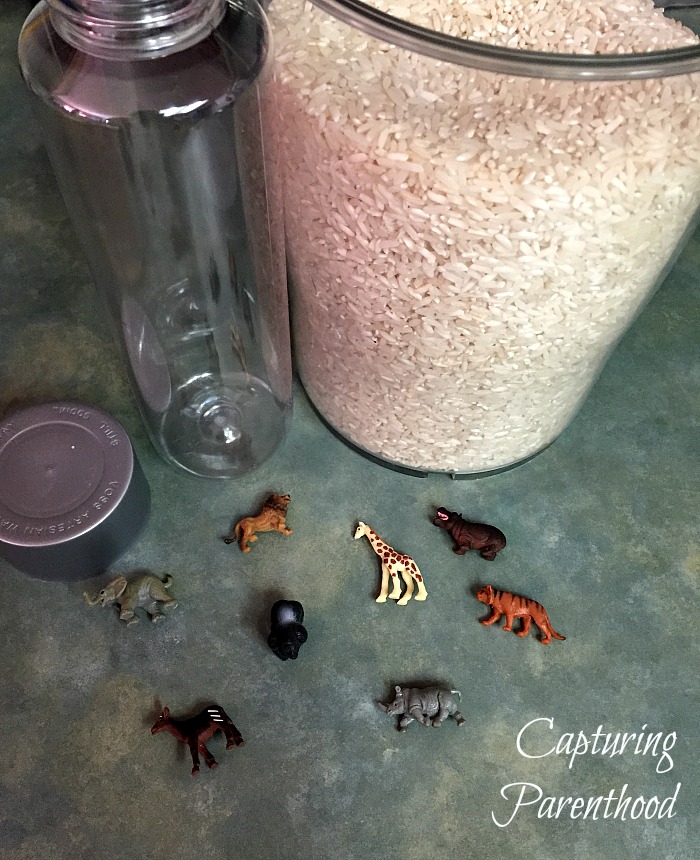 Plastic Bottle with Wide-Mouth (I love using Voss water bottles)
Rice (dry/uncooked)
Plastic Zoo Animals (I used some mini Toobs zoo animals, that I found at Hobby Lobby)
Instructions:
Empty the plastic bottle (if it contained a non-water beverage, rinse out the bottle). Remove all labels from the bottle. If you have a hard time getting the sticky residue off, Goo Gone works wonders. I find that if I take my time and peel slowly, I can get the Voss labels off without any fuss.
Considering that this is a dry-ingredients sensory bottle, make sure that the interior of your bottle is completely dry, before moving on to the next step.
Add a scoop of rice to the bottle. Drop in your zoo animals. Add a couple more scoops of rice to the bottle. We only filled our bottle approximately 3/4-full, so that there was plenty of room for the rice and animals to move around.
Then, add a dab of hot glue around the inside of the cap, and quickly seal the bottle (while dry rice is fairly easy to clean up with a vacuum cleaner, it's just easier to make sure it stays in the bottle). 🙂
---
An added bonus with the dry-ingredient bottles? They make noise! This Rice Zoo Sensory Bottle makes a great music shaker (similar to maracas). You get two sensory experiences…all in one bottle!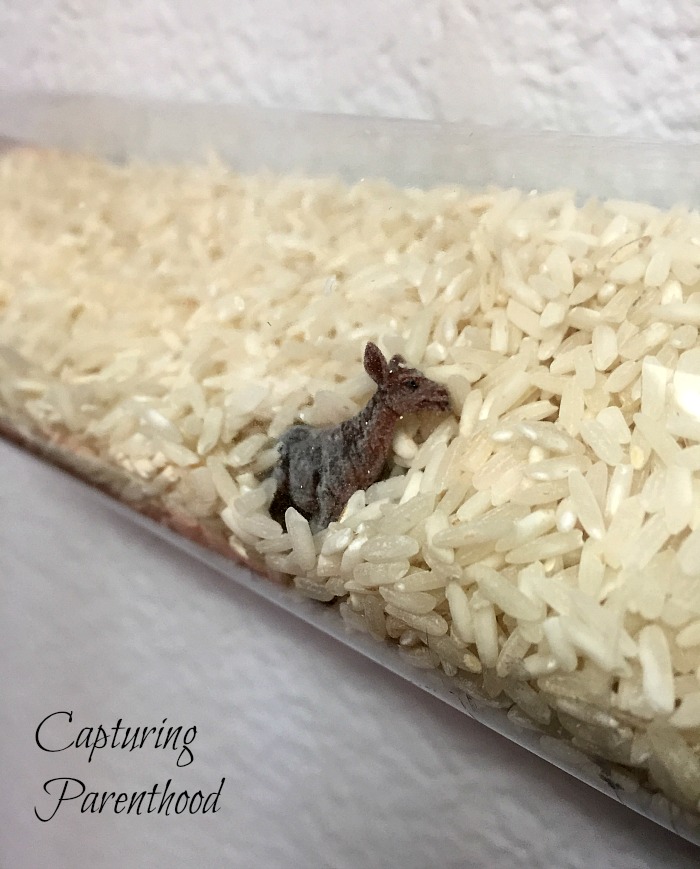 Stay tuned…tomorrow we will be getting even wilder, with a little bit of color-mixing!
START SPREADING THE NEWS!