I can't believe that we are already well into September. Where did the summer go? Soon enough, there will be snow on the ground in our yard, and our outdoor activities will become less frequent. Luckily, we should still have some pretty nice weather in Colorado (for at least the next month or so). That being said, I can guarantee that we will be doing this Sensory Walk – Texture Exploration activity, a few times before the snow starts to fly. In all seriousness, you have got to try doing a sensory walk with your kids – it's an amazingly fun way for them to explore different textures, and harness their sense of touch. Not to mention, you and your kids will have an absolute blast!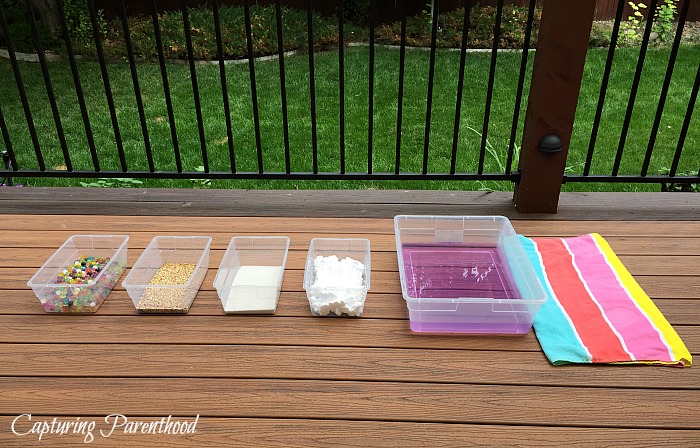 When I came across the brilliant idea for a sensory walk on Instagram, posted by @angelateachingmama, I couldn't wait to setup the activity for my little nugget. Angela also shared a blog post, detailing how she prepares sensory walks for her boys, over on Teaching Mama (https://teachingmama.org/sensory-walk-exploring-the-sense-of-touch/).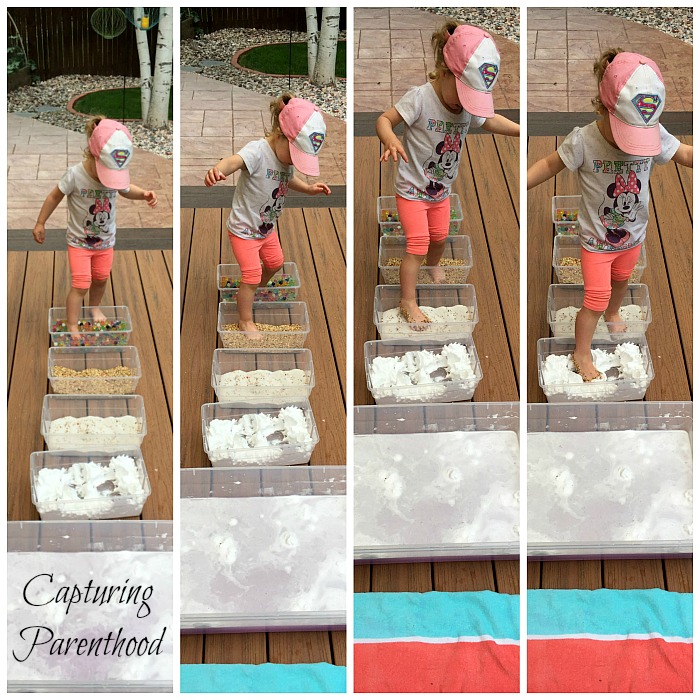 I didn't have as many plastic tubs as Angela, so I only created one tub of colored water for my daughter to rinse her feet off in, and I placed it at the end of the sensory walk. I accepted the fact that all of the other sensory ingredients would be lost to the garbage can when we were done, since everything would inevitably end up mixed together. And while I'm sure that this texture exploration could be conducted indoors, I highly recommend setting it up outside, because it tends to get a little bit messy. 🙂
Sensory Walk – Texture Exploration
Supplies: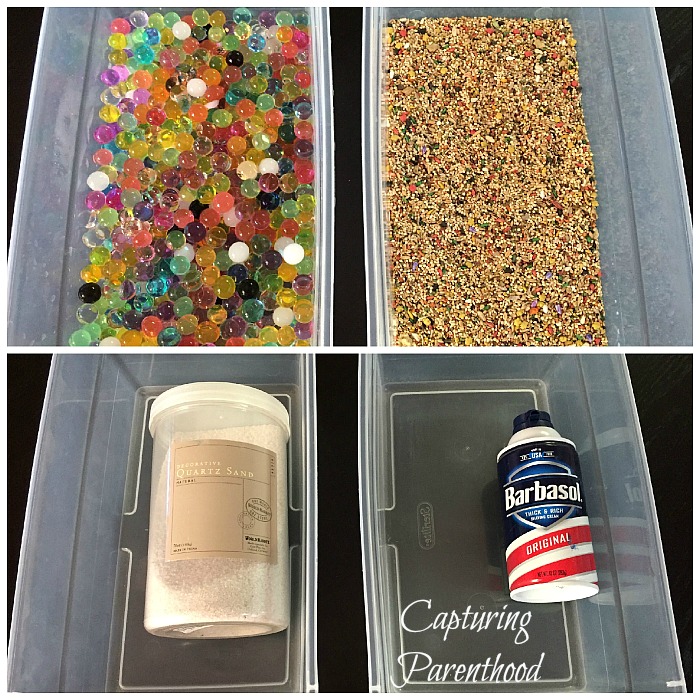 Plastic tubs
Textured items to fill the tubs (we used water beads, bird seed, sand, and shaving cream)
Water (feel free to add some food coloring to make it more fun)
Towel
Choose the materials that you would like to fill your tubs with. Get creative with this part, look around and see what you have on hand – there's a multitude of possibilities. Once each tub is filled, line the tubs up in the order that you would like your child to walk through them. Feel free to intersperse water tubs, where you think they will be most useful. As I mentioned above, I was short on tubs, so I just utilized one tub of water at the very end.
Have your kiddos remove their socks and shoes, and then let them step right in. As they step into each new tub, ask them how the material feels on their feet, and how it is different from the previous tub.
Water Beads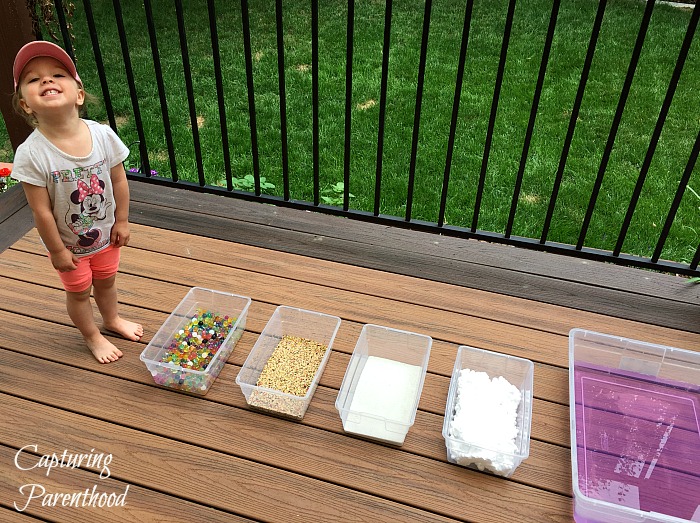 We started our sensory walk with a tub full of water beads. We had been playing with this particular bunch of water beads for quite some time, and they were nearing the end of their life anyways…so why not squish them up with our feet, before tossing them aside? The water beads were my little nugget's favorite tub to step into – she loved how slippery and squishy they were between her toes. She was so ecstatic about it, that I had to give it a try too!
Bird Seed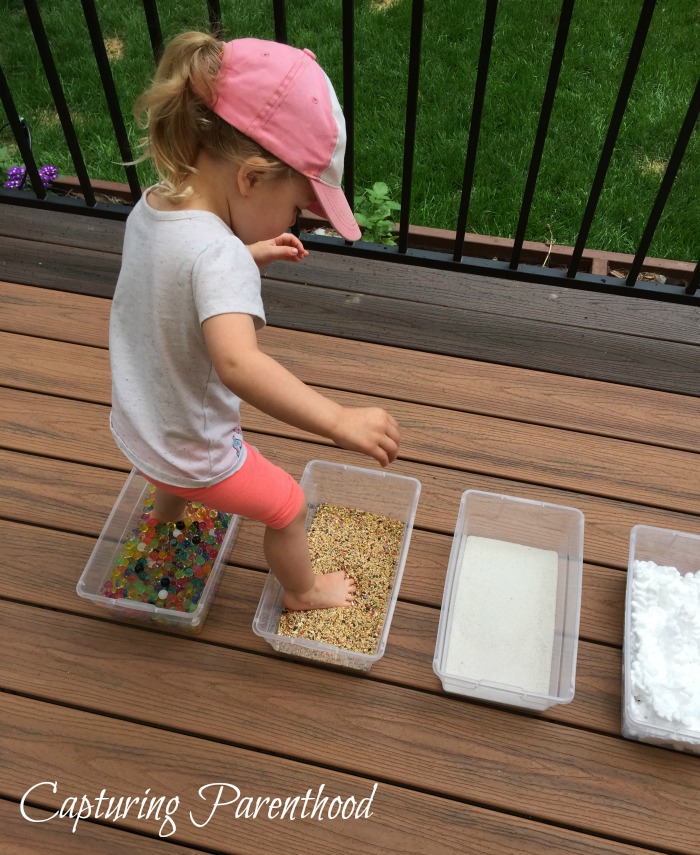 The bird seed tub was a last minute decision, as I scrambled around the house looking for something great to use. All of the little seeds were definitely different in texture than any of the other items we were using, so it worked perfectly. My daughter loved sliding her feet around until they were completely covered in bird seed. Needless to say, our remaining tubs ended up with quite a bit of bird seed in them. 🙂
Sand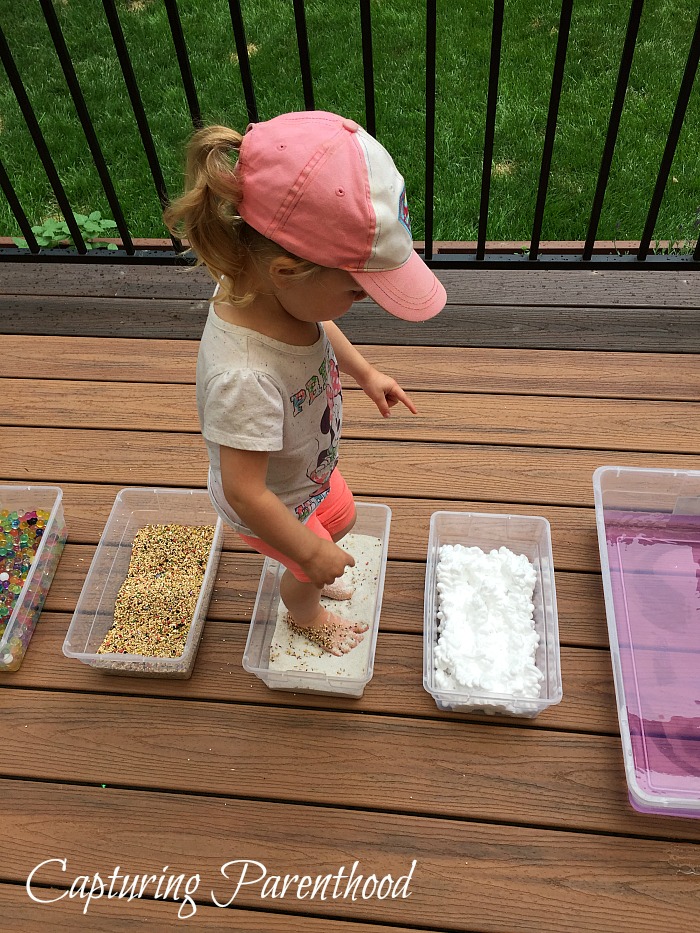 Our third sensory bin was filled with sand. Our sand was from a canister that I had purchased for a craft project awhile back, so it was rather coarse – not your soft beach sand, by any means. I noticed that my little nugget walked through this tub rather quickly.
Shaving Cream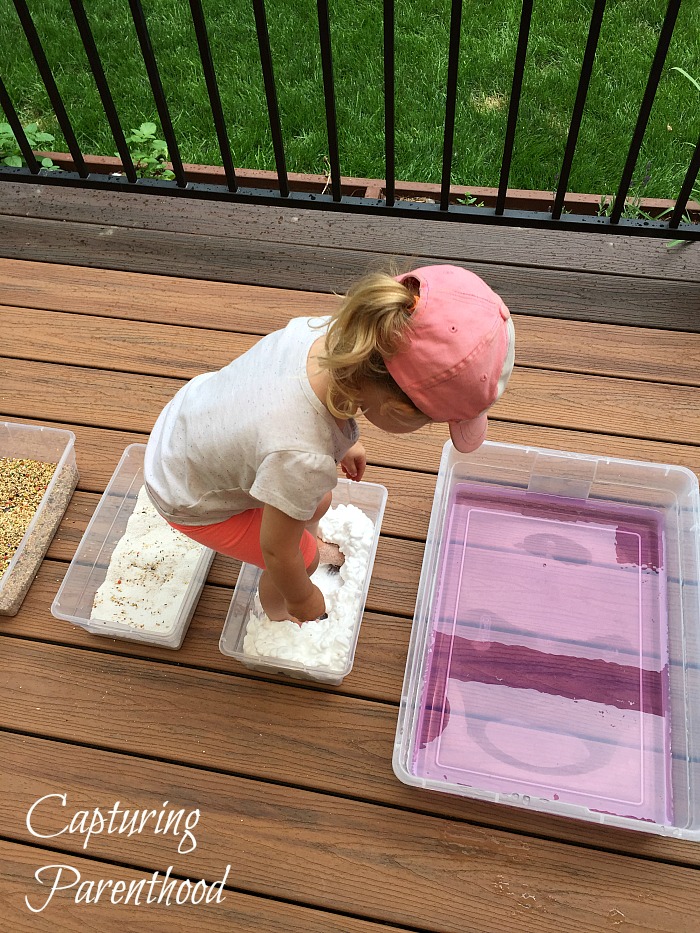 How could I not fill a tub with shaving cream? Note: You could also use whipping cream, if you're concerned about your child putting some in their mouth. We have always loved playing with shaving cream, as a sensory activity…stepping into it, and squishing it with out feet, was no exception. It's like stepping onto a light, fluffy cloud! One thing to keep an eye on, this tub can become a little bit slippery, so make sure you are standing by, in case your kiddos need a helping hand.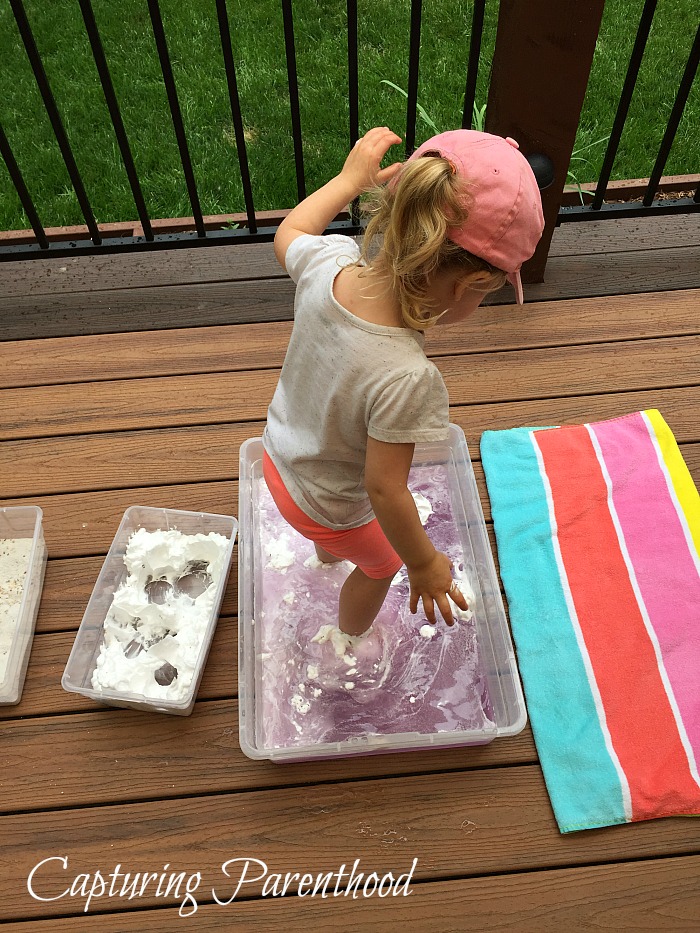 After the shaving cream, it was time to wash up in some purple water, towel our feet dry, and…do the sensory walk all over again, of course! 🙂 My little nugget must have raced through this sensory walk activity at least 25 times. She loved it! I'm looking forward to setting up another sensory walk, with all new materials, so that she can explore even more textures!
Have you ever done a sensory walk with your kiddos? What are their favorite sensory materials? I would love to hear your ideas, in the comments section below.
START SPREADING THE NEWS!