My little nugget and I have been nursing colds for a couple of weeks now, and nothing soothes your soul when you are under the weather like Chicken Noodle Soup (and not the Campbell's condensed version – yuck)! But you know as well as I do that when you are sick, and caring for a sick toddler, you just don't have the energy to stand over a hot stove to prepare a wholesome meal. Enter the trusty slow cooker (or Crock-Pot)!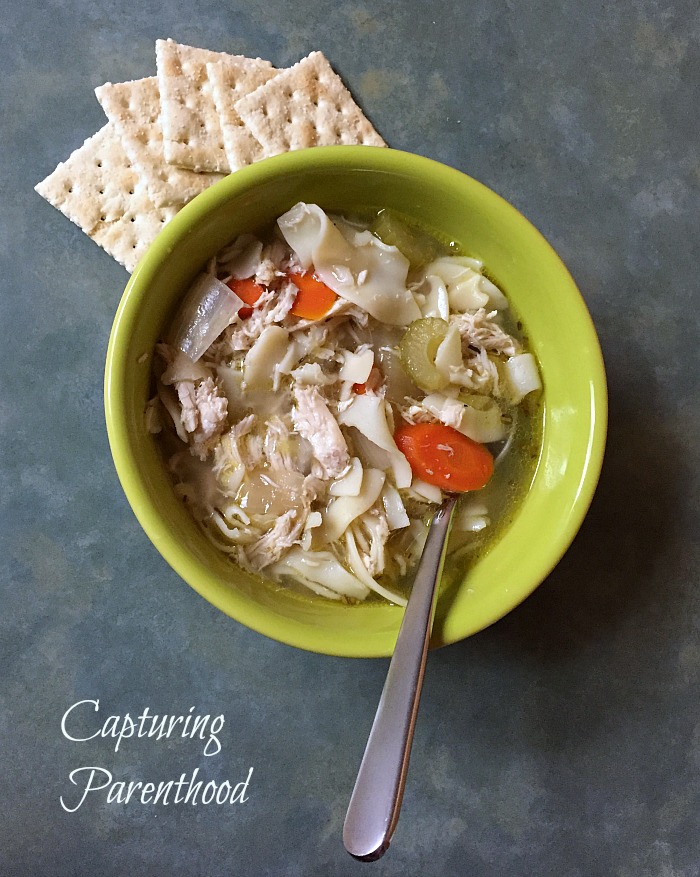 I should tell you that I'm not a huge fan of slow cooker recipes. We received a Crock-Pot for our wedding, along with the obligatory book of slow cooker recipes, all of which seemed to have Velveeta as an ingredient. Needless to say, my husband and I decided to go ahead and donate our slow cooker to someone who would put it to good use. But low-and-behold, a few years later my mom decided that we really needed to have a slow cooker in our pantry, and so she went out and bought us another Crock-Pot. I'm thankful that she did, because I LOVE this Crock-Pot Chicken Noodle Soup recipe that I stumbled across on Jo Cooks (http://www.jocooks.com/soups/crockpot-chicken-noodle-soup/). I would happily give up space in my pantry for a slow cooker, just so I could make this one recipe whenever my heart desired. Granted, I've found a few other slow cooker recipes that we now enjoy, along the way.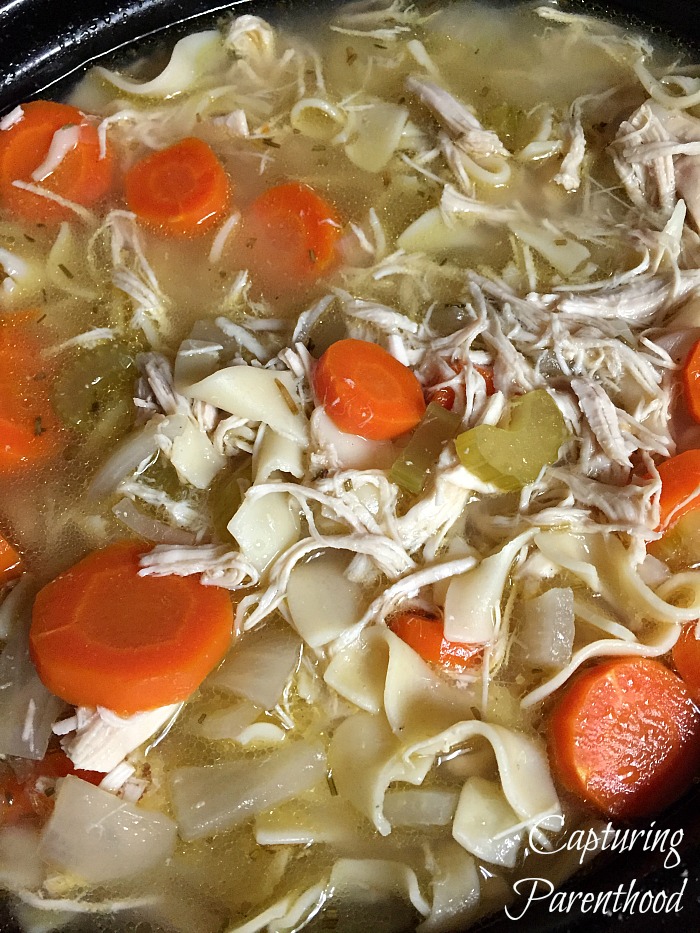 I love being able to just toss in the majority of the ingredients into the slow cooker and walk away. And after a couple of hours, our house starts to smell wonderful! This is a recipe I can totally handle when I'm exhausted and sick…and better yet, it actually makes me feel better! Mmmm…warm soup belly! It's a preferred meal in our household (even when we are completely healthy). Our little nugget can't get enough Chicken Noodle Soup…her favorite parts being the celery, the noodles, and being able to tip her bowl back and drink the broth like a "big girl!"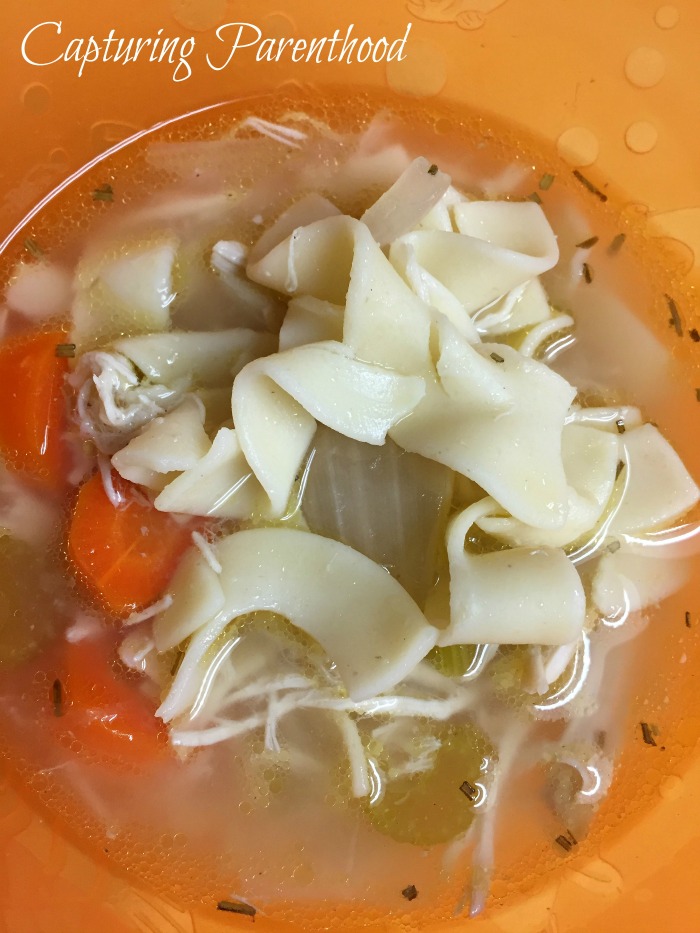 I adapted the Jo Cooks recipe slightly, to fit our family's preferences – my adaptation is below:
Slow Cooker Chicken Noodle Soup
Ingredients:
1 Large White Onion, Peeled and Chopped
2 Large Carrots, Peeled and Sliced/Chopped
2 Celery Sticks, Chopped
3 Boneless Skinless Chicken Breasts
2 Tbsp. Extra Virgin Olive Oil
6 Cups Low-Sodium Chicken Broth
1 Cup Water
1/2 tsp. Dried Rosemary
1 Bay Leaf
Salt + Pepper, To Taste
1 Pkg. Wide Dry Egg Noodles
Instructions:
Add all of the ingredients, except the egg noodles, to your slow cooker. Cook on low for 7 hours.
Discard the bay leaf. Remove the chicken from the slow cooker and shred with two forks. Return the chicken to the slow cooker and add the egg noodles, stirring to combine. Cook for an additional hour, or until the egg noddles are cooked through.
Ladle into bowls and enjoy!
This soup has a cook time of approximately 8 hours, and serves 6-8 people.
Note: We have found that it is a good idea to keep some extra chicken broth on hand to add to our leftover portions. This is a hearty soup, and our slow cooker can't handle any more ingredients without overflowing, but we find that after we take our three servings out, that there is not a whole lot of broth left in the slow cooker to accompany the remaining ingredients. We typically buy the 4-cup chicken broth containers at the store, so we always have 2 additional cups (after using the required 6 cups) to add to our soup later. 
START SPREADING THE NEWS!