It wouldn't be Halloween without some delightfully decadent treats, and these Spooktacular Halloween Cookies are simply perfect! I mean, you can never go wrong with chocolate…chocolate…and more chocolate, right?
I just love how the special dark cocoa turns this cookie dough completely black, making the color of the M&Ms and chocolate chips pop, in contrast! These cookies are super easy and fun to make, and they are a great way to get your little helpers involved in the kitchen. Our little nugget always enjoys helping me bake cookies…although, she may just be in it for the taste-testing perks. 🙂
These dark chocolate cookies are super soft, with the occasional added crunch of an M&M. My husband couldn't get enough of these…we were thanked profusely!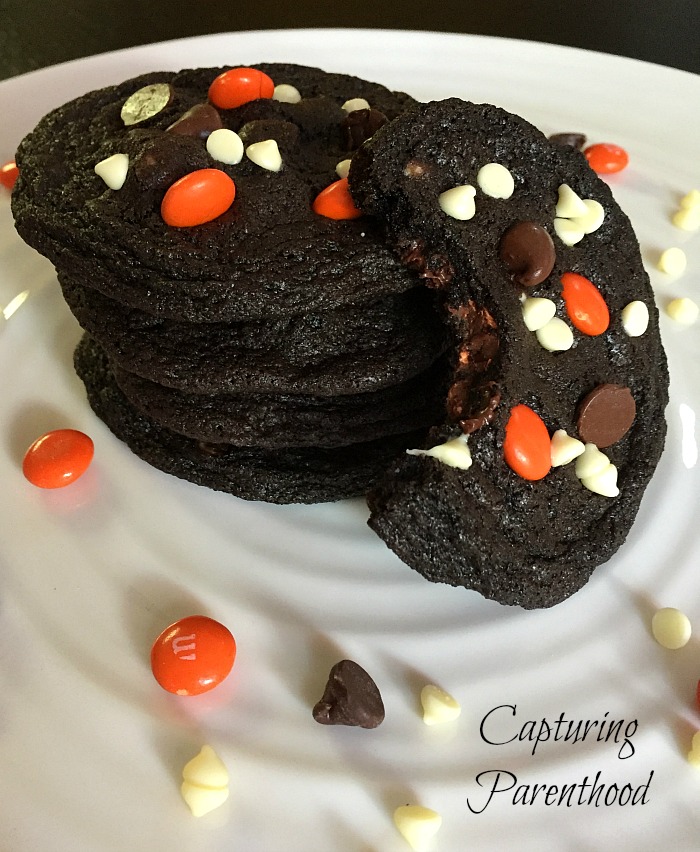 I stumbled across the recipe for these Dark Chocolate Halloween Cookies, over on House of Nash Eats (https://houseofnasheats.com/dark-chocolate-halloween-chip-cookies/). After seeing Amy's pictures, I just knew I needed to make these cookies this Halloween season! Amy stated in her post that she uses Nestle's holiday baking chips (that she finds in the seasonal aisle at Target each year). Try as I might, I just couldn't find these. I scoured the seasonal (and baking) aisles at my local Target. I even checked in the seasonal (and baking) aisles at the grocery store. The only thing I could find were Nestle's Pumpkin Spice Chips…and they just didn't sound like the right flavor for this cookie. So, I figured I would just use some seasonal M&Ms (thinking I could find some black, orange, and white ones)…but all of the seasonal M&Ms are flavored this year, and candy corn just didn't seem like the right flavor for these cookies either.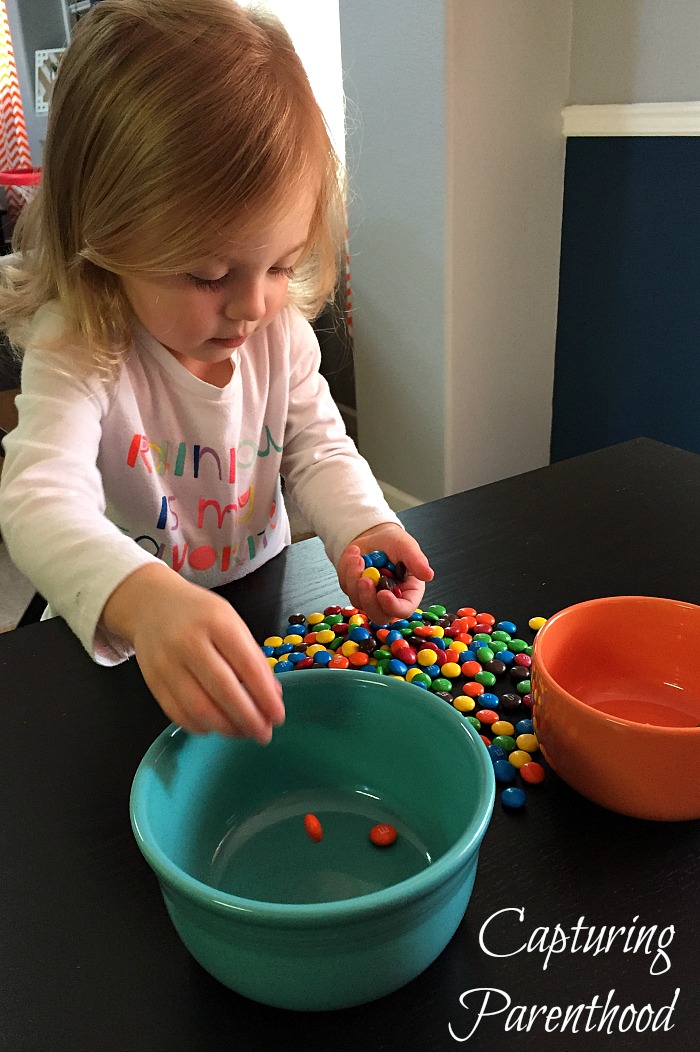 Finally, I decided to just use what I had…some semi-sweet chocolate chips, some mini white chocolate chips, and some orange M&Ms (that my little nugget sorted from the large bag of regular milk chocolate M&Ms). Just a quick color-sorting activity before we began baking, and she loved it! Of course, she kept asking to try a few. 🙂
---
Spooktacular Halloween Cookies
Ingredients: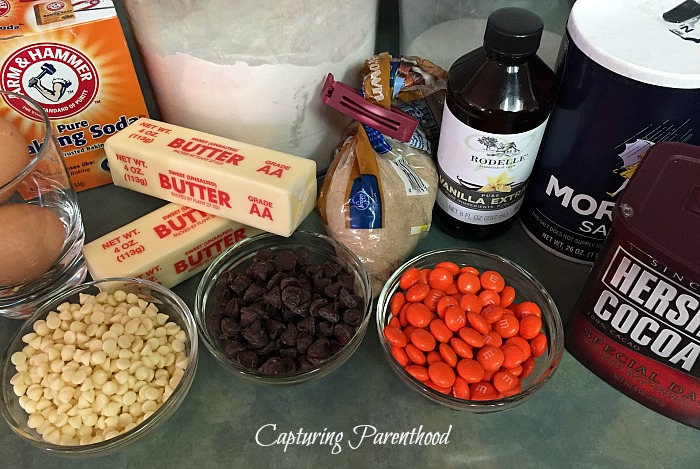 1 Cup (two sticks) Unsalted Butter, room temperature
1 Cup Sugar
2/3 Cup Light Brown Sugar
2 Eggs
2 tsp. Vanilla Extract
2 Cups All-Purpose Flour
2/3 Cup Hershey's Special Dark Cocoa Powder
1 tsp. Baking Soda
1/4 tsp. Salt
1/2 Cup Semi-Sweet Chocolate Chips (+ more for topping)
1/2 Cup Mini White Chocolate Chips (+ more for topping)
1/2 Cup Orange Milk Chocolate M&Ms (+ more for topping)
Instructions:
Preheat the oven to 350° F. Line a cookie sheet with parchment paper, and set aside.
In a large bowl, combine the softened butter and sugars. Beat with a mixer for approximately 3 minutes, or until the mixture is smooth, and a bit fluffy.
Add the eggs and vanilla, and beat until thoroughly incorporated.
Next, add the flour, dark cocoa powder, baking soda and salt. Mix on the lowest speed until all of the ingredients are just barely combined (you do not want to over-mix). Note: The dough will become very thick and might become a bit difficult to mix.
Lastly, pour in all of the chocolate chips and M&Ms. Stir (by hand) to thoroughly incorporate into the dough.
Place the cookie dough into the refrigerator for 15-30 minutes (to make it easier to handle).
Scoop approximately 2 tablespoons of the dough into your hand and roll it into a ball. Place the dough balls on the prepared cookie sheet, at least 2-inches apart.
Bake for approximately 10 minutes, until the cookies are set and the tops are no longer shiny. Remove from the oven and immediately press a sprinkling of the additional chocolate chips & M&Ms into the tops of each cookie.
Carefully transfer the cookies to a wire rack, to cool completely.
This recipe made approximately 26 medium-sized cookies. Cookies can be stored in an air-tight container for a few days (if they last that long).
---
These Spooktacular Halloween Cookies would be perfect for any upcoming Halloween parties or events you might have. Or you can just whip up a quick batch for the family to enjoy!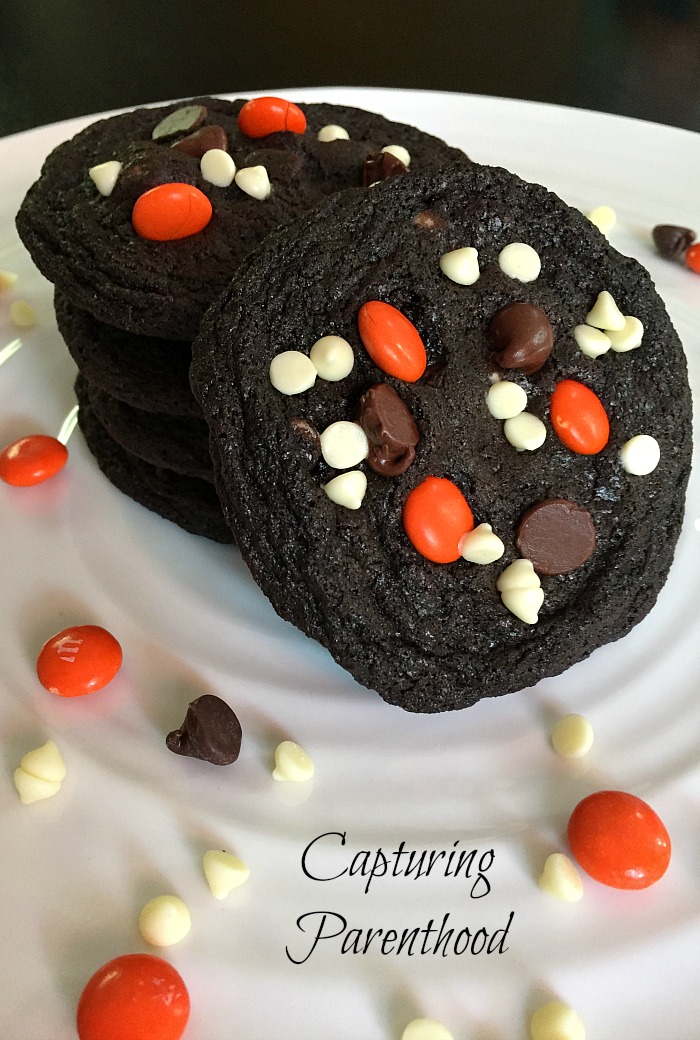 If you love the combination of chocolate and peanut butter, check out the above link to Amy's (House of Nash Eats) original recipe…she uses some peanut butter chips, as well as some mini Reese's Pieces in her cookies!
Wishing you a delightfully decadent and spooktacular Halloween!
START SPREADING THE NEWS!